Mike Yardley: Sampling Moscow's urban beat
Author

Publish Date

Tue, 25 Oct 2016, 9:20pm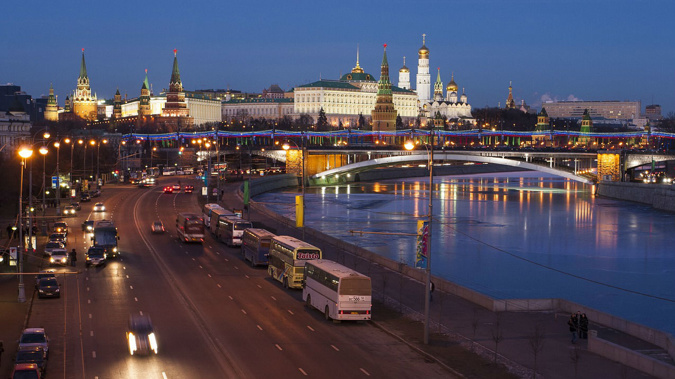 Mike Yardley: Sampling Moscow's urban beat
Author

Publish Date

Tue, 25 Oct 2016, 9:20pm
Gazing across the serrated Moscow skyline on a breezy October morning, Vera, my local Trafalgar specialist remarked, "You can feel the breast of winter." With the mercury barely hitting double digits, autumn's chill was a salutary reminder of why you wouldn't want to be visiting Moscow in the depths of winter, when daytime temperatures can crater to -30C. But sensibly wrapped up, stepping out to sample Moscow's metropolitan verve soon becomes as invigorating as the weather.
The Russian capital certainly hasn't clung on to the stultifying days of the Soviet Union. But powerful symbols of its turbulent past now intermingle with the brash and flashy to create a multi-layered metropolis, plunging full-speed ahead. Moscow's search for its 21st century identity is complex, evolving and riveting. From Stalin's carved-marble metro stations to the glittering new skyscrapers, Moscow has never stopped flaunting its ambition. And the metro stations are an experiential must, a rolling museum of socialist realism, a style of art developed in the Soviet Union with a glorified depiction of communist values.
Vera led us on an engrossing metro tour, where station after station is lavishly bedecked in intricate mosaics, stained glass, etched paintings, majestic pillars, sparkling chandeliers and bronze statues. They all trumpet the prestige and pomp of Stalin and his Soviet propaganda. Russia may have moved on, but these Soviet vestiges probably never will. Some of the stations were dug deep to serve as bomb shelters - the escalators are incredibly steep. Mayakovskaya, clad in pink and cream marble, was my favourite. Komsomolskaya, Taganskaya and Prospekt Mira are three other stand-outs.
Post-communism, vast tracts of the city centre have been pedestrianised, delightfully atmospheric spaces to stroll freely, marvelling at the architecture and the street theatre. A star specimen is Arbat Street, which is where Russian aristocracy settled in the 19th century. Many of the nobles' mansions have been restored, including those of some of the nation's finest composers and writers, like Alexander Pushkin. (His blue house now hosts the Pushkin Museum.)
Arbat's eclectic street market brims with portrait painters, great art, soapbox poets and engaging buskers. And there's a hive of splendid souvenir stores to get your fill of Faberge eggs and Matryoshka dolls. Pause by the Wall of Peace, an edifice covered with hundreds of hand-painted tiles, all expounding the pursuit of international friendship. At the end of Arbat, I stopped in jaw-dropped awe of one of Stalin's "Seven Sisters," the monstrous Ministry of Foreign Affairs. Built in 1947 to commemorate Moscow's 800th anniversary, these wedding-cake style behemoths stamped Stalin's enduring mark on Moscow's skyline.  (The eighth sister is in Warsaw.) 
Take some time-out in storied Gorky Park, the Central Park of Moscow. During Soviet times it was notorious for its decrepit, clapped-out fairground rides, making it quite a forlorn place. But a major spruce-up courtesy of Roman Abramovich's money has transformed the park into a pleasure park,  whether it's paddle-boating in summer or ice skating in winter. Moscow's "green lung" also has fountains, carousels, skateboarding ramps, running trails along the Moscow River and plenty of space to bask. Like the metro stations, the conspicuous lack of litter is a constant across the city centre. Singapore would be suitably impressed.
When you're seeking some Russian retail therapy, savour the Louvre-like splendour of GUM Department Store, built in 1890, an enormous emporium of designer stores and food outlets. Don't miss Gastronom No.1, a gourmet deli bursting with nostalgic Russian foods and gourmet delicacies including a dizzying range of caviar. Another flavourful stroll is to walk down Ilinka from GUM Department Store, through the lanes of Kitai Gorod, which are dotted with ancient churches. You'll emerge on Lubyanka Square, for the climactic sight of the hulking brick building of the KGB and its successor, the FSB. Boy, if these bricks could talk!
Moscow's culinary scene caters to every imaginable fancy, but here's some unmissable signatures. Café Pushkin is an absolute classic, an aristocratic haunt which used to be the only eatery that served European standard food, and where you could talk freely without being disturbed by the roaming ears of the KGB's flunkies. Now serving Russian and French cuisine, it evokes the spirit of Tsarist times. Built in 1825, the guest list is studded with a litany of luminaries, from Bill Clinton to Meryl Streep.  Painstakingly renovated to late-Tsarist splendour, the waiters are dressed in period attire and the food – beef stroganoff, perfectly prepared fish, and pelmeni dumplings – is divine.
Another old-school charmer is Café Chekhov, elaborately decorated in Art Nouveau style. Serving "new Russian' cuisine, try their version of borsch with apples in it. Bar Strelka is the headquarters of Moscow's hipster parade, attached to the Strelka Design Institute, a former industrial area that's now a creative hub of galleries, bars and offices. You'll love Bar Strelka's roof terrace for its skyline views, while you nibble on the share plates. A nostalgic Soviet relic is the image of a young girl in a headscarf. It still adorns the packaging of Red October chocolate which has been in business since 1861. You can see their original factory in Strelka.
Fancy a special night out to immerse yourself in high culture? The historical Bolshoi theatre is the emblematic home to some of the best ballet performances such as Swan Lake, Giselle, Sleeping Beauty and Romeo & Juliet. Book in advance if you want to catch a performance. There are standing tickets available and ticket counters open two hours before the actual show, but be sure to stand in line early as tickets are snapped up quickly.
Moscow's nightlife scene is pulsating, but you'll struggle to get into the glamour clubs, unless you're a 6 foot tall blonde, in a mini skirt, with legs like a giraffe. But a cracking nightspot is the rooftop-hugging O2 Lounge of the Ritz-Carlton, which overlooks Red Square all aglow. It's just the perch for a drinkable version of a Molotov cocktail.  
The Imperial twin cities of Moscow and St. Petersburg come together on Trafalgar's 8-day Wonders of St. Petersburg and Moscow guided holiday. Priced from $2,625 per person twin share with savings of up to 10% available for bookings and payments prior to December 15, 2016. Departures from April 2017. Includes sightseeing, guides, accommodation, many meals, transport and the services of a travel director. trafalgar.com, 0800 872 325 or ask your travel agent.
Mike Yardley is Newstalk ZB's Travel Correspondent on Saturday Mornings with Jack Tame.