Mike Yardley: Road-tripping central Idaho
Author

Publish Date

Sat, 28 Oct 2023, 11:50AM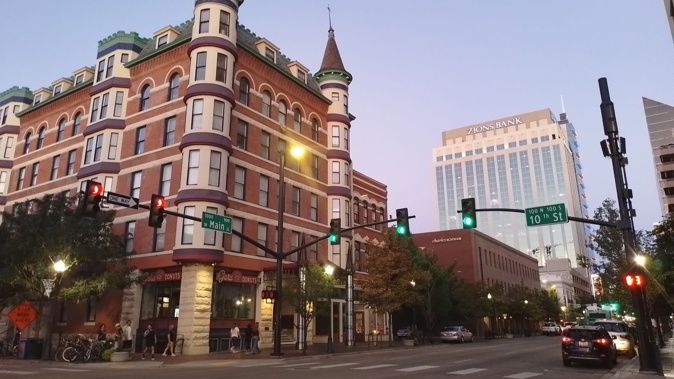 Mike Yardley: Road-tripping central Idaho
Author

Publish Date

Sat, 28 Oct 2023, 11:50AM
If you're sizing up embarking on an epic roadie across the great American West, Idaho is the pitch-perfect launch-pad. After flying into San Francisco from Auckland, a short flight to the state capital of Boise provided a stress-free start to my great adventure. The beauty of Boise airport is that picking up the rental car was swift and fuss-free, unlike the time-consuming, fatigue-inducing faff entailed at larger American airports.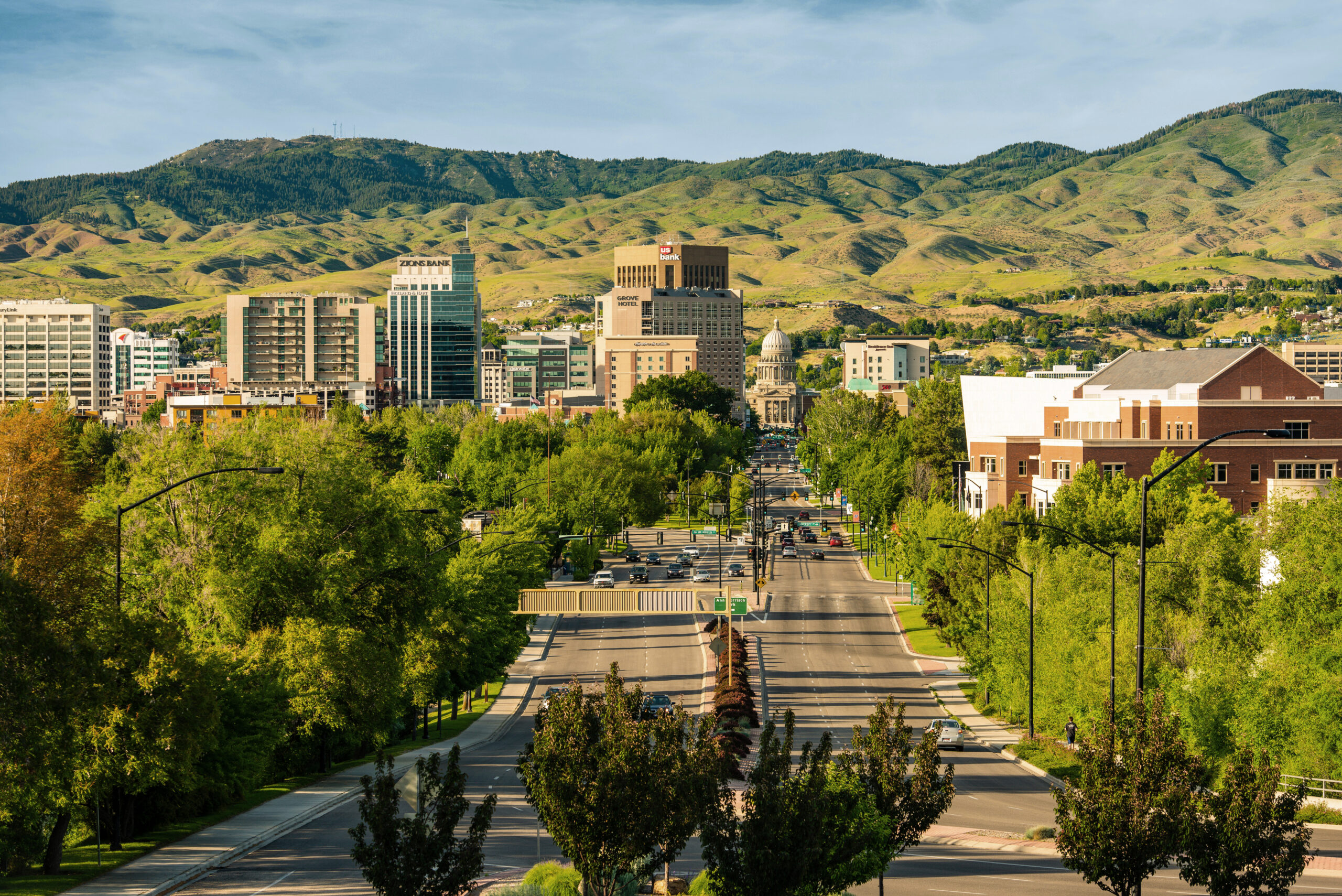 Photo / Visit Idaho
With a similar sized population to Christchurch, Boise beats to a leisurely tempo, flanked by golden hills and verdant forest, sliced by the Boise River. It's a picturesque setting and the compact, leafy city centre exudes good looks and an easy-going grace. I bedded down at the city's historic boutique hotel, The Avery, which is looking resplendent after a tip-to-toe refurbishment. It's the perfect blend of old-world charm and contemporary comfort, complemented with two on-site restaurants. Avery is your classic French brasserie, while the refreshed Brunswick bar offers up classic English fare. Eager for some comfort food before my head hit the pillow, the gastropub won the day, where I tucked into some splendid bangers and mash. 
Downtown Boise is a delight to explore on foot, where evocative stone buildings, reaching back to the goldrush era, are stoutly maintained. Check out the radiant street art in Freak Alley, the northwest's largest open-air, multi-artist mural gallery, stretching between 8th and 9th Street. Twenty years old, it's constantly evolving and exploding with colour. I ventured down Freak Alley to Bacon, a cranking breakfast spot. I fortified myself with The Hash, a stacked heap of sliced steak with gravy, potatoes, fried eggs, okra, mushrooms, biscuit and chipotle fried onions.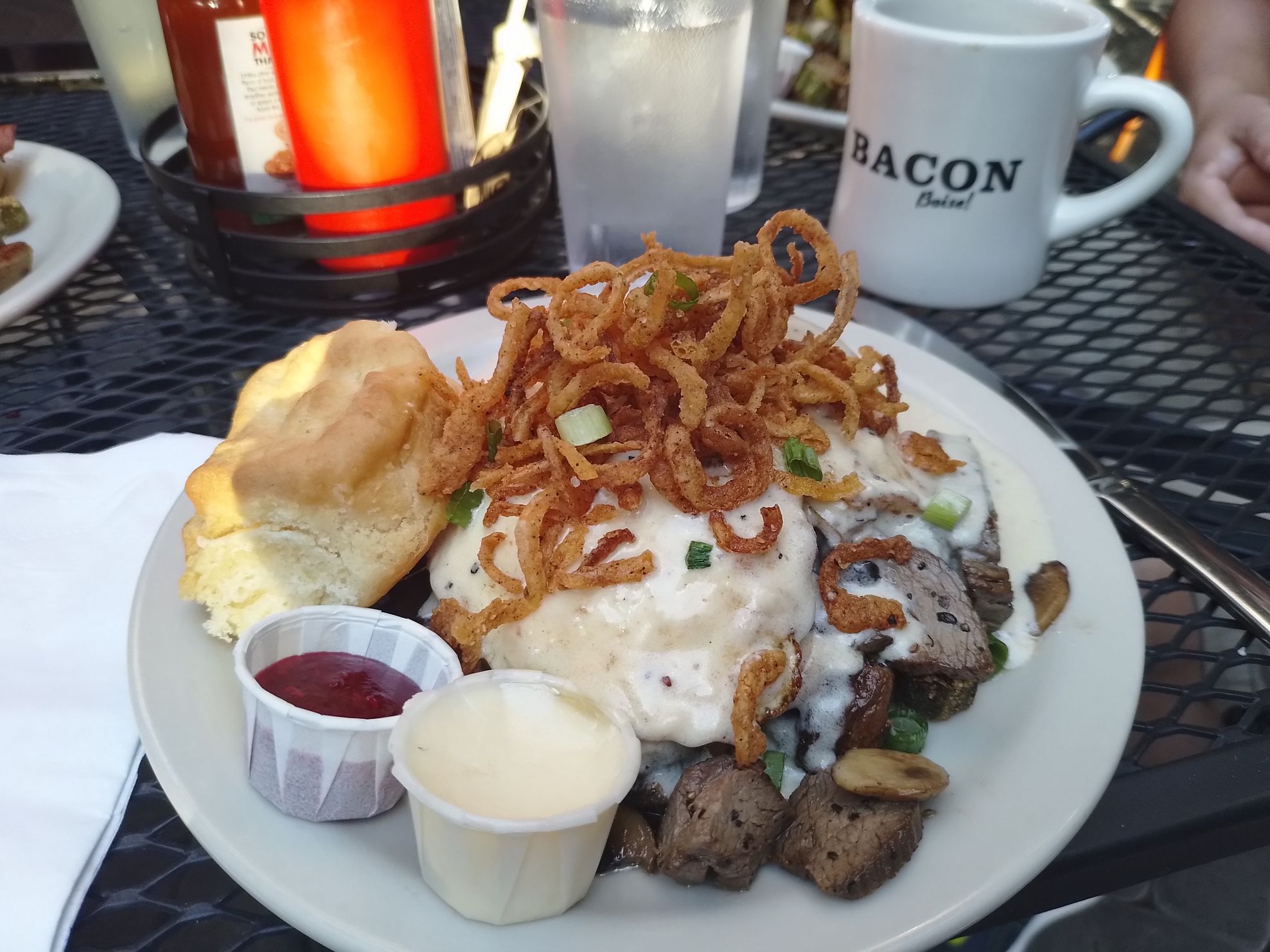 Photo / Mike Yardley
Venture down Grove Street, steeped in Boise's Basque heritage. Outside of Spain, Boise has the largest Basque population anywhere in the world. Thousands of migrants started arriving in Boise at the turn of the 20th century, lured by the demand for shepherds. They created their own community, now known as Basque Block, which has preserved many of those pioneer buildings like the Basque boarding house, amid a clutch of Basque restaurants and taverns.  
With an abiding love for the great outdoors, the Boise River Greenbelt is an incomparable 35km-long path, that threads through the city, lacing together a variety of parks and museums, including the Anne Frank Memorial. The pocket park was inspired by Anne Frank's faith in humanity, and designed as a reflection space, furnished with various monuments including a 180-foot quote wall, inscribed  with words from famous humanitarians; a bronze sculpture of Anne Frank; a sapling from the Anne Frank chestnut tree in Amsterdam. It's a beautiful, soothing space.  
Hitting the road, I scooted across Idaho's central folds on a three-hour drive to Ketchum and Sun Valley. As the soaring Sawtooth Mountains shuffled into view, we passed through gorgeous tourist villages like Hailey and Bellevue. Main Street Bellevue is storybook pretty, with an enchanting, woodsy assortment of eateries, antiques and gift stores. A few minutes' north brings you to the  atmospheric town of Ketchum, with echoes of the Old West, in the heart of the Sawtooth National Forest and the Wood River Valley. 
Check-in to the Limelight Hotel, a masterpiece of stone and timber, and alluring new accommodation offering in the heart of town, with sweeping views of the world-acclaimed, ski-bunny magnets of Dollar Mountain and Bald Mountain, plus the Sawtooths in the distance. I loved stepping out on my private balcony to drink it all in. With surrounding trails to blaze, you can access their cruiser and fat bikes, plus the hotel whips up a cracking complimentary buffet breakfast. Be sure to enjoy a dip in their outdoor hot tub and pool, alongside the garden bar. 
Downtown Ketchum will charm your pants off with a slew of art galleries and independent stores, spilling with gifts and homewares. An unmissable dinner stop is at Pioneer Saloon, which feels like stepping inside an old Western movie, brimming with taxidermy and cattle ranch-themed décor. The atmos is convivial, the steaks are juicy and the baked Idaho potatoes are gigantic. True to its wild West spirit, Wagon Days are a big deal in Ketchum, rolling down Main Street for 65 years every September.  The Ore Wagon Museum houses seven Lewis Ore wagons, which were the big daddies of the wagon world, before the railway rolled into town. Grab an ice cream from Leroy's and check out the rotating art installations in Ketchum Town Square. Surrender to the iconic tourist pastime and get a photo in the "Big Chair." Located in front of the Cellar Pub, the chair is even wearing cowboy boots. Of course it is.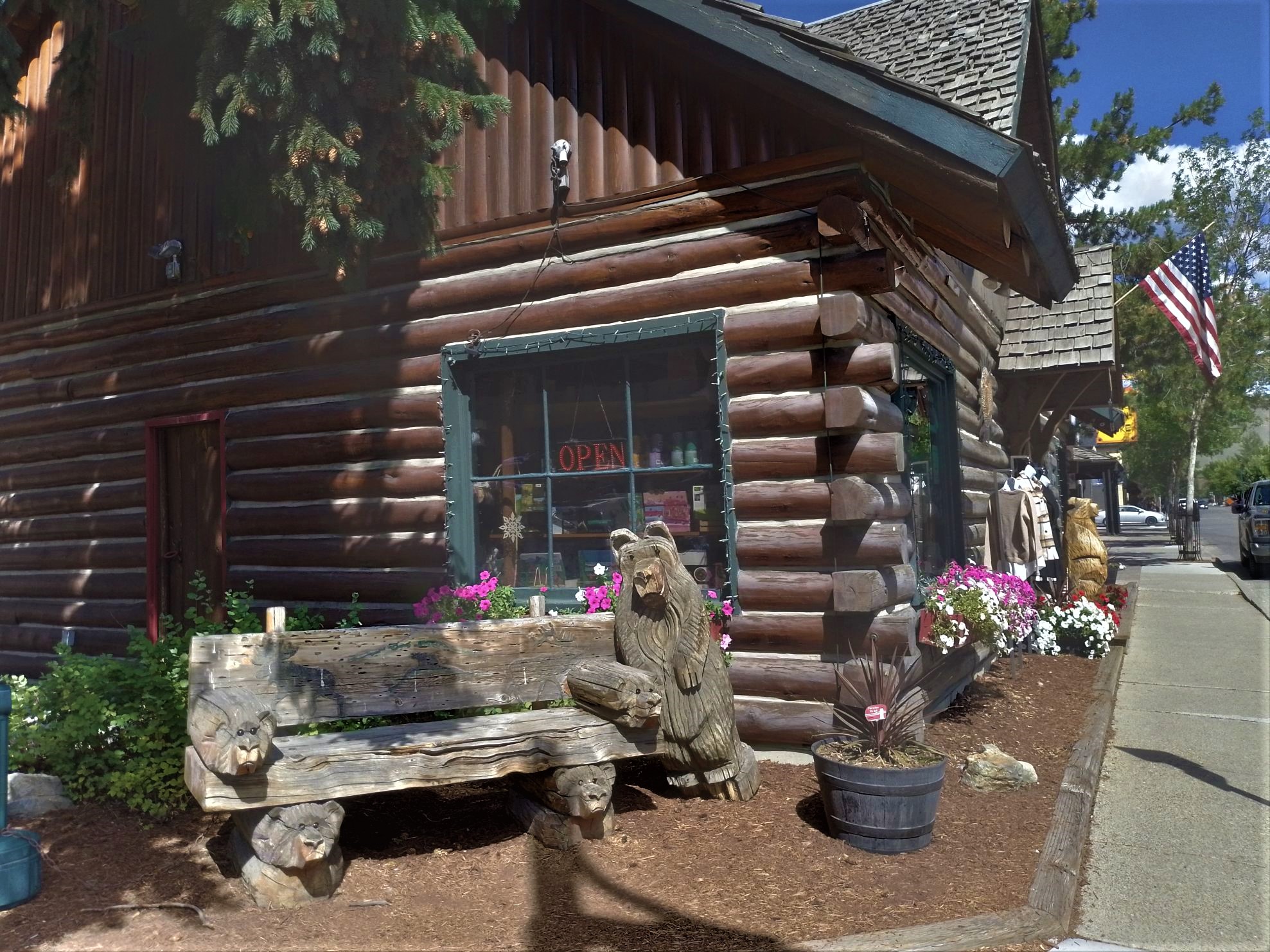 The Big Chair in Ketchum. Photo / Mike Yardley
Just a mile from Ketchum, the nation's first destination ski resort, Sun Valley was developed nearly 90 years ago by the Union Pacific Railroad and immediately attracted the Hollywood set. To savour a taste of the history of Sun Valley and its star-studded legacy, check out the photo gallery in the Sun Valley Lodge lobby, where dozens of photos of famous guests line the walls, from the Shah of Iran and Clark Gable to Marilyn Monroe and Lucille Ball. 
The fabled lodge is majestically designed and its sprawling grounds lured the A-Listers and those seeking snow-flecked glamour in the Idaho wilderness. Architect W. Averell Harriman modelled Sun Valley Lodge after Swiss ski resorts in Davos and St. Moritz.  It even has its own outdoor ice rink which has just been renovated, complete with wraparound grandstand – which has played host to scores of Olympic medallists doing triple axels, over the decades. You can take to the ice with skate rentals available. Nowadays, Ketchum and Sun Valley beckon as a wildly popular year-round destination for outdoorsy escapism.   
Ernest Hemingway was one of the first luminaries to be attracted to Sun Valley, doing some of his best writing here – and it's also where he ended his life. He first came here in 1939 to stay alongside other invited celebrities at the lodge. Hemingway set up shop in Suite 206 where he finished his most acclaimed novel, For Whom the Bell Tolls. Today, you can stay in the "Celebrity Suite", which is dedicated to the celebrated writer. Hemingway loved the surrounding area; he fished, hunted, and in the late 1950s bought a home overlooking the Wood River in nearby Warm Springs.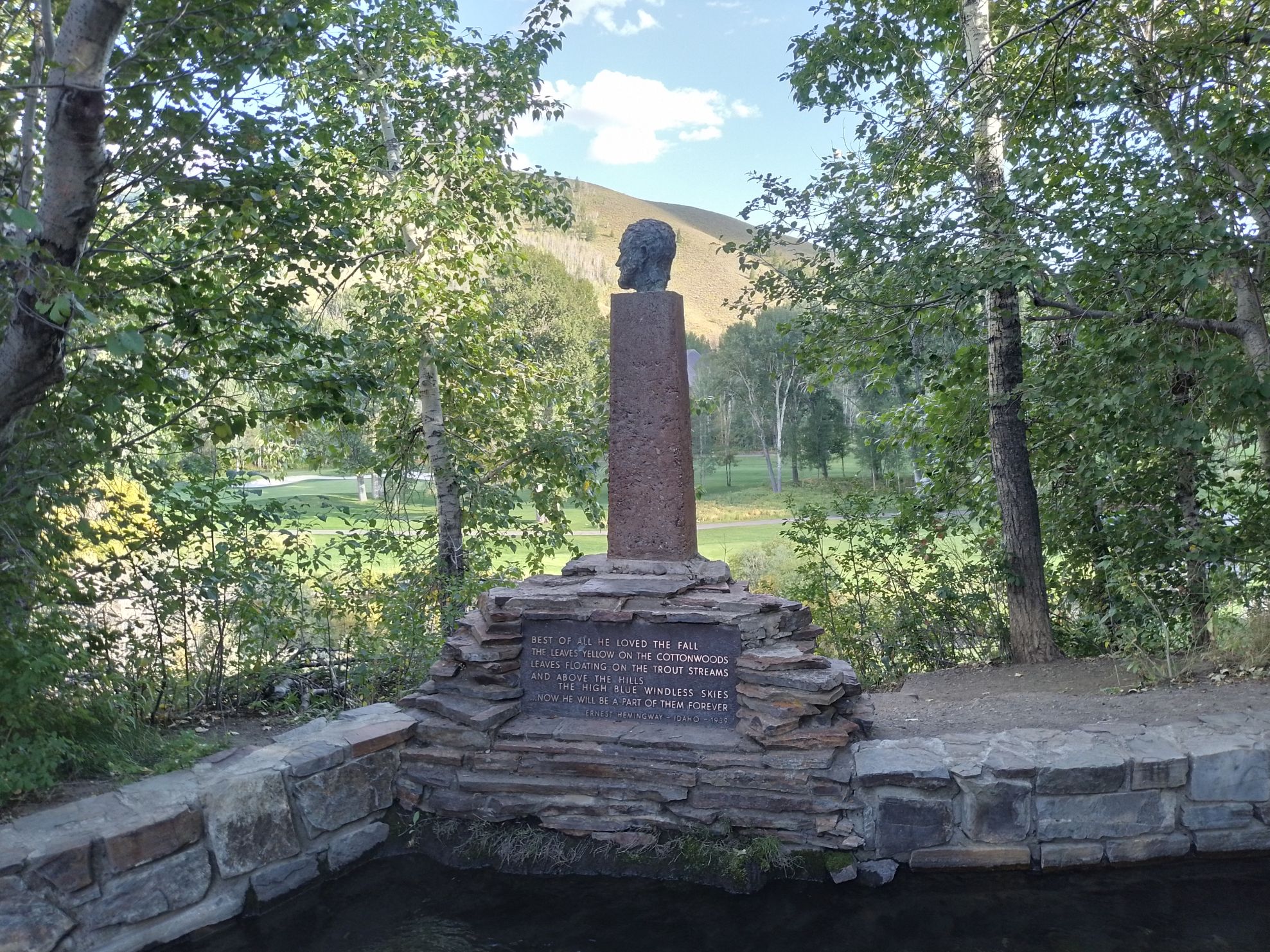 The Hemmingway Memorial in Sun Valley. Photo / Mike Yardley
Closer to Ketchum you can visit Ernest Hemingway's grave in the Ketchum Cemetery on Route 75 North at 10th Street East, and the Ernest Hemingway Memorial, in a serene setting, alongside Trail Creek just north of Sun Valley Lodge. 
Ketchum and Sun Valley is still a trendy hangout for the stars with Arnold Schwarzenegger, Bruce Willis, Ashton Kutcher, Clint Eastwood, Demi Moore and Tom Hanks all owning vacation homes in the area. After taking my fill of the starry-eyed Sun Valley scene, next up in Idaho was a rendezvous with the Craters of the Moon.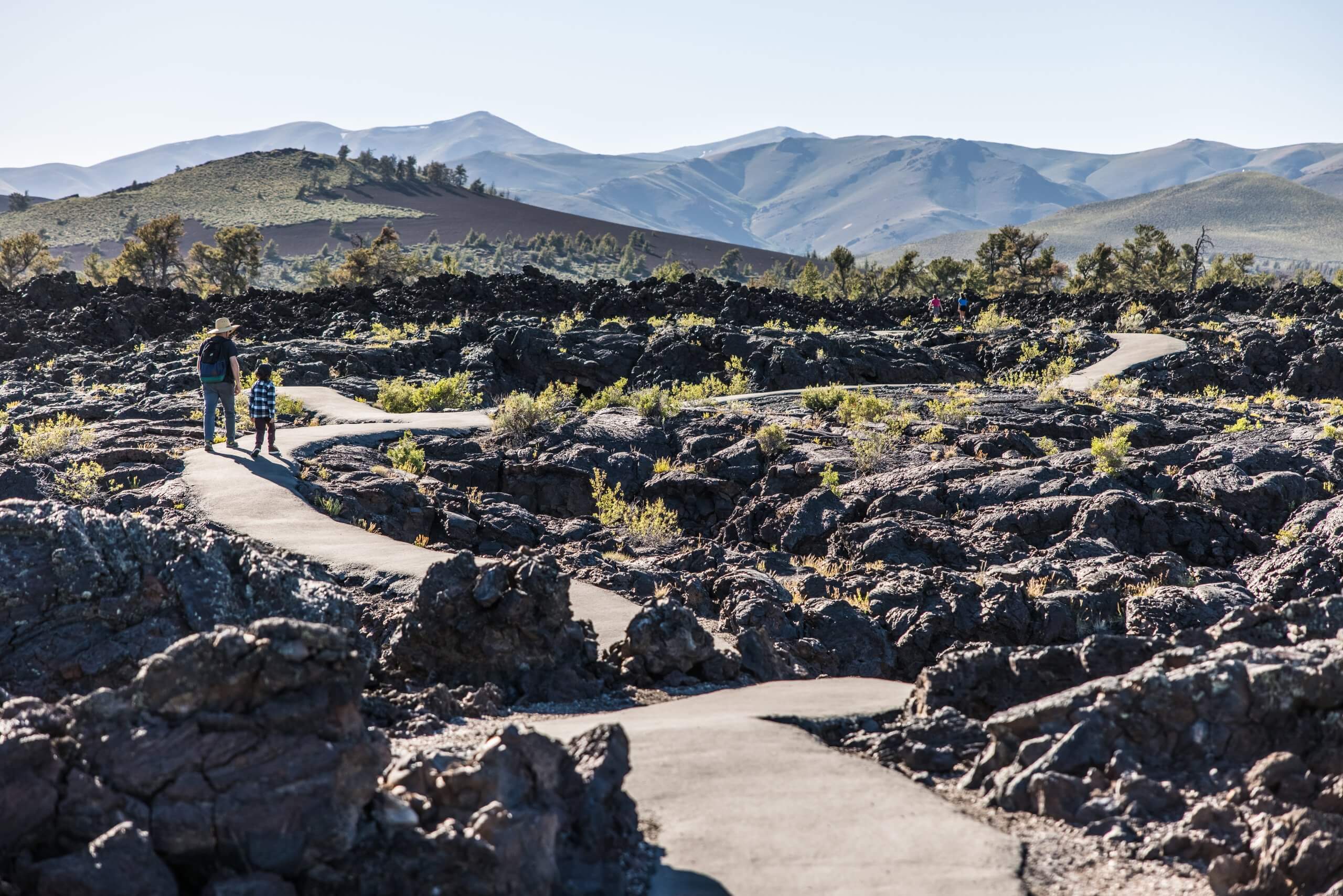 Photo / Visit Idaho
The mountains that surround Sun Valley give way to a sprawling ocean of lava east of Carey. The lava filed and features of this national monument were formed about 2000 years ago during eight major eruptions. It is the largest lava field of its kind in mainland USA, spanning over 700,000 acres of jet black lava. This volcanic desert resolutely fields other-worldly and a dramatic contrast to the lush greenery of Sun Valley. 
As I tracked west towards Wyoming, another curious roadside stop in Idaho to add to the check-list is the tiny town of Arco. It was the first city in the world to be lit by atomic power thanks to the research conducted at Idaho National Laboratory. There is an iconic roadside sign proudly charting Arco's past that's worth a quick layover. https://greatamericanwest.co.nz/ 
I flew to Boise via San Francisco with Air New Zealand and the Star Alliance. The full-range of cabin products is available on Air New Zealand's services to San Francisco. Skycouch is available in Economy, while Premium Economy is an excellent mid-range option including premium check-in, premium seating with increased leg room plus fine cuisine & beverages. For the best sleep in the sky across the Pacific, splurge on Business Premier, entitling you to complimentary lounge access, premium check-in, luxurious leather armchair seating which converts into a fully lie-flat bed, plus fine cuisine & beverages. With well-timed overnight flights, I slept well right across the Pacific. 
A winning new initiative recently rolled out on Air New Zealand's 18 widebody jets is the live Sport TV channel. Sport 24 connects you to unmissable sporting events including the Rugby World Cup, Premier League, US Open, NRL, AFL, NFL, and much more. For best fares and seats to suit, jump to www.airnewzealand.co.nz 
Mike Yardley is our resident traveller on Jack Tame Saturday Mornings. 
Take your Radio, Podcasts and Music with you