Mike Yardley: Riding the Golden Pass Line
Author

Publish Date

Sat, 20 Jan 2018, 1:23pm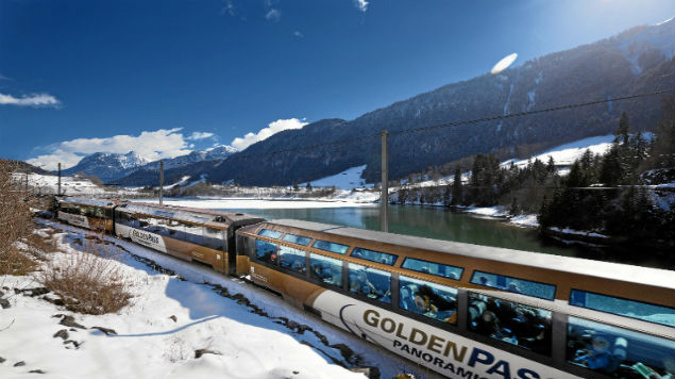 Mike Yardley: Riding the Golden Pass Line
Author

Publish Date

Sat, 20 Jan 2018, 1:23pm
There's no denying it, the Swiss public transport system is an integrated marvel of engineering. Most Swiss train journeys offer multiple moments of visual brilliance - even the blandest routes unfurl scenic frissons. Comprising 29,000 kilometres of rail, tram, bus, cable car and waterway routes – that's quite a triumph for an alpine country barely a third of the size of New Zealand's South Island. 
Riding Switzerland's rails is my idea of European holiday bliss; its breathtakingly efficient and terrain-defying train network constantly impresses, it's a stress-free way to hop-scotch between destinations, and the kaleidoscopic scenery transforms even the most jaded of travellers into snap-happy gluttons. The rolling photo shoot just keeps on giving.
Blessed with jaw-dropping topography, nature sets the stage for Switzerland's fabled collection of scenic train journeys, including the Glacier Express, Bernina Express, Gotthard Panorama and the GoldenPass. Do one of these legendary routes and you'll be hooked, panging for your next hit. After a recent stay in Geneva, I shimmied around the lake to Montreux, to put the GoldenPass Line to the test. It's reputed to be the pioneer of the panorama train, lustily sporting giant picture windows to maximise the vistas.
Operating on a line that has seen well over a century of service, it's not just a tourist line but a crucial commuter route, weaving through countless towns and villages. Most rail passes are valid on the line, although you'll want to make a seat reservation to guarantee a spot on the panoramic trains and the VIP seats at the very front of the train, below the driver's elevated cab. For even more thrills, classic train carriages, nostalgically styled like the Orient Express, are deployed on the line, seasonally.  www.goldenpass.ch
It was a crisp, clear November morning as my train, clad in gleaming gold and cream livery, chugged out of Montreux, ascending the thickly-wreathed slopes of the Lavaux vineyard terraces, set against glinting peaks and the millpond-smooth Lake Geneva.  I virtually had the entire 1st class carriage to myself, with just Tom and Sharon, a charming couple from Melbourne, sharing my journey.
Spaciously seated within our glassed cocoon of comfort, we oohed and ahead like school children on a sugar hit, all the way to Interlaken. Gloriously clear weather sans the crowds – there's a lot to be said for off-peak travel! The climb out of Montreux was strikingly steep, with the first 10km of track ascending to 1110 metres, as those UNESCO-protected vineyards, medieval watchtowers and ravishing country estates glided by the curving cogwheel track.
A fresh coating of snow carpeted the verdant green valleys, adding to the cinematic spectacle, as we delved deeper into the alpine countryside. Thickly carpeted in spruce, fir and pine, hillside forests were mantled in snow, as we whizzed by plump dairy cows and weathered wooden chalets, half expecting Heidi to come skipping into view.
Rather surreally, the Goldenpass train threads its way through the heart of villages, right down the main street, bringing all vehicular traffic to a stop, as we peered intimately into the yards and homes, flanking the track. The elaborate carvings of the chalets seemed to get ever more impressive and ornate, as we tootled through Les Avants. Noel Coward was so enchanted by this town when he visited in 1959, that he swiftly bought a chalet and spent the rest of his life here.
Clinging to the steep mountainside and crossing a multitude of bridges, we entered the long summit tunnel of Jaman, before soaking up more scenic spoils through Montbovon, the cheese region of Gruyere, Saanen, and Chateau d'Oex – which hosts the International Ballooning Festival every January. Beautifully decorated chalets and the piercing spires of alpine church steeples abound in these parts.
In picturesque Rossiniere, I swooned at the sight of the Grand Chalet – Switzerland's largest, a five–storey intricately carved and painted masterpiece constructed in the 1700s to produce cheese, complete with 113 windows.  This palatial construction, which became the home of the world famous artist Balthus, has hosted a roll-call of distinguished guests including Victor Hugo, the Dalai Lama and David Bowie.
Further down the line, the enchantment factor meets all-star glamour, glitz and Gucci in the high-end alpine resort town of Gstaad, where the chalets looked impeccably stylish. As you pass from French-speaking to German-speaking Switzerland, put the wood-pile theory to the test. I'm convinced that while the French-speaking residents stack their wood in free-form style, the German-speaking folk tidily pile wood with absolute precision.
The route's highest point tops out at nearly 1300 metres at Saanenmoser, before changing trains on the wide valley floor at Zweisimmen.  Purring through the Simmen Valley to Spiez, half-timbered houses, sigh-inducing chalets and forested mountains studded this quintessential pastoral pocket of Switzerland. The stately 15th century Wimmis Castle lorded over us, like a valley sentinel, as we neared Spiez and Lake Thun.
One of nature's own guards, the pyramid-shaped might of Mt. Niesen, shimmered in the early winter sun, casting its towering triangular shadow over the lake. Interlaken beckoned ever closer, as we breezed by a host of seductive lakefront hamlets, like Faulensee and Leissigen. So many places, so little time. For day-trippers on the GoldenPass line, a carefully choreographed change in trains at Interlaken leads you on to Luzern, but I had places to see and people to meet in Interlaken, first.
A romp on the rails of the GoldenPass Line serves up a show-reel of some of Switzerland's greatest hits: Christmas card scenes galore, alpine splendour, vividly green valleys, storybook villages and cosy wooden chalets.  The full journey between Montreux and Luzern is just 210km in length, taking under four hours to complete. Interlaken is the half-way point. Planning a magical trip to Switzerland? The official tourism website is a trusty one-stop-shop. www.myswitzerland.com
 I zipped my way around Switzerland and Austria with a Eurail pass. It's the comfortable, hassle-free and reliable way to get about. Sort your rail plans in advance, by booking tickets or a rail pass to suit with the experts on the tracks, Rail Europe. www.raileurope.co.nz
I tripped to Zurich with Cathay Pacific who operate ultra-contemporary A350-900s, the newest aircraft in the world, from both Auckland and Christchurch. The cabin air quality is decidedly better, I experienced minimal jet-lag, the refreshed CX Entertainment system kept me suitably engaged with excellent movie selections and live news channels, plus in-flight WiFi. www.cathaypacific.com
Mike Yardley is our Travel Correspondent on Jack Tame Saturday Mornings.