Mike Yardley: Relishing the road to Milford, Fiordland
Author

Publish Date

Sat, 5 Dec 2020, 11:14AM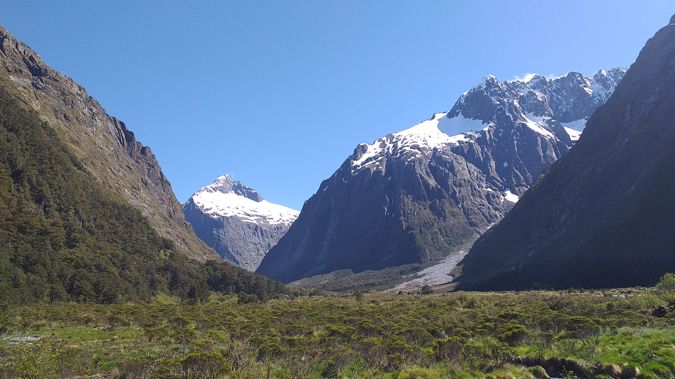 Mike Yardley: Relishing the road to Milford, Fiordland
Author

Publish Date

Sat, 5 Dec 2020, 11:14AM
The day had dawned calm over the languid waters of Te Anau, backdropped by serrated peaks like brooding Mt. Luxmore, towering on the horizon like a sentry guard. I was up early to make tracks on one of New Zealand's most ravishing drives, the Milford Road Highway (SH94). Spanning a distance of 120km from Te Anau, it's stirring medley of diverse natural beauty and myriad roadside temptations means an early bird is rewarded handsomely with its heady serving of side dishes. As much as reaching Milford Sound may well be the main dish and prime objective, no road better deserves that moniker of the journey being the destination, quite like this one. Besides, you'll want to be reaching Milford Sound well before the lunchtime crush of coaches and Queenstown day-trippers.
Dashing passed Te Anau Downs with Destination's Fiordland's Gemma Heaney as my side-kick, the riotous colours of Russell lupins were beginning to pop their heads up, as we swept into the vast Swiss-like alpine meadow expanse of the Eglinton Valley. Once filled with glacier ice, this steep-sided valley floor was ablaze in a thick carpet of golden tussock. It's a surreal vista, well worth a stop later in the day for some insta-gold, on the home run, for its cinematic good-looks. Several areas of the valley were used to create the Misty Mountains in the Lord of the Rings: The Fellowship of the Ring. The lush forest finery canopied the road as our showreel of stops-along-the-way continued at the much beloved Mirror Lakes.
 A short and sweet ten minute stroll, these pint-sized lakes live up to their name, lustily delivering serene reflections of the Earl Mountains on their glossy inky-blue surface. Backed by beech forest, with water fowl pottering about for breakfast, it's a tranquil appetiser to the treasures ahead. Lake Gunn is definitely worth a breather, for its easy 45 minute loop Nature Walk, leading you through red beech forest, abuzz with birdlife. If your love your lupins, the southern end of the lake will take you to lupin-overload at Cascade Creek. A top tip from Gemma! The devastating impact of the epic rainstorm and flood back in February is vividly evident, at many points along the highway, where major road engineering projects are still being completed.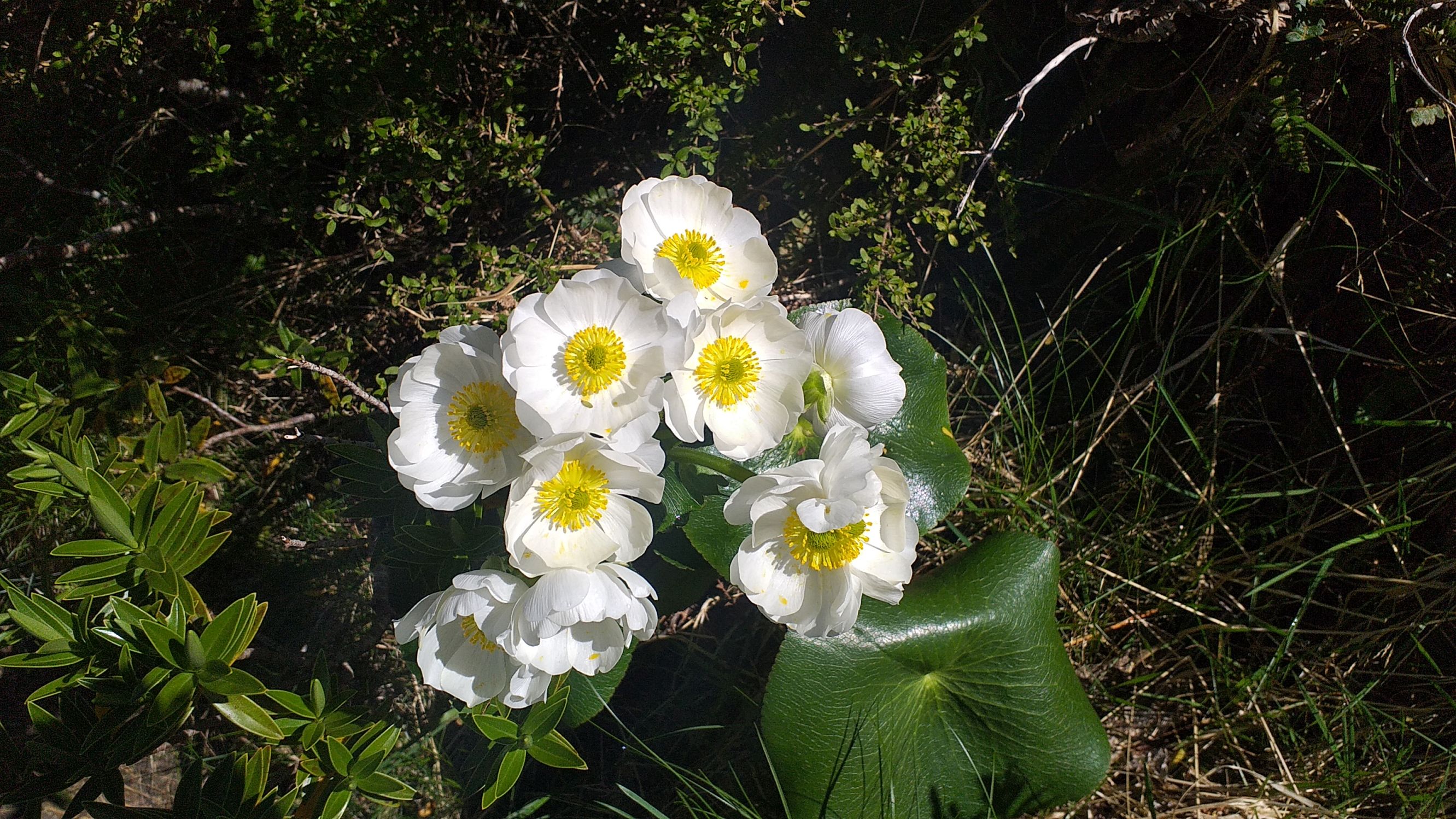 Gemma and I pulled into the Marian Falls carpark, where we crossed the swingbridge which leads you up to the gantry overlooking the spectacularly tiered cascades, gushing over granite boulders and fallen trees. It's a riveting spectacle of elemental power. I didn't have the time or energy for the onward hike, which is a three hour return walk up to the alpine lake, above the bushline, in a hanging valley formed by glacial action, bracketed by mountain peaks. It's now on my must-do-one-day list, as is the Key Summit day walk which is a relatively easy 3 hour hike. During the last ice age, a huge glacier flowed down the Hollyford Valley and overtopped Key Summit by 500 metres. Imagine! The ice branches split off into the Eglinton and Greenstone Valleys. From The Divide carpark you follow the Routeburn Track for about an hour to get to Key Summit Track, where it only takes a 20 minute climb to reach the summit.
You'll be rewarded with smashing views over the Humboldt and Darran Mountains, while the birdlife is prolific, spanning tomtits, robins, kereru and bellbirds. Another essential photo-stop is at Monkey Creek, nestled within the Hollyford Valley, wrapped in snow-quilted peaks and hanging valleys. Monkey Creek is a glacier-fed spring where Gemma implored me to fill up by water bottle. The purity!! William H. Homer picked the creek's name – a tribute to his beloved dog, Monkey. One final side dish beckoned before we reached the Homer Tunnel – following the signposts to Gertrude Saddle Track. What Gemma impressed upon me is that even though tracks like this are actually half day treks, they quite often start off on easy-going terrain and provide great tasters.
The setting at the entrance point is sigh-inducing as we meandered through the Gertrude Valley. We marvelled over the Mt Cook lily, which is actually the world's largest buttercup, that were in full bloom under the bright sun, while the imperiousness of the glacier-clad mountains lorded over us, while waterfalls crashed down the granite slopes to the green valley floor. Back in the car park, a flock of extra-cheeky vandals were running riot, nibbling on all of the rubbery seals and car aerials.  A fiesta of orange and green feathers and a heady dose of mischief. Traversing the Homer Tunnel is an unmistakable frisson of the road trip, piercing through the Darran Mountains just below Homer Saddle and into Cleddau Valley and the Hollyford River. The narrow 1.2 kilometre tunnel took 19 years of back-breaking work to construct, completed in 1954, named in honour of the pioneering surveyor, William Homer.
I love how water gushes down its bare granite walls, adding to the sensory intensity. Thankfully, it's just been resealed, so it's a lot smoother ride. Alighting from the tunnel serves up a supreme appreciation of the hulking mountains guarding Milford Sound, including Fiordland's tallest, mighty Mt. Tutoko. If you're up for one more short walk, take the 20 minute stroll to The Chasm, over the Cleddau River's two footbridges for dramatic views of a series of powerful waterfalls. Thousands of years of swirling water have sculpted shapes and basins in the rock. The sheer velocity of water is compelling. Gemma and I enjoyed a lovely lunch at the beautiful Milford Sound Lodge in the Pio Pio Restaurant. Freshly fortified and recoated in sanity-saving sandfly repellent, we boarded our wonderful 100 minute cruise of with Cruise Milford.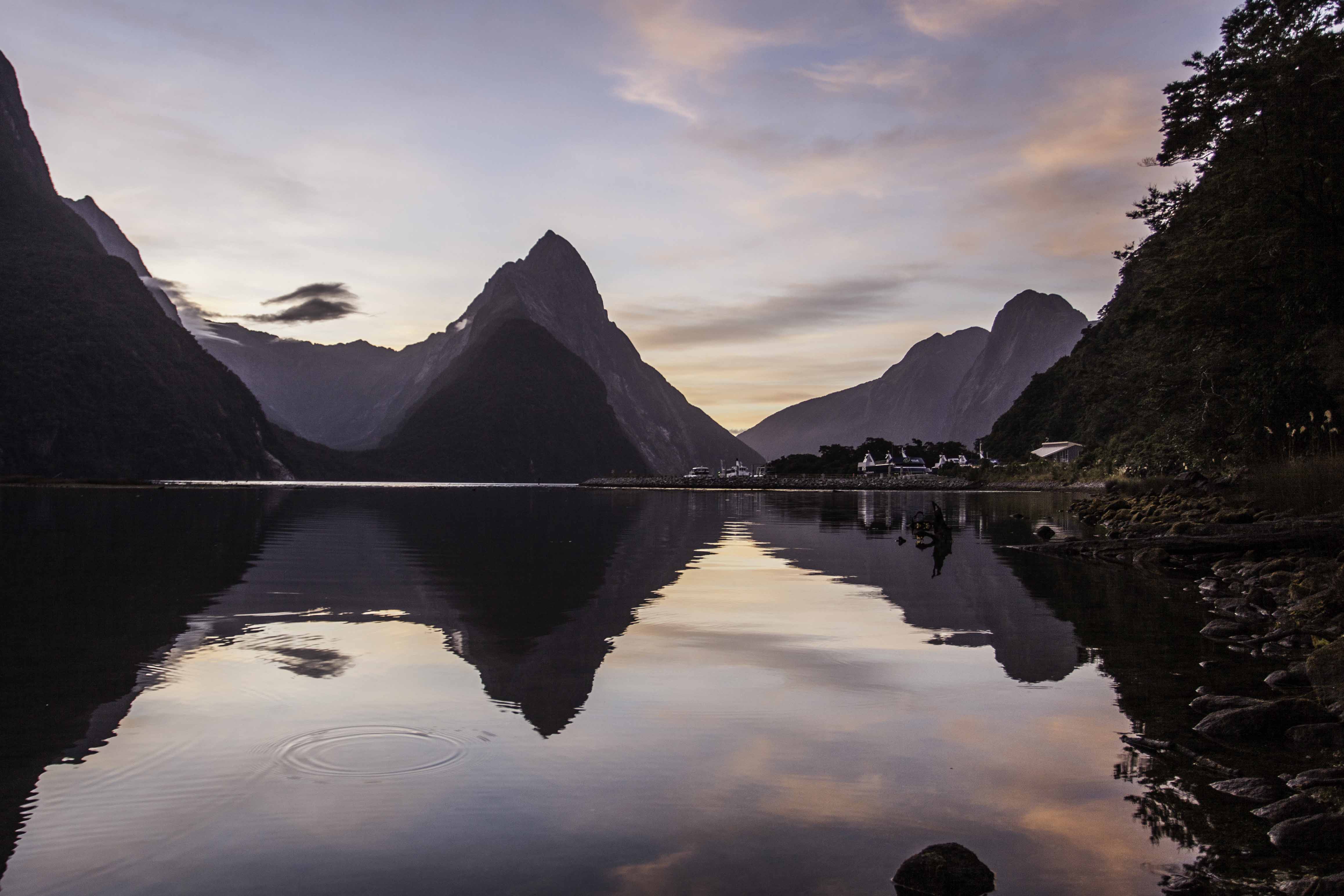 What sets them apart is the fact they don't pack you into their vessel like sardines. Despite holding a capacity for 150 guests, they'll cap it at 75, so you won't be jostling for precious photo moments. This boutique vessel boasts comfy couches and seating, large picture windows and wrap-around decks. The onboard commentary is informal, well-humoured and highly illuminating. Being a smaller boat, the intimate viewing of wildlife and geological features was exceptional. Milford Sound had laid on a celestial November day, bright blue skies and spring sunshine, gilding this dazzling body of water. But it was cloud-free Mitre Peak that commanded my attention, strutting skyward with supreme and triangular self-importance.
It's the second highest peak in the world to rise from the sea, trumped only by Hawaii's Big Island volcano, Mauna Kea. Nature's spooling reel of magnificently streaming waterfalls, wildlife sightings, unspoilt waters and soaring rainforest is quite simply a bravura performance. The Southern Rata was flaunting its Christmas dressing, with glorious crimson flowers radiant in the sun. I gazed longingly at Sinbad Valley which was where our just-crowned Bird of the Year, the kakapo, was the last place on the mainland it was found in the 1970s, after decades of being deemed extinct. We purred by Anita Bay, where you can stroll the beaches and pick up pounamu.
The February flood brought down a huge amount of the rock from the hills. (Below the water line, the public can take it.) It's the Stirling Falls which sightseeing boats traditionally point their nose into and she was cranking like a jet, hurtling 146m from a rocky cleft into the glassy fiord. Once back on land the short walk up to the lookout point will deliver you one last majestic photo opportunity. The transfixing scale and grandeur of Milford's almighty landscape has to be experienced to be believed. www.cruisemilfordnz.com
Don't even think about speed-dating Fiordland from Queenstown. Base yourself in the lakeside embrace of cute and charismatic Te Anau, where my recommended roost is Lakefront Lodge. David and Diane Walsh are wonderfully outgoing hosts, ensuring your stay is a special one in their beautifully appointed studio units. Diane's gardening prowess is in full display with her flower-filled country cottage garden blazing the exterior. Your unit is loaded with creature comforts with top-quality queen-size beds, Sky TV, free WIFI, off-street parking, microwave and kitchenware. Luxury double spa bath units and continental breakfasts are also available. Centrally located, Lakefront Lodge is the discerning Fiordland launch-pad. www.lakefrontlodgeteanau.com
Perky in spirit and compact in size, Te Anau boasts a tempting range of eateries. For lunch on the run, you can't beat Miles Better Pies, with 16 varieties of gourmet pies including venison. The lamb and mint got my gold-star. Redcliff Café is a fabulously characterful dining destination, with indoor and outdoors seating options. Local produce looms large on the menu. Don't skip the hare croquettes with beurre blanc!
Discover incredible Fiordland, home to Milford Sound, Doubtful Sound & three NZ Great Walks. World-beating trails, beautiful lakeside towns and incredible native species are just the beginning. Make tracks to Fiordland. For further trip inspiration, head to www.fiordland.org.nz
Mike Yardley is our resident traveller on Jack Tame Saturday Mornings.