Mike Yardley: Peak Treats in Luzern
Author

Publish Date

Fri, 2 Feb 2018, 3:12pm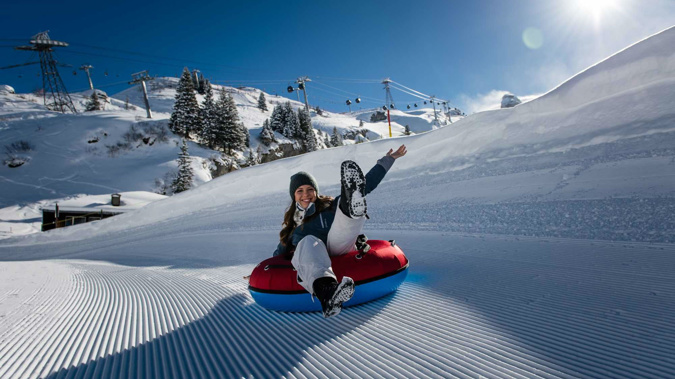 Mike Yardley: Peak Treats in Luzern
Author

Publish Date

Fri, 2 Feb 2018, 3:12pm
Pulling back the curtains at my waterfront hotel, the glacier-scalped mountains wrapped around the cool cobalt waters of Lake Lucerne were bathed in soft mellow light. Craggy peaks, snowy vistas and crisp air embraced me each morning, along with a daily diet of splendid sunrises. Gazing across the lake, the town's great protector, Mount Pilatus was illuminated like a screen legend on a red carpet.
Legend would have you believe that the serrated peak was named after Pontius Pilate, whose ghost has supposedly haunted its heights ever since his corpse was hurled into a summit tarn. The mountain is routinely back-dropped in red skies, steeped in local folklore which evocatively dubbed the solar glow "dragon's breath."  Many fanciful yarns endure about dragons living on its slopes. Tall stories aside, this landmark mountain rises dramatically from near sea level to 2100 metres, and it makes for a magical excursion, even if you have a couple of hours.
Between May and October, the bells-and-whistles tourist experience is the "golden round-trip", which entails boarding a lake steamer for a ride to Alpnachstad, then a trip on the world's steepest cog railway to Mt. Pilatus, before the soaring descent on cable cars to the suburb of Kriens, which is just a 10 minute bus ride from central Lucerne. First opened in 1889, the cogwheel train hauls you through incredible alpine meadows, past sparkling mountain streams and menacing rock faces.
I was visiting in November, and the cog railway wasn't operating, so I plumped for a return cable car experience from Kriens. Swiss engineering is on full display and the latest aerial cableway to glide you up to the summit, across steep chasms, is nicknamed the Dragon Ride. Alpenhorn blowers infused the frigid summit with an atmospheric cry, as I gazed out at the sheer immensity of the Swiss Alps, crowned with countless peaks in the shape of shark fins.
To the east, a vivid, crumpled tapestry of pastoral greens and cobalt blue water of Lucerne Bay sprawled before me. When the icy breath of this glaciated world started to get the better of me, I retreated inside to the Panorama Gallery, to linger longer over the dreamy vistas. Strutting along the cliffside is the recently renovated Hotel Pilatus-Kulm, which has been welcoming visitors since the 19th century. It's a striking stone establishment that you could well imagine being cast as a villain's lair in a James Bond movie.
A wealth of outdoorsy pursuits are on offer, year-round, including walking trails, zip-lining, sledging and tobogganing. On the descent back to Kriens, the cable car seemingly floated just above the canopy of the densely floated valleys.  It was late November, and as I passed by the vast stands of firs, I felt like I was window-shopping for the most perfectly shaped Christmas tree. A jaunt up and down Pilatus is resplendent beyond belief.
Queen Victoria fell in love with Lucerne, as she mourned the passing of her beloved Albert. Ably assisted by John Brown, she rode to the summit of Pilatus on horseback, while she scaled the peak of Rigi – reportedly carried to the top while seated on a sedan-chair!  I decided to spread my arc of exploration just that little bit further beyond the lake, and made tracks to towering Titlis. Scaling this alpine goliath also entails multi-modal travel, starting with a quick train ride from Lucerne to blow-your-socks-off gorgeous Engelberg.
With a population of just 4000, Engelberg's long-standing status as a holiday resort has endowed it with some grand old hospitality architecture. Engelberg translates as "Angel Mountain", attracting those who seek virgin powder on its heavenly slopes, and also spiritual pilgrims to its 12th century Benedictine monastery. With its superb off-piste credentials and euphoria-inducing setting, it's easy to see why Engelberg is such a fiendishly popular spot to reset the mind and refresh the body.  A short walk from the Engelberg train station led me to the Titlis Valley Terminal.
Engelberg has always been at the cutting edge of technology; the first electric rail line in Switzerland was installed here. I boarded a brand new TITLIS Xpress cable car whisking me up to the intermediate station of Stand, before taking the world's first revolving aerial cable car, the Titlis Rotair, the world's first revolving aerial cableway, which has been scaling the mountain since 1992.
What makes this twirling gondola particularly titillating is the fact that it sweeps you across the dazzling Titlis Glacier. Adding to this thrill ride is nature's rolling photo-shoot of raw theatre; gushing waterfalls, deeply crevassed ice, tarn-speckled meadows and craggy rocky faces all intimately pass you by on this head-spinning ride. At the summit of the 3000-metre mountain, I stepped out onto the sun terrace, where a frenzy of clicking cameras gainfully captured the blinding majesty of the glacier-capped alpine panorama.
Suspended high above the snow line, it is like poetry in three dimensions with infinity views to take your time over. Eiger, Monch and Jungfrau shimmered on the horizon like now-familiar friends.  What also makes Titlis such a gem is that it boasts the only publicly accessible glacier in central Switzerland. There's a spoil of alpine pursuits to size up, including sledging and snow-tubing at Titlis Glacier Park. In another famous first, five years ago, Europe's highest suspension bridge, the Titlis Cliff Walk, opened for business. 
3000 metres high, this vertigo-inducing bridge is strung high across Titlis Glacier. The bridge spans the length of a football field and is barely a metre wide. Staring into the abyss, I could feel my heart racing as I tenuously traversed the bridge, adding to a day of superlatives at Titlis. Planning a magical trip to Switzerland? The official tourism website is a trusty one-stop-shop. www.myswitzerland.com
I zipped my way around Switzerland and Austria with a Eurail pass. It's the comfortable, hassle-free and reliable way to get about. Sort your rail plans in advance, by booking tickets or a rail pass to suit with the experts on the tracks, Rail Europe. www.raileurope.co.nz
Fly to Zurich with Cathay Pacific who operate ultra-contemporary A350-900s, the newest aircraft in the world, from both Auckland and Christchurch. The cabin air quality is decidedly better, I experienced minimal jet-lag, the refreshed CX Entertainment system kept me suitably engaged with excellent movie selections and live news channels, plus in-flight WiFi. www.cathaypacific.com
Don't spin the roulette wheel by heading overseas without decent travel insurance. Cover-More not only offers medical travel insurance, but if trouble strikes -  their global assistance team will coordinate your care, find a local doctor that speaks English and even arrange for medical evacuation back to New Zealand. Check out the full range of quality insurance plans. Call 0800 500 225 or visit www.covermore.co.nz
Mike Yardley is our Travel Correspondent on Jack Tame Saturday Mornings.