Mike Yardley: One glass at a time in Marlborough
Author

Publish Date

Sat, 11 Jun 2022, 11:44am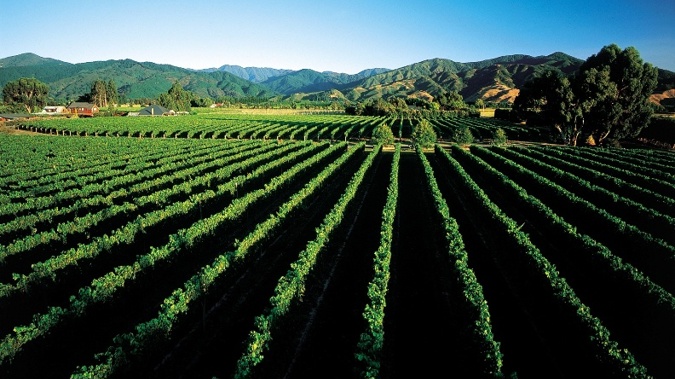 Mike Yardley: One glass at a time in Marlborough
Author

Publish Date

Sat, 11 Jun 2022, 11:44am
Wedged between the Wither Hills and the Richmond Ranges, the vine-wreathed carpet of the Wairau Plains looked so mellow in the late autumn sunshine as I readied myself for some tastings on the Marlborough Wine Trail. As New Zealand's largest winegrowing region, producing 75% of our wine, Marlborough is home to 120 wineries and over 35 cellar doors, Marlborough's 27,000 hectares of vines equates to roughly 30,000 rugby pitches.
It's not just world-famous Sauvignon Blanc that Marlborough does so well. Personally, I'm not a fan of the pungently aromatic, fruity and herbaceous varietal. But Marlborough's Pinot Noir, Pinot Gris, Chardonnay and Riesling are all top-notch, catering to a wide palate. Drifting between the cellar doors and tasting rooms is one of life's great pleasures.
I was particularly excited to encounter Rock Ferry, a stirring organic winery, that has scooped a stash of gongs at the Organic Wine Awards. The 3rd Rock Sav Blanc 2019 is a cracker, with fruit from the Wairau Valley, exuding great freshness and balanced by crisp acidity. Many Marlborough wine producers also grow red grapes in Central Otago and Rock Ferry's Pinot Noir is absolutely divine, all dark plums, cherries and ripe fruit notes. I also drooled over their Orchard Vineyard Pinot Blanc 2017, a rarer variety in New Zealand, where the dominating flavours are almond and ripe pear with a sharp even acidity. It goes great with seafood.
I've been a long-time admirer of Nautilus wines, which are typically pure and ethereal, while also packing a punch. At the top end of wine country's "Golden Mile" on Rapaura Rd, Nautilus Estate sweeps the board with their elegant Chardonnay, seductively fruity Pinot Noir and complex, yeasty bottle-fermented sparkling wine.
Another legendary wine name in Marlborough is Allan Scott. As one of the true pioneers, Allan's name is synonymous with the wine region, having planted the first vineyard in 1973. After working with Montana and Corbans, he eventually established Allan Scott Family Winemakers, which still remains a true family affair. You'll definitely want to partake in their cellar door experience. You can try every wine they have, any day of the week, via their self-serve Enomatic machines. From premium sparkling wine to exclusive Pinot Noir, I felt like a kid in a candy shop sampling their glorious award-winning wines.
Feeling peckish, I was primed for lunch and eager to savour the culinary flair of Allan Scott Bistro. Head Chef Matt Heath and his stellar crew from the Picton Food Cartel, are at the helm of Allan Scott Bistro, serving up a superlative vineyard dining experience. The atmos is casual and vibrant, with modern-fusion food and perfectly paired wines. There's an underground food movement operating out of Allan Scott Bistro, changing the way food is delivered to the customer.
Everything is sourced within a 50km radius. It is hyper-local paddock to plate experience. I feasted on a platter of Massaman Beef Cheeks and Harissa Pumpkin topped with smoked hummus, nuts, seeds, pomegranate molasses and a green herb dressing. Plus a side of duck fat agria potatoes. Sensational. No reservations, no-frills, just an effortlessly cool vibe.
Rapaura Road is also home to the fabulous The Vines Village. Set amongst 4 hectares of lakeside grounds and gardens, this alluring hub encompasses a wine cellar, café and assortment of boutique stores. There's bike hire available too, if you want to tootle through the vines. But despite Marlborough's blockbuster reputation in the grape stakes, it's not just wine that this plucky region is producing with finesse.
I enjoyed a great gin tasting at the Vines Village, sampling the delights of Elemental Distillers in the Gin Room. (They also have a very cool refill bottle service for Roots gin.) Founded by Ben Leggett and Simon Kelly this craft distillery delivers premium craft spirits and liqueurs with complete transparency of all ingredients, processes and production, from root - to cup. Garnering accolades aplenty, Roots Marlborough Dry Gin is a crisp and robust 'London Dry' style gin, bottled at a bold 45% alcohol by volume.
The Juniper is wild foraged from North Macedonia, while the New Zealand botanicals include Gisborne grapefruit, coriander seeds from Hawke's Bay, organic Motueka hops, wild foraged gorse flower from Marlborough and Kawakawa berries from the Kāpiti Coast. Their Navy Strength dry gin (54.5%) includes the addition of organic Akaroa giant kelp and Hawke's Bay hemp seed. As you do. They do a great line of Bitters, too. I had the pleasure of meeting Ben and hearing about their exciting plans to develop a gin garden at the Vines Village in the coming months.
Marlborough also has a thriving craft beer scene and one of the new boys on the block is Boom Town Brewing Company. Taking its name from Blenheim's nickname 'Boom Town,' Clive MacFarlane established the brewery four years ago with a mission of producing craft beer by locals for locals. The Marlborough businessman has gone with the grain, shifting from fine wine to craft beer, after running the fine wine shop, Wino's, for nine years. Underpinned by a sense of place, of local craftsmanship and fun and discovery, Boom Town creates crisp, smooth, easy drinking craft beers. There's the Alabama APA, Whites Bay IPA, Marlborough Lager, Baby Boom Pale Ale – and the biggest seller, Pelorus Pilsener. They're all rather sessionable.
Locals have been buzzing about the Boom Town Beer Garden over summer, a go-to for fresh tap beers, sun and relaxed vibes in the warmer months. The garden is located behind The Alcove, which operates between Friday and Sunday, with a roaring fire and atmospheric courtyard. (This was formerly the cellar door for Giesens.) All of the Boom Town beers are on tap and many glass pours to choose from. Taco Shack head up the kitchen, whipping up delicious tacos and snacks. Children's food options are available and there's even an enclosed playroom just for them. www.boomtownbeergarden.nz
One place you must dine at in Blenheim is Gramados Restaurant and Bar. Inspired by a small town in southern Brazil, Gramados has fostered a consistently red-hot following for its authentic, expressive cuisine and Brazilian-themed atmosphere. I was there on a Monday night and the place was packed to the rafters. Beyond the bar, the kitchen comes alive with flashes of steam and flame, and the smell of spices infuses the air. Brazilian-born head chef Saulo Camillo Nunes appeared at our table to walk us through the menu, with the infectious charm and natural showmanship I had heard so much about. "Our food is a fusion of traditional Brazilian food, with a twist of South American flavours," says Saulo.
You'll definitely want to try the pao de queijo, little balls of cheesy bread, both delicious and comforting, in equal measure. Saulo then brought a small white dish to the table, with several chillies lined up in a row, from mildest to hottest. "See how far you can go," he exhorted. It was a volcanic journey for my taste-buds. For my main, I ordered the magnificent feijoada, a thick and smoky black bean stew with pork ribs and bacon, served with white rice. True to the spirit of Marlborough, Saulo will implore you to blind taste a variety of wines, as part of your experience. For something different, something exciting and something delicious, Gramados has to be the top of the list. Go hungry.
Also on the food front, be sure to call into The Burleigh, a fiendishly good producer of gourmet pies, The Burleigh's flaky pastry goodness is drool-worthy. The sweet pork belly and steak and blue cheese pies are big-sellers, but the spicy Jamaican lamb pie takes out top slot on my scorecard. Speaking of indulgence, nestled in wine country, Marlborough's very own chocolate factory. Makana Confections, which also does a brisk trade in Kerikeri, offers free chocolate tastings and you can watch the chocolatiers at work through giant windows inside the chocolate factory. The product range is mouth-watering, from macadamia caramel corn to Marlborough pinot noir truffles. But amongst the spoil of delights, the classic macadamia butter toffee crunch wins me over, every time.
Where to stay? Overlooking Seymour Square Gardens, the Chateau Marlborough is a locally owned and operated 5-star hotel, on the fringe of Blenheim's town centre, offering luxury self-contained suites with free Wi-Fi. In the warmer months, cool off in the outdoor swimming pool or relax by the pool with a drink from the bar. A fully equipped fitness centre is on-site. My spacious suite was comfort personified, with excellent bedding, tea-coffee making facilities, and a 42-inch flat-screen TV. Quench Restaurant & Bar is open daily for breakfast and dinner and offers outdoor dining. Private dining is available in the Barrel Room. As you'd expect, Marlborough wines feature prominently on the wine list and the restaurant has been a regular winner of the NZ Beef & Lamb Awards. It's a sterling hotel, loved by leisure and business travellers alike. www.marlboroughnz.co.nz
From the sensory natural pleasures of the Marlborough Sounds to the cultural head-turners, wines, craft producers and dining heroes of Blenheim, plan a flavourful fling with the Top of the South. Make your first port of call, the region's official website for the latest visitor tips and insights. https://marlboroughnz.com/
Mike Yardley is our resident traveller on Jack Tame Saturday Mornings.