Mike Yardley: Once Upon a Time in Hollywood
Author

Publish Date

Sat, 10 Aug 2019, 10:12AM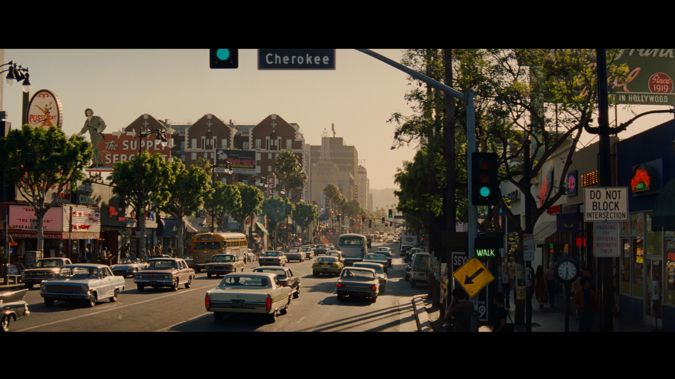 Mike Yardley: Once Upon a Time in Hollywood
Author

Publish Date

Sat, 10 Aug 2019, 10:12AM
With the critically acclaimed Hollywood film set to hit NZ cinema screens on 15th August, Los Angeles Tourism takes a look at the different iconic locations featured in the star-studded film that Kiwis can visit when they are next in the City of Angels.
Once Upon a Time in Hollywood is the ninth film from writer-director Quentin Tarantino and is what he describes as his most personal film yet. In an interview with Esquire , Tarantino said that the film is his "love letter to L.A." and he thinks of it as his "memory piece."
Filming took place in Los Angeles from June to November 2018. Instagram and Twitter were flooded with fan photos of Hollywood Boulevard, which was transported back to 1969 by the film crew. Many of the film's locations are iconic L.A. landmarks, with Tarantino making use of the city's many theatres which pay homage to the golden age of film and theatre in Hollywood.
The 703-acre Cameron Nature Preserve in Puerco Canyon (3501 Puerco Canyon Rd., Malibu) is part of a contiguous block of public parkland that stretches from Corral Canyon Park at Pacific Coast Highway inland to Malibu Creek State Park. The parkland offers ocean views and miles of trails for hikers, bikers, and equestrians, a highlight for when visiting Los Angeles. Tarantino gives the audience a glimpse of Bounty Law , a fictional 1950s TV Western that starred Rick Dalton at the height of his career. (In fact, to prepare for Once Upon a Time, Tarantino wrote five half-hour episodes and wants to direct them).
Casa Vega Dalton and Booth get a drink at Casa Vega (13301 Ventura Blvd, Sherman Oaks 91423), the Valley institution founded by Rafael "Ray" Garcia in 1956. Casa Vega continues to be a celebrity favourite thanks to second-generation proprietor Christina "Christy" Vega Fowler, who respects her famous guests' privacy and accommodates special requests like discretely entering and exiting the landmark restaurant. Not to mention, the lighting is so low an incognito meal is practically guaranteed.
Cinerama Dome Los Angeles is host to many iconic theatres, but Pacific Theatres' Cinerama Dome (6360 W Sunset Blvd, Hollywood 90028) is the first and only theatre of its kind in the world. For Once Upon a Time, Tarantino's favourite movie theatre was dressed for the premiere of the disaster film Krakatoa, East of Java which was released on May 14, 1969. The signature marquee and portico on Sunset Boulevard, the 316 hexagons in the famous geodesic dome, and the deeply curved screen (32 x 86 feet!) were all restored to their original specs.
Opened in March 1931, El Coyote Mexican Cafe moved to its current location (7312 Beverly Blvd, Los Angeles 90036) in 1951. A favourite amongst local Angelenos and those visiting L.A., generations of guests have dined on authentic Mexican cuisine and sipped the famous Margaritas in El Coyote's lively, colourful setting. Autographed photos of Hollywood stars line one wall, while Christmas lights brighten up the dining room all year. Sharon Tate, Jay Sebring, Wojciech Frykowski, and Abigail Folger ate their last meal at El Coyote on Aug. 8, 1969. Along with 18-year-old Steven Parent, the group was murdered later that night by members of the Manson Family at 10050 Cielo Drive in Benedict Canyon.
Located near UCLA at the corner of Broxton and Weyburn in Westwood, the Regency Bruin Theatre (948 Broxton Ave, Los Angeles 90024) opened in December 1937. In Once Upon a Time in Hollywood, Sharon Tate stops by the Bruin to watch herself in The Wrecking Crew , the 1969 film starring Dean Martin. ("I play Miss Carlson, the klutz.") The theatre was designed by noted architect S. Charles Lee, who also designed the Los Angeles Theatre, the Tower Theatre, the Hollywood Melrose Hotel (now the Hollywood Historic Hotel), the Max Factor Building (home of the Hollywood Museum) and the Hollywood & Western Building (aka The Mayer Building.)
Italian Restaurant, Cicada Cicada, the stunning Art Deco restaurant and special event venue located in Downtown L.A.'s historic Oviatt Building (617 S. Olive St. Los Angeles 90014). Once Upon a Time in Hollywood isn't the only movie appearance there - nearly 30 years since Pretty Woman was released, Cicada is still called the "Pretty Woman restaurant", which was known as the Rex Il Ristorante back then. On select nights, the restaurant transforms into Cicada Club, a classy evening of dinner and dancing with nostalgic music performed by swing and jazz bands.
The iconic Musso & Frank Grill (6667 Hollywood Blvd, Hollywood 90028), Hollywood's oldest restaurant, is featured prominently in the Once Upon a Time. Celebrating its centennial this year, Musso's is as famous for its Martinis as the legendary clientele, which spans generations of celebrities from Charlie Chaplin and Marilyn Monroe to Keith Richards and Johnny Depp. Musso's was also a mecca for famed writers like William Faulkner, F. Scott Fitzgerald, Nathanael West, William Saroyan and Dorothy Parker. In a scene filmed at Musso's, Dalton meets agent Marvin Schwarzs (Al Pacino), who says he's a big fan and offers him an opportunity to make a Spaghetti Western in Rome.
Spahn Ranch was a 55-acre movie ranch that is infamous for being the primary residence of the Manson Family for most of 1968-69, including the Tate-LaBianca murders. The ranch was owned by 80-year-old George Spahn (played by Bruce Dern), who allowed Manson and his followers to take it over in exchange for daily chores and sexual favours from the women. A wildfire destroyed the dilapidated film sets and residential structures in September 1970. Now part of Santa Susana Pass State Historic Park, Spahn Ranch hosts organizations like Atlas Obscura that offer guided tours of the former Manson Family hideout. www.discoverlosangeles.com
Mike Yardley is our Travel Correspondent on Jack Tame Staurday Mornings.