Mike Yardley: Nazare's surf, seafood, and skirts
Author

Publish Date

Fri, 25 Sep 2015, 12:34pm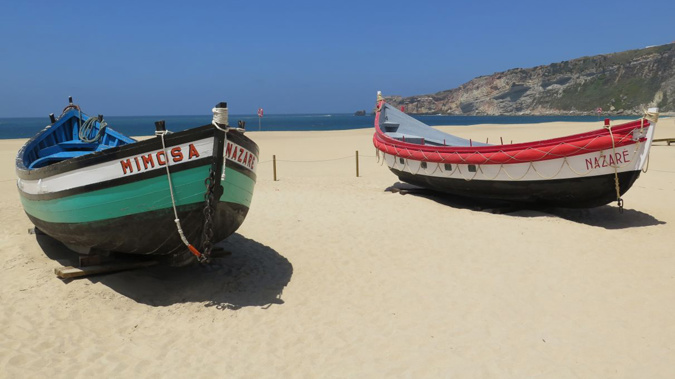 Mike Yardley: Nazare's surf, seafood, and skirts
Author

Publish Date

Fri, 25 Sep 2015, 12:34pm
A town doesn't need to be studded with headline attractions to steal your heart. 
Sometimes a winning location and charming ambience is all that's needed to make your heart sing. I discovered several such places on Trafalgar's Best of Portugal tour, where the atmosphere is timeless, traditions continue to thrive and where a sense of contentment instantly greets you.  Such a specimen is the fabulous fishing town, and serious surfing hangout of Nazare.
Two hours north of Lisbon on the Atlantic Coast, this is not a town of architectural grandeur or revered monuments. The most iconic aspect of Nazare are the cheerily-painted wooden fishing boats, with curved prows and decorative touches, reminiscent of the Phoenicians, who settled the area 2000 years ago. Some prows are painted with a vigilant eye,  that supposedly keeps watch for storms. 
Housed within a traditional cottage, Casa Museu do Pescador is dedicated to Nazare's bountiful fishing history, providing a great insight into the rigours of fishing family life. Another time-honoured local tradition is the seven skirts of Nazare. Old-school fisher women still wear seven colourful layers of petticoats under their skirts (one for each day of the week and for the seven colours of the rainbow) along with wooden clogs and black headscarves.
Their injection into the Nazare fashion scene is attributed to the fishwives of old who would tirelessly await the safe return of their husbands on the coast in brutally cold, wet, and windy conditions, developing the multiple layers to stay warm. The ensemble is completed with an apron (usually embroidered by the wearer), a small woollen cape, and ostentatious jewellery. The traditional attire certainly lends the town a walk-through-time vibe.
Along Nazare's oceanfront, I stopped to marvel the locals still drying their fresh catch of fish in the baking sun and mending their boats, adjacent to sunbathing and frolicking holidaymakers. Fishermen happily stash cigarettes and fishhooks in their stocking caps, as they carry out their work. Traditions run deep. A flotilla of sun-dried and salted fish are crucified on nets pulled tightly around timber frames and left under the beating sun, in what resembles a mackerel and sardines crucifixion zone. Preparing and selling the fish appears to be life's lot for fisherman's wives. I also noticed many widows have branched out into the B&B business with rooms to rent.
Parallel with the beach, the sprawling seafront promenade of Avenida Marginal is emblazoned with a throng of bustling restaurants and inviting craftshops. You'll stumble upon the typical beach tat, but there's some magnificent art and craft galleries, brimming with top-quality souvenir keepsakes. But it's the aromatic seafood restaurants that will have you drooling, as waiters proudly parade vast plates of steamed shrimps to salivating diners. A signature dish you may want to try is Caldeirada a Nazarena,  a rich fish-based stew. In the height of summer, smoke rises from the multitude of outdoor grills, beckoning you to feast on a plate of sardines.
Before long, you'll notice the booming surf and enormous breakers crashing onto the rocks at the northern end of the beach. Surfer, Garrett McNamara, chases big waves all around the world, but he has a major soft-spot for Nazare. It's where he set a new world record in 2011, surfing a 90ft monster wave, and where he eclipsed his own record, two years later, riding a ridiculous 100ft wave. He ended up marrying his American wife in the cliff-top chapel overlooking Praia do Norte. (north beach) Check out the YouTube video of the big wave surfer taking his good mate, Anderson Cooper of CNN fame, on a wild ride in Nazare.
Pedro our Trafalgar tour director, a gifted raconteur, shared with us the backstory to one of Nazare's celebrated legends, involving the miraculous appearance of the Virgin Mary.  Perched on a rocky promontory over 100m above the main part of town, Sitio delivers an eagle's-eye view over the broad bay and golden sandy beach of Nazare. I admired stone memorial honouring Vasco da Gama, who stopped here before leaving Europe for India. For a small fee, you can scale this steep slope on a funicular carriage, and a winding cliff-hugging path is an arresting way to get down. 
Adjacent to the lookout, you'll see a church and the pint-sized chapel clinging to the edge of a sheer drop, the Ermida da Memoria. According to Pedro, legend has it that on a mist-shrouded morning in 1182, a local nobleman Dom Fuas Roupinho was hunting in Sitio when he realised he'd stalked a deer to the very edge of the cliff. Just as he too was about to plunge to his death, he cried out to Our Lady of Nazare who appeared before him and abruptly halted his horse in time. In honour of this life-saving act of divine intervention, Roupinho ordered the construction of the chapel in gratitude. Over the centuries, it has been swooned on by pilgrims and when you visit the chapel today, you can still see the tale depicted in hand painted azulejos, along with the supposed footprint of Roupinho's horse engraved in a stone found in the chapel's crypt.
But aside from the set-piece attractions, you'll absolutely adore aimlessly wandering the long and lolloping back streets across Nazare, where discoveries greet you at every turn.  Laundry flaps in the breeze, kids play street football, fish sizzles over tiny kerbside grills and noble old men dressed in their Sunday best swap stories over coffee in neighbourhood cafes. Savour these  charming, gentle glimpses of Nazare's easy tempo.
Mike Yardley is Newstalk ZB's Travel Correspondent on Jack Tame Saturdays. 11.20am