Mike Yardley: Naumi Hotel Auckland Airport
Author

Publish Date

Thu, 12 Apr 2018, 9:56pm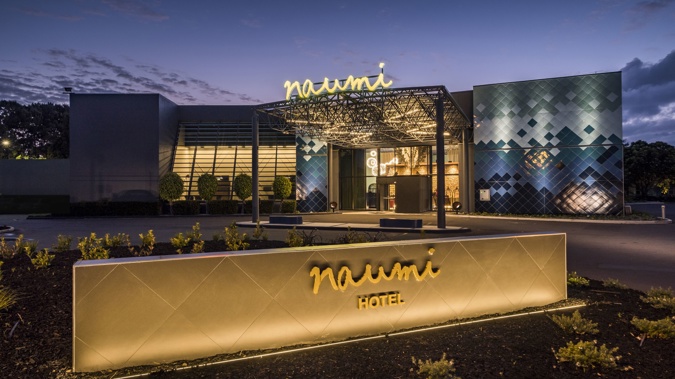 Mike Yardley: Naumi Hotel Auckland Airport
Author

Publish Date

Thu, 12 Apr 2018, 9:56pm
If you find yourself in need of an overnight roost adjacent to Auckland Airport, there's a sparkling new boutique offering. Naumi Hotels, originating from Singapore, has unfurled its renowned art-inspired hospitality magic at Naumi Hotel Auckland Airport.I recently put the fresh accommodation offering to the test, after disembarking from a long-haul flight late at night.
Just 3km away from the airport terminal, I zipped my way to the hotel via the high-frequency airport hotel hop-on, hop-off shuttle, which operates around the clock. Feeling typically addled with jet-lag, this five-star property beckoned like an oasis of calm and luxurious comfort. Its tranquil setting has been meticulously crafted to sweep you up into its cradle of pampered and restorative relaxation. 
If you're seeking "down time" between flights, you've got a host of comforts at your disposal to reset the mind and refresh your body, including quiet gardens, a fabulous outdoor swimming pool, putting green, yoga deck and TechnoGym.  If the weather isn't behaving, sumptuous lounges and quiet alcoves wrapped around the lobby, are pitch-perfect for chill time. Contemporary nods to New Zealand culture, design and natural landscapes are thoughtfully infused throughout the property.
Any self-respecting hotel of distinction puts a lot of thought into their lobby centrepiece – and Naumi does not disappoint, with its dazzling 24 carat gold textured 6metre-high wall, representing the nape of the Tui bird. It's a sublime installation and was created by NY Art department in Auckland, taking six months to complete. Paying homage to the cheeky Tui is a recurring theme across the 193-room property, brimming with unique design accents and art pieces.
In keeping with the theme, rooms are accessorised with a Tui bird LED illuminated mood light (I want one!), as part of the customised mood lighting system at your disposal. Bathe in luxury, armed with exclusive SOAK skincare products. In fact my deep bath was nearly big enough to do laps in. Rooms are tech-loaded with 10 power points that allow guests the flexibility to power their gadgets, complimentary unrestricted Wi-Fi, in built bed-side USB Slots and 50" Smart LED TVs with Netflix streaming.
Swathed in crisp linens I slept like a lamb, in a bed so divine it could cure the worst case of insomnia. In addition to the standard rooms, the hotel also features a range of suites. Women travellers may well wish to plump for a pink-hued Blush Suite, purposefully equipped with GHD straighteners, Dyson hairdryers, hair curlers, bedside jewellery boxes, glossy magazines, yoga mats, backlit mirrors, silk robes and warming shawls. Oh, the indulgence!
The Paksa Bar & Restaurant features upscale dining in a relaxed setting, including what could well be one of New Zealand's best breakfast buffets. Spanning a world of tastes, the sumptuous range of hot and cold dishes, is decadence defined. A jolting feast for the senses. Cold-pressed juices, energy drinks and barista-made coffee complete the picture.  Well-staffed, welcoming and whip-smart, Naumi Hotel Auckland Airport is a seamless blend of discerning comfort and luxury without pretension.
Naumi Hotels are located in Singapore and Auckland, with Wellington and Sydney scheduled for opening in late 2018 and 2019 respectively. If you're wondering about the hotel brand's name, "Naumi," pronounced 'know-me' means "the 9th day" and was first coined to name the well-travelled, sensuous, elegant, and enigmatic woman who welcomes guests to her beautifully tailored abode. It's very apt, because what sings out loud about this pint-sized palace is the blissed-out sense of beauty. www.naumihotels.com
Mike Yardley is our Travel Correspondent on Jack Tame Saturday Mornings.