Mike Yardley: Nature & Heritage Nuggets in Taranaki
Author

Publish Date

Fri, 11 Mar 2016, 11:08am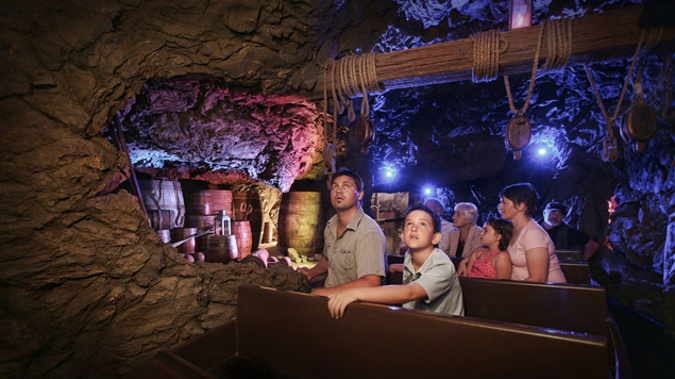 Mike Yardley: Nature & Heritage Nuggets in Taranaki
Author

Publish Date

Fri, 11 Mar 2016, 11:08am
Don't you love the thrill of flying into Taranaki? As my plane prepared for touchdown at New Plymouth, I gazed longingly in awe of mighty Mt. Taranaki, and the volcanic ring plain that fans out across the region, punctuated with distinctive lahar mounds and a radial network of rushing rivers. From above, the wonderfully corrugated terrain of conical hills and the emerald-green fertile pasture offers a sure-fire insight into the legacy of volcanic forces. Huge volcanic avalanches have left much of Taranaki's terrain looking bespeckled, like a teenager with acne.
Richly blessed with world-beating nature trails, I was itching to tackle the majesty of Mount Taranaki, her lush forest and the lava cliffs of Egmont National Park. The quick-fire walking tracks through to Dawson Falls and Goblin Forest are family-favourites, too. For the extra-intrepid, the Pouakai Circuit is an enthralling 2-3 day tramping track. If you're time-poor, take the one day distilled version with Top Guides, who offer an 8 hour wilderness adventure, up and across the mountain. You'll traverse open golden tussock, sub-alpine cedar forests, the Ahukawakawa Swamp, and be spoiled with catch-your-breath vistas of the coast and ring plain.
But the biggest scenic frisson awaits you at the Pouakai Tarns, that produce sublime mirror reflections of the mighty conical peak.  Even though it's a mountain walk, it's like the little sister of the Tongariro Crossing.  A moderate level of fitness will see you through. And you'd be hard pressed place to score a better perch to watch the setting sun over Taranaki. http://topguides.co.nz/tours/
An hour south of New Plymouth, hot-foot it to Tawhiti Museum. Every history buff I know considers it the best private museum in the country. It is absolutely jaw-dropping with life-size exhibits, scale models, intricate figurines and highly detailed dioramas and displays, vividly depicting the richness and raw drama of Taranaki's early history. ( he life-size figures are actually created from moulds cast from real people – designed and constructed on-site in the Body Shop, as are all models.) The wizardly powerhouse behind Tawhiti Museum is its owner and creator, Nigel Ogle, who's been developing this magnificent heritage showcase over the past thirty years. Nigel describes the museum as "one big art project."
It's got its own bush railway and the latest innovation is the truly wondrous Traders and Whalers attraction. Weta Workshops deployed their technical expertise to help construct the artificial underground caverns. The river boat ride through these caverns, clad in convincing lush bush and rocky coastal settings, glides you past compelling animated displays, graphically illustrating Taranaki life in the 1820s and 30s. Modelled on Disneyland's iconic It's a Small World attraction, this tour de force at Tawhiti is a must-do. www.tawhitimuseum.co.nz
You've probably heard Taranaki described as the "Garden of New Zealand" and a visit to Te Kainga Marire, was proof positive of the catchphrase for me. Warmly greeted by the delightful Valda Poletti and the equally personable family dog, it was a revelation to discover how over the course of forty years, Dave Clarkson and Valda have transformed a patch of clay in suburbia, into this spell-binding celebration of native botanical splendour.  The battle began in 1972, dealing to this half-acre clay wasteland of grass, gorse, and brambles.
Meticulously planned native plantings, wrapped around the beautiful family home, were designed to encourage tui and other native bird species back to into suburbia. Within minutes of wandering through Valda's harmonious masterpiece, I was enchanted by not just the leafy finery but the flutter of feathers and melodious birdsong. Opened to the public 25 years ago, Te Kainga Marire ( which translates as peaceful encampment) has been showered with accolades, recognised as a Garden of International Significance by the NZ Garden Trust. This unrelenting labour of love has produced a microcosm of New Zealand's natural environment.
This majestic tapestry of subtle texture and colour traverses lush ferns, hardy alpine plants, wetland gems and towering native trees. The fern-filled whare is a heart-stealer. Neighbouring the lovely Te Henui walkway, a coastal swamp forest and old pa site, the garden weaves its way around the family home, with skilful tenderness. Book ahead for an illuminating tour with Valda and her not so secret garden. www.tekaingamarire.co.nz
Air New Zealand operates an outstanding network of daily services, connecting Taranaki with the nation. Fly direct to New Plymouth from Auckland, Wellington and Christchurch. Use the fare finder to bag the lowest flight price at www.airnewzealand.co.nz
For further tips and inspiration on exploring the wonderful Taranaki, head to www.taranaki.info
Mike Yardley is Newstalk ZB's Travel Correspondent on Saturday Mornings with Jack Tame. 11.20am