Mike Yardley : Maui Hits the Sweet Spot
Author

Publish Date

Tue, 17 Nov 2015, 2:12pm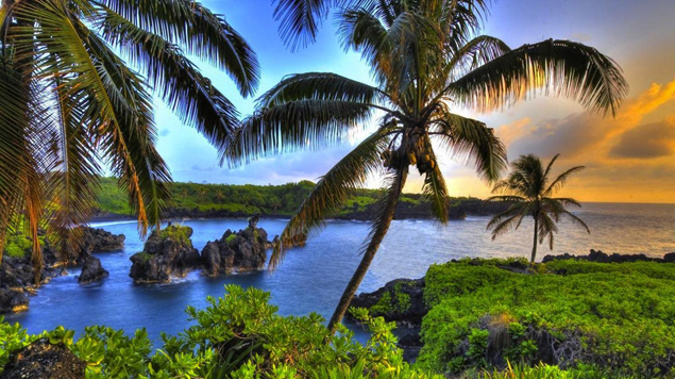 Mike Yardley : Maui Hits the Sweet Spot
Author

Publish Date

Tue, 17 Nov 2015, 2:12pm
In Maui, the locals love to say, "Maui no ka oi"- which means the best, the most, the top of the heap. It would be churlish and indeed rather challenging to disagree. Maui can't fail to hit your sweet spot. It's a tangle of sizzling contradictions, from the Gucci-clad sun-seekers to the New Age healers. Maui enjoys a seraphic landscape, spanning mile upon mile of Midas-kissed soft-sand beaches to fragrant rainforests. The lush emerald valleys, striking volcanic landscapes, supreme water sports, rich cultural offerings and stellar eateries all contribute to its unfaltering appeal.
What I love about Maui is its diversity and accessibility. You can stay in care-free campgrounds, sleepy villages or unrestrained luxury resorts.  This island has it all and embraces everyone.  In contrast to just lounging on the beach, if you're up for some edgy volcanic sightseeing, I strongly recommend strapping on your walking boots and heading to Halekala National Park. All of East Maui is essentially the top of a massive volcano which last spewed molten lava a couple of hundred years ago. Its crater is 12km long and 4km wide. You can descend 900 metres into the volcano on a well-formed trail, or take the longer Sliding Sands Track which offers a wondrous kaleidoscope of scenery, from barren cinder desert to alpine shrubland. 
Rent a car and drive up to Pu'u 'Ula'ula Summit, Maui's highest point, serving up a beguiling panorama of the entire volcano with its brightly coloured ashes and cinder cones. With a perfect round bay and dreamy climate, Hana has been a prized settlement since ancient times. The large cinder cone on the right flank of the bay served as a natural fortification. Call into the Hana Cultural Centre to admire an indigenous residential compound and marvel at the Wananalua Church, constructed from coral blocks in 1838.
But my favourite Maui experience is to trip the Hana Highway. I joined Polynesian Adventure Tours on their ravishing all-day adventure, which threads together a spooling reel of natural, cultural and historic sights, over-laid with knock-out scenery.  My camera got a heavy work-out, starting with the roadside bamboo jungles, eucalyptus groves and roadside fruit stands. Waianapanapa State Park and Beach is a thrill for its jet black sand and ancient lava flow which includes sea cliffs, lava tubes and arches.
We journeyed through Kaumahina State Park brimming with scenic vistas, plus a stop at the Keanae Lookout, high above the ocean blue. You'll see lots of waterfalls on the trip, but an unexpected highlight is a restorative dip in one of the seven scared pools of 'Oheo'o.  Polynesian Adventure Tours are the award-winning proven touring experts across Hawaii. Their full day Hana Highway Tour is an incredibly enriching and enlightening encounter with Maui's splendour, effervescently delivered with trade-mark Hawaiian charm and humour. A must-do. www.polyadhawaiitours.com
Best base? Lahaina and Ka'anapali, with its celestial white sand beach. Be sure to visit Lahaina's quaint Front Street to explore the eclectic array of art galleries, clothing and jewellery stores. Be sure to pop by the historic Baldwin Home, built in the 1830s, for a taste of colonial Maui. A truly unforgettable roost is the Hyatt Regency Maui.  Fringing Kaanapali Beach, there is a wondrous sense of fantasy to this artfully designed resort. You'll be serenaded by brilliantly colourful parrots and be entertained by the playful South African penguins.
Strolling into the lobby, the artworks are museum-quality.  But it's the fantasy landscaping that really strikes the "wow" jackpot, with its splashing waterfalls, swim-through grottoes, Blue Lagoon swimming pool, and a 150-foot lava-tube waterslide.  Spread out among three towers, the resort's supersized rooms have marble bathrooms and private lanais (balconies)with celestial ocean and mountain vistas. Their dream-inducing feather-soft platform beds are divine.
Whether you're staying in-house or not, you'll love the oceanfront Spa Kamaha'o; head to Japengo for exceptionally fresh and flavourful sushi, with crafted cocktails. The hotel's signature luau, Drums of The Pacific, lures visitors from all over the island, nightly. The slickly paced programme celebrates Hawaiian, Samoan, Tahitian, Fijian, Tongan, and Maori cultures. The fire-knife dancing finale is sensational. The buffet feast is a belly-buster, including delicious local delicacies like shoyu chicken, lomilomi salmon, and Pacific ahi poke (pickled raw tuna,) The deserts are decadent and an open bar is the cherry on top. Bag a great deal at Hyatt Regency Maui Resort, and savour Drums of the Pacific, one of Hawaii's most acclaimed luau performances.  www.maui.hyatt.com
Mike Yardley is Newstalk ZB's Travel Correspondent on Jack Tame Saturdays. 11.20am