Mike Yardley: Masks and spirits in Kokopo
Author

Publish Date

Tue, 26 Jan 2016, 11:01AM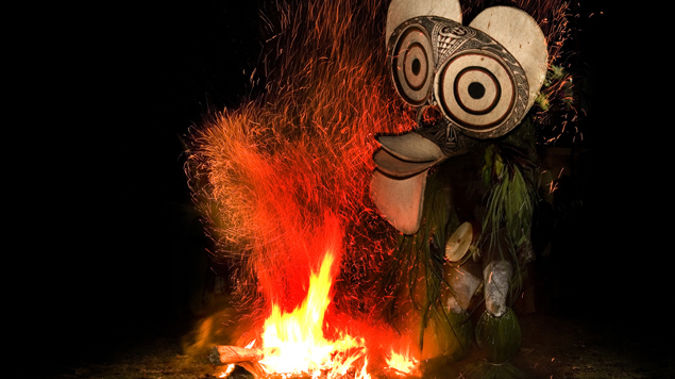 Mike Yardley: Masks and spirits in Kokopo
Author

Publish Date

Tue, 26 Jan 2016, 11:01AM
Touching down at Rabaul Airport in Papua New Guinea's East New Britain, jandal-clad customs officers wearing readily eager smiles make you realise you've arrived somewhere special.  In the wake of old Rabaul town being consumed by the volcanic eruption twenty years ago, Kokopo is now the main town of East New Britain, the new and emerging tourist cradle of Papua New Guinea.
The island offers an irresistible repertoire of sights. When you've had your fill of disaster tourism, from World War II wrecks to the steaming volcanoes, revel in the natural and cultural riches that are not just sensationally photogenic but resolutely unique. Buzzing Kokopo market is a multi-sensory introduction to the delightful villagers, and their colourful stalls, brimming with a head-swirl of produce, from smoked-fish and home-made cigars to the ubiquitous betel nut. You'll see many locals chewing on the stuff all day, seasoned with its condiments, mustard and lime. This trippy combination creates an orange goo, numbing your mouth and staining it flaming orange.
Hugging the sandy shoreline of Blanche Bay, Kokopo Beach Bungalow Resort  is a vision of authentic tropical island hospitality. The perfectly-proportioned mid-size resort, swaddled in verdant gardens, strikes the right balance between providing a personable and private experience, brimming with all the requisite creature comforts without being over the top.
The centre-piece is the masterly constructed restaurant and bar, an exquisite public space built in traditional style using local timbers, mop-topped with a sago palm thatched roof.  Delicious dishes, from dawn to dark, celebrate the best in Melanesian, Asian and Western cuisine. 
I highly recommend you take the full-day excursion, from the beach, where you board a body-bashing banana boat ride, drinking in the watery delights, surrounding Kokopo.  Strutting up from Simpson Harbour, two striking rock formations, nicknamed the Beehives, are eroded remnants of the original volcano.
But the Tolai people's (local tribe) mythological version is far more fanciful.  The story goes that two brothers went out fishing at this spot, catching so many fish, they got greedy and decided not to share the bounty with their village. The ancestors were so angry by this act of selfishness, the brothers were turned into rock, so that other villagers could enjoy the same fishing spot.
A short zip across the inky waters brings you to the unspoiled Duke of York islands, scattered like a string of pearls, in the azure lagoon. It's here that you'll soon be riveted by the frisky pods of pilot, bottle-nose and spinner dolphins, flipping, diving and showing-off, right in front of you. What a spectacle! Along with Pidgeon Island, the northern tip of East New Britain is picture-perfect for snorkelling. The warm shallow water is festooned with a host of psychedelic fish and equally techni-coloured subterranean gardens of hard and soft coral. 
The National Mask Festival is New Britain's biggest bash, held every July at the Kokopo Showgrounds. An annual extravaganza of flamboyant feathered costumes, ancient rituals, twirling dancers, pounding drums and exuberant singing. The festival begins with a dawn service on the beach, in which Tolai dukduks and tumbuans ( masked forest spirits) arrive on canoes to dance on the shoreline, before welcoming cultural dancers from all over Papua New Guinea onto the shores of Kokopo.
The incredibly lavish cultural pageant plays out over four days, where the locals outnumber visitors by 90 to 1. It is such a privilege to get a ring-side seat, a window into their world, infused with so much beauty and age-old mystery.
Tolai men bond together in secret male societies and still hold a powerful grip within village life, staging time-honoured ceremonies and upholding customary laws. You will never see a Tolai society member out in public without their rattan basket. It's like their wallet – they never leave home without it, yet it supposedly contains secret and seductive potions, overpowering to women. You have been warned!
Meanwhile, another indelible spectacle is high up in the mountains, where the Baining tribe were driven, by the conquesting Tolai many centuries ago. Dressed in giant bark cloth masks, the Baining dancers walk on and even eat red coals, while holding live snakes in the roaring fire. This stirring spectacle of tribal witchcraft, the chanting and pounding of drums doesn't just lull the performers into a trance-like state!
It's an intoxicating sample of the heady world of mystical spirits, at the core of Papua New Guinean culture. This year's National Mask Festival will be staged from July 13 to 14. For further details, head to www.papuanewguinea.travel/eventscalendar
Mike Yardley is Newstalk ZB's Travel Correspondent on Jack Tame Saturdays.