Mike Yardley: Magic in West Maui
Author

Publish Date

Thu, 5 Apr 2018, 9:09am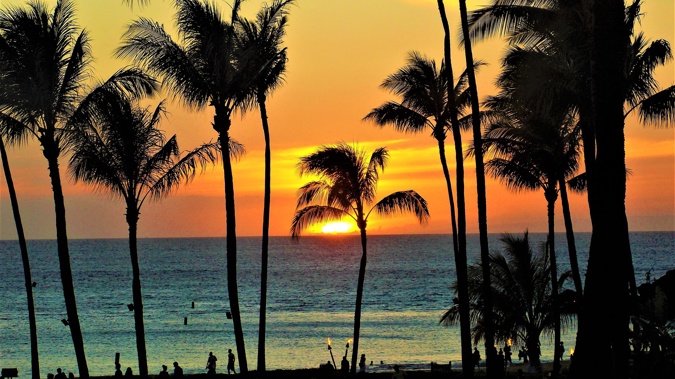 Mike Yardley: Magic in West Maui
Author

Publish Date

Thu, 5 Apr 2018, 9:09am
Backed by the achingly beautiful West Maui Mountains, studded with a riot of volcanic rock hues, something quite magical happens virtually every day at Kaanapali. As if by clockwork, a massive rainbow arcs across the mountains, most days, at 5pm. One of Kaanapali Beach's signature attractions is the daily cliff diving ceremony off the beach's northernmost cliffs known as Puu Kekaa, or Black Rock.
Staged every evening at sunset, a cliff diver lights the torches along the cliff, diving off Black Rock in a re-enactment of a gallant feat by Maui's revered King Kahekili. A glittering necklace of resorts that melt into one another, line up along Kaanapali. As the flaming torches nestled around my resort took hold in the twilight, I strolled along the Kannapali Boardwalk, which laces the vacation village together. It's an effortless way to have a snoop and property-compare, to get a feel for how well your resort stacks up, compared to the glittery swank of your neighbours.
I plumped for The Westin Nanea Ocean Villas, an elegant and verdant oasis of relaxation, underpinned with a concerted focus on showcasing and sharing the region's cultural pride. Just one year old and still exuding that just-new shiny freshness, as I entered the resort's lobby, I was swept up by the traditional Hawaiian artwork, designed by five Maui artisans, wrapped around the four pillars of the lobby, that embody Hawaiian proverbs.
An on-site cultural centre, Pu'uhonua o Nanea offers a range of interactive cultural experiences, whether you want to make a fresh flower lei, learn how to play the ukulele, dance hula or master some indigenous language skills. The team of cultural specialists will go out of their way to share with you some of the history, mythology of their people, endowing your stay with an authentic layer of cultural depth and appreciation.
Every aspect of the resort has been thoughtfully conceived and executed through the prism of cultural pride and environmental sustainability. Accommodations are luxurious, with expansive living areas, supreme creature comforts and culturally inspired décor. As you'd expect from a top-end resort, the leisure amenities are superb, with a main lagoon-style pool adjoined by plunge pools, hot tubs and a splash pad, all wreathed in ocean views and meticulously maintained tropical gardens.
The signature dining venue, Mauka Makai, celebrates Hawaiian cuisine with inventive flair. The poolside restaurant also serves up a splendid buffet breakfast. Virtuously kickstart your day with their spectacular cold-pressed juices, like turmeric, ginger and carrot juice. Another winning attribute is the resort's complimentary shuttle service which loops you around her sister properties all along Kaanapali and to Lahaina. 
Maui's northwest coast, the island's sunniest spot, was once a retreat for Hawaiian royalty and the capital of the Hawaiian Kingdom. Just minutes from Kaanapali is the historic whaling town of Lahaina, which was also the Hawaiian capital before Honolulu.  Once known as Lele, which means "relentless sun" in Hawaiian, echoes of Lahaina's whaling era are strikingly manifest in its rustic portside buildings and colonial architecture.
At the height of the whaling boom in the mid 19th century, thousands of sailors from hundreds of ships would take shore leave in Lahaina, the whaling capital of the world, including Herman Melville of Moby Dick fame. I strolled down bustling Front Street, which despite its tourist trap excesses, still lays on the charm thick. In between the bevvy of eye-catching art galleries, essential historic stops include the U.S. Seamen's Hospital, Lahaina Prison (for rowdy sailors) and the Pioneer Inn.
Grab a walking map from the Old Lahaina Courthouse and take a two-hour long self-guided walk on the Lahaina Historic Trail, traversing the full range of influences, from ancient royalty to whaling and missionaries. One of the best preserved colonial structures is the Baldwin Home, Maui's oldest home, built in the mid-1830s and originally the residence of Dr. Dwight Baldwin, whose missionary influence on Maui was profound and lasting.
It's just across the road from the oldest Banyan Tree in the United States. Marking its 145th birthday this month, this magnificently sprawling specimen was a gift from missionaries in India. Something that equally enthralled me is the ancient rock down on the shore line, washed by the ocean and shaped like a throne, Hauola Rock. For centuries it was a birthing stone for Hawaiian royalty, where the mother would deliver their newborn prince or princess while sitting on this rock.
Ancient healers would also send their patients to sit on the Hauola Rock and let the brackish water, soothe their illnesses. After taking my fill of culture and history, I was itching to stake out some flavourful Maui bites. Stand-outs include Duke's Beach House, perfect for breakfast, whether it's for Beach Boy Burritos or Local Kine Eggs. Aloha Mixed Plate is a salubrious dining spot on Lahaina's waterfront. Shoyu chicken, fresh fish and teriyaki beef is the headline offering.
Hula Grill Kaanapali is a gorgeous venue, whether for sundowners in the Barefoot bar under the thatched palapas, or feasting heartily from the Kiawe wood grill. My pick? Macadamia nut encrusted Mahi Mahi! And take your Shave Ice fixation to the next level at Ululani's Hawaiian Shave Ice. It's as soft and fluffy as a snowflake, the flavour range is ridiculous and all their secret syrup recipes use premium purees and natural fruit juices. 
As it nears the celebratory milestone of 90 years of continuous service, no airline knows Hawaii quite like Hawaiian Airlines. The Aloha spirit is readily apparent from the moment you step on-board, nestled in the authentic warmth and charm of Hawaiian hospitality. Beyond Hawaii, I ventured further to the American mainland, and Hawaiian Airlines is the only domestic carrier that offers all guests in all cabins complimentary meals.
Coinciding with Hawaiian Airlines' 5th anniversary servicing New Zealand, the carrier has just expanded its Trans-Pacific service, now operating five non-stop flights a week, between Auckland and Honolulu, based on strong demand. Travellers have the option of taking a dual-destination vacation with a free stopover in Hawai'i before connecting to North America or on the return to New Zealand. After enjoying a mini-break in Maui, I flew on to California, via the direct Maui service to Oakland, and returned home to New Zealand flying from Seattle to Honolulu and onto Auckland. 
In addition to the carrier's comprehensive network inter-lacing the Hawaiian Islands, Hawaiian Airlines services 12 cities on the US Mainland including Long Beach, Los Angeles, Las Vegas, Sacramento, San Diego, San Francisco, Oakland, Phoenix, Portland, Seattle, San Jose and New York City. On the New Zealand service, Hawaiian operates the wide-body Airbus A330 which offers three cabins, including Business Class with fully lie-flat seating, Extra Comfort premium economy and the Main Cabin.
I was particularly keen to experience the increasingly popular Extra Comfort seating, with 68 such seats on the reconfigured Auckland service. Featuring five more inches of precious legroom, you'll also enjoy priority boarding, a personal power outlet and amenity kit. For just NZ$145 per person, per sector, it's a great-value way to accentuate the experience, particularly as you trek across the Pacific, from Auckland to Honolulu. Flights in Hawaiian's expanded New Zealand schedule are now available for booking. Bag a great fare and seat to suit. 
Mike Yardley is our Travel Correspondent on Jack Tame Saturday Mornings.