Mike Yardley: Macau with a French Twist
Author

Publish Date

Mon, 19 Feb 2018, 3:33pm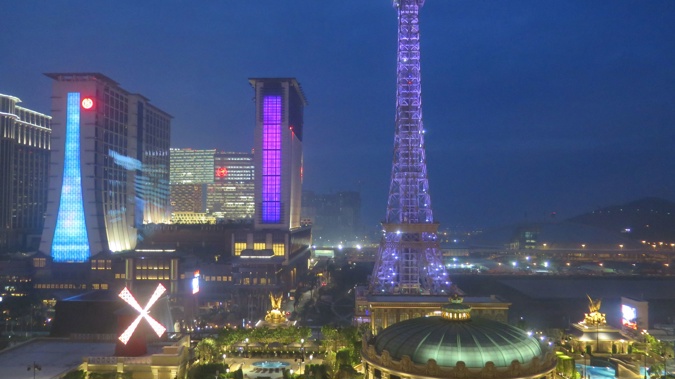 Mike Yardley: Macau with a French Twist
Author

Publish Date

Mon, 19 Feb 2018, 3:33pm
The glittery bling of Macau's Cotai Strip grows ever bolder by the year, Asia's unmistakable answer to the Las Vegas Strip. And it's streaking into the future with incredibly grand designs. The bright lights, shopping and dining temptations, and daring architectural flourishes is escapism at its most intoxicating, an awe-inspiring fantasyland for adults. In a sure sign of Macau's muscular outreach, one of the world's biggest overwater bridges will open later this year.
It will allow you to zip to Macau from Hong Kong airport in just twenty minutes - a quicker trip than travelling into Hong Kong itself, from the airport. To safeguard pint-sized Macau from the threat of traffic gridlock on its slender streets, only coaches will be allowed to traverse the ocean-spanning bridge. Recently I had the pleasure of experiencing the latest palatial mega-confection to unfurl its effervescence across Cotai: The Parisian Macau.
Opened just over a year ago, this is the newest integrated resort to enter the scene, from the Sands stable. And there is something extra seductive about gracing such a majestic masterpiece that is still aglow with that glossy newly-opened sheen. Boasting 3000 luxury guestrooms and suites, I felt like I had been whisked away to the grand halls, lavish staterooms and ornamental gardens of the City of Light. The Parisian is an unabashed salute to Paris in all its grandeur, meticulously designed to celebrate the architectural splendour, abiding romance and artistic verve of the French capital.
In the spirit of all grand palaces, as I entered the main doors of this colossus, I was awestruck by the Rotunda, a soaring, dramatic dome, flanked by sweeping promenades of French limestone and marble, and crowned with tromp l'oeil ceilings. Adjoining its sister property, The Venetian Macau, I found The Parisian to be a seriously stylish and exquisitely themed resort – tacky, cheesy or gaudy are not adjectives that you could fairly hurl at this blockbuster masterpiece.
The sumptuous attention to detail is astounding, from the Louis XVI-inspired neoclassical concourses and the rich jewel tones of the ravishing Versailles-themed reception to the floral motifs, intricate gilding and bronze fountains that permeate the property. Even the entranceway wasn't left to chance, thoughtfully styled to pay homage to Gare du Nord. But the crowning glory is unquestionably the half-size replica of the Eiffel Tower. Clad in over 6600 sparkling LED lights, creating a dazzling choreographed spectacle at night, I zipped up the elevator to the observation deck on the 37th level, basking in the far-reaching views.
 (The nightly sound and light spectacular, which has cemented the tower as the Cotai Strip's most lustrous beacon, runs every 15 minutes from 6.15pm to midnight.) It's also the perfect vantage point to appreciate the sheer immensity of this resort and its numerous replica landmarks, like the half-size Arc de Triomphe, the magnificent Aqua World area and the Jules Verne airship, plus the bright red windmill made famous by Moulin Rouge. As much as adults are spell-bound this lavish resort, it's very family-friendly, and kids are absolutely enthralled by the vast assortment of watery wizardry amusements that delightfully gush at Aqua World.
Within the property, I also loved lolling about the themed shopping promenades, like Avenue Montaigne and the Champs Elysees. But my favourite space of all is Place Vendome, replete with over 1300 figures, constructed from more than five tonnes of clay and enclosed under an artificial, animated bluebird sky, which uncannily looks real. The sky ceiling artfully reflects the time of day from sunrise to nightfall. Comprising 620 square metres, it is a tour de force in themed design.  As you'd expect, luxury brands, high fashion and compelling boutiques permeate the shopping spaces.
An ingenious touch, suffusing the resort, are the roaming street theatre characters, featuring a diverse mix of French entertainment from street artists, buskers and mime performers.  With 11 dining venues on offer, including French-style sidewalk cafes and bistros, your taste buds are spoilt for choice. If you're a fan of authentic Chinese cuisine, make a date with Lotus Palace, brimming with pan-Asian and Cantonese dishes, spanning seafood, premium hot pot and dim sum. The Hong Kong style stir-fried Sri Lanka crab and scallops, with garlic and red chilli is block-your-socks-off gorgeous.
French cuisine aficionados make a beeline for Brasserie, which offers all-day dining, true to French dining tradition. Signature dishes include galette complete, moules a la crème and steak au poivre. I took the French culinary theme to the next level, up in the Eiffel Tower at La Chine.  This spectacular dining experience showcases Chinese cuisines with a distinct French twist. Opt for the tasting menu, where you can graze your way through a panoply of small plates, spanning crispy roasted duck marinated in mandarin and pepper sauce, wok-fried rice with French cured meats and sakura shrimp, and fresh abalone in chicken consommé with Chines dried herbs. Magnifique. 
Across at the Venetian, where an even bigger feast of culinary temptations beckons, I first stopped by their nightly light show, a gob-stopping extravaganza, slathered across the forty thousand square frontage of the hotel.  If you're a lover of Indian food, the Michelin-starred Golden Peacock Restaurant is a smash-hit, and surprisingly not exorbitant. Prepared by a 13-strong team of chefs from across India, the menu's authenticity is underpinned by the sourcing of ingredients, direct from India.
Nearly everything is faithfully made from scratch within the restaurant, from the yoghurt to masalas. I have a major soft spot for all things Italia, so dining at Portofino Restaurant was eagerly anticipated – and it delivered in spades. At the helm of this divine trattoria is the ebullient senior chef, Domenico Cicchetti, who hails from Abruzzo. Beyond gorging on his delicious seafood and pasta dishes, Domenico endowed me with some trusty insider sightseeing tips on where to go to experience the real Italy. Portofino? Splendido!
In a resort with so much buzz factor, I actually spent very little time in my tastefully appointed guestroom. Sporting a contemporary French design aesthetic and equipped with all the creature comforts from hi-speed wifi to luxury bathroom accessories, I slept like a lamb, swathed in sumptuous linens. The Parisian Macau is a remarkable pleasure palace, where fantasy and reality effortlessly meet. Live it up, in the lap of affordable luxury. www.parisianmacao.com
I zipped my way between Hong Kong International Airport and Macau with TurboJET, who operate direct high-speed jetfoil services. It's the fast, efficient and hassle-free way to travel to Macau, with convenient baggage handling services, enabling you to check-in your luggage for your onward flight home to New Zealand, at their Macau Ferry Terminal. www.turbojet.com.hk
Check out the official Macau tourism website, to keep abreast with holiday deals, event and festival highlights looming on the calendar, and the full range of sightseeing, shopping and dining temptations. www.visitmacao.com.au
Mike Yardley is our Travel Correspondent on Jack Tame Saturday Mornings.