Mike Yardley: Louisiana's Great River Road
Author

Publish Date

Tue, 17 Mar 2020, 2:24pm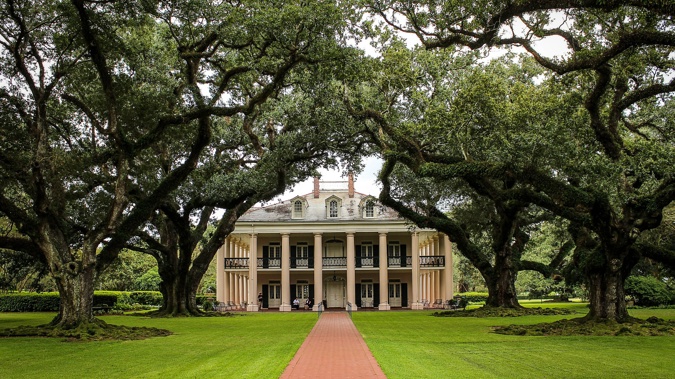 Mike Yardley: Louisiana's Great River Road
Author

Publish Date

Tue, 17 Mar 2020, 2:24pm
Nowhere better manifests the legacy of Louisiana's blood-stained history than the Great River Road, wedged between New Orleans and Baton Rouge, on the banks of the mighty Mississippi. Old Man River cuts a mythic figure across the American landscape. The 100km-long traverse has been affectionately dubbed Plantation Alley. Like a journey back in time, the snaking road that hugs the river spills forth with evocative charm —a vividly painted church standing like a sentinel in a field, or wrought iron gates framing exquisitely gnarled live oaks festooned with Spanish moss. I concentrated my exploratory on Vachiere, which boasts some of the nation's most stirring plantation estates, alongside many others along the way, in varying stages of restoration and decay.
A spirit of raw, haunted beauty abounds. But few visions of Louisiana are more iconic than a long row of oak trees leading to a stately plantation house, which is most likely to be inspired by the show-stopping splendour of Oak Alley. With its majestic avenue of 300-year-old oaks and its grand, antebellum Greek revival home, Vachiere's poster-child has been immortalised by so many Hollywood blockbusters, from Primary Colours to Interview with a Vampire. In all likelihood you have seen her face even if you don't know her name. She even graced the glittery-spangled dance moves of Beyonce in her Deja Vu music video.
Twenty-eight Virginia live oak trees stretch away from the 28-columned house. It's a resplendent vista in every way, blending architectural mastery with an understanding of the land and the way geometry soothes the human eye. Originally called Bon Sejour, Oak Alley was built in 1829 by a wealthy French Creole merchant, Jacques Roman, who shifted here with his French-speaking wife from New Orleans. The guided tours inside the "Big House" bring the redolent history to life, like the stylish bug-catchers that were kept hidden by delicate white lace. Outside, a horseshoe of huts illustrates all aspects to sugarcane plantation life, and the people who sustained Oak Alley. The Civil War Tent provides a handy overview of the impact the war had on this area of Louisiana.
But in recent years, Oak Alley has really stepped up to highlight the lives of the slaves themselves. One small wooden cabin talks about laundry, another about the sick room. The slave story is handled thoughtfully, sensitively and with great humanity by the exhibits and historical interpreters who are great to engage with. I was also fascinated to learn about Oak Alley's post-emancipation era, its time as a rice farm, an investment property and even as a cattle farm. The Stewart Family were the last resident owners of the estate, vesting the property in the Oak Alley Foundation, and you can see their family graveyard on-site. www.oakalleyplantation.org
Another star specimen is Laura Plantation, feted for its deep-rooted Creole past, which all began with Guillaume Duparc, a French naval veteran of the American Revolution, who acquired the property as a sugar farm. Creole is the non-Anglo-Saxon culture and lifestyle that flourished in Louisiana before it was sold to the United States in 1803 and that continued to dominate South Louisiana until the early decades of the 20th century. Until then, native birth in Louisiana, the French language and Roman Catholicism were the benchmarks for identity, which included people of white, black and mixed-race ancestry.
Built in 1805, the big house has a fabulously whimsical exterior, painted canary-yellow with a bright-red roof, pine-green shutters, with mauve and grey trim. The backbone of the guided tour is based on Laura Locoul Gore's first-hand written memories plus 5000 pages of archival documents. They are written accounts from the generations of Creoles, where it was mainly women who ran the plantation. The tour guides you through its raised basement, galleries, parlours and living rooms, while stories spill forth about the wave of personal tragedies that struck the owners – particularly the men. The homestead grounds are glorious, with formal, vegetable and tropical gardens.
But the most poignant feature is the 1840s' slave cabins where the ancient west-African folktales of Compare Lapin evolved into Br'er Rabbit, originating here at Laura. I was fascinated to learn that human bondage was embedded in Louisiana's Creole world. Whereas Louisiana would be the last place on the North American continent where slavery was legally permitted, the institution that endured over 140 years began here more as a system of class rather than of colour, as there were Native American slaves, African slaves, and European slaves in Louisiana. Creole Louisiana would function as a feudal class society and slavery was the lowest but fundamental part of that system. It's a brilliantly illuminating and sobering tour. www.lauraplantation.com
My final plantation stop was The Whitney, which is the only Louisiana plantation museum which exclusively focuses on the lives of enslaved people. The 90 minute walking tours whisk you through the slave cabins, the outbuildings, the children's graveyard and the 1790 owner's house. The stories are harrowing and unvarnished, a gut-punching account of life at Whitney, through the eyes of enslaved. I learnt about how plantation owners picked the strongest of their men and forced them to rape enslaved women in order to "breed good stock."
Some owners tagged humans in the ear and eventually sliced through hamstring flesh so that enslaved people could work but couldn't escape by running away. We heard how some children were removed from their mothers by the age of eight and sold off down the river. You'll see the child shackles. Memorial walls at the Whitney Plantation pay homage to the more than 107,000 enslaved individuals who lived and died here in Louisiana. The passage of time does change our perception of previous events. Past actions are understandably moderated by the context of their time. But I left the Great River Road haunted by the past horrors of such egregious inhumanity.
Where to stay? If you fancy a splash of glamour, L'auberge Baton Rouge is a resort-style casino hotel, just south of the city centre, perched on the banks of the mighty Miss. Accommodations are plush with modern decor and local artwork and ultra-trendy touches like the TVs in the bathroom mirrors. I booked through Hotels.com who operate an excellent loyalty programme. Book and stay 10 nights at more than 500,000 eligible properties and you'll get 1 reward night to redeem at another. Just sign up with a valid email address to start collecting. Secret Prices are also available to Hotels.com app users, Hotels.com Rewards members. www.hotels.com
Air New Zealand flies six times a week to Houston, an ideal gateway into the American South. In addition to its other direct flights to Los Angeles, San Francisco, Honolulu and Chicago, Air New Zealand's audacious new route will see the airline fly ultra-long haul from Auckland to New York non-stop. The inaugural service to Newark Liberty departs on October 29 and the service will operate three times a week, year-round. The exciting new route, the airline's sixth US destination, will be serviced by Air New Zealand's 787-9 Dreamliners, in a premium-focused configuration. For best fares and seats to suit for all USA routes, head to www.airnewzealand.co.nz
Plotting a great adventure to the land of Stars and Stripes? Brand USA's website is chock-full of trip inspiration to help you plan a magical holiday. www.visittheusa.com.au
Mike Yardley is our Travel Correspondent on Jack Tame Saturday Mornings.