Mike Yardley: Lolling about Lucca
Author

Publish Date

Fri, 3 Jul 2015, 11:48am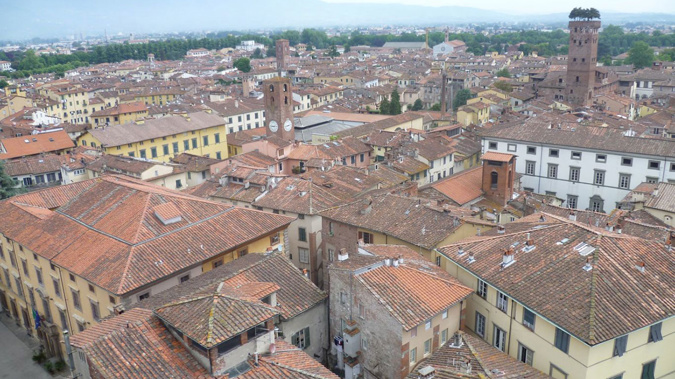 Mike Yardley: Lolling about Lucca
Author

Publish Date

Fri, 3 Jul 2015, 11:48am
Tired of hauling yourself up steep, calf-crunching slopes to reach a Tuscan hill town? You'll be in luck in Lucca, where scaling heights to savour the medieval magnificence of old-time Tuscany is not required.  As one of the few Tuscan towns not perched atop a vertiginous hill, it's an effortless pleasure to explore on foot. Situated on a flat fertile plain, inland from Pisa, lolling about in Lucca first entails encountering its striking defensive walls.
Encircling the old city like a comfort blanket, it was designed in the 16th century by Leonardo da Vinci, and it's never been breached. Originally wrapped-around Lucca  as a bulwark, the 4km ring and its six gates are now feted for its recreational benefit. You can circumnavigate the old city on top of the walls, by bike or on foot, savouring the elevated panorama beneath the shady umbrella of giant chestnut trees that were planted in the 19th century. 
Lucca is a city of pastel-coloured stucco buildings with terracotta roofs and churches. Lots of churches, awash in carved stone columns. Lucca's residents are rightfully proud of their home, which is zealously kept in pristine condition. No rag-tag graffiti or manky stray dogs here.  Within the walls, the old town is a pedestrian haven, with very little vehicular traffic and the shaded lanes are a cool refuge during the sticky peak of summer. No wonder that great Italian pastime, the nightly passagiata, is so passionately practised in Lucca. The whole town seems to come out and night for a casual stroll across the cobbles,  where the shops stay open late, on major passageways like Via Fillungo, bursting with centuries old stores and the more flashy boutiques with their Liberty style facades. 
In a compact city of 100 churches, there are two unmissables. The Romanesque Duomo di San Martino, was completely rebuilt 900 years ago, with an intricately decorated marble facade. Next to the cathedral, its vaulting 13th century bell tower and Casa dell' Opera del Duomo, a typical medieval house of Lucca. Its Gothic interior holds good artworks. But the Duomo is home to the spell-binding Volto Santo (Holy Face), a wooden figure of Christ. The Volto Santo is believed by Christians to be the true face of Christ, carved by Nicodemus who was present at the crucifixion in Jerusalem.  Every year on September 13, Lucca stages the Luminaria di Santa Croce, where the old town is aglow in candlelight as the Volto Santo is proudly carried through the cobbled streets in a celebratory, centuries-old procession. 
Lucca's most photographed church is San Michele, located in the eponymously named piazza, which was originally the Roman Forum, and still bustles as the city's social nerve centre. If the façade of San Michele looks somewhat tacked on –  you'd be right. So much money was lavished on this wondrous façade, that the dosh ran dry to raise the body of the church to the same height.  Archangel St. Michael crowns the façade in glorious fashion, complete with retractable wings to withstand high winds!
Lucca's most famous son, Giacomo Puccini sang in the choir of San Michele church. Born in 1858, you can visit the family home of one of Italy's most acclaimed operatic composers, which is now a museum. Think, Tosca, Turnadot, Madam Butterfly. Today you can visit his birth house, which is now a museum, in Piazza della Cittadella. Just look for the gorgeous bronze statue of Puccini, adjacent to his house.  Puccini concerts abound across Lucca, with Tosca, Turandot and Madam Butterfly remaining the perennial favourites. Throughout July and August, the annual Puccini Festival is staged in an open-air theatre in Torre del Lago. Opera lovers revel in feeling the inspiration of the surroundings Puccini chose to live in. Lucca is also renowned for its summer music festival in July which is headlined by a stack of pop stars.
Regardless of the time of year you visit, another essential city landmark is Piazza dell'Anfiteatro,  on  the site of the Roman amphitheatre. Merchant buildings and houses were built around the elliptical-shaped arena during the middle ages, which still endure. But it's the colourful shops, cafes and restaurants that lure the ravenous hordes to this storied plaza, today.
When it comes to street food, locals love cecina ( Tuscan toast) which is a flatbread made from chickpeas.  What a scrummy on-the-go snack.  But Lucca's greatest cuisine calling card is farro bean soup. It's a highly nutritious and wholesome broth of farro, borlotti beans, tomatoes, parmesan cheese, lots of herbs. You'll smell its enticing aroma of all over Lucca. Puccini apparently lived on the stuff.  
Where to stay? Centrally located inside the walled town, BB il Duomo is a classic Italian mother-and-son enterprise. Consisting of 5 rooms, they are splendidly  furnished with gilded mirrors, antique pieces, beautiful paintings and quality fabrics. It's like a mini-palazzo. Mama whips up a delicious buffet breakfast, and a divine cappuccino, to fortify you ahead of a full day's intrepid exploration. Best of all, Laura and Fabio's pint-sized B&B is a bargain. http://en.bbilduomo.it