Mike Yardley: Lapping up The Beverly Hills Hotel
Author

Publish Date

Wed, 8 Nov 2023, 12:31PM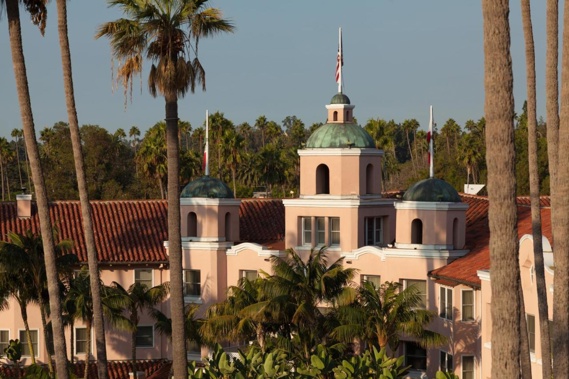 Mike Yardley: Lapping up The Beverly Hills Hotel
Author

Publish Date

Wed, 8 Nov 2023, 12:31PM
In a city where dreams are born and legends are made, Tinsel Town pulses with sparkling experiences. But legendary Hollywood experiences don't get more starry-eyed than staying at The Beverly Hills Hotel. From the moment you first step onto the main entrance red carpet of the porte cochere, you know you have arrived somewhere truly special. Lustily furnishing many of the hotel's walls, the Martinique banana leaf wallpaper would have to be one of the most recognisable wallpaper designs ever produced. (The hotel even has Linus banana leaf bikes for complimentary guest use.)  
At 110 years old, the "Pink Palace" is still at the top of her game, retaining and refreshing her magnetic pull with Hollywood – and the world. Throughout her spangled history of gilded glamour, the hotel has been intimately connected with film stars, rock stars, and celebrities. (If you get the chance to have a chat with the garage staff, you'll be staggered at the range of four-wheeled wonders lurking in here – and just who they belong to!)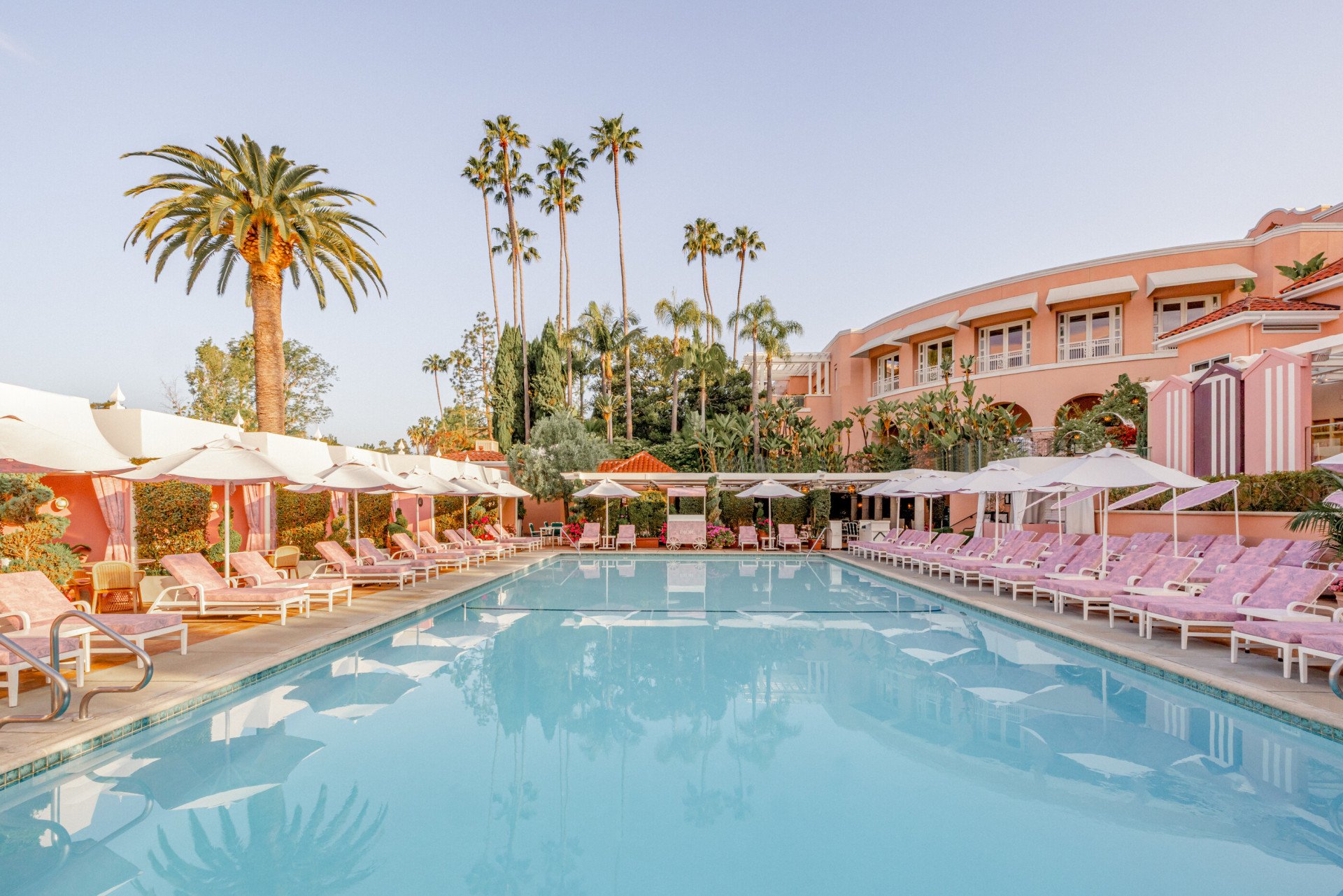 Photo / Dorchester Collection
Spoil yourself and savour the stardust - you'll be royally treated by the exceptionally charismatic staff, while the people-watching scene is unparalleled and the accommodation options are celestial. Uber-luxury residential living with an irrepressible Hollywood vibe, overlaid by so much history. An insider tip – celebrity guests favour the private bungalows. Number 1, one of Marilyn Monroe's favourites, sports a design inspired by the famous guest, incorporating aspects of Monroe's life: a library of books, and design elements inspired by her most celebrated movie roles. 
Howard Hughes was a beloved guest for 30 years. He actually bought up several bungalows for a time. The hotel accommodated his eccentricities, including his request for "roast beef sandwiches delivered to a nook in a tree." As you do. Bungalow 5's stormy bold colours and rich textures pay homage to the life of the complicated billionaire. Bungalow 9 is a tribute to past guest Charlie Chaplin, through a thoughtful curation of textures, patterns and quirky touches.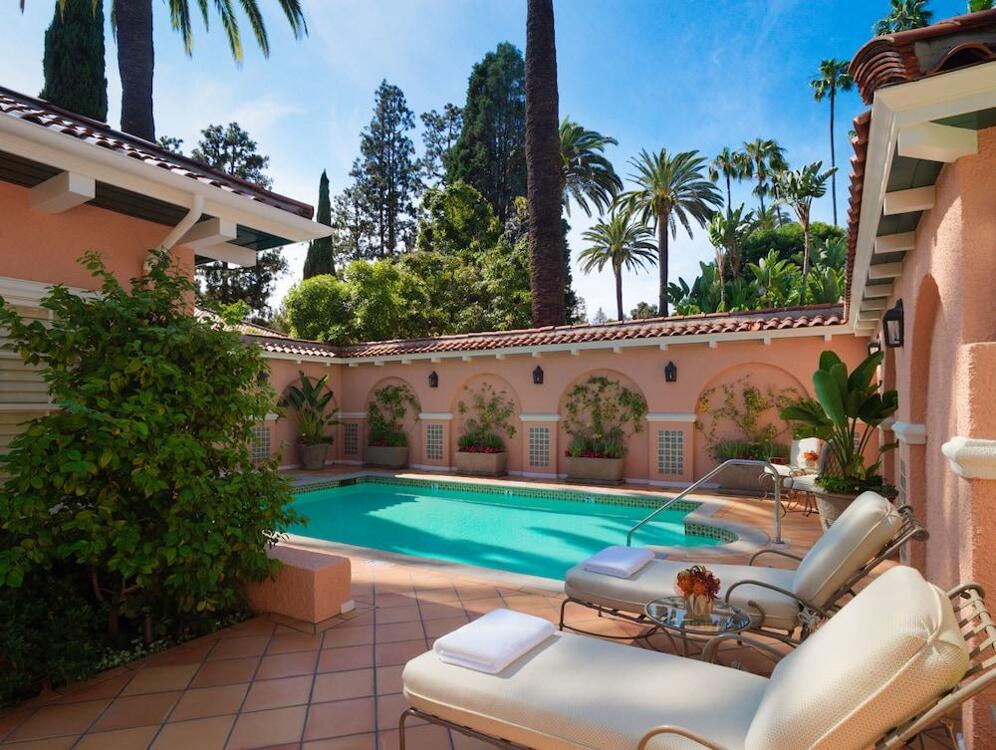 Photo / Dorchester Collection
Marlene Dietrich came to regard bungalow 11 as her own and had a seven-by-eight foot bed constructed for it. John Lennon and Yoko Ono once hid out here for a solid week. Bungalow 5 saw many crockery-busting fights between Elizabeth Taylor and Richard Burton. The couple had a standing order for two bottles of vodka with room service breakfast and another two with lunch. Boasting four bedrooms, this is the biggest bungalow, complete with a private pool. Surrounded by 12 acres of tropical gardens, take a stroll around these star-spangled bungalows. It's Golden Age glamour on a celebrity scale.  
I savoured a couple of nights in pure splendour, bedding down in the Crescent Suite. From the grand fireplace and the stylishly curved sofa, to the sweeping private balcony serving up classic palm-fringed views of the glamourous neighbourhood, every detail tingles with a touch of the magical. I was constantly drawn to linger on that elevated balcony, gazing dreamily at the gazillion dollar real estate, the twinkling lights of Tinsel Town and the golden sunlight. Swaddled in the finest Egyptian cotton, my enormous bed was marshmallow-comfortable.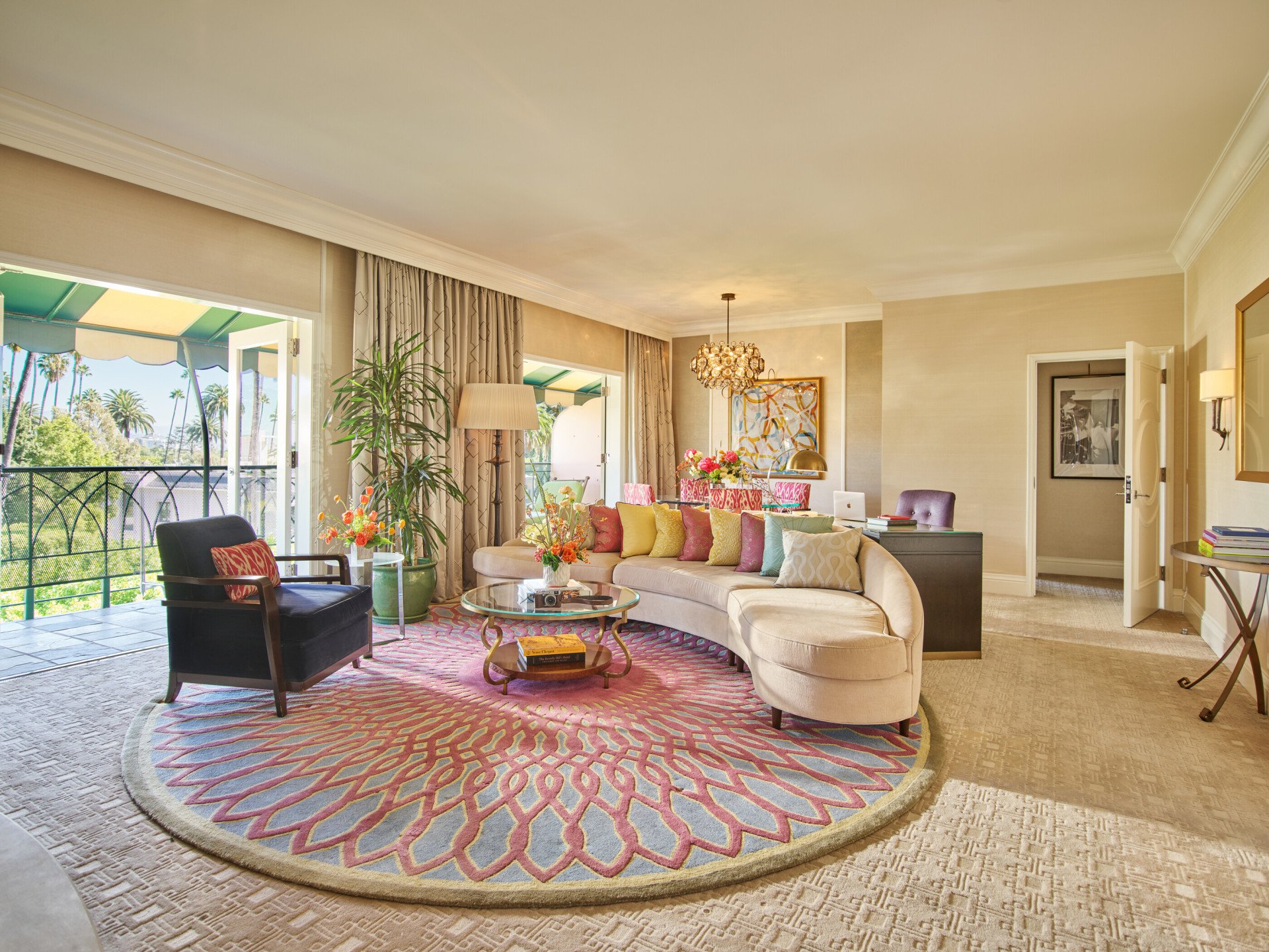 Photo / Dorchester Collection
Standard guestrooms feature original artwork, butler service, custom-made linens and colossal marble bathrooms. The custom-made toiletries (a lucrative souvenir) will help you rekindle the dream-like experience, back home. Ditto for the pink pens – which sell for US$15 in the gift boutique!
Even if you're not in residence, enjoy a bite or drinks, from breakfast till late, at the iconic Polo Lounge, a golden escape to old school swank and the pinnacle of Hollywood's power dining scene. Home to the famed McCarthy Salad, nearly 600 are sold each week.  I scored some fun facts about the Polo Lounge from the hotel staff. It has been the scene of marathon drinking bouts by W.C. Fields and Humphrey Bogart as well as Frank Sinatra, Dean Martin, and the rest of the Rat Pack. Marlene Dietrich eradicated the no-slacks-for-ladies rule when she entered wearing pants. For years Charlie Chaplin had a standing lunch reservation for booth 1. It remained empty if he didn't show up. Director Richard Attenborough came to the Polo Lounge for a post-Oscar celebration in 1983 after winning two awards for Gandhi. While Attenborough stood by, the maître d' held up the two Oscars to a cheering Polo Lounge crowd. I savoured a divine breakfast in the courtyard of the Polo Lounge. I definitely recommend the Pink Palace Lemonade (which is blended with watermelon and strawberries), and the Eggs Benedict was unbeatable.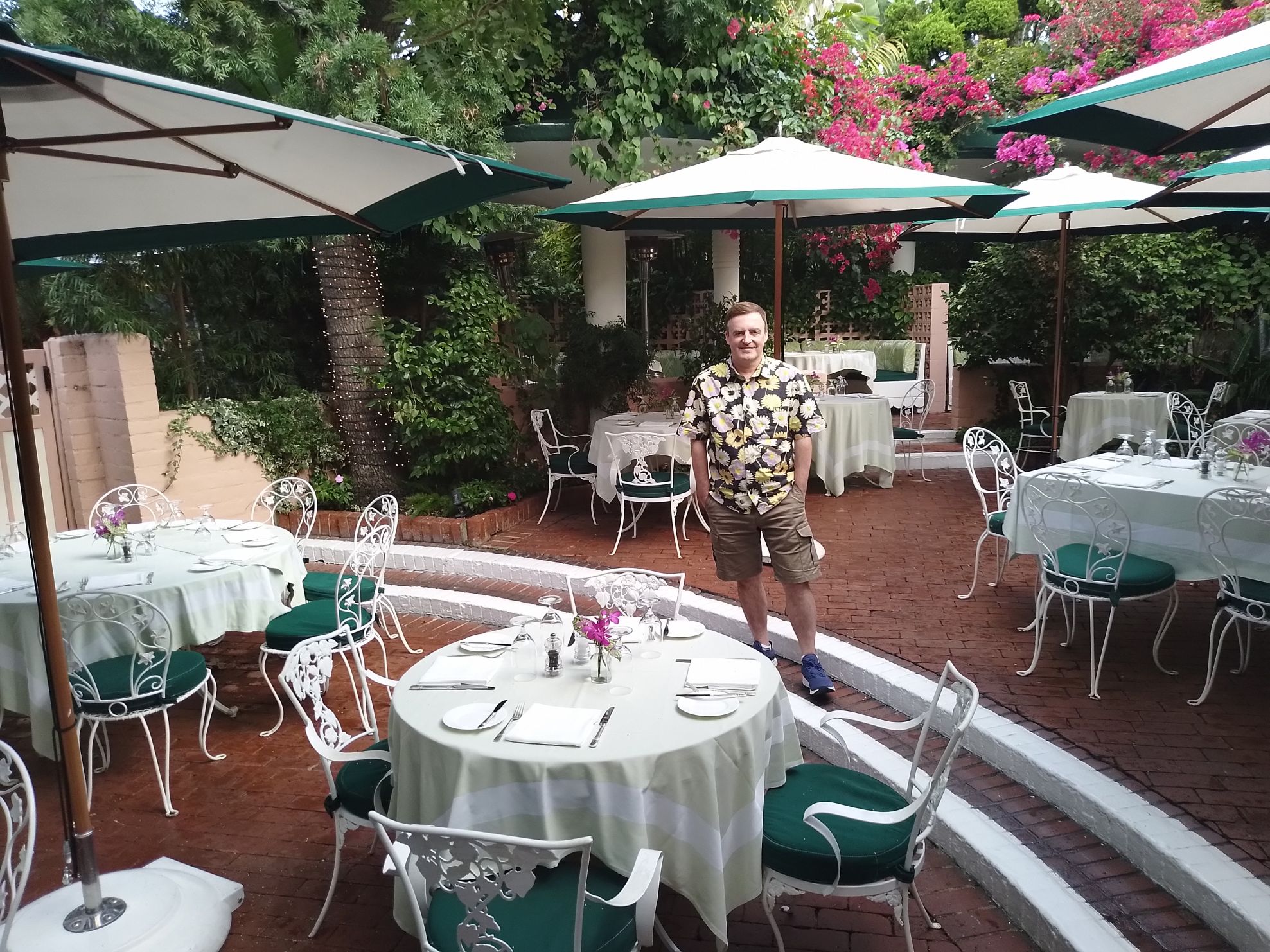 Photo / Mike Yardley
Inspired by the soda fountains of the 1940s, the Fountain Coffee Room is another celebrated haunt for a casual bite, cappuccino, or as the hotel's neighbours know, for tasty take-out! Don't let the breakfast queues put you off – it's worth the wait for some time in this stylish diner. For breakfast, you can't go wrong with the Silver Dollar Buttermilk Pancakes. 
A more contemporary experience, named in honour of the hotel's opening year, Bar Nineteen 12 is definitely worth a visit simply to drink in a Beverly Hills sunset, with cocktail in hand, on the beautiful terrace overlooking the pool. Speaking of the glittering pool, complete with private cabanas and pink parasols, could they be a more superlative spot to sip on cocktails, take a dip and marvel at the underwater music of celebrated movie soundtracks? Ingenious! Only in LA. 
Ground transportation to and from LAX can be a hassle. Eliminate the stress by booking an ADA Pro shuttle, servicing greater Los Angeles, including Burbank, Long Beach and Anaheim. You'll be in the best of hands with friendly, professional, reliable drivers, kerbside pick-up, super-clean air-conditioned vehicles, 24/7 service, and affordable rates for all of your travel needs. Ride with ease, arrive in peace. www.adapro.vip 
I tripped to Los Angeles with Air New Zealand. The full-range of cabin products is available on Air New Zealand's services to the USA. Skycouch is available in Economy, while Premium Economy is an excellent mid-range option including premium check-in, premium seating with increased leg room plus fine cuisine & beverages. For the best sleep in the sky across the Pacific, splurge on Business Premier, entitling you to complimentary lounge access, premium check-in, luxurious leather armchair seating which converts into a fully lie-flat bed, plus fine cuisine & beverages. With well-timed overnight flights, I slept well under a sky full of stars right across the Pacific. For best fares and seats to suit, jump to www.airnewzealand.co.nz 
Mike Yardley is our resident traveller on Jack Tame Saturday Mornings. 
Take your Radio, Podcasts and Music with you