Mike Yardley: Imperial St. Petersburg
Author

Publish Date

Tue, 8 Nov 2016, 11:57am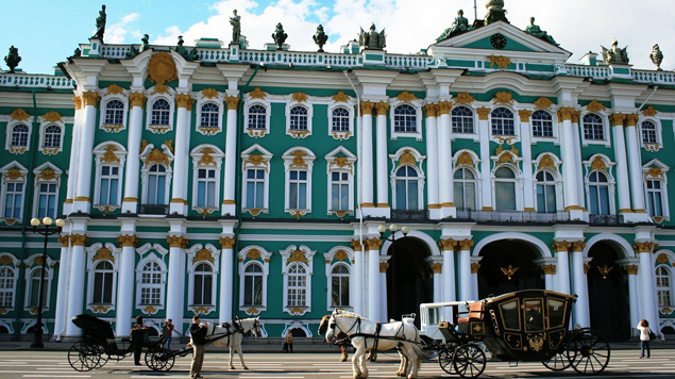 Mike Yardley: Imperial St. Petersburg
Author

Publish Date

Tue, 8 Nov 2016, 11:57am
The sensation of a city seemingly afloat is what first struck me, as I stood on the banks of the River Neva to toast my arrival in St. Petersburg, with a few obligatory vodka shots. As this was my first foray to Russia, I had joined a Trafalgar guided journey of this decorated city, built across 44 islands, criss-crossed by canals and a staggering 300 bridges. Not only does this watery city live up to its sobriquet as the Venice of the North, but its bewildering spoil of waterfront palaces glimmer enticingly.
Visitors swoon on this staggering city, edging the Gulf of Finland, to immerse themselves in one of life's great truths: St. Petersburg is one of the world's most beautiful cities. Trafalgar's local specialist, Deena, soon proved to be a god-send, as our group eagerly sought to get to grips with St. Petersburg's signature sights and stories. And for first-timers, it's the imperial extravagance, commissioned by Peter the Great,  that will grip your attention.
This uber-ambitious Russian Tsar not only constructed the city as the new national capital in 1703, but was determined to make it Russia's window to the West, underpinned with exuberant European architectural flourishes.  The Peter & Paul Fortress, with its needle-thin Cathedral spire is a great starting point, because not only was it the city's first settlement, built to repel Swedish aggression, but it remains the resting place of Russia's Tsars, from Peter the Great right through to the revolutionary massacre of Nicholas II and his family.
St. Petersburg is home to no fewer than 500 palaces. In a bid to save them, the Russian government has privatised many of these peeling and crumbling pastel confections, before they literally fall apart. There is a deep sense of faded glory to much of the city, with the ones that have been restored looking resplendent. But because the cityscape oozes historic grandeur on such a ginormous scale, you don't have stroll the streets for long before you actually feel architecturally drunk.
But few buildings are quite as intoxicating as the chart-topping Winter Palace and the State Hermitage. Originally home to the Romanov Tsars from where they ruled the Russian Empire, the Winter Palace's rococo style delivers decorative excess, all areas. Parade across parquet floors and down marble staircases to gasp at gigantic crystal chandeliers and wrap-around gilded rooms, wall-papered in priceless art.
The stupendous Jordan Staircase is not just an Instagram highlight, but a stirring introductory taster to the onslaught of regel bling, dripping with jewels, that just keeps on unfurling. Beyond, the trappings of royalty, the Hermitage houses a thousand rooms of art, which as Deena remarked, soon makes you realise that exploring St. Petersburg's treasures is a test of endurance. The Romanov's amassed, connived and looted an insatiable trove of masterpieces.
 If you want to do this unrivalled behemoth justice, you're going to need days. With over three million items, even if you looked at each exhibit for one minute, it would take you nearly three years to see it all. Not only did Deena deftly navigate us around the headliners from da Vinci's delightful Madonna and Child, to the Picasso, Rubens and Rembrandt pieces, but exploring the Hermitage with Trafalgar gave us fast-track entrance into the museum, circumventing the horrendously long queues. 
All of the palace attendants are fearsome looking old Babushkas, like relics from the Soviet Empire. The locals call them the "Nyet Nyet ladies", because they love remonstrating with tourists who don't obey the rules. Step out of line and you'll likely get a stiff prod from these sticklers for the rules. They're brilliantly entertaining to watch in action – not that they probably realise.
Beyond the imperial prowess of central St. Petersburg, a jaunt south to the city's outer reaches brought us to Tsar's Village, which is now officially called Pushkin. It's as close as the Nazis got to conquering St. Petersburg – they never did, despite the supreme confidence of Hitler.  But the Nazis did seize Catherine Palace, a glittering country estate commissioned by Catherine the Great , which they duly plundered and ruined.
You may well have heard of the Amber Room, the piece de resistance of the palace, which later became one of the world's great art mysteries. After being stolen by the Nazis, debate remains whatever happened to its treasures, but a new Amber Room has been gloriously constructed at the palace – largely with German funds. Vladimir Putin has presided over the comprehensive restoration of this wondrous palace to its former glory. It is a heart-stealer, as are the dramatic photos of its mangled carcass following World War II. 
But for all of the architectural magnificence that astonished me in St. Petersburg, my runaway favourite is Peterhof, a short drive from Catherine Palace. The site was originally developed as Peter the Great's naval base, but he later commissioned this pleasure pad as a vanity project, after visiting France. He was determined to eclipse the beauty of the fountains and gardens of Versailles. The main palace was completely gutted by the Nazis and Soviet bombing raids, so what you see today is largely a reconstruction.
But the prized centrepiece is the Grand Cascade and Water Avenue, a gushing symphony of over 140 gilded fountains and ingenious canals, which he partly engineered himself, using a gravity-fed design. The lavish, manicured grounds and gardens are gorgeous to stroll, looking out to the Gulf of Finland. An extra-thrill are the series of track fountains- that explode into life and spurt water on the unsuspecting, via a system of hidden switches. Peterhof could stir even the most jaded of spirits.
Trafalgar's 8-day Wonders of St. Petersburg and Moscow guided holiday is priced from $2,625 per person twin share with savings of up to 10% available for bookings and payments prior to December 15, 2016. Departures from April 2017. Includes sightseeing, guides, accommodation, many meals, transport and the services of a travel director. trafalgar.com, 0800 872 325 or ask your travel agent.
Mike Yardley is Newstalk ZB's Travel Correspondent on Saturday Mornings with Jack Tame.