Mike Yardley: Hip Hamilton's eyeful of art
Author

Publish Date

Sat, 27 Mar 2021, 12:14PM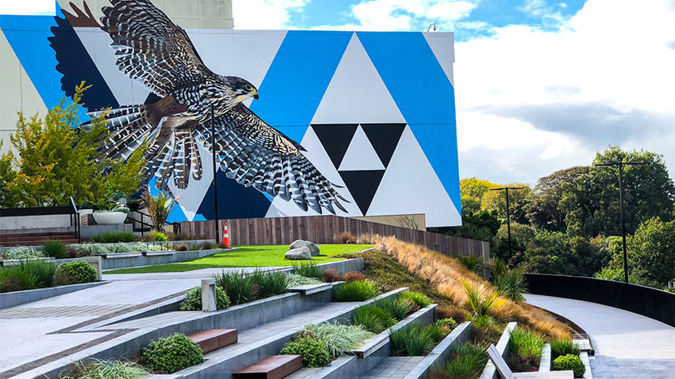 Mike Yardley: Hip Hamilton's eyeful of art
Author

Publish Date

Sat, 27 Mar 2021, 12:14PM
If ever there is a city where past pre-conceived notions should be firmly consigned to the rubbish bin, "the Tron" is it, because flourishing Hamilton has become seriously hip with the cool kids club. Anchoring its sure-footed transformation is its perky creative pulse, where the urban design cues seem to have dipped deep from Melbourne's inspirational font. Hello street art, hello laneways. Recasting the streetscape over the past six years, the Boon Street Art Festival has been the catalyst for dozens and dozens of daring new mural installations, in a carnival of colours. This year's outing of Boon was set down for early March, but due to the Covid level changes, the festival has been rescheduled for November. I virtually walked my legs off, ogling the multitude of gigantic artworks that blaze a trail across Hamilton's CBD and Hamilton East. It is wall-to-wall enthralling.
Last year one of New Zealand's largest ever wall murals, recast a hideously ugly grey wall in Anglesea St, beneath Wintec, spanning a length of 248 metres. It now beckons as a sweeping tribute to many of the region's taonga, headlined by the mighty Waikato River. Another personal favourite is situated in the Victoria St art hub, where the beloved Riff Raff statue in Riff Raff Square has been complemented with the Rocky Horror Picture Show-themed installations, including the bright red 'Frankenfurter's Lab,' which actually conceals convenient and bespoke public toilets. Next door, pop into ArtsPost, housed in the former Post Office, which fosters local artists, craftspeople and jewellers by exhibiting their work, which you can duly buy. Adjacent to ArtsPost, the treasure-chest of local taonga and touring exhibitions, Waikato Museum.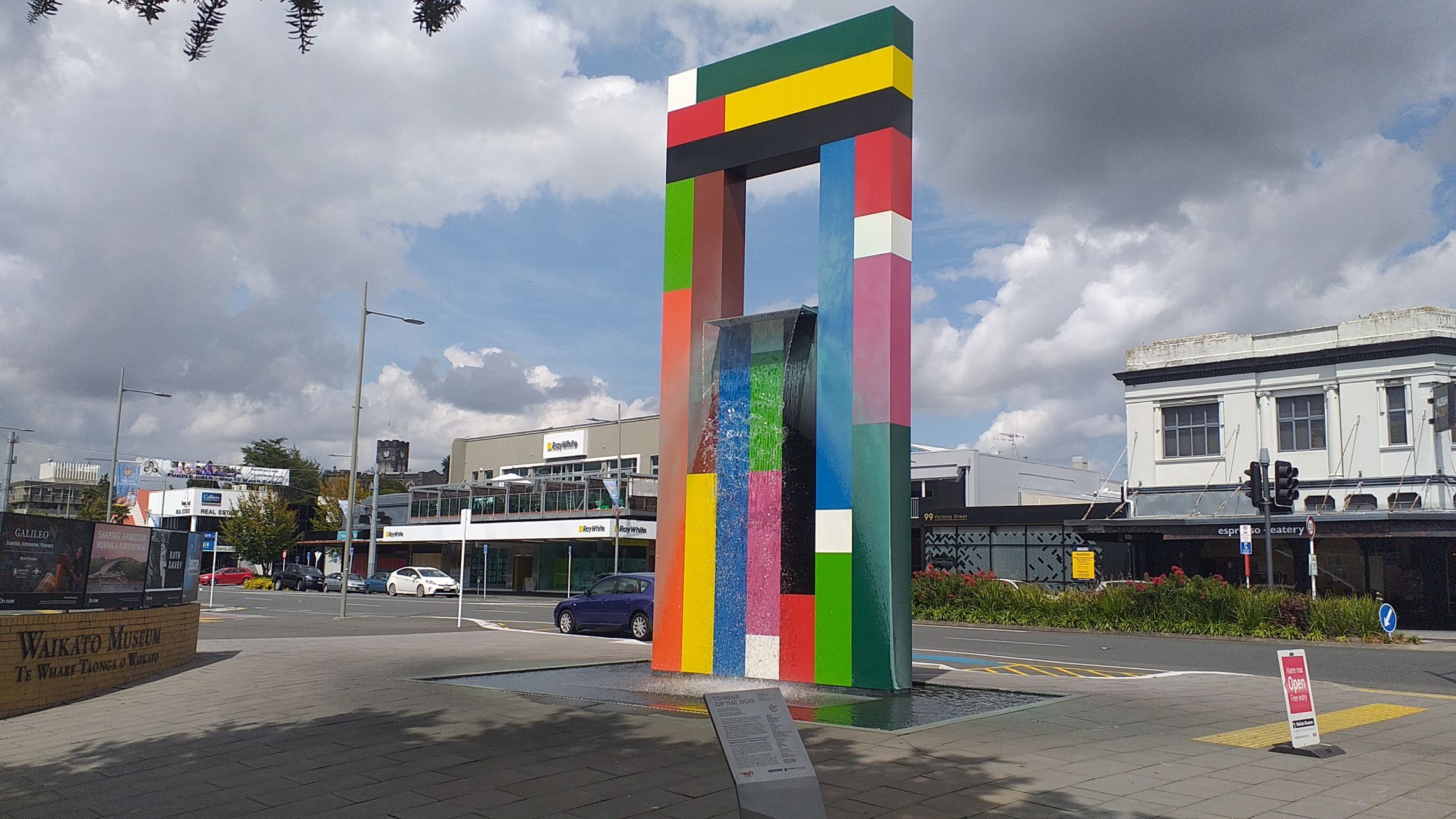 It is a truly sublime regional museum sharing compelling insights into the history and culture of the region, with a strong accent on Tainui heritage. I only recently became aware that Waikato-Tainui don't use macrons, rather their written expression deploys double vowels to denote stress. So Maori, as an example, is spelt Maaori. A trove of magnificent carvings, including full-sized waka, are well worth perusing, in addition to the colonial history exhibitions, which vividly bring to life the challenges early settlers and iwi endured, culminating in the tumult of the Land Wars. The majestic Te Winika waka, a 200 year-old carved war canoe was gifted to the city by the Maaori Queen in 1973. It has been on the frontlines of so much history, including the tumultuous era of the New Zealand Land Wars, in which this once proud flagship of royalty was dismantled, partially concealed and left to deteriorate in the mud at Port Waikato, before being restored in the 1930s.
Today, it proudly looks out at the mighty Waikato River, in its final resting place. The museum is currently staging two remarkable visiting exhibitions. Where Children Sleep is confronting, compelling and heart-warming, all at once. Venice-based British photographer James Mollison initiated this ongoing photographic project, drawing attention to the extreme poverty experienced by children around the world. He also shows us the joy that each child exudes in coping with their own lives alongside some in more privileged settings. To highlight their mixed fortunes, he has photographed where they sleep. Not always in a bed, nor even inside a building. It's the photo of a 13 year old heavily pregnant girl, sleeping rough in a Brazilian favela, that wrenched at me. The exhibition is on until May.
Direct from Florence, and commanding big brag-factor, Waikato Museum is the first museum in the world to host the magnificent exhibition devoted to Galileo Galilei. The Italian natural philosopher, astronomer and mathematician made fundamental contributions to the sciences of motion, astronomy, strength of materials and to the development of the scientific method. Through a vast gallery of interactive exhibits, you can explore Galileo's study of motion and his discoveries with the telescope, which paved the way for acceptance that the Sun is central in our planetary system. It's the astronomy section that I found particularly enthralling. Developed by The Artisans of Florence, the exhibition has been thoughtfully conceived to engage all age-ranges, keen to experience science hands on. It's a cracker.
Right outside the museum, I adored Michael Parekowhai's three-storey sculpture, Tongue of the Dog, which was inspired by a Maaori legend about the creation of the Waikato River. It is a tale of a servant dog who cuts a pathway for the healing waters of Mt. Tongariro to reach an ailing Mt. Taupiri. The sculpture's waterfall represents the tongue of the dog. My second favourite sculpture is The Doorway to Hamilton. In a city that packs plenty of surprises, this installation stands 4.5m high and 8m wide, serving as a gateway to the landscaped riverside gardens, while also serving as a viewing portal across to Hamilton East. Constructed from weathered terracotta-hued corten steel, it also includes lights and mirrors, creating an infinity effect to draw people in. Fetching as it is by day, it positively sparkling at night.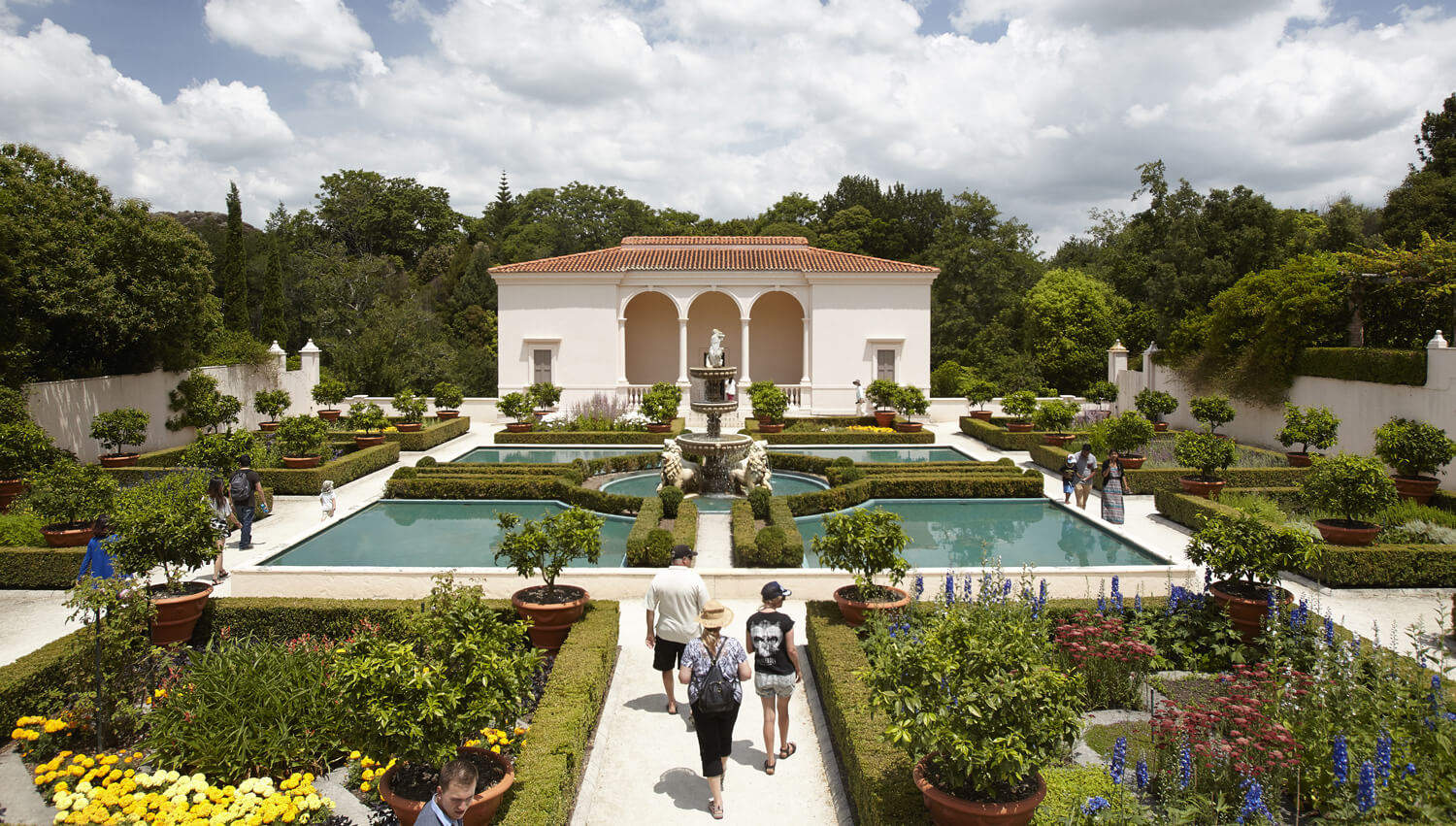 But if you really want to stuff your eyes with wonder, nothing beats the exceptional sights, botanical whimsy and visual splendour of Hamilton Gardens. No matter where you sited this collection of gardens, whether it be London or Lumsden, it would be a box-office blockbuster, bursting forth as a culturally-themed architectural triumph. It enjoys over a million visitors a year, easily making it Waikato's most visited attraction. It's breath-taking to think this site was once the city's rubbish dump – and before that, a rifle range. This is no bog-standard botanical garden, but an ever-evolving development centred on the relationship between people and their gardens. With over 20 uniquely themed gardens the tour de force, in my opinion, is the Paradise Garden Collection, inspired by classic designs from all across the world.
The highlights are the luscious Italian Renaissance, the symmetrical beauty of the Indian Char Bagh, the tranquillity of the Chinese and Japanese Gardens and the laid-back swank of American Modernism (complete with Marilyn Monroe artwork). The Fantasy Garden Collection is pure escapism, headlined by the movie-set good looks of the Tudor Garden, with its intricate knot hedging and green and white poles crowned with mythical creatures like dragons, centaurs and unicorns. Oliver Cromwell's Roundheads destroyed many of the world's original Tudor Gardens, with neglect ruining those that remained. Alongside Hamilton Gardens, the only other known reconstruction is at London's Hampton Court Palace. The latest edition to the Fantasy Collection is the Surrealist Garden, which is utterly imagination-stirring.
Clad in giant animatronic trees, which have fast been nicknamed "the trons", there's a distinct sense of Alice in Wonderland wackiness in this wondrous garden to warp your senses. Never one to rest on their laurels, there are more grand designs in the works at Hamilton Gardens. The next cabs off the rank are the Ancient Egyptian Garden, Pasifika Garden, Medieval Garden and the Baroque Garden – all set to open over the next twelve months or so. Edging the river, after devouring the gardens, you can experience the beauty and tranquil water on the Waikato River Explorer, a scenic cruise which currently operates between Thursday and Sunday. It's a wonderful way to soak up the best river views, on New Zealand's longest waterway. www.waikatonz.com
Where to stay? Nestled in the heart of the city, overlooking the river, Novotel Hamilton Tainui is a landmark hotel, with supremely comfortable accommodations, where a classy but casual ethos pervades as does the thoughtful collection of art, and the level of service is joyful, welcoming and outgoing. My guestroom was furbished in relaxing aqua tones and all the comforts you'd expect from a top-end property. Breakfast is a real treat with a delightful array of options to power you up for the day. the award-winning Restaurant on Alma serves up fabulously tasty Pacific and European fusion cuisine, accented with the riverside ambience. As an Accor property, Accor's "It's All Good Campaign" has been launched, to sweeten the deal on great stays across New Zealand. With room rates starting from as low as just $81 a night in New Zealand if booked before May 31, Accor is also reassuring travellers that comfort and safety are paramount across all Accor properties, with flexible cancellation policies, elevated loyalty rewards and enhanced ALLSAFE hygiene and cleanliness standards. To find out more about the "It's All Good" to travel deals, head to https://all.accor.com
Mike Yardley is our resident traveller on Jack Tame Saturday Mornings.