Mike Yardley: Hinterland pursuits on the Sunshine Coast
Author

Section

Publish Date

Saturday, 12 August 2017, 3:24PM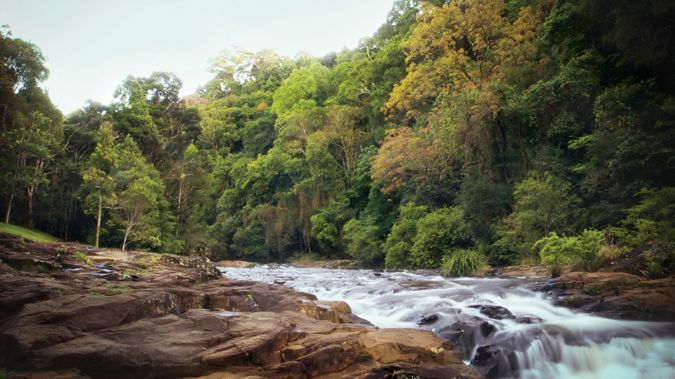 What is the essential ingredient behind a truly great short-break holiday?  I'd argue the great elixir is hassle-free variety. You don't have time to waste, you don't want long commutes from one place to the next and the destination needs to serve up a volley of distinctive experiences. A self-drive foray through the Sunshine Coast Hinterland makes light work of that check-list.
Heading inland from the sun-kissed, white-sand beaches, my first stop was Eumundi, a bustling village of timber town roots, that positively pulsates with creative verve. Time your visit for a Wednesday or Saturday when the legendary Eumundi Markets transform the village into an aromatic and frenzied hive of trading buzz.
Reputed to be Australia's premier artisan market, over 600 stalls await visitors to this carnival-like al fresco market, which holds string to the ethos of "make it, bake, grew it, sew it." I loved engaging with the plethora of artists, touting their handcrafted furniture, homewares and artworks, alongside the sensory overload of gourmet food stalls.
Tracking south to Nambour for an obligatory photo-stop with the iconic king of Queensland kitsch, the Big Pineapple, I then followed the signposts on the Blackall Range tourist route. Back-dropping the Sunshine Coast, the tourist drive winds along the razorback ridgeline of the escarpment, knitting together a spree of highland villages, scenic reserves and lofty lookouts.
For a short and sweet forest walk, I headed to Mapleton Falls National Park.  The 1.3km Wompoo circuit is a fragrant jaunt through verdant rainforest, heavily scented with eucalypts, to Peregrine Lookout where the gushing curtain of Mapleton Falls and expansive views across the Obi Obi Valley await. What I soon realised on this journey of personal discovery, is that the art and craft prowess of the region certainly isn't confined to Eumundi.
Many highland communities, first developed as farming bases, evolved into hippie strongholds in the 1960s, before reaching the stature of solid creative hubs in the 1970s. Montville is another star-specimen of a highland village that is deeply enriched by an incredibly creative class of people, bursting with colour, character and vitality. If you've never been to Montville, you'll be swept up by its storybook charm, chic cafes and galleries, heritage cottages and bucolic serenity. 
Top stops include Candy Addictions (with live cooking demonstrations and free sampling ) and the Clock Shop, which purports to have Australia's most extensive collection of original cuckoo clocks. After gorging lustily from Montville's many seductions, I moseyed on to Maleny, which enjoys an even loftier perch than Montville, bracketed by rolling green hills. Maleny is like a microcosm of the hinterland's finest features, a blend of bohemian creative types, aging hippies, a thriving artisan food production scene and magnificent beauty spots. 
I highly recommend a visit to Maleny Food Co, where the spectacular walk-in fromagerie stocks over 250 cheeses. The Cedar Street Cheeserie buffalo-milk range is a must try, as is Woombye's decadently gooey triple-cream brie. East of Maleny, a fascinating venture creating a lot of chatter is QCamel, which as the name suggests, produces pasteurised and bottled camel milk. Many health buffs are gushing about the manifold benefits of camel milk, the new "white gold," which is high in iron and low in lactose. QCamel is open for tours and tastings.
Just out of town, Mary Cairncross Scenic Reserve is a spectacular rainforest shelter, sprawling over 55 hectares. Boardwalks thread through this fabulous tract of safeguarded forest, brimming with raucous tropical birdlife. Information panels provide great insights into the local area's history, fauna and flora. The information centre sports a magnificent elevated viewing deck, offering a dreamy panoramic outlook across the eleven thrusting vertical rocky columns of the Glasshouse Mountains.
These magnificent rocky outcrops, which are actually remnants of ancient volcanic activity, are the transcendent landmarks of the Sunshine Coast.  Their bewitching shapes have a transfixing quality, in much the same way that Utah's rock formations left me spellbound.
They clearly captivated the imagination of one passing James Cook, who was struck by "the singular form of their elevation", which he found reminiscent of the glassmaking kilns of his native Yorkshire, and named them as such. For the Aboriginal people, these craggy rocky peaks belong to a family of mountain spirits. To commune up-close with these wondrous formations, head down Steven Irwin Way and follow the signs to the Glasshouse Mountains National Park, where are variety of short walking trails amplify their strutting grandeur.
Sitting pretty within the undulating folds of the Sunshine Coast hinterland, and wrapped by lush rainforest, Spicers Tamarind Retreat is the ultimate highland hospitality haven, just outside Maleny, and right on the doorstep of the region's greatest hits. Think blissful seclusion with all the frills. An abundance of lush and leafy greenery accentuates the supreme sense of privacy cradling every villa.
My villa was more like a house, with a separate lounge area, dining space, expansive bathroom, kitchenette and master bedroom. Stand-out features include the wood-burner in the lounge to accentuate the romanticism, a hot tub on the deck, a Delonghi coffee maker, complimentary gourmet cookies and a mini-bar loaded with beverages and snacks. Luxurious furnishings, linens and toiletries are all part of the picture. 
Guests go gaga over the gourmet dining at the on-site and award-winning Tamarind Restaurant, which specialises in modern Asian and Thai cuisine with impeccable wine and beer matches. Executive Chef, Dan Jarrett, made a huge splash during his first stint at the restaurant, before returning with some new tricks up his sleeve, early last year. Modern Asian degustation, Thai Banquet and a la carte dining all feature on the menu.
For my main, I plumped for the Whole Crispy Fried Fish signature dish, served with chilli, tamarind, wild ginger, pickled garlic sauce, crisp basil and jasmine rice. A radiant taste sensation.  And the inventive country-style breakfast offering, with lots of tasty flourishes like pumpkin bread, is absolutely worth waking up for! The retreat's impeccably maintained native gardens and grounds are a soul-rinsing work of art, as is the gorgeous boardwalk trail that leads you into the forest. Keep an eye out for the wildlife!
There's a wealth of walking trails on your doorstep, including the short and sweet path to the serene oasis of Gardners Falls. A diverse activity schedule includes complimentary mountain bike rides, an art gallery trail, cocktail making classes, flora & fauna tours, and on the first Sunday of the month, Jazz in the Forest.  Spicers Tamarind Retreat is the complete package, blending mouth-watering cuisine and pampered relaxation with ravishing scenery and charming hospitality. www.spicersretreats.com
I zipped my way all around the Sunshine Coast Hinterland in a JUCY rental car. JUCY's customer service is fast, reliable and friendly with exceptional hire rates and special deals to accentuate your roadie adventure. www.jucy.co.nz