Mike Yardley: Heights and Sights in Hong Kong
Author

Publish Date

Wed, 7 Dec 2016, 12:10pm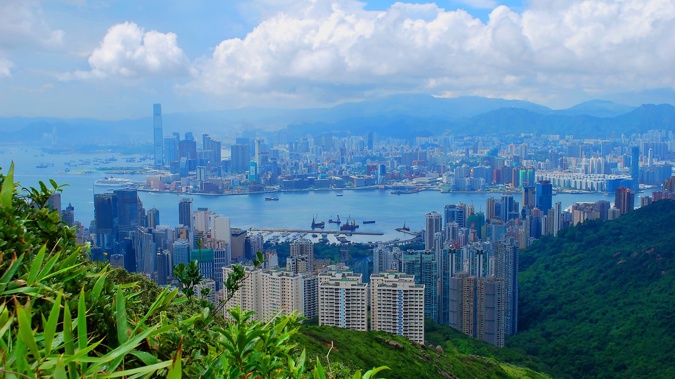 Mike Yardley: Heights and Sights in Hong Kong
Author

Publish Date

Wed, 7 Dec 2016, 12:10pm
Gazing out across the azure hues of Victoria Harbour from the Four Seasons Hong Kong, the hotel's PR Director, Amy Powell, was extolling the virtues of the hiking trails on both sides of the harbour. Surprisingly, 70% of Hong Kong is protected green space. Behind Kowloon, the 100km-long MacLehose trail fans across the New Territories, where every autumn a 48 hour charity race, the Oxfam TrailWalker, sees teams of hikers conquer its ten stages. If you're up for a salivating section of the trail, plump for stage five, which encompasses historic artefacts and wild monkeys. The first part of the trail is where Commonwealth troops defended Hong Kong against the Japanese in WWII.
The high-point is the extension to Lion Rock, serving up seraphic panoramas across Kowloon and Hong Kong Island. Also on stage 5, you'll encounter the circus-like theatrics of the wild monkey colony. Amy also raved about the Dragon's Back, a wildly popular escape from the urban jungle, which starts on Shek O Road near To Tei Wan Village. The trail provides sublime views of Shek O, Tai Long Wan, Stanley, Tai Tam, and the South China Sea. It's an 8km hike and can easily be knocked off in a few hours.
I recently stopped over for a 24 hour Hong Kong fling, to break up the rigours of long-hauling it home from Europe. My favourite street for stroll is one of Hong Kong's oldest, the evocative Hollywood Road. You'll still find some of the city's finest alfresco markets here, touting all manner of trinkets from opulent Ming vases to kitsch Chairman Mao statues. Old-timers swear by the medicinal benefits of eating preserved fruit. Wong Wing's dried fruit shop is a glorious little specimen, with over a century of trade under its belt, and a photo proudly hangs from the wall of the Wongs' greeting Prince Charles. Try the salted sour plums, sugared ginger, aged tangerine peel and cheery leather – all good for digestion.
 Hong Kong's fabled wet markets, strung along narrow old lanes, are sadly disappearing from the streetscape, given the eye-watering real estate values the markets occupy. The wet market, just off Hollywood Road, which entails a steep climb, is lined with raucous fish sellers and old-school butchers, where the meat is hung out on tidy rows of bamboo poles. The vegetable sellers sprawl across the lane with voluminous quantities of colourful and fresh produce. Another great little lane to trawl through is Li Yuen Street East, studded with traditional little stalls, where the vendors offer a myriad of services from shoe repairs to key cutting and printing services. It's like a Mister Minit convention al-fresco-style. 
As to the hiking trails, as much as I was motivated to lace up my boots, the sumptuous surrounds of the Four Seasons, seduced me from straying too far. The fine-dining French experience at Caprice Restaurant was absolutely packed for lunch. I did love the Caprice Bar, where no reservations are necessary and is a gorgeous hang-out for superb wine and cheese. The hotel opened Hong Kong's first cheese cellar eight years ago. The hotel is proudly home to the first Chinese chef to receive 3 Michelin stars, Hong Kong born and raised Chan Yan Tak. Lured out of retirement after finding fame at the Intercontinental, Four Seasons encouraged him to design his dream kitchen.
The hotel's Chinese restaurant, Lung King Heen, is faithfully designed with a feng shui-friendly bamboo garden and delivers a spectacular Cantonese dim sum weekend lunch. It's booked out 3 months in advance. Two thirds of the diners are locals, exemplifying the cherished Hong Kong tradition of enjoying weekend lunch with the extended family. It's a great authentic encounter. The hotel also offers fascinating culinary-focused walking tours with Chef Tak. Another enticing venue is the Blue Bar which serves a superb buffet breakfast and is lauded for its inventive martinis. It's a popular haunt with the after-work crowd.
Four Seasons is the only Hong Kong hotel with two full-sized outdoor pools. Take a complimentary Tai Chi class with Master William, before blissing out in the pools, sound-tracked with underwater music. Needless to say, the 24 hour gym boasts an arsenal of cutting-edge facilities, while the celebrated in-house spa is the most profitable of all Four Seasons' spas in the world. For an unmistakable stopover with hospitality wow-factor, Four Seasons Hong Kong hits the sweet spot. www.fourseasons.com/hongkong/
Blending the best of cutting-edge entertainment technology and cabin design, Kiwis jetting to Hong Kong and beyond are in for a treat aboard Cathay Pacific's sparkling new Airbus A350-900.  The state-of the-art aircraft entered service just over a month ago – and Cathay is the first carrrier to bring this aircraft model to New Zealand. 
Billed as the newest passenger aircraft in the world, a range of comfort-focused innovations have reduced noise levels and lowered the effective cruising cabin altitude, which is a big boost to well-being, helping to mitigate passenger fatigue. Wi-Fi is available on board across all classes, so you can surf the internet, sort your emails, and stay connected on social media. The next-generation HD personal entertainment system also offers live satellite TV news channels including CNN and the BBC, to help keep you connected at 38,000 feet.
If you're up at the pointy end, the A350's Business Class offering includes enhanced frills such as fully-flat beds which are now 3 inches longer; extra stowage space within easy reach, and a personal "Do Not Disturb" and "Wake up Call" functions in your entertainment system.  Premium Economy and Economy passengers have seating configurations equipped with dedicated tablet holders so you can mount your own devices, exclusive power outlets and USB ports. Cathay Pacific operates double daily flights between Auckland to Hong Kong and beyond, over the summer period, with a Boeing 777 service complementing the daily A350 connection. www.cathaypacific.co.nz
Mike Yardley is Newstalk ZB's Travel Correspondent on Saturday Mornings with Jack Tame.