Mike Yardley: Hassle-free holidaying in Rarotonga
Author

Publish Date

Sat, 17 Sep 2022, 1:12PM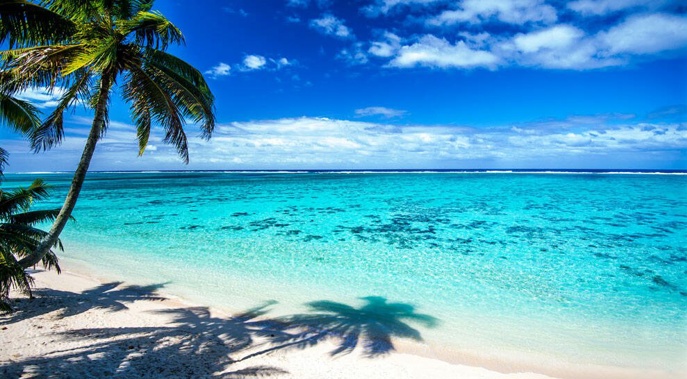 Mike Yardley: Hassle-free holidaying in Rarotonga
Author

Publish Date

Sat, 17 Sep 2022, 1:12PM
Lounging on sugar-white beaches while gazing at the gin-clear lagoon that lassoes the island, is just the start of Rarotonga's great experiences. As the world opens up and we spread our wings again, the long shadow of Covid has left many people still feeling apprehensive about far-flung travel. My 70 year old parents very much fall into this camp. They're seasoned, independent travellers but are still reluctant about venturing too far from home. Fresh back from some blissed-out island time, they have fallen head over heels in love with Rarotonga.  
From touchdown to take-off, Rarotonga's famed warmth and hassle-free holiday charm swept them up in a state of sweet seduction. It was their first foray to the Cook Islands and they're itching to go back. There are no unwieldly transfers between the airport and your place of stay, no language barriers, no pesky Covid-tests to fulfill, no foreign currency transactions required...it's paradise made easy. Even the dogs are friendly. Their island roost was Edgewater Resort & Spa on the Sunset Coast, just ten minutes' drive from the airport.  
Located on 6 acres of lush tropical beachside ground, the resort is a good-value choice for travellers, featuring an outdoor swimming pool, 2 restaurants, a bar and free on-site parking. From casual dining at The Brasserie, Italian fare at The Spaghetti House, to cultural events and theme nights, you'll enjoy plenty of variety. Plus Mal's Bar offers a range of beverages and daily cocktail specials. Guestrooms are available in a variety of configurations including three bedroom units, which all  feature tropical-style décor and rattan furnishings, including balconies with or lagoon or garden views. Snorkelling gear is available from the Hut, while daily breakfasts showcase a rainbow of tropical fruit colours. Don't miss their splendid array of daily baked breakfast treats – the doughnuts are particularly delish! Staff were unfailingly helpful, convivial and charming. www.edgewater.co.ck 
Drinking in the crisp lagoon palette of electric blues and turquoise hues, is central to Rarotonga's perennial stature as a fly-and-flop destination. But after wallowing in the bath-warm lagoon and its radiant beauty, the island is ripe for exploration. My parents loved jaunting around the island on serendipitous, fuss-free drives, admiring the rustic charm of the villages, the abundance of fresh produce carpeting the fields and the spectacular coastal vistas. Polynesian car Rentals has an office at The Edgewater, so arranging a hire car was effortless. Amid the spoil of accommodation offerings studding Rarotonga, they were also very impressed with the Little Polynesian Resort, located on the south coast in Titikaveka. My parents headed there for an indulgent al fresco lunch, overlooking the ivory-coloured sands of Raina Beach.  
Away from the crowds of Muri, but still close enough to soak up the tourist honey-pot's top draws, "the Little Poly" is my idea of blissed-out boutique seclusion, with all the creature comforts you'd expect from a highly decorated resort. If you want to spoil yourself, book an absolute beachfront bungalow, a triumph of Rarotongan character, contemporary style and ultra-comfort. Sophisticated, split level and with elegant high ceilings, there's huge timber beams throughout, polished mahogany floors and white washed walls. The hand carved frieze of the Cook Islands traditional symbol, tikitiki tangata, is superlative. 
Avarua itself boasts a clutch of waterside eye-catchers. A stand-out heritage property is the limestone Beachcomber building, built by the missionaries in 1845, smashed apart by a cyclone in 1968, and later magnificently restored. It's now home to the Bergman Gallery. Fancy delighting in the impeccably attired, exuberant choirs of a Rarotongan church service? You're very welcome to attend the grand old coral Cook Islands Christian Church, built in 1853. A Sunday must.  
Definitely make time to admire the storied beauty of Para O Tane Palace and its surrounding Taputapuatea marae. The palace is where Makea Takau, the paramount ariki (chief) of the area, signed the treaty accepting the Cook Islands' status as a British protectorate in 1888. The building has been renovated, but only the outside is accessible to the public. Make a beeline to the Punanga Nui Market early on Saturday morning, to revel in the carnival of fresh produce, home-made meals and delicacies, delightful craftwork, pearls and multi-coloured pareu. To score some freshly caught fish, rise with the roosters, because the fish always sells out. The market does operate throughout the week, but Saturday is the blockbuster edition. 
As twilight beckons, join some fellow travellers on a sunset cocktail tour aboard Tik-e Tours Tuk Tuk train. This enterprising tour company, run by Kiwis Karl and Tania, offers a variety of guided sightseeing experiences on their fleet of electric Vespa tuk-tuks. Merrily gaze over the setting sun, bar hopping heartily along Arorangi's necklace of beachfront hot-spots on the Sunset Coast. From the road, you would never know what jewel-like bars and nightspots are discreetly tucked away. Call into Shipwreck Hut for an obligatory pina colada.  
It has previously been voted one of the best beach bars in the world by CNN and it's the larger-than-life bar staff who seal the deal. A runaway favourite haunt is On the Beach Bar (OTB) at Manuia Beach Resort. Fanning out from the glorious kikau-thatched restaurant, picnic tables were scattered across the sand, where we downed a Manuia Kiss, over some scrumptious seafood nibbles. Vodka, peach liqueur, blue curacao, grenadine and lemonade Don't miss Wilson's Beach Bar which is part of Castaway Villas and features bonfires on the beach, as you sip on sundowners and nibble on yakitori skewers. Order up a Blow Me Up, the most extravagant of cocktails, comprising a variety of hard spirits, liqueurs, hazelnut and chocolate sauce. It doubled as dessert. 
A Rarotongan escape would not be complete without basking in the techni-colour brilliance of Muri Lagoon. My parents plumped for Koka Lagoon Cruises, who serve up a heady mix of non-stop entertainment during the four hour excursion, including cultural demonstrations, a scrumptious fish bbq lunch, coconut tree climbing show and crab racing. Plus plenty of snorkelling time, too! Lock in some quality time with a little South Pacific paradise. https://cookislands.travel 
Mike Yardley is our resident traveller on Jack Tame Saturday Mornings. 
Take your Radio, Podcasts and Music with you