Mike Yardley: Great-value Aegean Cruising
Author

Publish Date

Fri, 10 Feb 2017, 11:43AM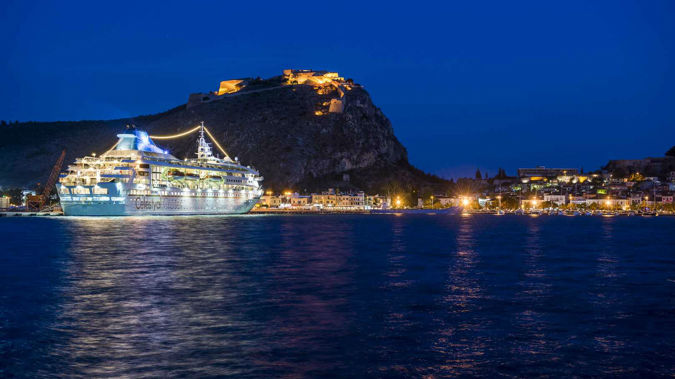 Mike Yardley: Great-value Aegean Cruising
Author

Publish Date

Fri, 10 Feb 2017, 11:43AM
Nearly twenty years ago, while doing my big OE, I scored a job on a Greek cruise-ship. I was employed as the DJ in the taverna of Royal Olympic's flagship, the Stella Solaris. Not only did the experience fortify my abiding passion for travel, but my inexhaustible love affair with the seductive charms of the Aegean Sea.
The cruise company I worked for sadly went bust after 9/11, but it's wonderful that those storied Aegean waters can still be explored afloat a Greek-owned and crewed cruise line, Celestyal Cruises. Recently my family hop-scotched our way around the Greek Islands and Turkey aboard Celestyal Nefeli.  With a passenger capacity of 1100, this mid-sized ship certainly holds high appeal with cruisers who prefer not to sail the seas amid the swarming hordes of humanity associated with mega-liners.
But best of all, its smaller size enables easy navigational access into the smallest of ports, without the need for tendering.  The Aegean Sea is the postcard-perfect playground for a leisurely cruise, where the millpond-smooth waters are peppered with absurdly photogenic stops. We embarked on their 7 day Idyllic Aegean cruise, which departs from Lavrion, Athens and is necklaced with 10 alluring ports of call.
It's a superbly curated taster itinerary of the Aegean's sheer grandeur, seductive charms and variety of experiences. With the bulk of the sailing taking place while you sleep, the itinerary maximises your amount of time in port, whether you're taking a shore excursion or free-roaming. First up, the glittering rockstar of Mykonos shuffled into view, with its scallop-shaped harbour crowned by the iconic windmills and whitewashed sugar-cube houses, in deep blue trim.
The other signature Aegean superstar, cliffside-clinging Santorini, bookmarked the cruise, the final flourish to the island-hopping itinerary before we disembarked back in Athens. But in between, Celestyal Nefeli called into a kaleidoscope of lesser-trafficked Greek islands and Turkish coastal gems.  Samos is a heart-stealer, an island of lush landscapes, crystalline water and colourful townhouses.
Then there is the volcanic marvel of Milos, brimming with bewitching rock formations and the greatest number of beaches in the Cyclades.  Timeless Ios is a revelation, home to the pre-historic settlement of Skarkos and the Tomb of Homer. And one of my new favourites in the Aegean is Syros, where the port town of Hermoupolis swathed in Venetian architecture and cobbled lanes, strung across the conical-shaped hills rising up from the harbour. Few places make such a stirring first impression, on arrival.
Beyond the Greek Islands, the cruise also dipped into the richness of Turkey's Anatolian coastline, home to the seaside-sweet resort town of Cesme and also sun-splashed Kusadasi, from where you can revel in the stupendous ruins ancient treasures of Ephesus. What an undeniably idyllic week of discovery.  
Because I'd previously visited many of these islands, our family opted to do our own shore excursions in many ports of call. However, Celestyal does offer a comprehensive range of organised tours which were reasonably-priced and were focused on accentuating authenticity. For example, in Kos, a salivating option was their excursion to local family-run wineries and honey makers.
If you're a history hound, their Pythagoras excursion on Samos is unmissable. When in Santorini, savouring a sunset in Oia has to be seen to be believed. If you can't get there under your own steam, the ship will arrange it for you. If you're hankering for authentic island cuisine, Celestyal absolutely excelled in connecting travellers with family-run tavernas where the food was simply sublime. No tourist menus here! But because of the lack of fanfare, such dining experiences are under the radar, unless you're an in-the-know local.
Being the only home ported Greek cruise ship to sail the Aegean, it's understandable that Celestyal places such a premium on the authenticity factor. Like a patriotic call of duty, they pride themselves on knowing the Aegean better than any other cruise company and how to share that passion for region's extraordinary history and culture.
Although the Celestyal Nefeli wasn't endowed with the bewildering spectrum of next-generation mega-liner gimmickry, like skydiving simulators, wave-riding machines and ice skating rinks, you'll be cloud comfortable with the full range of standard cruise amenities. I enjoyed a great selection of cocktails and genuine Greek coffee from a variety of bars across the ship, noshed decadently at the Leda Buffet and sat down for the more formal dining affair in the Aegean Restaurant.
There's on-board shopping, gaming, pools, a fabulous spa, around-the-clock entertainment and live shows. True to the Aegean-first theme, don't miss the Greek entertainment, language lessons and illuminating mythology quizzes! Greek crewed and staffed by a United Nations-style contingent of waiters, attendants, chefs and cruise hosts, it's the people who will linger fondly in your memories. From my charismatic Filipino room attendant to the comedic Eastern European waiters, their outgoing, well-humoured and personable service standards couldn't be faulted.
The cherry on top of a Celestyal cruise is the affordability factor. Sharply-priced, on average, you'll be exploring the Aegean and enjoying all of the ship's services for $200 a day. The cruise line is currently offering a 15% early bird booking discount on 2017 summer cruises in the Aegean, and an all-inclusive package which also encompasses drinks and shore excursions. For full details on cruise itineraries and rates, head to www.celestyalcruises.com
 Mike Yardley is our Travel Correspondent on Jack Tame Saturday Mornings.