Mike Yardley: Great Pie & Pastry Stops on the NZ Highway
Author

Publish Date

Sat, 2 Oct 2021, 1:15pm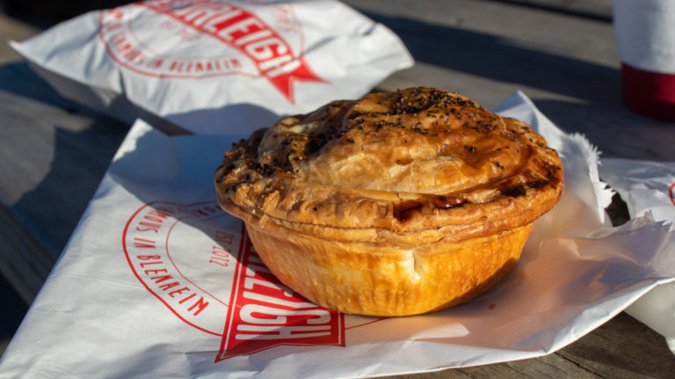 Mike Yardley: Great Pie & Pastry Stops on the NZ Highway
Author

Publish Date

Sat, 2 Oct 2021, 1:15pm
I'm sure I'm not the only one who always gets ravenous on a roadie. But if there is one universal truth about great Kiwi road-trips, it's that our highways are awash with tantalising roadside stops, brimming with so many great and tasty pastry temptations. The sort of outlets that you dream about getting your mitts on – and wrapping your mouth around their products! Some of these stops are the stuff of legend, where a cult-like following sees queues constantly spewing out the door. Some stops have cemented themselves as not just an inflexion-point to break up a journey, but a rightful destination and starring attraction of the town in question. A source of local pride. Whether it's a café, bakery or specialised pie-shop, the list of rockstar contenders is inexhaustive. We all have our favourite go-to haunts for the best flaky, buttery, ooze-filled, golden one-handed meals! It's a highly subjective matter. But here's my round-up of pet pastry picks that deserve to be threaded into the ultimate Kiwi roadie.  
The Chocolate Eclair Shop on State Highway 49, Ohakune. Few places have secured such fame quite like this shop, which looks more like a dairy than a bakery. Multiple generations of the Nation family have been powering this enterprise since 1939, winning fans the world over for their Kiwi-as chocolate eclairs, which are mega-sized pastries, pumped with fresh cream and smothered in chocolate. They're only operate during the ski season, pumping peckish skiers with quite the sugar hit, before or after hitting the slopes. Around a 1000 of these eclairs will be sold from the Ohakune shop in the peak of the ski season. But the clock is ticking on getting your fix…come November, it's a long summer and autumn before the éclair-making purrs back into life.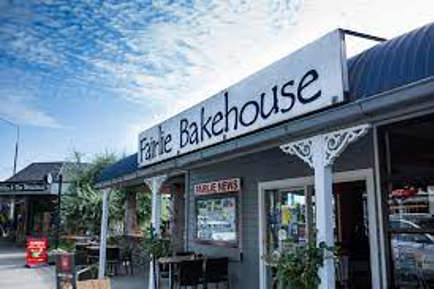 Viv's Kitchen on State Highway 3, Sanson. The fiendishly popular highway stop is synonymous with the famous cream horn. You won't miss it – a monstrous roadside sign, emblazoned with a model of the decadent sweet treat, declares this Manawatū bakery is indeed the "home of the famous cream horn." It's essentially a cone-shaped pastry, a cornetto,  stuffed with fresh cream and a lavish blob of flavoured jam or sauce. At last count, Viv's Kitchen is closing in on 300,000 sales of their cream horn.  
Sheffield Pies on State Highway 73, Sheffield. There's a great parade of temptations for happy bellies on the Great Alpine Highway. Locals swear by the tasty pastry delights at The Darfield Café & Bakery. Springfield is proudly home to the famous pink doughnut. The six-tonne landmark was originally installed to celebrate The Simpsons movie release. Close by the sculpture, the Springfield Donuts caravan is where to head for their doughy bundles of joy. Choose your own toppings! But best of all, Sheffield is home to the award-winning Famous Sheffield Pie Shop. The venison and whisky relish combo is a stunner.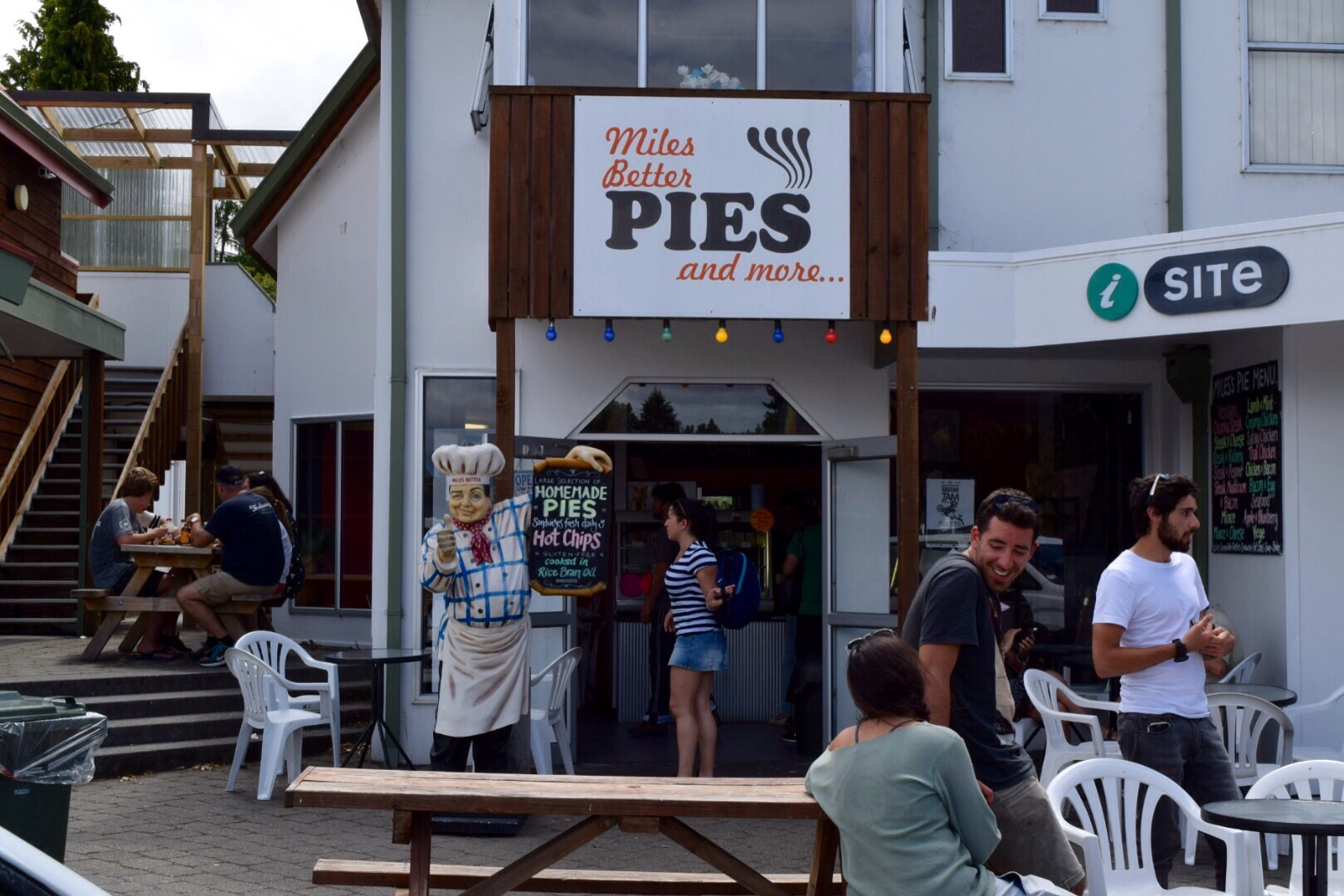 Fairlie Bakehouse, State Highway 8, Fairlie. On this highly-trafficked highway shuffling road-trippers into the magnificent Mackenzie, this is a bakery that undeniably has become the starring attraction of Fairlie. It put the town on the map. Pop into the feverishly popular Fairlie Bakehouse to devour one of Franz Lieber's meaty parcels in pastry – the Pork Belly, Apple Sauce and Crackling pie is the top-seller. More than 2000 pies a day are sold during peak periods. To meet the insatiable demand, the bakery doubled in size several years ago.  
Jimmy's Pies on State Highway 8 in the heart of Roxburgh.  Made to an old family recipe, Jimmy's have been making their meat pies for 50 years, with 20 different types of pies on offer. Their Lamb Shank pie would be my discerning recommendation. Plus, their cream buns are not to be missed – threatening to match the size of a basketball.  The power of Jimmy's Pies endures – they make over 25,000 pies every day from their Scotland Street shop in Roxburgh That's 48 times the town's population! 
Fat Bastard Pies on State Highway 1, Invercargill. Also down south, this flagrantly named pie shop, situated on Tay St, certainly doesn't hold back when it comes to marketing prowess. Alongside their supreme pastry-laden packages of goodness, there's in-store merch galore, ranging from Fat Bastard t-shirts to briefs. For an unmistakeable taste of the south, wrap your laughing gear around a Southland Mutton Pie - a solid core dripping in fat covered by pastry goodness. 
Olde Beach Bakery on Ono Street, Waikanae. Just off the Kapiti Expressway, the Olde Beach Bakery is a beloved institution. I have lost count how many people have urged me to check out this pint-sized bakery, when road-tripping in the lower North Island. Their wide variety of pies will please all palettes, but I can honestly say that their cheese scones are the best I have ever tasted. And I still don't know why they taste a cut above the rest. Maybe it's the spring onions.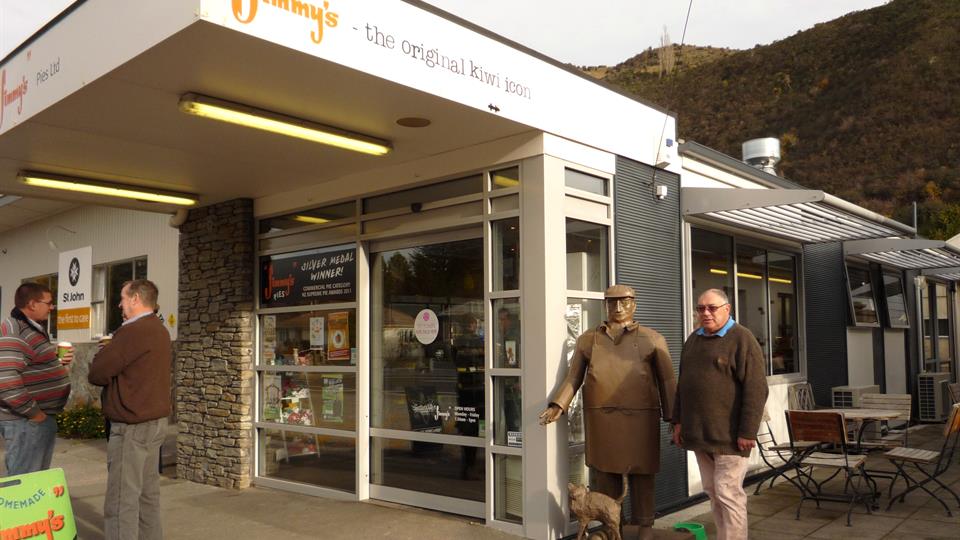 The Burleigh, New Renwick Road, Blenheim. Close to the Omaka Aviation Heritage Centre, or if you're tripping out of Blenheim en-route to Havelock and Nelson, The Burleigh is an unmissable pitstop for gourmet pies. It's a must in Marlborough. The Burleigh is your classic destination pie shop. The sweet pork belly and steak and blue cheese pies are big-sellers, but the spicy Jamaican lamb pie takes out best in show, on my scorecard. 
Miles Better Pies on Lakefront Drive, Te Anau. Finally, just off the highway in the heart of Te Anau, Miles Better Pies is swooned over by locals and visitors alike. Travelling for miles to experience a Miles Better Pie is a trip worth making! The queues routinely spill out the door and you've certainly got no shortage of wilderness trails to burn off the calories. The wild venison pies are a pastry-packed salute to Fiordland, but one of the biggest sellers, conceived my Myles the cook, is the Taco pie. A smash-hit.  
Mike Yardley is our resident traveller on Jack Tame Saturday Mornings.