Mike Yardley: Great London day trips
Author

Publish Date

Fri, 16 Dec 2016, 7:57PM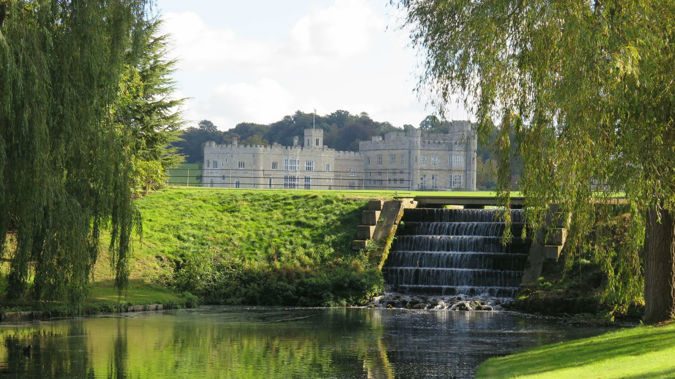 Mike Yardley: Great London day trips
Author

Publish Date

Fri, 16 Dec 2016, 7:57PM
Oxford, The Cotswolds and Windsor have traditionally been the three biggest-hitting daytrips from London, but a certain television series has rocketed the snug village of Bampton to the top of the charts. Yes, the enduring popularity of Downton Abbey has transformed Bampton, which is cast as the fictional village of Downton, into quite the tourist mecca. Day tours mix Bampton with the majesty of Highclere Castle, which still serves as the home of the current Earl and Countess of Carnarvon.  A visit to this stirring Victorian pile and its sumptuous interiors also includes a ramble in its impeccably landscaped parkland.
Any self-respecting list of London daytrips has to include some regal real estate and Leeds Castle is a serious crowd-pleaser. Not to be confused with the northern English city, Leeds Castle in Kent is one of England's finest piles, a storybook medieval stronghold traversing two small islands on a peaceful lake. Rising majestically from the moat, like a floating castle, it's a breath-taking visual symphony. No wonder Lord Conway famously described it as "The loveliest castle in the world." Dating from the 9th century and rebuilt by the Normans in 1119, Leeds became a favourite home of many medieval English monarchs.
Henry VIII loved it so much he had it converted from a fortress into a lavish royal palace. In the 1930s, it became a playground for the rich and famous, as Lady Baillie, the last private owner, entertained London high society. She lavished serious coin on restoring the castle and the superb collection of fine art, furniture and tapestries was bequeathed to the Leeds Castle Foundation. A quirky extra is the Dog Collar Museum at the gatehouse, which displays a unique collection of canine collars from the past 100 years.
The delightful Roald Dahl Museum, in the village of Great Missenden is 45 minutes from Marylebone Station, and offers an extravaganza of hands-on exhibits. Housed in his adult home, it's also where he worked for 36 years, churning out a factory of fantastical stories from his original writing hut which is intact. The museum is located just past the vintage Shell petrol pumps that featured in Danny the Champion of the World. Interactive galleries encourage you to dress up as your favourite character, including the Oompa-Loompas.
When it comes to eye-catching towns, London's periphery is packed full of options. I grew up in one of Christchurch's oldest suburbs, St. Albans. Its namesake is an old market town, wreathed in Roman heritage, just 20 minutes north of London, from Kings Cross Station. It's home to the Roman settlement of Verulamium, where a trove of ruins including a Roman theatre are worth a perusal. The town takes its name from Britain's first recorded Christian martyr. Alban was a Roman mercenary, who converted to Christianity and was beheaded in 304AD. Later canonised, his tomb takes pride of place in Britain's oldest site of continuous Christian worship, St. Albans Cathedral.
I was intrigued to discover that tunnels once ran between the cathedral and the cellars of Ye Olde Fighting Cocks Inn. Thirsty priests, perhaps? The pubs foundations date from the 8th century, which gives rise to the claim that this is Britain's oldest inn, even though the actual pub wasn't built until 1539. True to tradition, St. Albans bustles with glorious markets spilling across its cobbles, underneath its beautiful medieval clock tower, built in 1403 as a watch-house. Journey up the 93 steps of the tower's spiral staircase for a snapshot of the tower's varied historical past, including where shop-keepers and clock-keepers once lived.
Another indelible town warranting a daytrip is east to Colchester, the star of Essex. This is England's oldest recorded town, with a lovely tangle of Tudor-era streets. Take a wander through the 17th century cottages by the River Colne and the half-timbered houses of the Dutch Quarter. For Roman Britain aficionados, drool over the Balkerne Gate, the largest surviving Roman gateway in Blighty. It's a quick 50 minute trip by train from London Liverpool Street Station.
If you're hankering for some classic English village of the chocolate-box variety, here's a couple of easily accessible prospects. Lavenham in Suffolk is the perfect picture of prosperous medieval England, thanks to its high street of half-timbered houses and 340 heritage- listed buildings. Star specimens include Corpus Christi Guildhall and De Vere House, which both featured in 'Harry Potter and the Deathly Hallows'. Lavenham is as deliciously sweet as it sounds.
Surrey has an obscene horde of super-cute villages to swoon over, but the riverside gorgeousness of Shere is as quintessentially English, as a bulldog in a bowler hat. Grab a village map and go walkabout to tick off all the charming manor houses, cottages, pubs and village lanes, many of which will look fondly familiar, given they've starred in a stack of movies, including The Holiday, Bridget Jones and Four Weddings and a Funeral.
Where to stay? A symbol of English hospitality heritage, steeped in Edwardian tradition, the Waldorf Hilton London certainly doesn't rest on its laurels. Despite its venerable bones, this storied centenarian is basking in the glow of its NZ$25 million makeover, undertaken last year. From spectacular dining to stylish rooms and suites, the hotel blends old-world charm with a modern flourishes, delivering the ultimate in 21st-century comfort and restored splendour.  My room embraced a modern vibe, with bold colour schemes and swish furnishings. And room rates are sharply-priced.
Befitting its location in the heart of Theatre Land, the elegant in-house restaurant, Homage, offers pre- and post-theatre menus, while you can enjoy some cheeky cocktails in the opulent surroundings of Good Godfrey's Bar and Lounge. Homage Restaurant takes its inspiration from the grand cafes of Europe and an experience to savour is the hotel's traditional afternoon tea. Accompanied by a harp player on Fridays and weekends, it's a resolutely English affair, with high tea stands of delectable morsels spanning designer finger sandwiches, perfectly baked scones with Devonshire clotted cream and preserves plus a drool-worthy selection of calorific pastries. Wash it all down from the expansive tea menu which is also accompanied with a glass of fizz if you wish. www.hilton.com
Mike Yardley is Newstalk ZB's Travel Correspondent on Jack Tame Saturday Mornings.