Mike Yardley: Grazing from Vancouver's Palette
Author

Publish Date

Fri, 13 Oct 2017, 3:31pm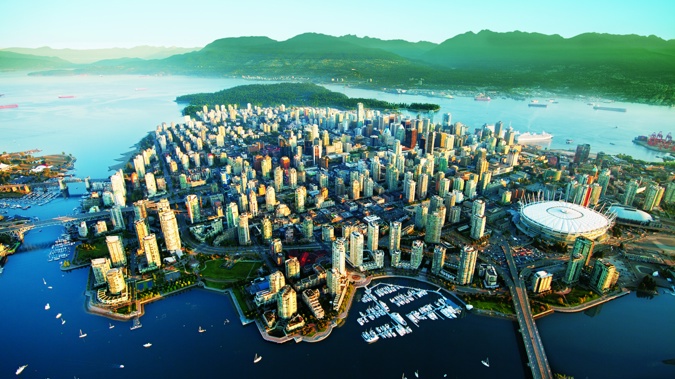 Mike Yardley: Grazing from Vancouver's Palette
Author

Publish Date

Fri, 13 Oct 2017, 3:31pm
Amid the spree of pickings for urban explorers in Vancouver, it's always struck me as a very sensory city. There are three trademark time signals that are quintessentially Vancouver. Down on the waterfront at Canada Place, built for the '86 Expo, every day at high noon you'll hear the airhorns sound the first four bars of "O Canada."
In Gastown, the time-honoured Steam Clock bursts into life every 15 minutes blowing steam and whistling. After dark, on the seawall at Stanley Park, you can listen to the boom and see the blast of the Nine O'clock Gun. It's been a nightly ritual for 119 years. It even has its own Twitter parody account, tweeting "BOOM!" every night when the clock strikes nine. But it's Vancouver's incredible edible scene that can fast engulf you in a sensory overload.
The 150 roaming food trucks alone, could make short work of that, headlined by the beloved baha-style delights of Tacofino. As you'd expect from an A-list foodie city, the celebrated offerings are constantly evolving, as trends come and go in the hot 'hoods. I delved into the city's palette and here's a selection of tried and trusted options destined to leave you with a memorable flavour of buzzing Vancouver.
The city's oldest 'hood, with its cobblestoned atmosphere, is a great starting point. Gastown takes its name from the first saloon owner, Gassy Jack Deighton, who started trading in 1867. Pourhouse Restaurant exudes a sassy speakeasy spirit and a menu to match, like rabbit terrine with mustard and bread & butter pickles. Are you a pizza aficionado? Nicli Antica Pizzeria has the prized credentials of being a VPN-certificated Neapolitan pizzeria.
You'll probably recognise the Gastown streetscape from 50 Shades of Grey, which was filmed here. Fancy some creative mixology? Head to Chill Winston for the evocatively named Ritual Sacrifice cocktail, comprising Victoria Gin, Aperol, grapefruit tea, lemon & peach bitters. Another top Gastown destination is L'Abattoir, where French influenced Pacific Northwest cuisine, forms the basis of its menu. It's a great spot to get your fill of fresh halibut, a slightly sweet-tasting fish, and the delicate flavour of British Colombia's spot prawns.
Tucked in Gastown's Dominion Building, Nuba captures the classic Lebanese style of sharing with a menu of innovative dishes. In a city famed for its serious surfeit of Starbucks joints (over 100 at last count), re-caffeinate at Milano Gastown, a local trail-blazer as a roaster and coffee-maker, with an espresso tasting bar, to boot.
Timbertrain Coffee Roasters is another stellar stop, committed to the fundamentals of brewing perfection, as is Prado Café, at 100 W. Hastings Street. It's home to four-time Canadian Barista Champion and first ever winner of World Latte Art Championship. Sam Piccolo embodies the passion for great coffee, continually using his award-winning skills to create the perfect cup of coffee.
Another revitalised historic district trending with the "scenesters," is the old warehouse haunt of Yaletown, where an energised patio-culture permeates its heritage brick walkways. It's been repurposed as Vancouver's digital district, throbbing with tech workers augmenting reality and creating video games. The chic boutiques and bars have fostered a strong following among sophisticates.
Foodie hot-spots include Wild Tale Coastal Grill, for sustainable seafood like the local oysters. Homer Street Café is a cracker. Their rotisserie chicken is one of the nest things you could shove in your mouth, but the people who do it here somehow look chic and French. For an on-the-go snack, grab a scoop or two from Bella Gelateria, topping a salted-caramel cone. They've scooped multiple global awards.  
Just south of the city centre, the crown jewel of the city's culinary scene is Granville Island Public Market. Technically the island is actually a sandbar, but semantics aside, the public market is the second most visited visitor attraction in Canada, after Niagara Falls! It's part farmer's market, part food hall and part arts fair. But the food hall proper, is one of the most impressive affairs I've come across, worldwide. It's absolutely where you'll be rubbing shoulders many top restaurant chefs, as they source ingredients for the evening menu.
With over 150 permanent retailers and vendor stalls, the abundance of temptation is a formidable test of impulse control. You can lustily graze your way on fragrant pastries and artisan cheese as you go, although for more substantial dining, the international food court, at the heart of the market, is where to head. My recommended stops include Benton Brother's Fine Cheese, Oyama Sausage Company and Edible Canada. Their flavoured bacon salt is a taste-sensation, in its own right!
Whatever you do, do not miss sampling a honey-dipped donut from Lee's Donuts.  Beyond the public market, the wide array of designer stores and art studios is always enthralling. On a sad note, The Umbrella Shop will soon be closing, after protecting Vancouver from the rain for 82 years. Pay it a visit, if you're in town before year's end.  Another area signature is Granville Island Brewing.  Pop in for a very agreeable Maple Cream Ale!. www.tourismvancouver.com
It is ultra-hip and seriously groovy, fresh from a tip-to-toe makeover. The Burrard has transformed what was a 1950s' downtown motel into a chic and playful boutique hotel with an unmistakably retro-cool vibe. Accommodations are compact but undeniably comfy, loaded with creature comforts and contemporary flourishes, including luxurious bedding, flatscreen TVs, free Wifi, iPod docking stations and Nespresso coffee machines.
The 72 guestrooms open out onto a lush interior garden courtyard, thronging with palms. It's a stunning little oasis for urban lounging. The hotel also treats guests to free-use cruiser bikers and complimentary North American phone calls. The staff are fabulously informed and fizzing at the bung with insider tips on where to go, whether it be a fun-filled bike route or post-pedal cocktail.  It's always a thrill to discover a stand-out hotel with a seriously distinctive personality. The Burrard is a class-act. www.theburrard.com
 Air New Zealand is increasing capacity on its Vancouver route. The airline will kick the increases off by moving from seven to eight weekly services during the first half of January, making it easier than ever for Kiwis to escape to the snow, with increased services during the shoulder periods too. With well-timed overnight flight departures, I managed to sleep my way across most of the Pacific. For best fares and seats to suit, head to www.airnewzealand.co.nz
Mike Yardley is our Travel Correspondent on Jack Tame Saturday Mornings.