Mike Yardley: From cloisters to castles in Tuscany
Author

Publish Date

Tue, 8 Sep 2015, 6:29pm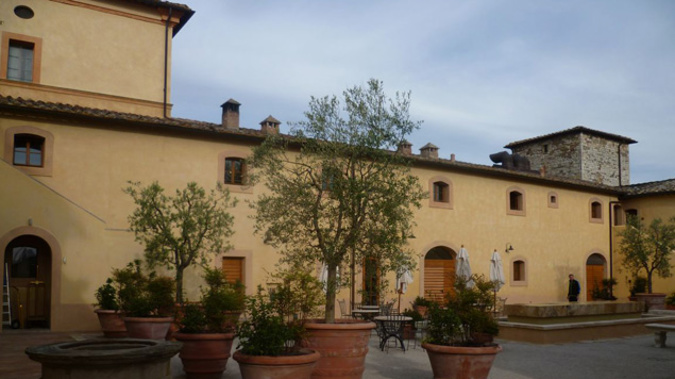 Mike Yardley: From cloisters to castles in Tuscany
Author

Publish Date

Tue, 8 Sep 2015, 6:29pm
Fabulously fertile and photogenic Tuscany, offers limitless visitor opportunities. On my recent trip to Italy, top of my wish list was to experience a night in a top-end Tuscan castle (castello) and, in stark contrast, a spartan medieval monastery. 
As a life-long fan of Italian trains, I happily rode the rails between Milan, Venice and Florence, before hiring a rental car to accentuate the freedom factor, as I traversed Tuscany's heart.  Bordering the south of Florence are the storied Chianti hills, which then intersect with Val d'Elsa, a glorious pocket of heartland Tuscany, replete with sumptuous Renaissance landscapes. Taking its name from the Elsa River,  this easy-to-drive valley is home to the tourist honey-pots of Siena and San Gimignano and lesser trafficked hill-top gems like Colle di Val d'Elsa and Casole d'Elsa.
Colle di Val d'Elsa is the powerhouse of Italian crystal production, with excellent tours through the workshops and showrooms.  Casole d'Elsa is a quiet, fortified medieval town with salivating views across the expansive, undulating valley, rewarding you with a more laid-back, authentic flavour of Tuscan hill-top life. Adjacent to the town is Castello di Casole, a sprawling 4200 acre estate, where my castle dreams came true.
A classic cypress-lined road leads you up to the 10th century castle, which only re-opened barely two years ago, following  a 7 year long renovation, which has combined lashings of Old World character with contemporary luxury.  Once the gathering place of aristocrats and film stars ( the Visconti family were the estate owners in the 1960s), this is a "To the Manor Born" Tuscan-style experience. The 41 suites are housed in a cluster of stone farmhouses that spill from a central courtyard, complete with a medieval water trough for the horses.
Think terracotta tiles, exposed wood beams, heavy silk curtains, velvet-upholstered furniture and Carrera-marble bathrooms. The suites are loaded with contemporary comforts including rolltop tubs, luxury toiletries, free wi-fi and flat-screen TVs. But it's the arched windows that frame stirring valley panoramas that constantly captivated my attention.
The estate which was previously a working farm and home to several hundred villagers even has its own church, which along with the rest of the property has been artfully restored and has amazing acoustics. Needless to say, it's a spectacular location for high-end weddings. I half expected to run into the Kardashians! There are miles and miles of walking and mountain-bike trails to savour, without even leaving the property. And enjoy a soak in the colossal infinity pool.
Whether you're an in-house guest or not, the dining options are a delight. Enjoy breakfast and dinner in the flagship Tosca restaurant; I had the best tortellini of my life in the informal Visconti bar; and you can take your kids to pizza-making cooking school at Trattoria Pazzia. All in all, a supreme Tuscan experience. For further details, visit www.castellodicasole.com
Famed for its tall stone towers and nicknamed "Medieval Manhattan", San Gimignano is a signature Tuscan hill-top destination, steeped in history, and richly endowed with cobbled lanes loaded with artisan stores. After sampling the lavish castello high-life, I thought a dose of quiet contemplation, if not monastic silence, would re-balance the equilibrium.
Cheap as chips, I booked into Monastero San Girolamo, which for centuries has been home to cloistered Benedictine nuns. The Mother Superior who greeted me was a friendly, frozen-in-time looking character, straight out of central casting for a medieval movie.
Through bouts of broken English, and repeated mutters of "Mama Mia", I was escorted to my room. Befittingly spartan, with a basic bed, table and bathroom, there was no TV and certainly no wi-fi. But this noble, devoted nun really surprised me the following morning. Across the road, I was admiring the Knights Templar church, built by the Crusaders after they returned home from Jerusalem, when she suddenly serenaded me with a noble version of Yellow Submarine, out a top-storey window. With a cheeky chuckle, she shuffled out of view. Fleeting, unexpected moments of levity can be so memorable.
Another unexpected highlight were the celestial valley views from my bedside window, which were extra-gorgeous as the setting sun gilded the landscape. For a reflective recharge at the 700 year-old Monastero San Girolamo, head to www.monasterystays.com
Mike Yardley is Newstalk ZB's Travel Correspondent on Jack Tame Saturdays. 11.20am