Mike Yardley: First foray in Lima, Peru
Author

Publish Date

Sat, 15 Aug 2015, 6:13pm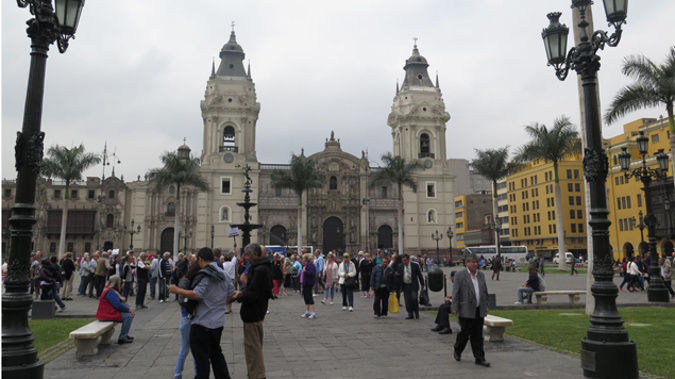 Mike Yardley: First foray in Lima, Peru
Author

Publish Date

Sat, 15 Aug 2015, 6:13pm
At first glance, sprawling straggling Lima, home to 10 million, is not the kind of city to make the heart sing. Disgorging yourself from the heaving human soup at Lima Airport, navigating out of its surrounding industrial tangle and negotiating your way through the spewing traffic fumes and billowing congestion on the one hour drive into the city centre, are not fetching first impressions. Amongst a cacophonous orchestra of bleating car horns, I did ponder whether flying straight on to Cuzco might have been a better bet. But those of virtuous patience can be expected to be rewarded.
Once hailed the City Of Kings by Spanish conquistadors, it's pre-Colombian and colonial treasures are astonishing. My local guide, Gabriel, deeply proud of the Ancient Peruvian history, trumpeted the civilisation's remarkable roots, which reach back as far as 3400BC. Plus, added Gabriel, the Inca Empire is relatively recent, only ruling the roost from 1000 to 1500AD. So Lima has very old bones, but much of its ancient heritage was systematically obliterated by Francisco Pizarro, who in 1535, settled on the city as the power-base for the Spanish colonial empire, wasting no time plundering the staggering vaults of Incan gold and silver, shipping the lot home to Europe.
Standing inside Lima's baroque cathedral, Gabriel dismissively remarked, "they stole our gold and gave us salt."  The salt is actually the fine Carrara marble that carpets the floor of this cavernous cathedral, although Gabriel is right – marble is composed of salt. Completed in 1625, after being meticulously planned by Pizarro, his basic design was upheld when it was rebuilt, following massive earthquakes in 1746 and 1940. Encrusted with flashy baroque appointments, including stunning artworks, the intricately carved choir stalls, were painstakingly crafted from cedar by a master carver from Seville. I visited the chapel where Pizarro was entombed. 
During excavations in 1977, a lead box was discovered close to his coffin, which contained the grisly remains of his skull. He had been beheaded, although by whom and why remains mired in mystery.  So are the coffins of children, buried deep beneath the church, although the whiff of scandal remains. Alongside the Archbishop's Palace and ringed by a regal clutch of statement buildings, Plaza de Armas is the crowning glory of Lima's colonial story.
In the heart of the UNESCO World Heritage site, I admired the elegant bronze statue unveiled in 1651. I imagined the impromptu the bullfights that took place here, or the towering bonfires that were set alight for people sentenced to death by the Inquisition. When Peru declared its independence from Spain in 1821, the declaration was read in the square that Pizarro had so carefully designed. This massive square has been the center of the city since 1535. On a brighter note,  José de San Martín proclaimed the country's independence from Spain in 1821, on the fountain steps. A short walk away is another great showpiece, named in honour of the liberator, Plaza San Martin. Flanked by neoclassical confections, the pale facades are illuminated at night, creating a wondrous scene.
Two other must-sees in the historic centre are convents.  In St. Francis Convent,  thousands of human skull fill the catacombs beneath the monastery, which was Lima's first cemetery. Take a guided tour through the underground tunnels which contain the earthly remains of 75,000 residents. Meanwhile, St. Dominic Convent is an architectural blockbuster, with a Rococo bell tower and  Moorish-inspired cloisters with hand-painted Spanish tiles - as if you've been transported to Seville. Founded in 1541, just six years after Pizarro rolled into town, it's believed a splinter from the original cross is contained within the church.
You can also pay respects to the remains of Saint Rose of Lima, Patroness of Peru and the Philippines. She specialised in flagellation and her feet are now a saintly relic in Manila! But the biggest surprise package is the frozen-in-time library, constructed in the 17th century and considered one of the finest in the Americas. Harry Potter would be quite at home in this long hallowed hall, clad in ceiling-to-floor dark timber shelves, brimming with over 25,000 volumes, categorised by subject and century.
Beyond the historic heart, I walked through Kennedy Park down to the glamorous barrio of Mireflores. The development of the gracefully tree-lined Avenida Arequipa a century ago, gave birth to this cachet, oceanfront neighbourhood.  Flower-filled parks and verdant stretches of lawn perch dramatically atop the cliffs, with sweeping views of Pacific. It's a beautiful place to stretch the legs, hire a bike and zip along the cycle trail, or for some extreme thrills, join the paragliders as they hurtle off the cliffs. A series of pocket parks straddle the coastline, the best being Parque del Amor. Lavishly paved in colourful tile mosaics that are reminiscent of Barcelona's Guell Park, this indeed is where lovers loll about by the seaside. 
The magnificently manicured barrio is also home to Belmond Miraflores Park, extensively refreshed last year and a hallmark to understated elegance, exceptional comfort and faultless personable service. www.belmond.com Be sure to bag an ocean-view room for the stirring panorama, which I gazed out at in a contented state of meditation. Guest rooms are so spacious they actually all qualify for suite-status, with massive windows, sumptuously sleep-inducing beds in luxurious linens, and marble-clad bathrooms with bath and walk-in rainshower. 
Two terrific perks are the celestial rooftop pool and decadent breakfast spread, while the hotel's signature dining experience is delivered on ground-level, with a leafy garden terrace, at Tragaluz restaurant. Showcasing  an international menu  with innovative flair, it's actually a great spot to savour that insatiable Peruvian love-affair with ceviche. ( Raw fish marinated in lemon juice.) I plumped for sea bass and shrimp.
Ask Limenos what their great food and drink passions are, and a close runner-up would be Pisco Sour, the national cocktail, invented over a century ago. Pisco is a Peruvian grape brandy that has a quite a bite to it, balanced with egg whites, lime and angostura bitters. It actually became a huge hit amongst fortune-seekers during the California Gold Rush, which Peruvian miners introduced them to.
Finally, you would be selling yourself short not to take in some of Lima's staggering treasures from the Ancient Peruvian civilisation. Scattered across Lima, there are 45 archaeological sites such as the pre-Inca temple Huaca Pucllana in Miraflores, evocatively lit up at night. A wonderful way to admire the mystery of the ancient civilisations is to spend an evening at Larco Museum, which is housed in an 18th-century mansion with blazing bougainvillea spilling over whitewashed walls,. Larco boasts the world's biggest private collection of pre-Columbian art, some pieces date back 3000 years. You'll see mummies, gold and silver headwear that the ancient nobles adorned themselves in, plus the ceramic portrait heads, which the more vain-glorious commissioned.
The Moche ceramics feature a section dedicated to erotica, which rather graphically illustrates the ancient Peruvians had a remarkably liberal sexual appetite, 1000 years before Christ.  Top the night off with a lovely dinner in the garden restaurant adjoining the museum. And salute Lima's leading lights with one last Pisco Sour.
Mike Yardley is Newstalk ZB's Travel Correspondent on Jack Tame Saturdays. 11.20am