Mike Yardley: Fire, fun and flora in Hawaii's Hilo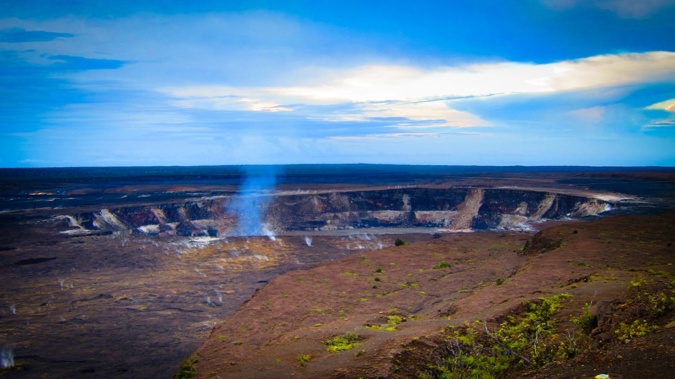 Mike Yardley: Fire, fun and flora in Hawaii's Hilo
Laid-back Hilo, situated on Hawaii Island's tropically verdant windward side doesn't bulge with the mega-resorts and heavily commercialised tourist extravaganzas, that can fast devour your Hawaiian holiday budget. So for a far more relaxed tropical island tempo, I plumped for a few night's stay at Hilo's Reeds Bay Resort Hotel. Just a stone's throw from Hilo Airport, ancient banyan trees flank the street approaching this homely oceanfront hotel. Reeds Bay Beach Park is right next door, great for swims or strolls, or you can take a dip in the hotel pool with unobstructed views across the bay and harbour. Don and the hotel staff are full of the aloha spirt, extremely helpful and eager to share their insider advice on how to get the most out of your Hilo getaway.. Best of all, you can bag bargain accommodation rates year-round. http://reedsbayresorthotel.com/
From Hilo's main drag, Kamehameha Avenue, I gazed in awe at Mauna Kea, which thrusts nearly 14,000 feet high, draping it in winter snow. Sacred to indigenous Hawaiians and revered by astronomers, the dormant volcano backdrops the vivid blue waters and glinting black sands of Hilo Bay. Imoloa Astronomy Center pays homage to the first Hawaiian voyagers who in true Polynesian style, navigated by the stars and the astronomical discoveries made atop sacred Mauna Kea.
In the town centre, the highlights reel includes the thriving Hilo Farmers Market, where over 200 traders boasting succulent fruits, vegetables, flowers, prepared foods, crafts, clothing and curios gather under the tarps. It's a great place to stock up on cheap eats. I popped into the Pacific Tsunami Museum (tsunami.org) which poignantly shares the stories of Hilo's devastating 1946 tsunami. Memorialising another tsunami, on the bay-fronting greenway where stores once stood and where lives were lost, stands a clock that has not ticked since 1:05 a.m. on May 23, 1960.
Don from Reeds Bay Resort gave us a great tip and directed us to Pahoa, a short drive south of Hilo on the 130 Highway. This town was almost wiped out by the lava flow that started in 1984, slowly creeping towards the ocean, stopping just before crossing the highway. Driving further south you'll find the remains of Kalapana – and what could have become of Pahoa.
Miles and miles of lava flow, which spewed from Kilauea in 1990, has buried the land including the once beautiful black sand beach. Remarkably, all over the lava flow, hardy residents have rebuilt their houses on top of the volcanic material, on the site of where their previous homes were destroyed. (They still own the land.) Kalapana serves as a potent reminder of human resilience in the shadow of adversity and the lottery of life.
For a sensory treat, head to Nani Mau Gardens (nanimaugardens.com) a lush and serene oasis of plants scented by flowers and flush with tropical birds. Nani Mau aptly translates as "beautiful forever". Take the optional tram tour which introduces you to traditional Hawaiian plant usage and the gardens, which you can later wander through under your own steam pace. They include show orchids, heart-shaped anthuriums, tree ferns, glorious hibiscus and a multitude of palms. A buffet lunch on the terrace is offered in tour packages.
I also enjoyed admiring the manicured grace of Liliuokalani Park and Gardens on Hilo Bay. These Japanese gardens are elegantly landscaped with stone lanterns, a tea house and artfully designed foot bridges that transcend ocean-fed fishponds. You access the park from Banyan Drive, which is a striking an attraction in its own right. (Reeds Bay Resort is situated on this road.) Plaques at the foot of the colossal banyans bear the names of those who planted them in the 1930s, including Amelia Earhart. I experienced many of these staggering sights onboard Polynesian Adventure Tours full day excursion from Hilo. www.polyadhawaiitours.com
Their Big Island Volcano Adventure Tour is a visually scenic headblast, headlined by an extensive exploratory of the Hawaii Volcanoes National Park. Before reaching the park, we stopped for a dreamy photo opportunity of the Rainbow Falls: a spectacular 80 foot waterfall that gushes over a natural lava cave into a large pool below. A sensational sight. Polynesian Adventure Tours excel in not only lacing all of the unmissable sights together, but bring the sightseeing to life with a fully narrated tour by local experts, packed with bite-sized anecdotes and insights. It's a class act.
Located 50km southwest of Hilo, Hawaii Volcanoes National Park is home to an infamous fire-breathing giant, Kilauea volcano, one of the most active volcanoes on earth. Kilauea is sometimes dubbed "the world's only drive-in volcano." This prolific beast of nature regularly produces enough lava to resurface a 30km long, two-lane road daily. I love the Crater Rim Drive which circles the caldera, stopping at the Kilauea overlook.
Other must-do stops include the Thomas A. Jaggar Museum, named in honour of Kilauea's pioneering volcanologist. Halemaumau Crater can be a spiritual experience. Native Hawaiians believe it's the home of the volcano goddess, Pele, where steam vents plume from this monstrous crater. Overlooking Halemaumau Crater, pop into the Volcano House hotel which has been operating since it was a grass hut in 1846. Even Mark Twain once stayed here on his visit to Hawaii.
You'll love the Thurston Lava Tube, also known as Nahuku, where you walk through a 500-year old lava cave. It was formed when an underground channel of molten lava drained from its cooled walls forming this gigantic, hollow chamber. As you exit the tube, you're wondrously greeted by a tropical rainforest. The Big Island and Hilo is all about the untamed power and prestige of nature. Be sure to experience it, for a strikingly distinctive slice of the Hawaiian Islands.
Mike Yardley is Newstalk ZB's Travel Correspondent on Jack Tame Saturdays. 11.20am