Mike Yardley: Eye-catchers in exciting Rotterdam
Author

Publish Date

Sat, 9 Sep 2023, 1:30PM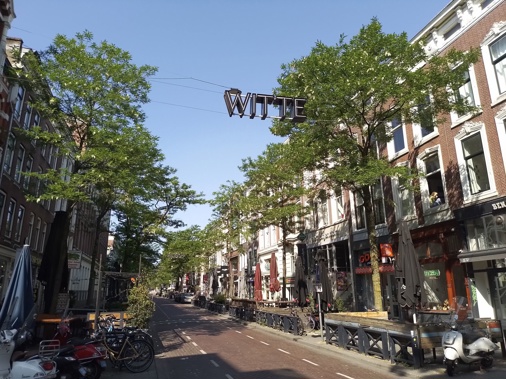 Mike Yardley: Eye-catchers in exciting Rotterdam
Author

Publish Date

Sat, 9 Sep 2023, 1:30PM
If you're idea of a dream European destination is charmingly quaint, cute and cobbled, Rotterdam is not for you. But like an edgy antidote to the chocolate-box gorgeousness of gabled Amsterdam, the Netherlands' second-biggest city, Rotterdam is a contemporary, design-focused urban masterclass that will soon seduce you. In this powerhouse city of bold architecture, even the downtown McDonalds is housed in a chic, glasshouse-style work of art.
The brief back-story is that the German Luftwaffe razed Rotterdam in 1940. (The only Dutch city to experience Nazi air-raids.) Only one historic district, Delfshaven, was left relatively unscathed. But rather than meticulously recreating the Rotterdam of old, with all its story-book prettiness, Rotterdammers embarked on a citywide rebuilding programme in the modernist style. And that passion for leading-edge architecture, that thirst for embracing on-trend design, continues to course through its veins.
Fast-forward to today and what first struck me when I recently arrived into Rotterdam was the skyscraper-serrated skyline - most uncharacteristic in Europe. The landmark tall tower is the 45-storey De Rotterdam (The Rotterdam), which is a trio of off-set tower stacks, an eye-catching vertical city, thrusting new verve into the former docklands district of Wilhelminapier.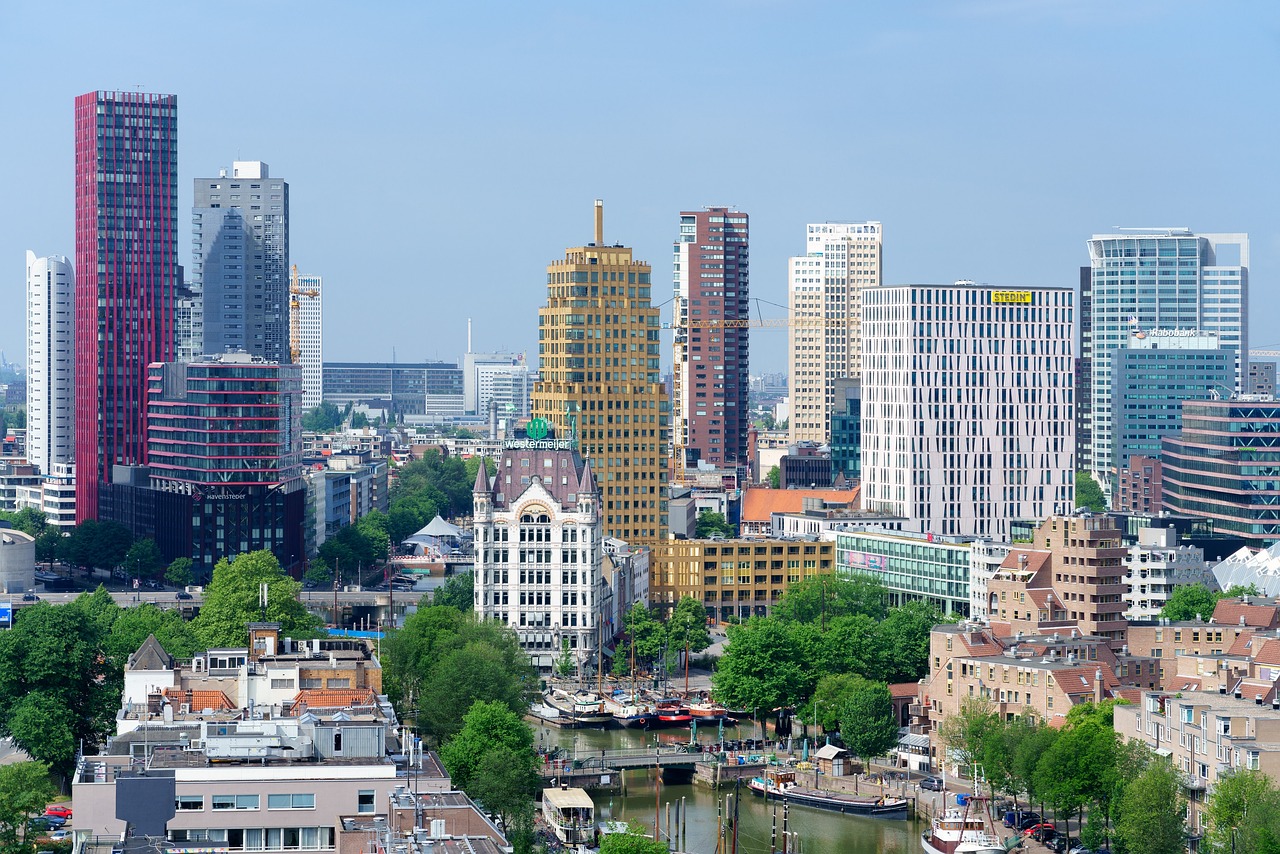 Photo / Supplied
A rare historical gem amid Rotterdam's modernity is Hotel New York, also in Wilhelminapier. It occupies the venerable 1901 headquarters of the Holland-America Line. It once served as a departure point for thousands of Dutch immigrants to the US. Rotterdam is still Europe's largest seaport, and being the birthplace of Holland-America Line is still a source of local pride. The SS Rotterdam, the former flagship of the cruise line, was retired to its home port fifteen years ago. The ship's decks offer superb views across the city and it's a great way to dip into the history of the globally-acclaimed cruise line. For all things seafaring, Rotterdam's Maritime Museum does a smashing job showcasing the city's storied seafaring legacy.
Nearby, the elegantly swan-shaped Erasmus Bridge, which spans the River Meuse, is abuzz night and day with cheap-as-chips yellow water taxis. Speaking of bridges, check out the Luchtsingel, a 390-metre-long, wooden pedestrian bridge connecting Central Station with Rotterdam North, which was primarily funded through crowdsourcing. Individuals paid 25Euro for a wooden plank. How very Rotterdam.
Another headline architectural draw, swooned over by design devotees is De Markthal (The Market Hall) which is situated in the heart of Rotterdam, on the other side of the river. Shaped like a colossal upturned horse-shoe, with an enormous glass façade on both ends, this epic structure is studded with hundreds of stalls and eateries, in addition to offices and apartments. Nearly ten years old, its cavernous, curved internal ceiling is lavishly adorned with mega-sized murals depicting fruit, flowers and insects. It's the largest artwork in the country.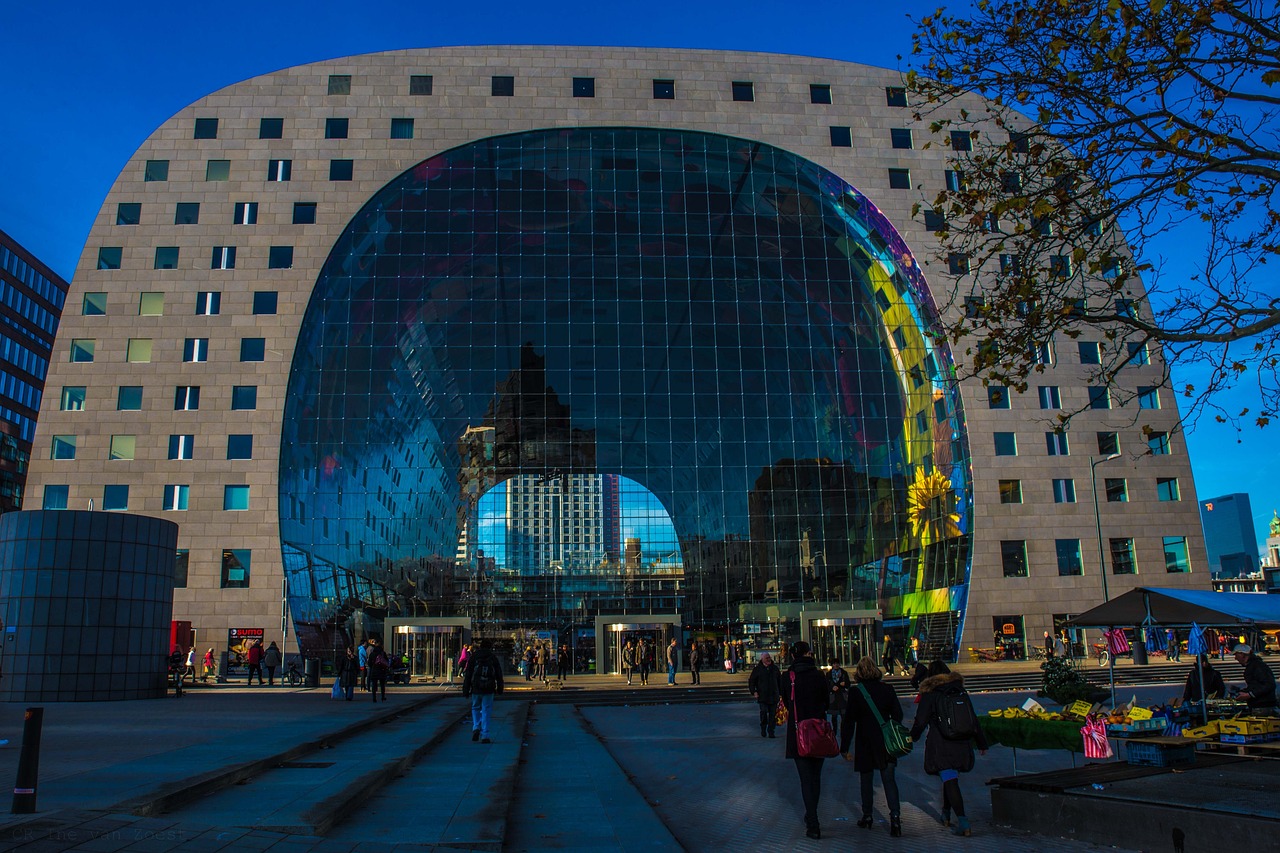 Photo / Supplied
The enticing emporium of stalls offers nods to the nation's past global trading prowess, a la the Dutch East Indies Company, with aromatic spices from the East being eagerly snapped up, alongside fully waxed cheese rounds, freshly arrived from Gouda. Street theatre routinely speckles the area, including those gorgeous old Dutch street barrel organs, ornately decorated with bell-ringing pastel-hued dolls. Dutch barrel organ culture is celebrating its 175th anniversary this year.
After taking my fill of the market buzz, I ambled across to one of my favourite specimens of statement architecture in Rotterdam, the wondrous, whimsical Kijk-Kubus, or Cube Houses. Unquestionably emblematic of Rotterdam, these eccentric, whimsical and mustard-yellow cube houses were developed as a 1970s-era housing development. Fashioned to resemble an urban forest, the 38 cube houses were designed in wacky, irregular geometric shapes by Piet Blom. Star shapes are formed where six Cube houses tilt and intersect with one another. One of them is now a dedicated museum, so you can have a nosey inside. Take a wander around the old harbour of Oudehaven, just adjacent to the cube houses. It's home to the 'Witte Huis' (White House.) Constructed in 1897, it was deemed Europe's first skyscraper at just 43 metres. Yes, Rotterdam has always pushed the boundaries. Staying waterside, the quaint pint-sized inner-city harbour of Delfshaven is a strollers' delight too, with direct links to the 17th century Pilgrim Fathers. A wall plaque pays homage to the ship Speedwell, on which the Pilgrims sailed to England in 1620, which is from where they swapped vessels, sailing to the USA on the Mayflower.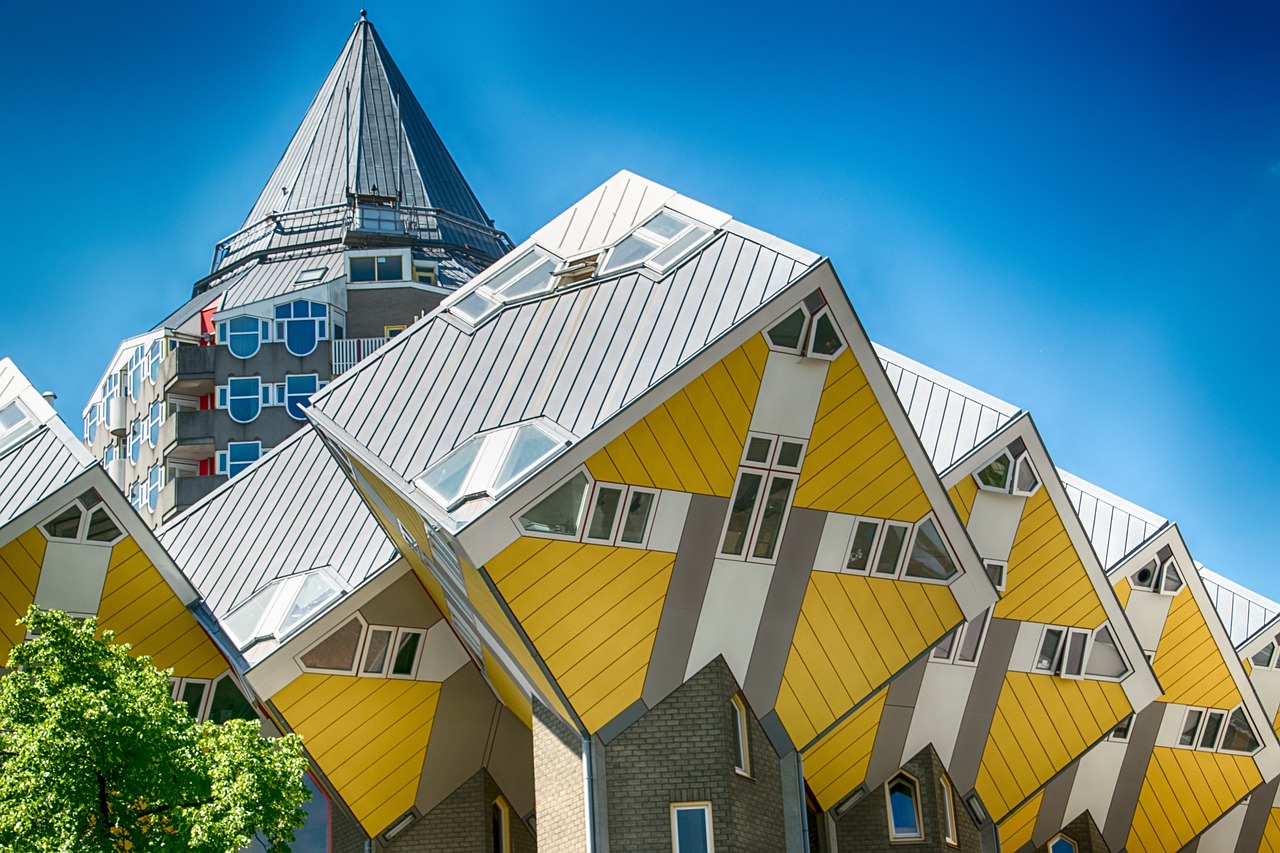 Photo / Supplied
The ultimate arts and culture street in Rotterdam, Witte de Withstraat, is famed for its artistic, cosmopolitan and bohemian character. Referred to as the city's 'Axis of Art', it runs from the Maritime Museum to the Museumpark and is dotted with galleries, avant-garde boutiques, superb restaurants and atmospheric cafés. A top stop is Supermercado. This cosy bar and restaurant is like a bubbling South-American cantina, whether you're after a good coffee and stroopwafel, lazy lunch or evening cocktails. Meat, fish and vegetarian dishes are prepared Latin American-style, on the charcoal grill. Nearby, check out the locals' favourite, Wunderbar. Sip a beer outside on the patio, or play a game of table football inside. Wunderbar serves an eclectic range of drinks like Fritz-Kola and Wostock (a Russian herbal cola drink). Popular craft beers served here include Raging Bitch and Punk I.P.A.
Need an art fix? Museum Boijmans Van Beuningen, housed in a landmark brick tower, displays a hefty collection of paintings by old masters. It's currently being refurbished, but don't fret. Right next door, the recently-opened Depot, is Rotterdam's latest poster-child. This boldly reimagined art gallery is set in a striking seven-storey, mirrored bowl-shaped building. Think of "The Bean" in Chicago and you'll get the idea. It serves as the temporary storage facility for the museum's 150,000 artworks which is undergoing an extensive decade-long refurbishment.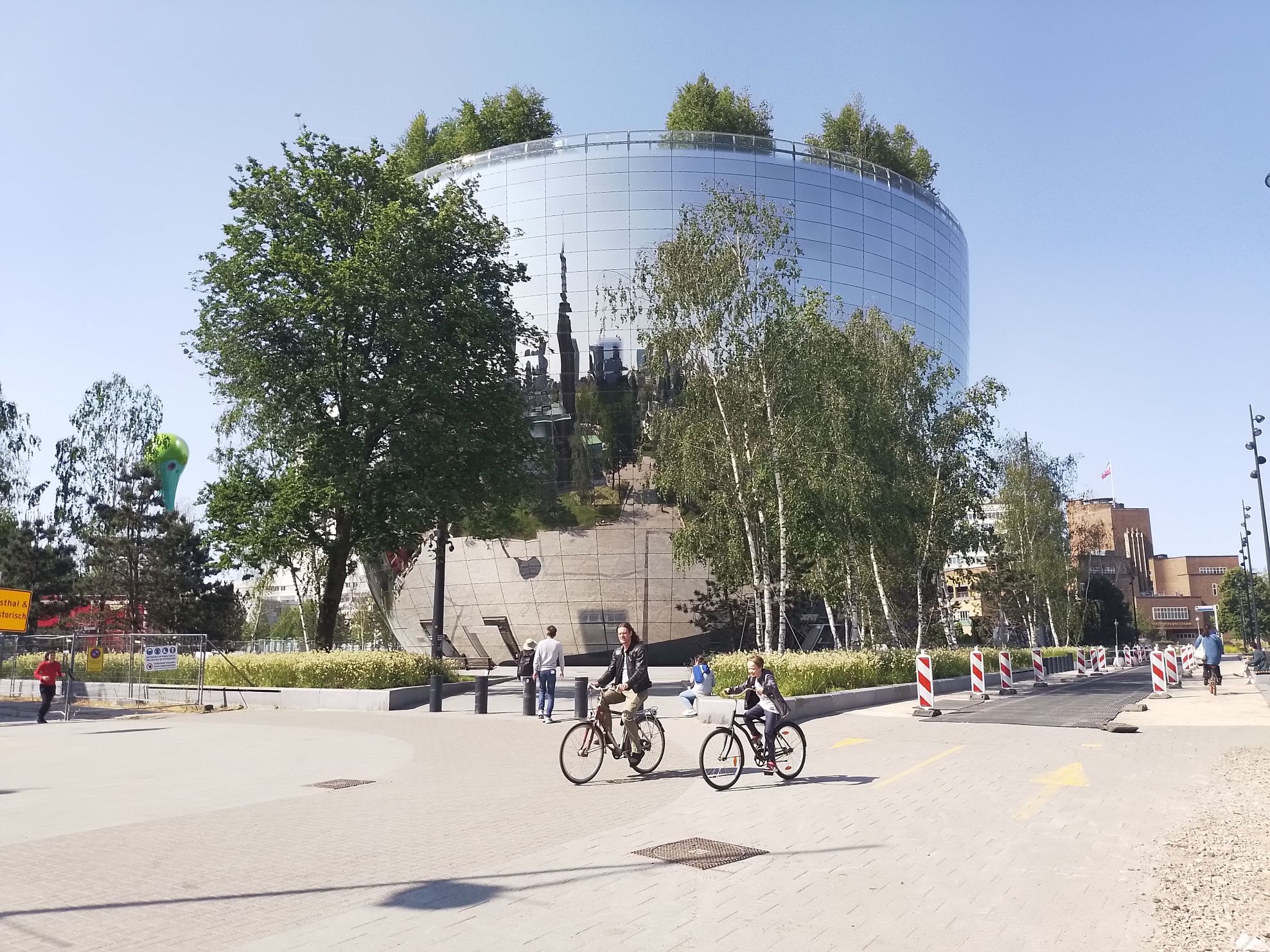 Photo / Mike Yardley
Rotterdam couldn't resist making yet another head-turning design statement in what the city bills as the "world's first publicly accessible art storage facility." You won't find any formal exhibitions here, but you can take a guided Depot tour, to get a behind-the-scenes glimpse of how masterpieces are stored and preserved. A curated selection of the museum's most precious works on full public display include paintings from Rembrandt, Munch and Van Gogh. Head up to the rooftop birch forest, for a great perspective on Rotterdam's leafy green heart. The 1,664 mirrored panels of the Depot's reflective façade wears the trappings of whatever surrounds it: people passing by, Museumpark's verdant grounds, puffy white clouds, and Rotterdam's dynamic city skyline.
The James Rotterdam is an edgy, sophisticated design hotel, in the heart of town, with 144 beautiful rooms, warmly decorated with indulgent features. Urbane, stylish and great-value, the hotel features a self-serve 24/7 food pantry, which is a fun touch. I stayed at The James with Booking.com. Recognising the important role accommodation plays in providing a more inclusive experience to diverse travellers, Booking.com began paving the way for everyone to Travel Proud with the launch of its free Proud Hospitality training programme two years ago. Since then, more than 15,000 accommodations, including over 2,500 across Australia and New Zealand, are now being recognised for their inclusive hospitality efforts with a Travel Proud badge on www.booking.com
If you're catching a train, unsurprisingly, Rotterdam Centraal Station struts itself on the architectural catwalk, too. Thrusting off-kilter, its arrow-like cantilever roof and cool retro lettering displayed across its glass façade surely makes it one of Europe's eye-grabbing railway stations. Grab a ticket to ride on the European railway network with a Eurail Pass. On popular rail routes, it certainly pays to make a seat reservation in advance. Lock in your rail plans ahead of your trip, by booking tickets or a rail pass to suit with Eurail direct. The mobile pass is the way to go. The Eurail app is easy to navigate, packed with helpful information and benefits, network disruption notifications, and enabling you to check timetables, lock in bookings and seat reservations on the go, via your mobile. www.eurail.com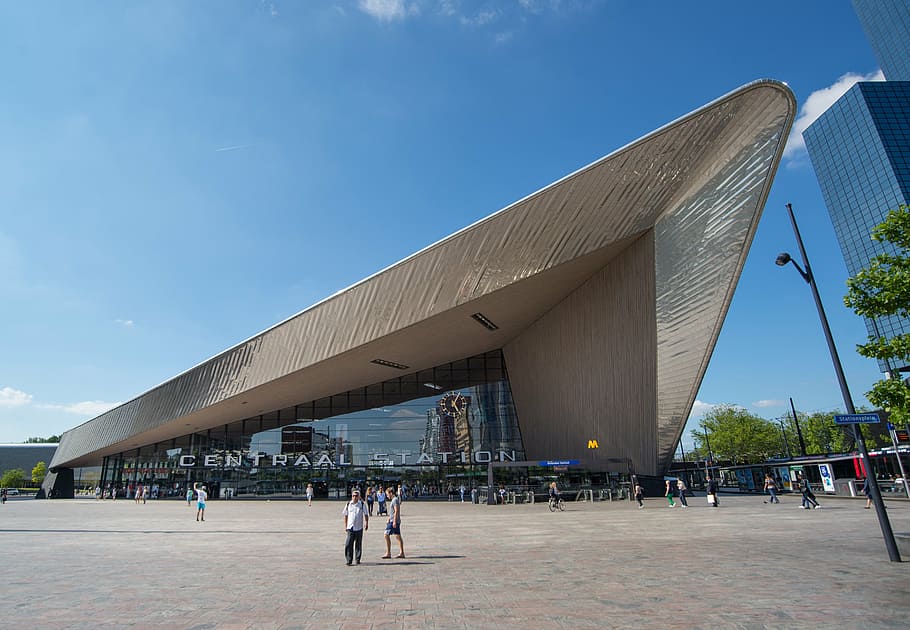 Photo / Supplied
Cathay Pacific Airways, Hong Kong's award-winning flag-carrier, has connected Kiwis to Hong Kong and beyond for 40 years, including Amsterdam and Frankfurt, which are both in easy reach of Rotterdam. Cathay Pacific's Auckland services will be complemented with the resumption of seasonal summer services between Christchurch and Hong Kong, from December. If you're heading to Europe, Cathay Pacific services an excellent range of ports, flying from Hong Kong to Milan, Amsterdam, Paris, Madrid, Zurich, Frankfurt, London and Manchester.
I love their A350 aircraft which feature a range of comfort-focused innovations, reducing noise levels and lower the effective cruising cabin altitude, which is a big boost to well-being. They're remarkably fuel-efficient too, but it's the whisper-quiet ambience and LED mood lighting that is particularly impressive. Wi-Fi is available on board across all classes. The next-generation HD personal entertainment system, boasts Asia-Pacific's most extensive entertainment library in the air, from the latest Hollywood releases and HBO Max to live satellite TV news channels including CNN and the BBC.
Cathay's Premium Economy product is an excellent mid-range option, where you'll enjoy a generous seat recline, expanded legroom and a supported head rest. Full-length calf rests and leather-padded footrests accentuate the comfort. An award-winning selection of wines and beverages are on-hand to complement your meal. Accompaniments include larger pillows, softer blankets, an amenity kit, welcome drinks, complimentary water bottle and an enticing array of entrees and snacks. In Premium Economy, enjoy double the checked baggage allowance – 2 pieces of up to 23kg per bag. For best fares and seats to suit, head to www.cathaypacific.com/nz
Mike Yardley is our resident traveller on Jack Tame Saturday Mornings.
Take your Radio, Podcasts and Music with you