Mike Yardley: Exploring England's classic Cotswolds
Author

Publish Date

Fri, 24 Jul 2015, 11:32am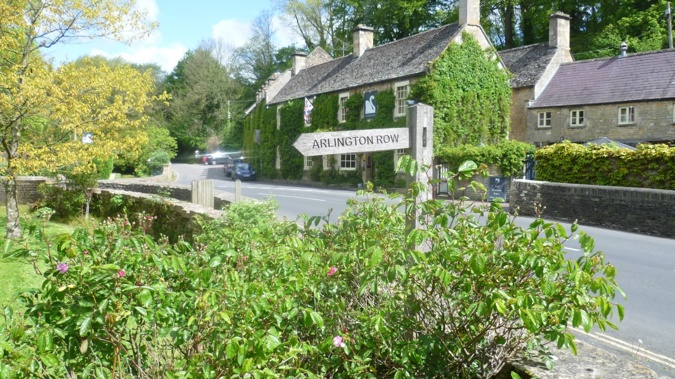 Mike Yardley: Exploring England's classic Cotswolds
Author

Publish Date

Fri, 24 Jul 2015, 11:32am
Few destinations conjure such unrestrained bucolic rapture as the Cotswolds of England. The very name evokes idyllic images of lush rolling countryside, gorgeous stone villages, rose-wreathed thatched cottages, wool churches, storied pubs, and more cream teas than you can shake a saucer at.
Traversing  five counties - Wiltshire, Gloucestershire, Oxfordshire, Warwickshire and Worcestershire -  the Cotswold name is derived from the sprawling range of limestone hills that fan out for 80km, in a northeasterly arc, from Bath. They are bounded by Statford-upon-Avon in the north, while Oxford marks the eastern perimeter. "Wold" means rolling hills, which are criss-crossed by walking tracks and over 4000 miles of dry stone walls. Bursting at the seams with literally hundreds of villages and towns ripe for exploration, the region's unifying building material is honey-coloured limestone  – the great calling card of the Cotswolds.
During the Middle Ages, the heavy fleece of Cotswold sheep commanded premium prices in the European wool trade, generating the extraordinary wealth that financed the mass-construction of the timeless stone buildings and sublime manor houses that epitomise every Cotswold village. With so many charmers on offer, you'll have to be ruthless choosing what gems to pin on your itinerary.
It would be a very tall call to see all that the Cotswolds offers, even if you had months to do so. Similarly, don't try and rush the Cotswolds as a day-trip from London. Hire a car ( maybe a classic car like a Morris Minor convertible to accentuate the ambience) and free-wheel your way around some of England's quintessential Cotswold specimens. So what village picks would top my Cotswold greatest hits?
On my last inter-village swing, I started in beautiful Bibury, on a crisp spring morning before the ravenous crowds and day-trippers descended.  Make an early start would be my strongest advice! It was picture perfect – gentle hilly pastures, hedgerows fresh with new growth, sheep grazing contentedly and flocks of fluffy ducklings and cygnets speeding madly behind their attentive mothers. The rising sun bathed the stone buildings in a golden glow, including the celebrated clutch of 14th century weavers' cottages, Arlington Row. AA Milne could not have improved upon the mood music. It is fudge-tin perfection.
From Bibury, head to the striking market town of Burford, where the High Street's stone frontages have been zealously preserved from the 17th century. The mellow main street is lined by antique buildings with mullioned windows and leaning gables. The street sweeping downhill to the River Windrush, where you can tour a Tudor market house, and England's oldest pharmacy, Robert Reavley, which was established in 1734. The 15th century almshouses in Church Lane are a stunning sight, as is the joy of ambling through Burford's evocative alleyways.
Next stop, Bourton-on-the-Water, a deliriously popular village of insane prettiness,  where the tinkling water of the River Windrush  is criss-crossed by a network of low-slung pedestrian bridges, graciously carved in Cotswold stone. The 40 year old family-run Cotswold Perfumery, produces fabulous hand-crafted fragrances, tailored to your preference. 
Stow-on-the-Wold is another top-billing destination, the highest of all Cotswold towns, with an abundance of enticing shops, with a profusion of old-fashioned confectionary purveyors.  Bourton and Stow are the twin tourist titans, notorious for being crushed by holidaying humanity.  You will definitely want to avoid them around lunchtime!  In Stow, enjoy a restorative pint under the exposed timber beams of The Royalist, reputed to be England's oldest inn, after beginning life as a leper hospice in 949AD. The last battle in the 1646 English Civil War took place, right outside, where many Royalist troops were slaughtered.
Not to be confused, The Slaughters is also a place name of two treasured villages. ( Slaughter derives from Anglo Saxon as a term for mud.) Upper and Lower Slaughter are both serene settings where you can stroll by the rushing River Eye flanking the fairytale homes. It's an easy mile-long riverside ramble between the two villages.
Visitors swoon over Chipping Camden, all golden stone and impeccable historic buildings, underpinning an exquisite market town with a distinctive art beat. In 1902 the Guild of Handicraft relocated from London and are headquartered here, hence the town's proud arts and craft legacy. Call into the Old Silk Mill on Sheep Street and browse the fine art pieces of today's craftsmen and the fantastic silversmiths workshop up the creaky stairs. Finally, pop into nearby Snowshill, another classic Cotswold gem. If it looks vaguely familiar, it may well be because Bridget Jones's Diary was filmed here.
If you're flying into the UK from continental Europe, Bristol is a hassle-free entry point.  The spectre of billowing, snail-paced queues at border control, can fast fill your heart with horror when arriving at Heathrow or Gatwick.  Bristol is one of Blighty's  lesser-trafficked, blissfully efficient regional airports, with extensive connectivity across Europe.  From wheels down, I was on the road behind my rental car within an hour, for the short hop into Cotswolds country.
Heading north-east, the short 45 minute drive brought me to Malmesbury, in the southern Cotswolds. It's a fabulous launch-pad for hop-scotching your way through the honey-hued stone villages, while delivering a less frenetic setting in which to base yourself.  My chosen roost was Mayfield House Hotel, in the sleepy Malmesbury hamlet of Crudwell.  The boutique 3-star hotel, clad in the charming countryside of Wiltshire's Avon Valley, and constructed in trademark Cotswold limestone, is owned by the charismatic Frank Segrave-Daly and his wife Lynne. Comprising 28 ensuite rooms, including family rooms, they are fabulously toasty and generously furnished with all the home comforts including free Wi-Fi. Head chef, Nick Batstone, has been cooking a storm at the hotel for 12 years, specialising in locally sourced, farm-to-fork, regional fare. Standout suppliers include Bromyard Beef, Bibury Duck and Bath Blue Cheese.  Offering sharply-priced room rates, it's a winning Cotswolds retreat. The peacefulness of Crudwell is a very welcome antidote at day's end, with some charming country pubs to plop down in, after a picturesque village stroll. The Potting Shed Pub sparks with character.  www.mayfieldhousehotel.co.uk
TOP TIP. It stands to reason that with a landscape endowed with such ravishing good looks, you may well be tempted to become a happy rambler across those rolling Cotswolds. There are a wealth of walking options, including the grand-daddy of all rambles, the 100 mile long Cotswold Way. You may well see waymarkers for the Fosse Way, which is the old Roman Road that runs through the Cotswolds. At the other end of the scale are a slew of signposted shorter walks, like the Slaughters river ramble. For full details on all walking options, head to www.nationaltrail.co.uk/Cotswold