Mike Yardley: Europe's Christmas Markets
Author

Publish Date

Fri, 6 Nov 2015, 10:14am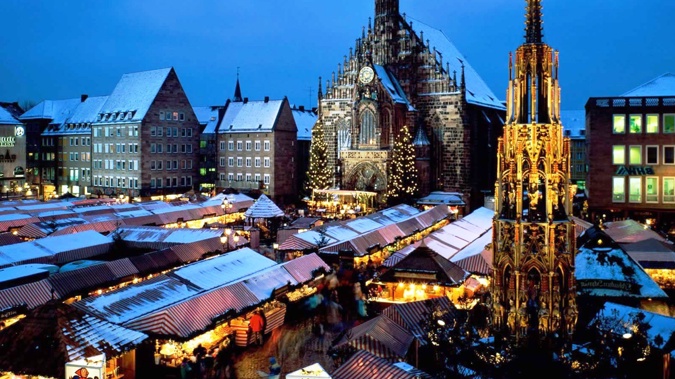 Mike Yardley: Europe's Christmas Markets
Author

Publish Date

Fri, 6 Nov 2015, 10:14am
As we prepare to bask in the summery sizzle of a Kiwi Christmas, have you dreamed of experiencing the Europe's twinkling and time-honoured Christmas markets? It's a biggie on the bucket list, with a record number of Kiwis apparently jetting off to Europe to marvel at the markets this time last year, returning home brimming with seasonal joy. Europe boasts some truly stirring traditional Christmas markets, choc-a-block with unique gifts to for your loved ones, salivating local delicacies to devour, suffused in a magical ambience to charm even the most cold-hearted of humbugs. So if you've fancied of experiencing these festive pop-ups one Christmas, where should you head? Being a card-carrying Christmas junkie from way back, here's my picks from the festive offerings.
Prague is a fairy-tale destination, regardless of the time of year. Medieval Wenceslas Square and Old Town Square provide perfect backdrops to the classic markets, where local traditions are kept alive in food form with Christmas cookies, cooked dough sprinkled in cinnamon and Christmas fish soup. Prague handicrafts include delicate straw decorations, hand-carved Bohemian crystal, wooden toys, marionettes and ceramics. The city's Baroque architecture makes for a wonderfully picturesque backdrop as you potter around the colourful wooden huts. Don't miss the nearby Wenceslas Square, named after the Duke of Bohemia, Saint Wenceslas – who even happens to have his own Christmas carol named after him. Other Praque market features include am animal stable, giant nativity scene and show-stopping Christmas tree, shipped in from the Krkonose mountains for the occasion.
Hop over to Austria and surrender to Vienna's festive elegance. The striking backdrop of the Burgtheater and City Hall gives the market sparkle a charm of its own, while the delicious aroma of punch, traditional gingerbread, roasted almonds and honey is sure to lull you into the seasonal joy. Its market origins stretch back to 1294 and you can trawl over 140 stalls. In keeping with the musical history of the city, there are also festive choir performances in City Hall and a daily wind ensemble performance by the Christmas tree. The nearby Advent market, in front of the Karlskirche, is the place to go for handicrafts, ranging from stained glass sculptures to handmade wooden instruments, with workshops in glassblowing, leather work and other traditional techniques. Sample Weihnachtspunsch, accompanied by roasted chestnuts, which is Vienna's spirit-fortified variation on the mulled wine formula. The festive mugs are considered collector's items. Here's a festive fact for you: Vienna is home to the snow globe. The first one was created in 1900 by Erwin Perzy and Edwin Perzy III still makes them.
Strasbourg hosts France's oldest Christmas market with enchanting stalls selling handicrafts, mulled wine, spicy hot orange juice, traditional bridle cakes and other delights from the magical medieval square beneath the city's imposing pink sandstone Gothic cathedral. The Alsace city and the historic Petite France quarter, truly comes alive at Christmas. Officially called Marches de Noel, the market dates back to 1570 and the iconic Cathedral is a spell-binding setting for the ancient stalls. La Petite France with its picturesque buildings complete with Christmas shops and a gingerbread bakery is also highly recommended, as is the Place du Chateau ice-skating rink for post-shopping treats.
But Germany remains the market king, with the world's biggest affair staged in Nuremberg, as it has been for 400 years. Festooned with lights, trees and decoration in the Old Town Square, over 200 market stalls, dressed, in red and white cloth offer a plethora of traditional toys, gifts and ornaments. Young visitors enjoy the Children's Christmas action, which features a steam train, carousels and "hands-on" stalls. Indulge on the spiced gingerbread and sweet roasted nuts while you admire the locally produced wooden toys and decorative figurines. Vendors are under strict rules. No tat here – this is the real authentic traditional market deal. Enjoy the tastiest gluhwein, laced with rum or brandy - and often set alight. In fact Nuremberg's gluhwein ( mulled wine) is very strong, so the locals ensure their stomach's are filled with plenty of speciality bratwurst, in advance. Look out for the Christkind, a local teenage girl dressed in a gloriously Wagner-esque crown and golden robe. Selection criteria for the role include a "willingness to work in any weather."
Just an hour south of Nuremberg is my favourite Christmas market, staged in the Bavarian capital of Munich. Reputed to be Germany's oldest Christmas market, tracing its origins as far back as 1310, the Munich Christmas Market is held on the storied Marienplatz, dwarfed by a 100ft tall Christmas tree. It sports traditional Bavarian treats including Oberammergau wood carvings , local gingerbread (lebkuchen) and exquisite glassware from the Bavarian Forest. Other time-honoured gifts include crib figurines, bee wax candles, Star paper lamps and chimney sweeps made of plums and almonds. I enjoyed far too much of the super spicy and piping hot gluhwein, which I noticed had a spectacularly insulating powers from winter's bite, as the snowflakes tumbled down, on queue. The gluhwein mugs can be used and kept, as collector's items, for a mere 4 Euro. Don't miss the adjoining Rindermarkt, a dedicated manger market providing all the elements to create a dreamy Nativity scene. And in the Town Hall, the Heavenly Workshop keeps children engaged with arts, crafts and baking.
Interestingly, Italy hasn't cultivated the same cachet status as a Christmas market destination, although if you do want to add a dose of La Dolce Vita to your festive fling with Europe, make a beeline for Bologna, just north of Florence. Although fun things to purchase include glass Christmas decorations and handcrafted Nativity scenes, Bologna is synonymous with great food. Mouth-watering temptations abound in Bologna, from realistic fruits, made from marzipan and citrus peel dipped in dark chocolate to torrone, a Christmas-season nougat made with nuts and honey. What could be better for stocking fillers? Or for the person who has everything?
Finally, London. The UK has lustily embraced the European love affair with wooden chalets touting festive novelties and the whole market buzz, with most cities staging their own respective versions. London has really revved up its seasonal offerings in recent years, with its Christmas market staged in Hyde Park. It's where you'll find Winter Wonderland, which seems to be a metaphorical snow dome of market, theme park and fun fair. The annual festive extravaganza features carnival rides, a circus, giant ice rink, ferris wheels, Christmas market stalls and a grotto. But when it comes to matters mercantile, Christmas in London would not be complete without savouring the atmosphere within the most famous department store in the world. Harrods' Christmas grotto, a fantastical mini- Disneyland, is so fiendishly popular, you need to book ahead, several weeks in advance.
Mike Yardley is Newstalk ZB's Travel Correspondent on Jack Tame Saturdays. 11.20am.