Mike Yardley: Embracing Winter in Christchurch
Author

Publish Date

Sat, 19 Jun 2021, 11:56am
Mike Yardley: Embracing Winter in Christchurch
Author

Publish Date

Sat, 19 Jun 2021, 11:56am
As winter takes hold, the Garden City is rugged up and ready to revel in the cooler months with a brand-spanking new festival to kick off proceedings. From late June to July 10, Christchurch is lit with a plethora of artful lighting installations headlining the Tīrama Mai festival, which celebrates Matariki and the dawn of the Māori New Year. Get amongst it! An eye-catching series of lighting installations, artworks and projections by some of the best lighting artists in Christchurch can be explored around the Arts Centre, Christchurch Art Gallery, Victoria Square, Otakaro Avon River Precinct, New Regent St and in New Brighton.
The illuminations take hold every night from 6pm to 11pm. One of the installations will feature a series of large illuminated cubes which will tell ancestral stories about the constellations and Māori creation myths in a contemporary way. The climax of the festival will be much loved the New Brighton Pier fireworks display. For decades the annual extravaganza, one of New Zealand's biggest pyrotechnic spectacles, has been staged on Guy Fawkes' Day, but has been rescheduled to unleash a radiant crescendo to Tīrama Mai. Set to a soundtrack of Kiwi music, the explosion of colour will spangle New Brighton on Saturday July 10, at 7pm.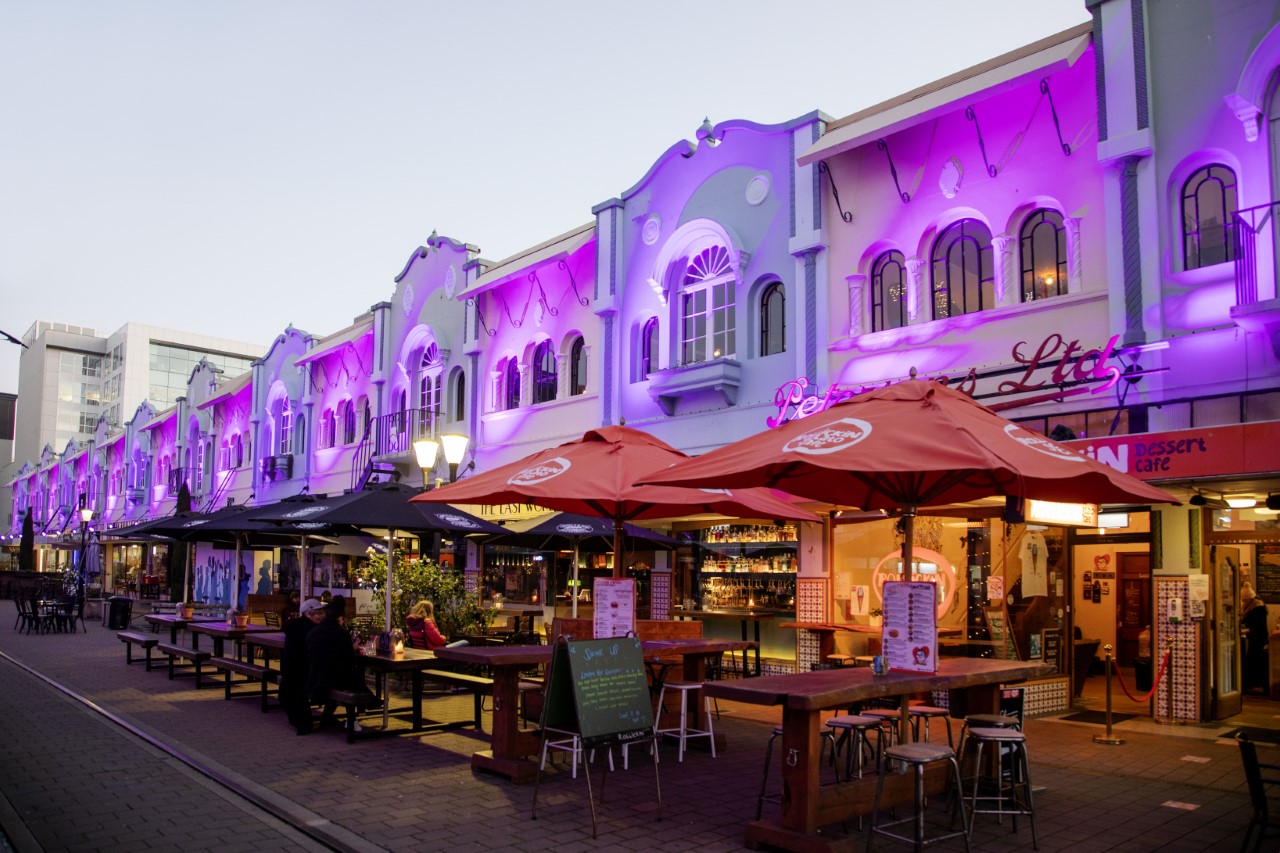 As Jack Frost takes up residence in Christchurch, why not embrace the invigorating elements and sample even cooler climes? Why not go positively polar? Routinely rated as one of the city's greatest experiences, the International Antarctic Centre lays it on thick, with a feast of unique and multi-sensory encounters with our frozen continent to the south. Journey through modern day Antarctica, learn about the human impact on the continent, the wildlife and ecosystems and Antarctica's effect on the globe. You can brave an Antarctic storm, go off-road in a Hägglund, befriend a husky, mingle with the penguins and experience Antarctica from all four dimensions. You'll leave with a head full of knowledge and heart full of love for our frozen neighbour - just like the explorers before you.
As a local, I've always felt that Christchurch's dining scene hits top gear in winter, with hearty seasonal dining fuelling very happy bellies – along with the mulled wine. In the constantly evolving culinary scene, here's a few seasonal favourites worth adding to your check-list, in addition to the sweep of enticements along The Terrace. Located right across Worcester Boulevard from the Christchurch Art Gallery, Fiddlesticks is a fabulous bistro and after work hangout. Previously home to the famed Le Bon Bolli restaurant, the venue is a clever overlay of contemporary style and eccentric features that blend pine wood panelling with low hanging lights for a cosy, laid back feel. The F.F.C (Fiddlesticks Fried Chicken) is a time-tested favourite that comes with green tomato chutney and sriracha. From the larger plate selections, you can't go wrong with Canterbury lamb shoulder served with potato galette, carrot puree and crushed peas.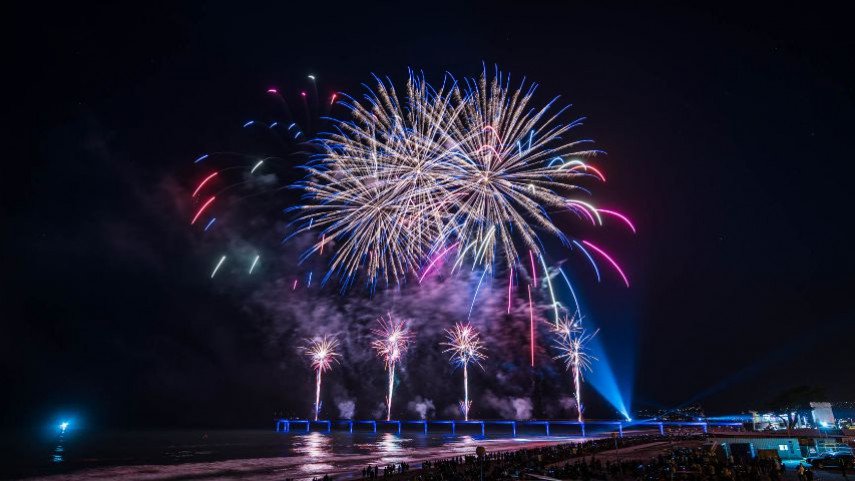 Enquire about the 'Fiddlesticks Feature Feast,' a bespoke meal for two that showcases the very best of the restaurant's seasonal menu. Fancy a Fiddlesticks cocktail? Whistle up a 'Just Peachy' - Finlandia Vodka, peach, lemon, cranberry, mint and ginger. Bliss. No matter the season, the allure of a rooftop bar burns bright and Mr. Brightside caps the refurbished Public Trust building on Oxford Terrace. Adding yet another dimension to Christchurch's bustling central city hospitality playground, whether you're up for a pre-dinner cocktail or late-night snack, this cosy perch is a prime spot for nocturnal vitality. Plus, you'll get an eagle's view on the lighting artworks, edging the Otakaro Avon River Precinct.
Another top dining spot is Bloody Mary's, a unique venue in the heart of Christchurch, featuring some of Canterbury's best produce. A steakhouse, brasserie and bar, are complemented by a
secluded whisky library and private dining hall. Bloody Mary's meats are sourced from the finest Canterbury farms - check the menu for details. If seafood is your preference, lock in a reservation at Hali. Located in The Crossing, Hali Bar & Bistro is inspired by the ocean, where relaxed sophistication sets the tone for a menu powered by the highest quality, sustainably sourced and locally produced ingredients. My picks from the mains? Poached groper belly, kedgeree risotto, mushrooms & crisp shallots. Or for a burger with a twist, order up a Duck burger with tempura oysters & chips.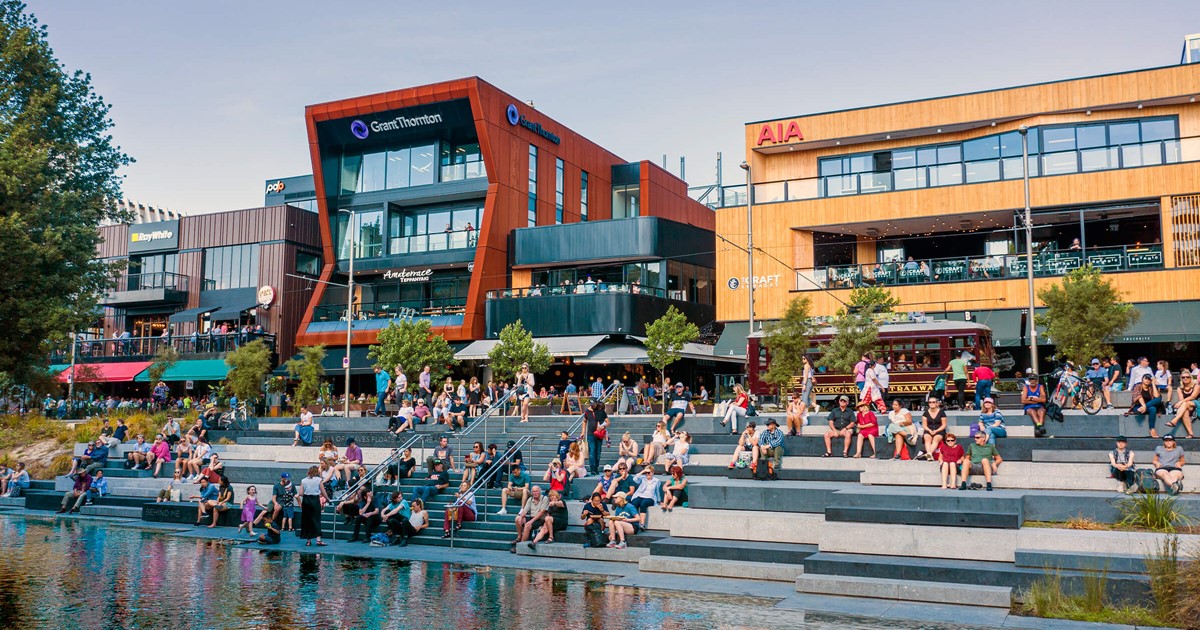 The warm pastel tones of atmospheric New Regent Street set the stage for some warm and cosy establishments in the winter months. For nightly libations, head for the upstairs couches at The Last Word, a wonderfully snug whisky and cocktail lounge. Their hand-picked selection of fine whiskies and a range of cocktails, craft beer and boutique wines is beautifully curated. At last count, there's 320 whiskies available. The owner, Alex Ricketts, is a self-confessed whisky geek. Mulled wine is a hot ticket at The Last Word, as it is at OGB Bar, at the Heritage Hotel, Finally, how could you say no to the characterful cosiness of an old English pub in winter? Sunday roast and ale will hit the spot at this perennially popular charmer, Pomeroy's. The Kilmore Street pub has been family owned and operated for 20 years and is a mainstay of hearty Christchurch hospitality.
Basking in the steamy embrace of a hot pool is one of winter's most elemental delights. Just over a year old, the New Brighton seaside scene has been lustily refreshed with the He Puna Taimoana complex, where you can enjoy a revitalising soak in five luxurious hot pools, in addition to the plunge pool and steam room – all while gazing across the pounding Pacific Ocean. The complex operates with four pre-booked sessions each day, so reserve a slot in advance.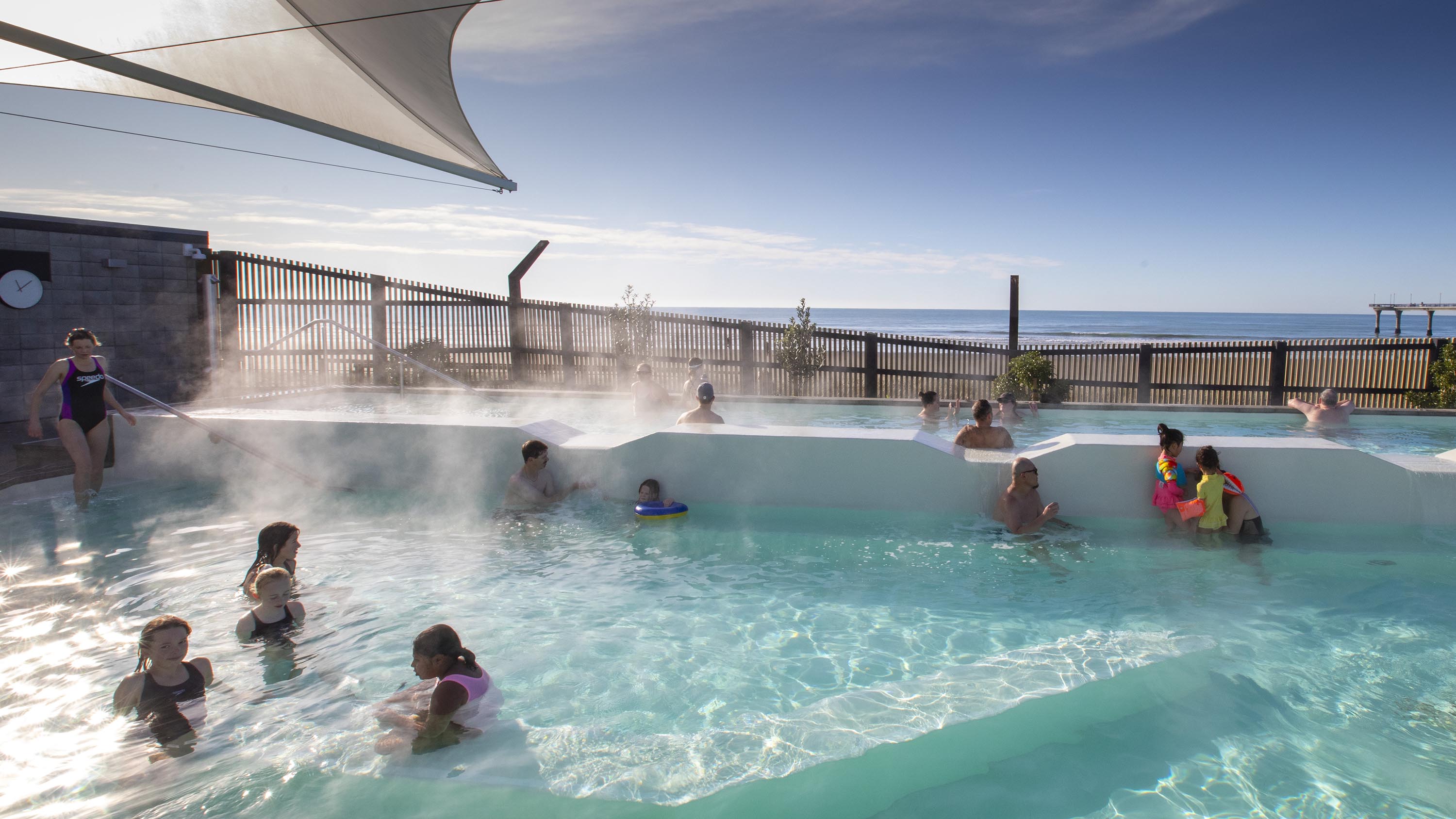 Hankering even more hot pool pursuits? Just 90 minutes north of Christchurch, Hanmer Springs Thermal Pools & Spa is next-level aquatic luxuriance. It is a byword for indulgence indulge, with a range of 22 outdoor thermal pools including the new cascades, relaxing rock pools, soothing sulphur pools, an array of water jets and bubbles - at a range of temperatures. Plus there's a luxurious day spa boasting a range of treatments, private pools, sauna and steam rooms. It's also the best place to act like a kid, with New Zealand's largest aquatic thrill ride, Conical Thrill, an activity pool, lap pool, lazy river and water slides. Winter accentuates the entire experience, with the atmospheric surrounds of towering redwoods and snow-dappled mountains gleaming in the sunshine. Sit, soak and escape.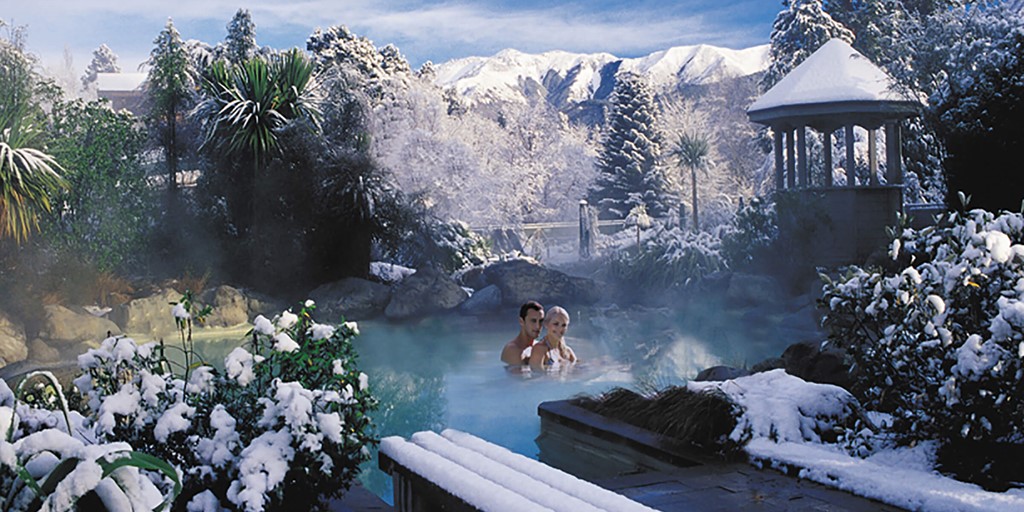 Speaking of Hanmer Springs, the photogenic thermal spa village is gearing up for some lusty seasonal fun, with the Alpine Winter Festival featuring a full calendar of events right throughout July. This inaugural festival has assembled an epic wintry line-up featuring ice skating, drive-in movies, a Masquerade Ball, a yoga retreat and much more. Christmas comes early too with a festive lights competition but the chance to shine doesn't end there, with a golden oldies rugby game, fete and running events all locked in.
Celebrate the elements. For more tips and insider recommendations on exploring Christchurch and Canterbury this winter, check out the official website, chock-full with trip inspiration. www.christchurchnz.com
Mike Yardley is our resident traveller on Jack Tame Saturday Mornings.