Mike Yardley: Eats and Brews in Hamilton
Author

Publish Date

Sun, 28 Mar 2021, 2:31PM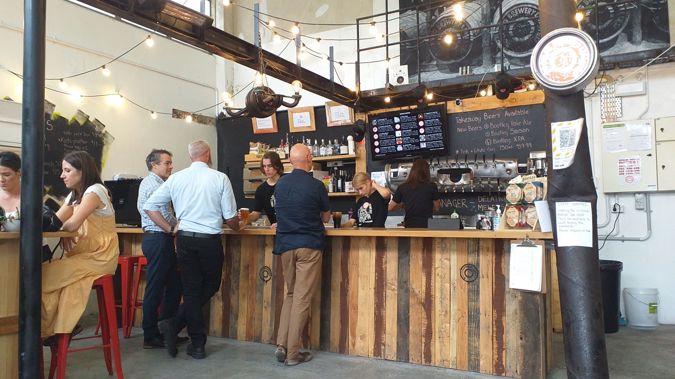 Mike Yardley: Eats and Brews in Hamilton
Author

Publish Date

Sun, 28 Mar 2021, 2:31PM
After taking my fill of Hamilton's enriching slate of street art I was eager to dip into the city's treasury of foodie options, where you're seriously spoilt for choice. Start at River Bank Lane, which embodies the city's trendy allure, where a once abandoned arcade off Victoria Street now groans with urban temptation. It houses the beloved Browsers bookstore, a gallery, boutique stores, the artisan ice-cream parlour Duck Island and a host of enticing eateries. Make tracks to Mr Pickles for gourmet charcuterie platters and sharing plates. The Bearded Weasel is a must for its "fricken good" fried chicken. They'll serve it by the plate or bucket. Pair it with some enticing sides like cauliflower with tamarind and lime-infused salsa.
Their cheeseburger spring rolls are also a stand-out. If Vietnamese is your bag, the lane is also home to Bahn Mi Caphe which has fostered a fiendish following for its fine food, buzzy vibe and mixology. Paddock to Plate on Victoria Street is a new mainstay for meat-lovers, for locally sourced steaks, lam, free-range chicken and venison. Tempting sides include potato kumara hash or double-cooked chips with truffle mayonnaise. Save some room for dessert. The chai panna cotta is delicious, made with tea from Zealong Tea Estate. For a snack on the run, duck into River Kitchen on Victoria Street. Housed in a 1920s Art Deco building, the locals swarm River Kitchen for their scones. Try their date and custard scone, or if savoury is your preference, whistle up a scone with sliced baby potatoes. Boom. www.waikatonz.com
Hamilton's craft beer scene is irresistibly good. The best way to whip your way around a host of venues is to join a Brew Bus Hamilton tour. Brew Bus is New Zealand's largest craft beer tour operator, after launching just over three years ago. Departing every afternoon between Wednesday and Sunday, this really is the ultimate craft beer experience over a leisurely afternoon. It's not only entertaining and indulgent, but I educated myself too, with exclusive behind the scenes tours of local working breweries and chats with the craft masters. We visited three craft breweries on our tour, where the common denominator is ample free tastings! At your final destination of the day you can hunker down for a hearty meal, or let Brewbus return you to your base.
Good George Brewing is the regional rock-star, with ten years of brews under its belt after launching in Frankton, a decade ago. Channelling a cool industrial vibe, the former Church of St George in Frankton is now a shrine to craft beer, spawning a network of outlets across the North Island. They also brew for Hobbiton's Green Dragon Inn. My favourite Good George brew is the citrusy American Pale Ale. I love how their beer is piped from the fermentation tanks at their Hamilton brewery into a modified firetruck for deliveries across the North Island.
In the semi-industrial northern sprawl of Hamilton, we headed to Brewraucracy's functional brewhouse space, which is complemented with a welcoming taproom. Around 16 beers and ciders are usually on tap, and local food trucks often park up on the weekend. Saturday afternoons. Standout beers include the Anonymous Norman Double IPA and the Manifest Destiny hoppy American stout. We were given a great tour by Greig McGill, who claims Brewraucracy was a hobby that got out of control. He is a highly regarded international beer judge and is a stickler for traditional brewing practises.
Close to the airport, we headed to The Woolshed (which is truly a repurposed woolshed) and home to Owen Swan's Hypnotic Brewery. The woolshed has been doing a brisk trade for the past two years and would have to rank as one of the most rustically charming brewpub's in the country.  Owen observed that craft brewers tend to be very sociable and sharing creatures. He's right. There's certainly not the overt signs of snobbery that can sometimes rear its head within the wine industry.
Our final tour stop was arguably the biggest revelation - Bootleg Brewery, a thriving operation housed in the evocative expanse of the old Matangi Dairy Factory, which I where our first condensed milk can rolled off the assembly line and the first milk tanker powered up for business.  The old factory is now owned by the Mowbrays and is home to a hive of start-ups and creative endeavour. Next door to Bootleg, skiffs for the New Zealand Olympic rowing team were being built next door. I particularly enjoyed Bootleg's pale tropical IPA, Apehanger. It's another alluring destination for after-work drinks, with food trucks rocking up on a Friday night as the sun goes down. Get amongst it! https://brewbus.co.nz/
I flew to Auckland with Jetstar for my Waikato roadie. Score even sweeter deals with a Club Jetstar membership. The programme offers travellers access to special 'member only' fares, 20% discount on baggage and seat selection products, and early access to the biggest sales. Bag a bargain fare deal and seat to suit at www.jetstar.co.nz
I picked up my Avis rental car from Auckland Airport to free-roam Waikato. The Avis Safety Pledge allows customers to pick up and drop off vehicles with minimal contact. This has been complemented with the Digital Check In option, dramatically speeding-up time at the counter. To travel with complete flexibility, select the Pay at Counter option, which includes free modifications or cancellations at any time. Or, you can select the Pay Now option, and receive a saving for paying in advance. Until 1 July 2021, you can also cancel for free on Pay Now Rentals if you cancel at least 24 hours in advance of rental collection. www.avis.co.nz
Mike Yardley is our resident traveller on Jack Tame Saturday Mornings.