Mike Yardley: Delving into Lyon
Author

Section

Publish Date

Tuesday, 31 July 2018, 8:41p.m.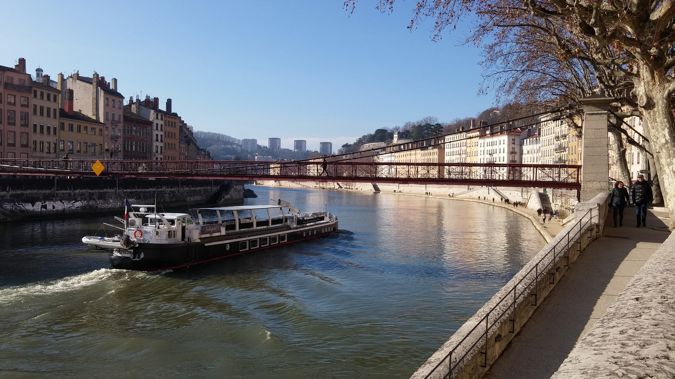 Illuminating Lyon is a glorious home port if you're dreaming of taking a river cruise on the Rhone. That's what had spirited me to France's second largest city, where I soon appreciated why the Lyonnais consider their city as a match for Paris. Before setting sail on a languid cruise with CroisiEurope, I spent a few nights acquainting myself with the manifold charms and treats that all contribute to Lyon's wrap-around lustre. Lyon has nailed "art de vivre" on a thoroughly liveable scale, underpinned by traditions, gastronomy and heritage riches that have been preserved, modernised and perfected. 
Lying at the confluence of the Rhone and Saone Rivers, what gripped my imagination is the fact that Lyon is laid out like a tiered wedding cake of living history, a walk-through show home of 2000 years of civilisation. Lording over the city is Fourviere hill, where the city's story begins with the Romans, when the capital of Gaul was founded in 43BC. A sweep of grand Roman antiquities lingers, including an Odeon and theatre with seating for 10,000 people. Many of the Roman Empire's local treasures have been preserved and displayed in the nearby Gallo-Roman museum.
Fourviere is nicknamed "the hill that prays" and built atop the remains of the Roman forum is the ravishing Fourviere Basilica, which captures your eye no matter where you are in the city. Built in gratitude to the Virgin Mary for safeguarding the city in the 1870s from the rampaging Prussian Army, it's breath-taking interior is dominated by sumptuous Venetian mosaics. Gazing out across the city from the panoramic balcony adjacent to the church, layer upon layer of the city's narrative unfurled before me, spanning the medieval age, the Renaissance right through to the contemporary architecture of the new town.
Delcing within this rich trail of architectural heritage was the indelible highlight of my time in Lyon. Wedged between the foot of Fourviere hill and the banks of the Saone River, Vieux-Lyon, the UNESCO-protected Renaissance district, is where you'll want to devote much of your time. Pedestrianised cobbled streets, lined with the colourful facades of eye-catching stores, cafes, eateries and galleries beckon with temptation. An added thrill is dipping into the labyrinth of charming passageways or "traboules" that provided cross-town ease of passage for the silk merchants and bankers, averting them from having to trod where the detritus flowed freely down the lanes.
350 of these pedestrian passageways originally linked Vieux-Lyon's streets, threaded through the inner courtyards of buildings. Formerly located on the Silk Road, Lyon still supplies Europe's great historical monuments and the region still produces the prestigious silk scarves synonymous with Hermes. Arm yourself with a Lyon City Card and enjoy a deep dive into the staggering array of museums, showcasing all of the key threads in the city's storyline, including guided visits to the silk workshops. The Lyon City Card gives you direct access to 23 museums in total, including the Fine Arts and Textile museums.
While in Vieux-Lyon, I also made use of my card to tap into the abiding Lyonnais love affair with Guignol puppet shows. The revered Guignol puppet, a symbol of Lyon, reaches back to the time of the Canuts, 19th century Lyonnais silk workers, who generally faced very poor working conditions. Laurent Mourguet was an unemployed canut when he created the character Guignol and his eponymous puppet show for children, supposedly in his own image. I ventured to the Museum of Guignol, which unleashed my inner-child with relish, fawning over of the vividly presented artistry and enchantment of Guignol theatre.
As the home town of the Lumiere brothers, Lyon also lays claim as being the birthplace of cinema. The Lumiere brothers invented the cinematograph, shooting the very first films. Visit the Lumiere museum for the full backstory, where I also marvelled over their second great innovation: colour photography.  Every October, Lyon stages the Lumiere festival, a celebration of all things cinema. I also paid a visit to the Cinema & Miniature Museum, which is an unmissable must-do for movie-buffs. It's home to over 100 hyperrealist miniature models and a unique exhibition in Europe of over 400 original film props and special-effects models.
The miniatures reminded me of my childhood, when we would create worlds within worlds, with a hole in one end of a shoebox, revealing a mini panorama inside. Except these ones are much bigger and extravagantly detailed. But it's the trove of head-turning movie props that exhilarated me even more. Prized specimens include Alien Queen from the 1986 Alien blockbuster, fully restored and alive in all her animatronic glory, after a year's work. There's superhero costumes galore, horror movie characters like the original Chuckie and all manner of surprises, like the original prosthetic face that transformed Robin Williams into Mrs Doubtfire. The museum is constantly working to salvage and restore movie heritage.
One of the latest restoration projects is focused on the Triceratops head from Jurassic park, applying liquid silicone to the flaking latex foam. Think of it like movie prop botox for these robotic monsters. Beyond Vieux-Lyon, I strolled across a Soane river footbridge into the Presqu'ile, where the narrow lanes and paving stones reach back to the Middle Ages, book-ended by the Rhone River. The north of Lyon, the Cite Internationale sparks up the skyline with its futuristic, eco-friendly assembly of edgy statement architecture. Striking design specimens include the Confluences Museum and the Orange Cube, looming large on Lyon's ever-evolving horizon.
I stayed at Kyriad Lyon Perrache, just a two-minute walk from Perrarche train station. Featuring a fabulous terrace, restaurant and bar, this great-value hotel offers excellent accommodations, free WiFi, fitness centre and complimentary buffet breakfast. Just a block back from the Rhone River, it's the ideal launch-pad for your Lyon explorations. www.lyon-france.com
I made my way to Lyon on a super-slick TGV train from Strasbourg, via my trusty Eurail Pass. Purchase a pass to suit your needs, and make seat reservations in advance from Rail Europe, the experts in great rail travel. www.raileurope.co.nz
After taking in the delights of Lyon, I enjoyed a week of cruising through Burgundy and Provence on the Rhone and Saone rivers, with CroisiEurope. Offering truly all-inclusive quality cruises at refreshingly reasonable prices, CroisiEurope prides itself in taking you away for so much less, but they still include it all. Book and pay for a 2019 CroisiEurope cruise and save up to $2000 per couple. For full details, head to www.croisieurope.co.nz
Flying from Auckland, Wellington and Christchurch to Singapore and on to 15 European cities, Singapore Airlines offers a salivating range of destinations for Kiwis dreaming of a grand tour in Europe. I lapped up the award-winning inflight service, abundant entertainment selections on Krisworld and quality dining offerings. For best fares and seats to suit, head to www.singaporeair.com
Mike Yardley is our Travel Correspondent on Jack Tame Saturday Mornings.