Mike Yardley: Deco delights in Hawke's Bay
Author

Publish Date

Sat, 21 Aug 2021, 1:35pm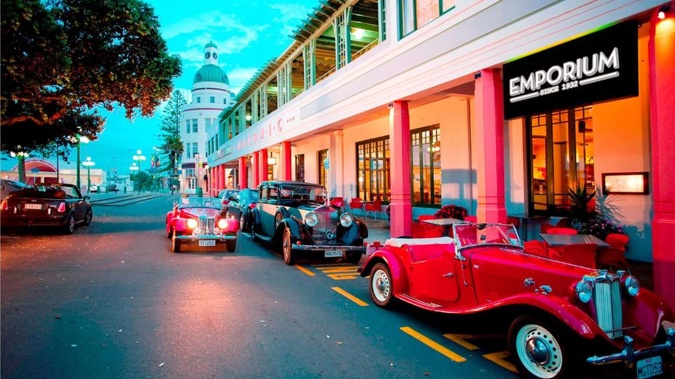 Mike Yardley: Deco delights in Hawke's Bay
Author

Publish Date

Sat, 21 Aug 2021, 1:35pm
90 years on from Hawke's Bay's darkest days, plucky Napier is proof positive that with a little bit of vision and flair, every cloud has a silver lining. The 1931 earthquake profoundly altered the urban form of Napier and Hastings. Coming from Christchurch, where the road to recovery has been painfully protracted, the stark comparisons to Napier's swift and spectacular post-quake legacy are inescapable - albeit, the Christchurch rebuild was on a much more monumental scale. In the wake of the devastating quake and fire that razed most of Napier's city centre, the speedy move to rebuild in predominantly low-rise Art Deco style, which was a la mode in the 1930s, was a truly inspired choice.   
Two years later, in 1933, the reconstructed city centre emerged from the blank canvas. Bestowing Napier with one of the world's greatest collections of stately Art Deco, with some Spanish Mission and Stripped Classical architecture thrown in for good measure, the throng of camera-clicking visitors marvelling at the streetscapes is ever-present. Bathed in a palette of soft pastel colours, it's the stylised detailing on the building facades spanning ancient Egyptian and Mayan motifs like zigzags and ziggurats, sunbursts and lightning bolts, that makes Art Deco so intriguingly eye-catching. For an excellent insight into the city's back-story, I headed to MTG Hawke's Bay (Music, Theatre, Gallery.)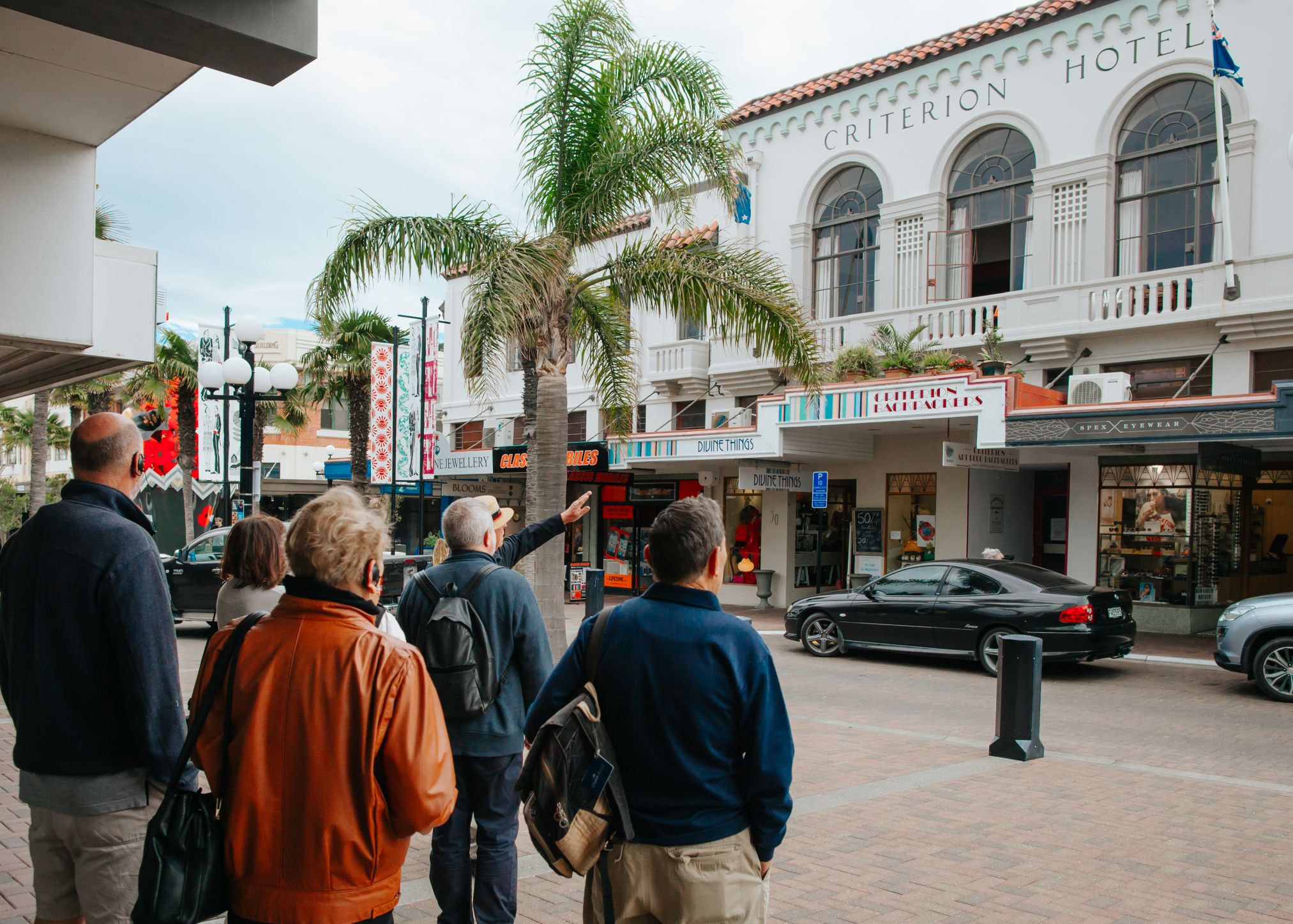 Free to enter, there's a trove of permanent and temporary exhibitions including an enthralling installation showcasing historic Hawke's Bay freezing works. But the Earthquake gallery is the biggest tractor-beam, poignantly heightening the human dimension to the brutality of the natural disaster. You'll glean so many insights on the profound impact the quake wrought on the community, from the wrenching stories of personal tragedy to the rise of New Zealand's first pop-up shopping mall, Tin Town, while Napier was radiantly rebuilt. (Tin Town was built in the gorgeously verdant and fountain-laden oasis of Clive Park.) Stepping out on the streets, Napier is the kind of city where a flip-top head wouldn't go amiss.  
I'm sure my head was tilted in permanent recline, as I gazed in admiration at all the geometric sand whimsical shapes, ornamenting the buildings. But there's only so much the untrained eye can decode. The best way to enrich your understanding of the architecture and to scratch beneath Napier's surface is to join a guided walking tour hosted by the Art Deco Trust. It is $28 well invested. www.artdeconapier.com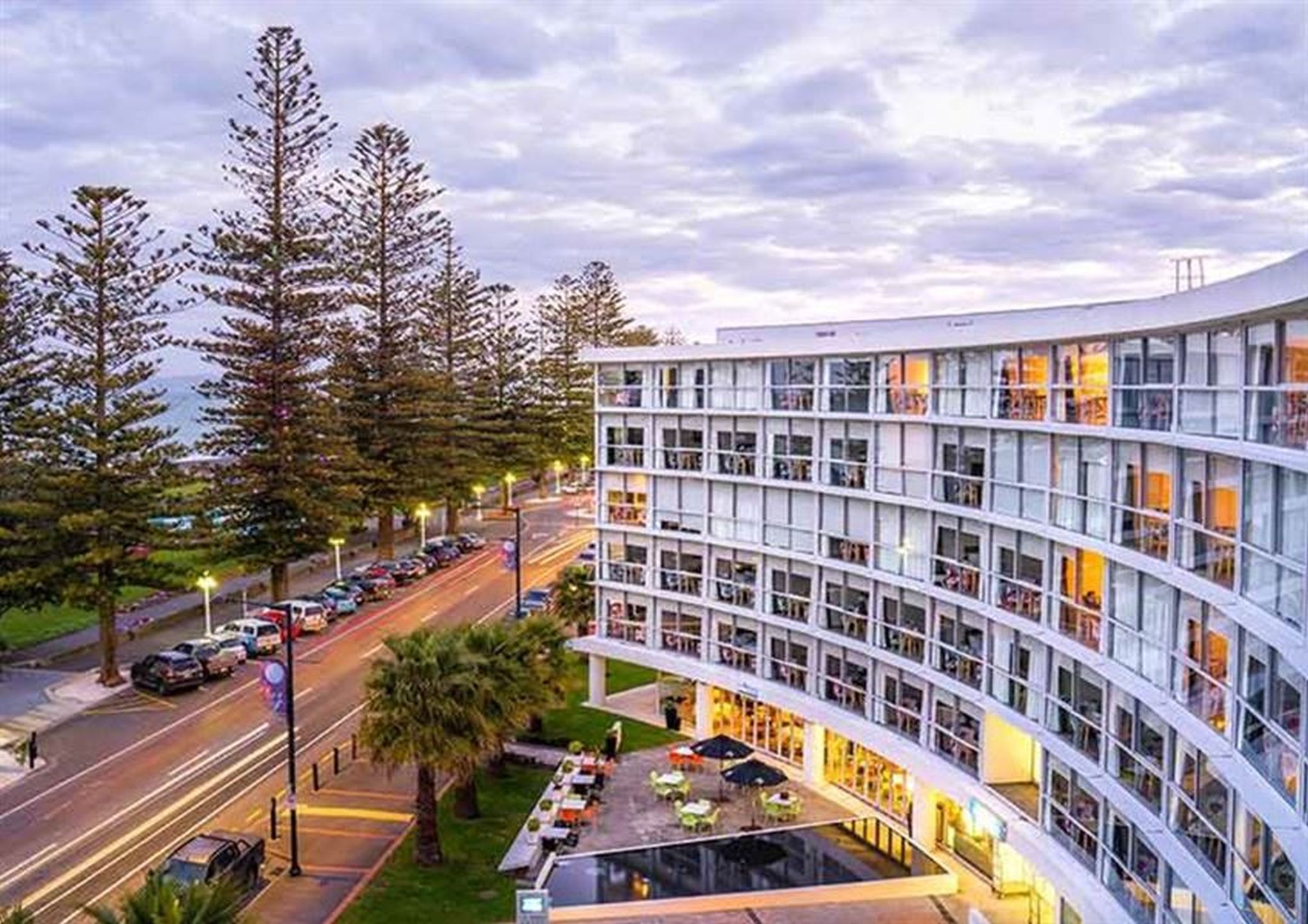 My wonderfully straight-shooting guide, Helen, led me on an illuminating exploratory through Napier's architectural confections, eagerly helping me decipher the variety of period designs and ornamental motifs. I soon knew my zigzag from my ziggurat. Sun bursts symbolised the dawn of a new age and the reason so many Egyptian, Mayan and Aztec shapes were in vogue was because there so many excavations and discoveries at the time, from the ancient world. Leadlight windows were a hugely popular design feature in Art Deco, as were repetitive geometric patterns and the speed lines, that grace many buildings. Helen also pointed out the magnificent pressed metal ceilings, in wondrous cream patterns, that grace the verandas of many of the shops. I had never noticed how beautiful they are.  
I delighted in Helen's irreverent candour. She wagged her finger disapprovingly at a brutalist multi-storey eyesore in Emerson Street, the Pegley building. Helen delighted in remarking that this urban intruder has never been fully occupied. Emerson, Tennyson and Hastings Streets are home to most of the 140 original Art Deco buildings. Only 20 of the originals have been lost. One of my favourites is the ASB building, which was formerly the Bank of New Zealand, and was the first Art Deco building in the world to incorporate Māori design. The repetitive design of the tukutuku patterning works so well as an Art Deco motif.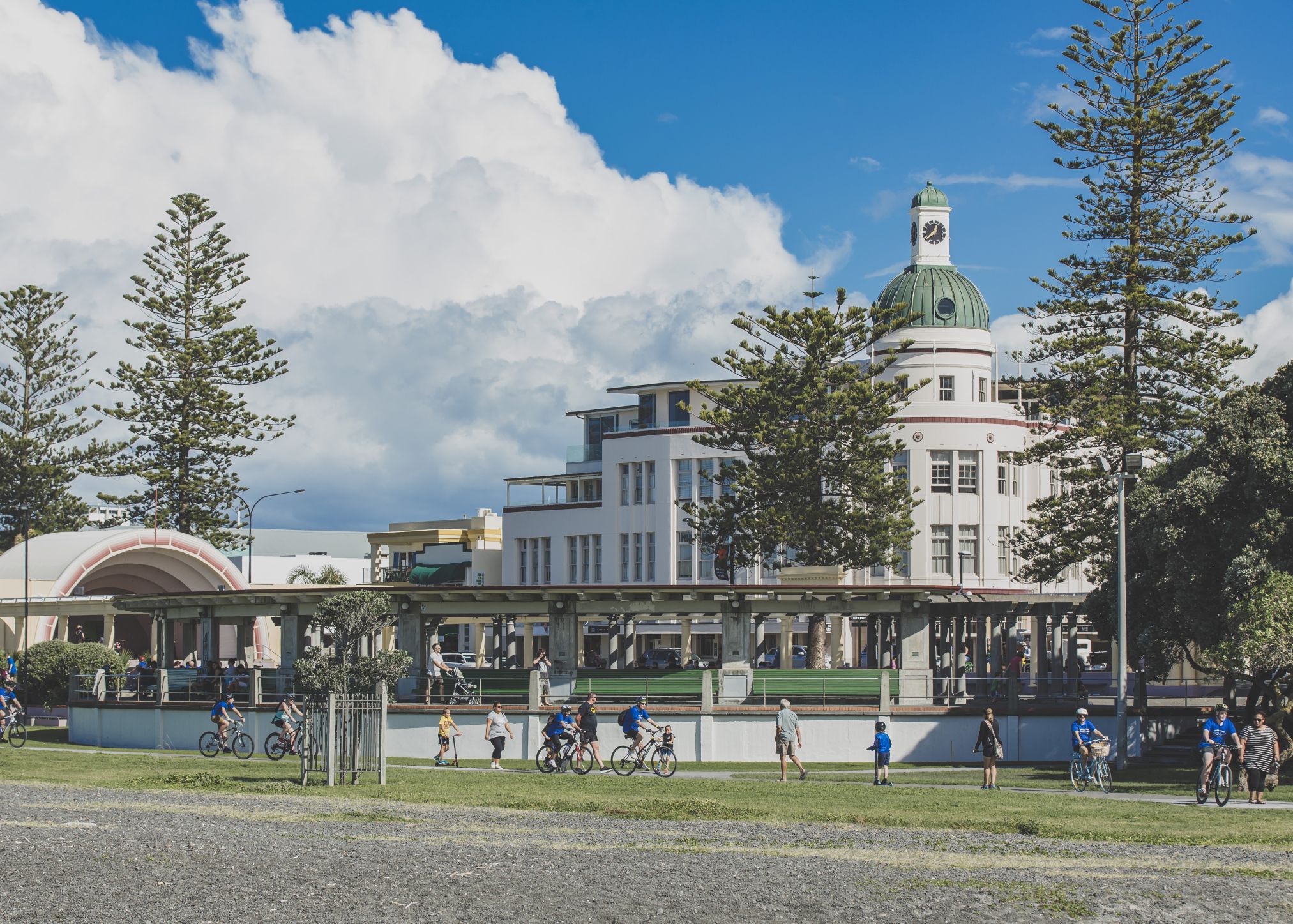 The spectacular Pink House, a mix of Art Deco and Spanish Mission styles, which has previously been a strip club and a brothel is currently being lustily restored as a boutique hotel.  Other star specimens on the walking tour include the T&G Building with its iconic copper dome, the Provincial Hotel, the Daily Telegraph, Municipal Theatre and the Art Deco Masonic Hotel, which was fully rebuilt after the quake. The Queen stayed here during here coronation tour of the country – Helen fondly recalled standing outside the hotel as she waved to the crowds. Other luminaries to have graced the Masonic include Mark Twain, Jean Batten and Anna Pavlova. Their Emporium Eatery and Bar is sublime. Originally built in 1861, Helen pointed out that prior to the earthquake hotel guests could stand on the balcony and try their hand at skimming stones across the beach.  
The waterline was that close. In a formidable illustration of the power of nature, it's remarkable how far back the shoreline retreated as a result of the earthquake. The land and seafloor lifted by as much as 2.7 metres, endowing the wider region with a substantial amount of "new" and useable land. Beautiful Marine Parade, studded with those famous Norfolk Pines that were planted in 1881, flanks the beach. All of the earthquake rubble was deposited alongside Marine Parade, stretching for 1.5km. That burial ground is now what all of Napier's celebrated oceanside public amenities now sit on top of, like the sound shell, sunken garden, national aquarium, the mini golf course and pool complex.  
Our very own Little Mermaid story is a tear-jerking tale about Pania, a sea dweller, who fell in love with the land-dwelling Karitoke. But homesick Pania returned to the sea to see her family, who trapped her in an underground ocean cave, where Pania became a reef, her arms forever reaching out for Karitoke. Adjacent to the gorgeous statute is the expansive New Napier Arch, constructed as a memorial to the city's renaissance and the lives lost, following the quake. I paused to admire the Six Sisters, a clutch of cheerfully painted wooden buildings on Marine Parade, which managed to survive the tragedy. Another obligatory photo stop is the blue- metal arch on the beachfront, which symbolises the spot and the angle of the millennium's first sunrise. I strolled beneath the shady Norfolk Pines, making my way to the National Aquarium, where I had a hot date with our flippered friends.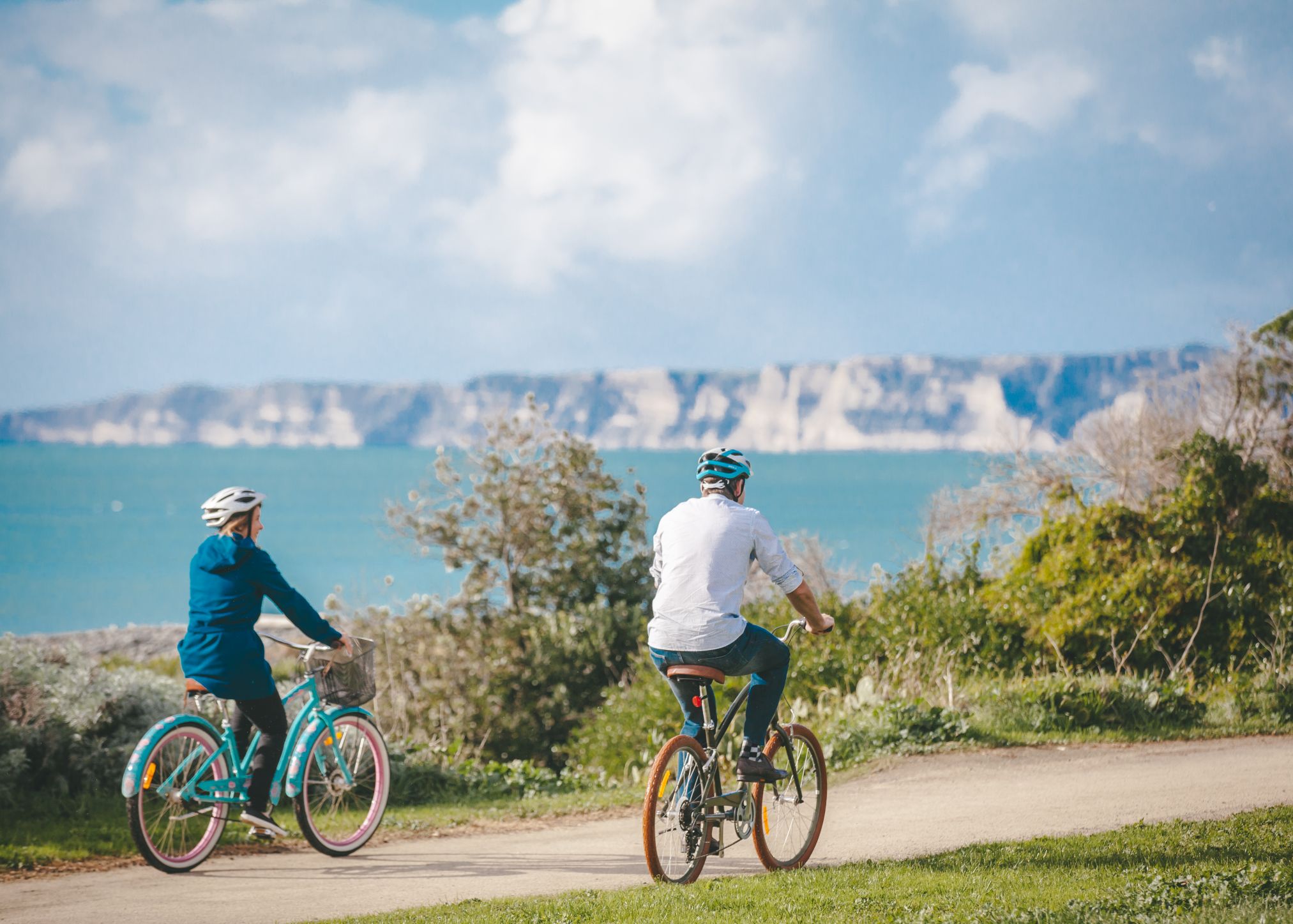 Warmly greeted by the general manager, Rachel Haydon and the penguin headkeeper, Becs Cuthbert, I got intimately up close and personal with the smallest penguins in the world, with the Little Penguin Close Encounter. This delightfully interactive experience allows you to hand-feed these absurdly cute creatures in their fabulous enclosure at Penguin Cove. Currently home to 14 little penguins, they are the waifs and strays of the penguin world, brought to the aquarium for specialist rehab or long-term care, after being rescued. Some are later released back into the wild, while others will see out their lives under Becs and her team's top-notch care.  
Some are missing a flipper or an eye, after becoming ensnared in the likes of fishing nylon. I was awestruck how even spending twenty minutes with these critters vividly demonstrated how individualistic their personalities are. They are two-legged bundles of cheek, chutzpah, charisma and charm. Becs remarked that the standard of care accorded to their resident penguins is five-star Ryman Retirement Home quality. Seriously pampered penguins – although Becs is anxious to ensure they all take a morning swim before breakfast time. For a truly indelible rendezvous, treat yourself to a Little Penguin Close Encounter. www.nationalaquarium.co.nz 
Feeling peckish? A stirring lunch stop is Market Street, a vivacious, flavour-loaded modern city bar and eatery that the locals swear by. The owners, Steve and Sarah Kelly, are sticklers for the "fun not fussy" dining ethos. Supremely serviced by outgoing staff in a funky industrial chic space, I surrendered to their decadent Milk Bun Loader Burger menu, gorging on their Fried Chicken Burger with ranch slaw, bbq sauce, pickles & cheese. Save some room for their Vanilla and Cinnamon Churros, slathered in Cointreau, orange salsa and salted caramel ice cream. Divine! https://marketst.co.nz/ 
Liberally laced with blissfully scenic cycle trails, after taking my fill of the city centre, I saddled up at Napier City Bike Hire with a trusty e-bike, for a leisurely afternoon cruising around the city fringe. With over 200km limestone trails crisscrossing the region, you're spoilt for choice, but I set off on the Water Ride trail, skimming the coastline from Marine Parade all the way to Bayview. The waterfront trail is loaded with eye-catching temptations like Perfume Point Reserve, the wetlands, Bayview and the historic fishing village of Ahuriri, where characterful West Quay groans with boutique stores and hearty hospitality venues. But the biggest thrill was the chance to step inside the wood-carved doors of National Tobacco Building.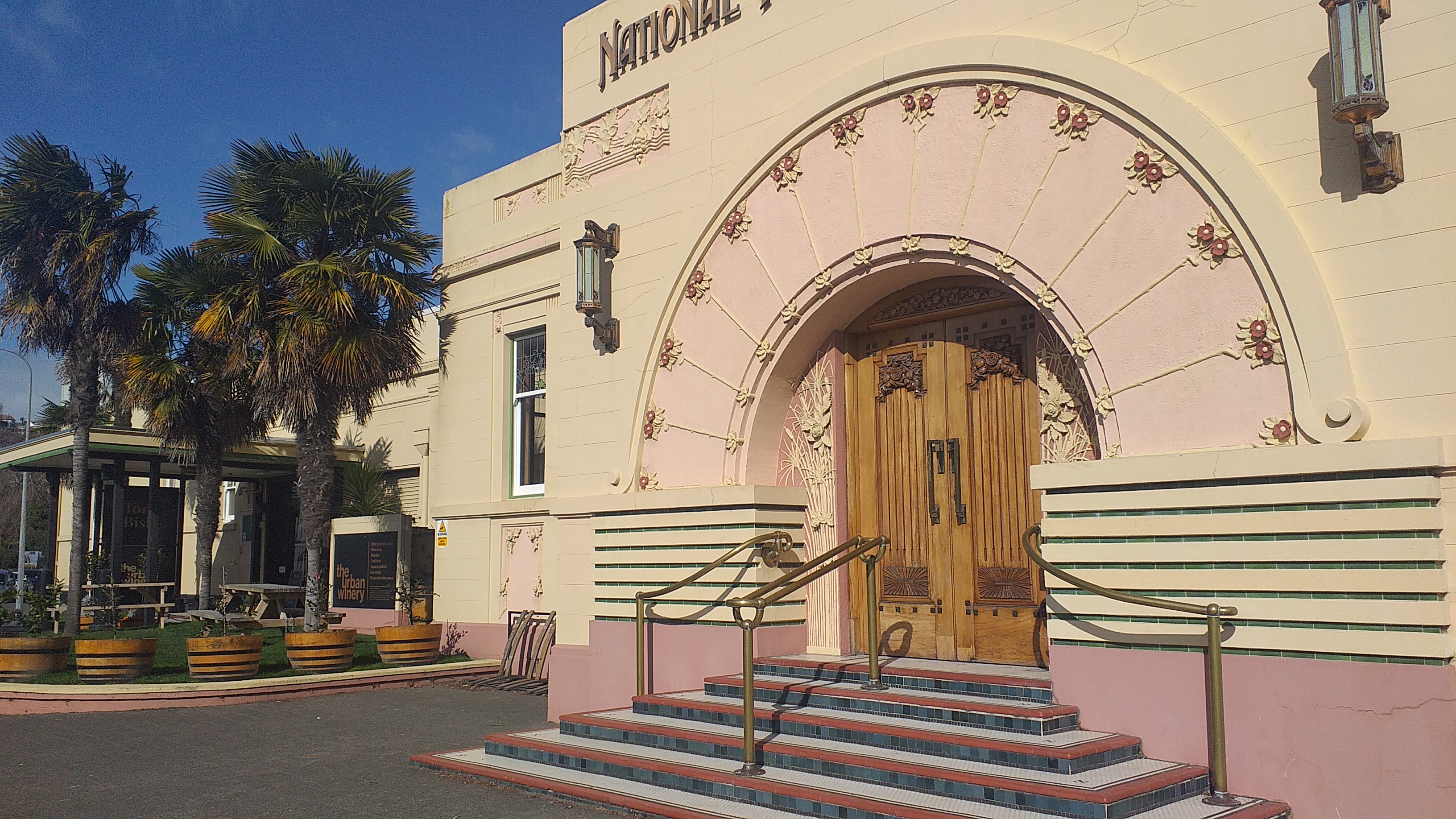 Formerly the headquarters for Rothmans in New Zealand, the property was purchased by Big Save Furniture's Alison McKimm 13 years ago. The Art Deco superstar is considered one of New Zealand's most photographed buildings. The architectural masterpiece is ornamented with delicate art deco motifs across its facade, incorporating local rose varieties with long stems, bulrushes and Hawkes Bay grapevines into its exterior sculpture work. The interior drips with old-school opulence; a grand marble entrance hall, dark wood panelling, brasswork, elaborate carvings, leadlight and a soaring glass cupola. A gin distillery is slated to open in the building soon, adjoining the existing Urban Winery, under the command of Tony Bish, who is Australasia's only Chardonnay specialist, of Sacred Hill fame.  
He exclusively produces Chardonnay and was the first person to the bring Ovum Egg-shaped barrels into New Zealand. This working winery celebrates its 4ith birthday in September. Their Golden Egg Chardonnay 2020 was released last month and is divine. So elegant, pure with complex layers. Alongside a wealth of wonderful wine tastings, there's a full bar with craft beer tastings, Tapas style food and they host a regular roster of live gigs and events. The manager, Tiggs, gave me a fantastic tour of the winery which has stamped its mark as a beloved community focal point in Ahuriri. Throwing the ebike into turbo mode, I headed back to Marine Parade over leafy Bluff Hill, studded with gorgeous old colonial villas and early settler cottages – many that withstood the seismic storm, because they were built in wood. www.bikehirenapier.co.nz 
Dinner recommendations? Everyone is buzzing about one of Napier's newest kids on the block,  Sai Thai Eatery. Innovative design and quality craftsmanship define the gorgeous use of Plantation bamboo panels featured in the venue. What was a crumbling shell of the old Mid City has been transformed into this stylish and authentic Thai restaurant. I also loved dining at the Scenic Hotel Te Pania's Exchange Bar and Brasserie. Located on the ground level and wrapped in large glass windows, soak up the Marine Parade scene while you feast on local, seasonal produce. In the warmer months, the restaurant offers alfresco dining too.  
Open to all for breakfast and dinner, come night-time, you can't go wrong with their Garlic Prawn Cutlets and Hawke's Bay Pilsner Battered Fish. Their comprehensive Hawke's Bay wine offering is a star turn. Directly across the road from Pania, Scenic Hotel Te Pania is poised like a sparkling princess on Marine Parade. This premium waterfront hotel's crescent-shaped curve echoes the shape of the lustrous bay. Sweeping ocean views and across the expanse of Marine Parade are all part of the package at this effervescent property, where highly attentive staff will treat you royally.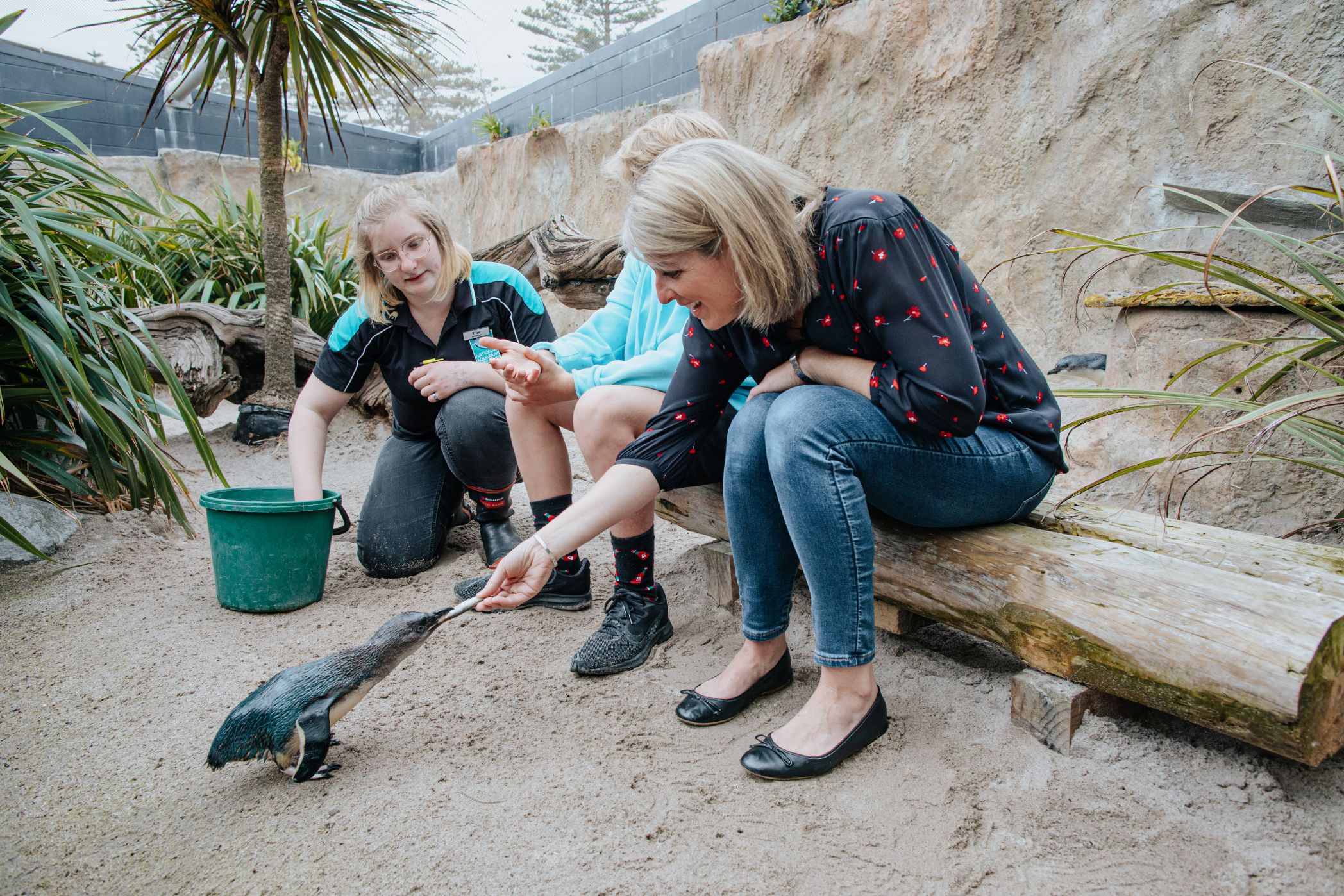 Book a premium room on the upper floors to accentuate your lofty perch. I awoke to the most magnificent sunrises, while a passing storm turned the seascape and brooding sky into the drama of a Van Gogh painting. Drink in the elemental glory. This fresh, light-filled and contemporary-style hotel is a mid-size affair with 108 rooms, equalling admired by business travellers and holidaymakers. Travelling with your pooch? They even have some dog-friendly accommodations. If you're visiting with the whanau, families can take advantage of the interconnecting rooms. Serene and stylish, it's the complete package. Unlock their direct rates to bag some great deals. https://www.scenichotelgroup.co.nz/ 
As New Zealand's oldest wine region with over 200 vineyards to the Art Deco design glories, sun-splashed Hawke's Bay sure knows how to wow the visitor, with an abundance of fresh produce, remarkable history, outdoorsy delights and scenic splendour by the caseload. Make your first port of call the region's official website. www.hawkesbaynz.com 
Mike Yardley is our resident traveller on Jack Tame Saturday Mornings.