Mike Yardley: Counting down to Visa Wellington on a Plate
Author

Section

Publish Date

Friday, 17 June 2016, 7:10p.m.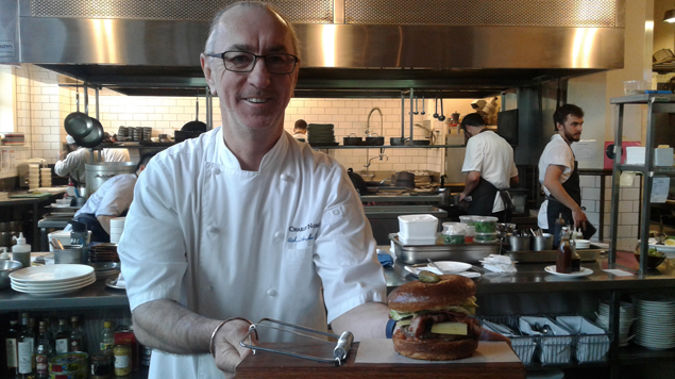 Anytime is a great time to eat in Wellington. After all, our culinary capital's credentials continue to earn global accolades as a go-to foodie destination. Vogue magazine encapsulated much of Wellington's well-deserved pulling power in just three words – "a locavore's dream." But as winter's jaws start to bite, console your spirits in the sure knowledge that the 2016 edition of Visa Wellington on a Plate is on the horizon. It's the ultimate foodie bash, lustily devouring its way through the last two weeks of August, celebrating and reimagining all things culinary.
A fortnight ago, I headed to the Capital for the preview launch of this year's festival, and it's fair to say this festival just gets bigger, braver and wackier by the year. Now in its eighth year, 136 restaurants will serve Dine Wellington menus themed around "an element of surprise," while over 126 separate festival events stud the calendar.  I know a lot of people who concertedly save for months, eager in anticipation of this festival, so they can splurge shamelessly.
Beginning life anchored in the CBD, the festival has steadily spread its roots deep into suburbia, and now VISA Wellington on a Plate embraces the entire region, from Waiarapa to Kapiti. And it's really a mega-festival of festivals, because alongside serving up the very best in festive dining, it comprises a range of banner activities, including the craft beer bash, Beervana, the New Zealand Chocolate Festival, the Festival of Coffee and Burger Wellington.
What I particularly love is its fiercely democratic dynamic, whereby you score and help determine the winning festival participants, as you graze your way through the vast assortment of specimens. I have a major soft spot for Burger Wellington, the ultimate battle of the buns. The curating panel have already pre-approved 116 who will vie for your affection and top honours.
A couple of weeks ago, I was lucky enough to devour Charley Noble's festival entry. Now these guys won Burger Wellington a couple of years ago, so the pressure is on with this year's daring creation, Charley's Trap. It features a wagyu beef patty, truffled mayonnaise, cucumber pickle, salad, chimichurri and – best of all – trashcan gypsy-smoked Preston's bacon. Go into their buzzing restaurant in Post Office Square and you'll see the trashcans smoking the bacon, in the open concept kitchen. How very urban. (And yes, it is served on a trap.) Needless to say, Charley's Trap is a blockbuster.  You heard it here first – it will be a fiendishly hot contender.  
Last year's burger champions were the team from Egmont Street Eatery.  They've concocted some sizzling festival creations, headlined by the Street Eats and Beats theme, which incorporates Asian-inspired flavours like tea smoked pig's ears with yuzu kosho and crispy fried quail with green peppercorns. Their laneway will be suitably festooned in theme lighting to accentuate the whole atmosphere. By the way, their burger entry this year features a mutton blended patty in a bao bun, Sichuan sauce, pickled celery and crispy fried tentacles. Delish! 
If gobbling your way through a whole lot of burgers sounds dangerously belly-stretch, you could also take a stroll down libation alley with Cocktail Wellington. This is a stand alone competition where the Capital's finest mixologists shake their magic. One potion I'd recommend is The Kaiser at Capitol Bistro. It's vodka based, but infused with horseradish, dill and accompanied by a freshly shucked oyster. So while many people are quite content to sip away on an old faithful, like a Cosmopolitan, the talismanic approach to Wellington mixology is sure-fire proof that there are really no limits to these potions.  
You'll also want to peruse the heady calendar of events spanning the festival's duration. Foodies can leap head-first into the kitchen with heaps of hands-on events from cat cafes to secret dining trails. Here's a couple of events that have grabbed my attention. Spend a night with Willy Wonka. The Wellington Chocolate factory is going to let you get don the apron and teach you their trusty tricks on bean-to-bar chocolate making.
Meanwhile, there's a must-do for Thunderbirds fans. Weta Workshops's model makers are going to share their secrets on making miniatures. They will also turn their hands to a masterclass on cake decoration, with cookies themed on Thunderbirds are Go.  Kids of all ages will love this. Ever wanted to dine at Rimutaka Prison? Prison Gate to Plate has featured before in the festival, but it was so heavily booked, they are bringing it back this year. It's a three course meal, behind bars. All the food will be prepared and served by prisoners, under the command of Martin Bosley.
While you're in Wellington, why not size up some of the new openings? Our culinary capital already has more eateries and bars than New York, per capita. But the venues keep on coming. I went to a new joint on Cuba Street, called Five and Dime, on opening day. It's a New York-inspired deli and diner. For lunch, it's all about global street food, which you can order and eat at the counter, overlooking the kitchen.  The owner, Elie, is of Lebanese extraction and those delightfully fresh and minty flavours from his homeland, shone through in my Lebanese sandwich. Truly spectacular. By night, Five & Dime it transforms into a silver service affair, with some salivating festival entries. Be sure to check it out. 
Needless to say, the festival's platter of temptations is overwhelming and quite the head-swirl. Keep an eye out for the Visa WOAP programmes, or click here for full details. www.VisaWOAP.com 
Eat, Drink and Be Welly, indeed.
Mike Yardley is Newstalk ZB's Travel Correspondent on Saturday Mornings with Jack Tame.