Mike Yardley: Coasting it in South Taranaki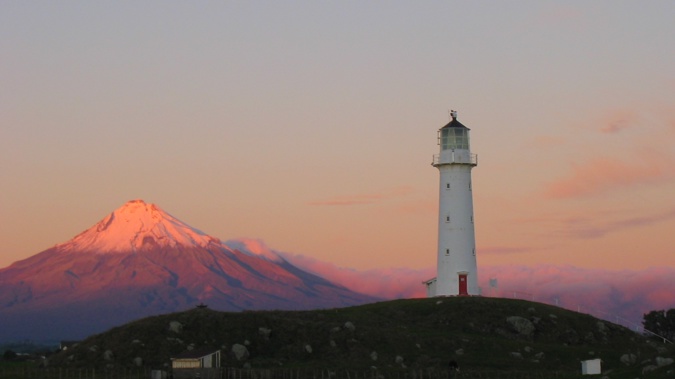 Mike Yardley: Coasting it in South Taranaki
Just before touchdown at New Plymouth Airport, I gazed longingly in awe of snow-streaked Taranaki Maunga and the volcanic ring plain that fans out across the region, punctuated with distinctive lahar mounds and a radial network of rushing rivers. From above, the wonderfully corrugated terrain of conical hills and patchwork emerald-green pasture, plus the glittering sweep of the Surf Highway, all offer a tantalising taste of the diverse scenic splendour endowing Taranaki. Surf Highway 45 is the glittering 105km coastal route, stretching from New Plymouth to Hāwera. On the doorstep of New Plymouth, a great starting point is the lava outcrop of Paritutu and the neighbouring Sugarloaf Islands. If you're up for a head-clearing walk to start the day, climb up Paritutu for a stonking elevated panorama across the city and coastline. The best way to explore the Sugar Loaf Islands is to jump aboard a meticulously restored 1950s' English rescue boat for a fascinating, history-wreathed tour with Chaddy's Charters.  https://www.chaddyscharters.co.nz/
Back on the mainland, I hit the road south, tootling through a necklace of sweet villages like Ōakura, where the Lemonwood Eatery is a tempting pit-stop to fuel the tummy on fabulous vegan fare and recaffeinate.  A short diversion down Timaru Road leads you to gnarly, rusted wreck of the SS Gairloch, which ran aground on the reef in 1903. Mercifully, no lives were lost. Passing through artsy Ōkato, I then beelined my way to the cream-coloured grace of the Cape Egmont Lighthouse, built in London and shipped here in 1865, first installed on Mana Island before being teleported to the Cape, denoting Taranaki's western-most point, at the height of the passive resistance campaign in Parihaka. The scenery is melt-in-your mouth, with the Cape Road affording supreme vistas on the small rounded hills formed by ancient lahars flowing from the maunga.
Further south, just before arriving in Ōpunake, I stopped in Rahotu, where I had an appointment with Steve Manning, a local legend who is a wizardly leather craftsman. He is wizardly in every sense – he even looks like a wizard (he dressed up like Gandalf for me) and is a masterly storyteller. Steve kept me enthralled for several hours, sharing with me his epic craftwork, which has seen him routinely deployed for our biggest movie productions. Steve has specialised as a leather artist on a dazzling roll-call of movies, including the Lord of the Rings trilogy, The Hobbit, Spartacus and The Last Samurai.
Deployed in both the costume and props departments, he has designed and produced hundreds of boots, bags, saddles and costumes from scratch. His Rahotu main street workshop doubles as a glorified museum, laden with priceless movie memorabilia. His love affair working with leather was first sparked in the 1980s' when he made himself a pair of Jim Morrison leather pants. His style is distinctive, hand crafted and rustic, and you'll come away thinking there is nothing he cannot craft from leather. While Steve regaled me with gripping anecdotes from working with some of Hollywood's A-listers, locals would pop in with repair jobs or to commission him to design a custom piece.  He does it all. Steve is planning to set up an on-site boutique backpackers' business while also running leathercraft workshops. It's a must stop in Rahotu. Speaking of the big screen, in the neighbouring gem of Ōpunake, Everybody's Theatre is a sweetheart cinema, steeped in community pride.
This century old theatre has been fully restored to its former glory, with an eclectic and heart-warming range of original restored seats and comfy sofas. Powered by volunteers, the theatre screens movies six times a week, with a monthly boutique theatre event, a very hot ticket, loaded with cheeseboards, half-time desserts, plus wine and beer. It's also available for private hire – although pointedly, that doesn't extend to teenage parties or 21sts! The Projector Room paus homage to the theatre's history with an enchanting collection of time-honoured cinema paraphernalia. www.everybodystheatre.co.nz
Stepping out on the 7km-long Ōpunake Walkway, the track encompasses some special historic nuggets, like the Old Cottage Hospital, which is where Peter Snell as born, to salivating views of Te Namu Pā. This is where Wiremu Kingi Matakatea repelled 800 Waikato Māori for an entire month, armed only with a single rifle. Ōpunake Beach is prized for its superb surf, as are a host of coastal spots along the Surf Highway. If you want to check out some great surf breaks, top spots include Stent Road, the Kumara Patch and Fitzroy Beach. En-route to Hāwera, how could you not succumb to the yeasty scent of a famous hot bread shop?
Manaia is proudly home to Yarrows Bakery, which explains those colossal loaves of bread on the outskirts of town. Stocking up on some oven-warm goodies from the bakery shop, I then headed to Hāwera, where I burnt off the carbs hauling my way up the 215 steps of the imposing Hāwera Water Tower. Constructed in 1914 to provide the town with a trusty water supply for fire-fighting purposes, a sudden quake several weeks later caused it to list 2.5 feet to the south. Thankfully, this was corrected by anchoring the tower with weights when the tanks were filled.
However, it is still New Zealand's ever so slightly Leaning Tower, leaning by 3 inches.  Soaring to a height of 54 metres, when the red neon lights were fitted to the tower in 1932, it was billed as New Zealand's tallest lighthouse. This cherished landmark still dwarfs Hāwera and from the balcony, the horizon-wide views across the town and countryside are spectacular.
Blending the scenic highlights with a heady dollop of history and culture, you'll want to make tracks to Hāwera's Tawhiti Museum. Every history buff I know considers it the best private museum in the country. It is absolutely gob-stopping with life-size exhibits, scale models, intricate figurines, highly detailed dioramas and displays and the centre piece experience Whalers and Traders, vividly depicting the raw, blood-stained history of Taranaki in the time of European settlers and colonisers. (The life-size figures are actually created from moulds cast from real people – designed and constructed on-site in the Body Shop, as are all models.)
The ingenious powerhouse behind Tawhiti Museum is its owner and creator, Nigel Ogle, who's been developing this magnificent heritage showcase over the past thirty-five years. Nigel describes the museum as "one big art project." It's got its own bush railway and it's complemented by the truly wondrous Traders and Whalers attraction. Weta Workshops deployed their technical expertise to help construct the artificial underground caverns.
The river boat ride through these caverns, clad in convincing lush bush and rocky coastal settings, glides you past compelling animated displays, graphically illustrating Taranaki life in the 1820s and 30s. Distant bird calls and dripping water from mossy banks adds to the sensory escapism, while burly sailors barter with local iwi for pork, spuds and flax in exchange for flintlock muskets. Modelled on Disneyland's iconic It's a Small World attraction, this exhilarating tour de force at Tawhiti is compulsive. https://www.taranaki.co.nz/like-no-other/visit/everything-to-see-and-do/
Another show-stopper to be found in Hāwera is KD's Elvis Presley Museum. If you think Nigel Ogle's creations have to be seen to be believed, KD's emporium of all things Elvis is equally gobsmacking. Kevin Walsey has called Hāwera home all his life, and has been a relentless collector of the King's records and memorabilia since his childhood. It all began when he was 12 and was given what he now calls his "pride and joy" – an original EP of Heartbreak Hotel. 
The mega-fan has visited Graceland 17 times and has amassed what is considered by Elvis buffs as one of the greatest memorabilia-loaded museums in the world. Step inside his household garage and you'll be awestruck by this glittering grotto to the music legend.  Kevin remarked to me that people walk in, and they say, 'God!' And I say, 'No, Elvis.'"  Every single surface within the garage is awash in Elvis. He's on the walls and ceiling, on mugs, glasses, cufflinks, ties, books, album covers…you name it. A television belts out Elvis performances non-stop. 
There are over 10,000 objects within KJ's staggering collection. KJ is a gifted raconteur with an infectious character, who regaled me with some enthralling stories about his collection and his life. As a high school student, he struck a pen pal relationship with a chap named Roy Lyon who lived in Memphis. Roy had no interest in Elvis but was starstruck by New Zealand and our greenery. Roy would send KJ images of Elvis, out and about in Memphis. Kevin's delightful wife, JJ, was also a joy to meet. She knew nothing about Elvis when she met Kevin.
There's a wonderful Who's Who wall of photos in the garage, showcasing the famous faces who have travelled to Hāwera to marvel over the Elvis Museum. Everyone from the Mad Butcher to the Topp Twins is immortalised on the wall. Elvis has not left the building in Hāwera. Entry is by donation and by appointment. Prepare to be awestruck. www.elvismuseum.co.nz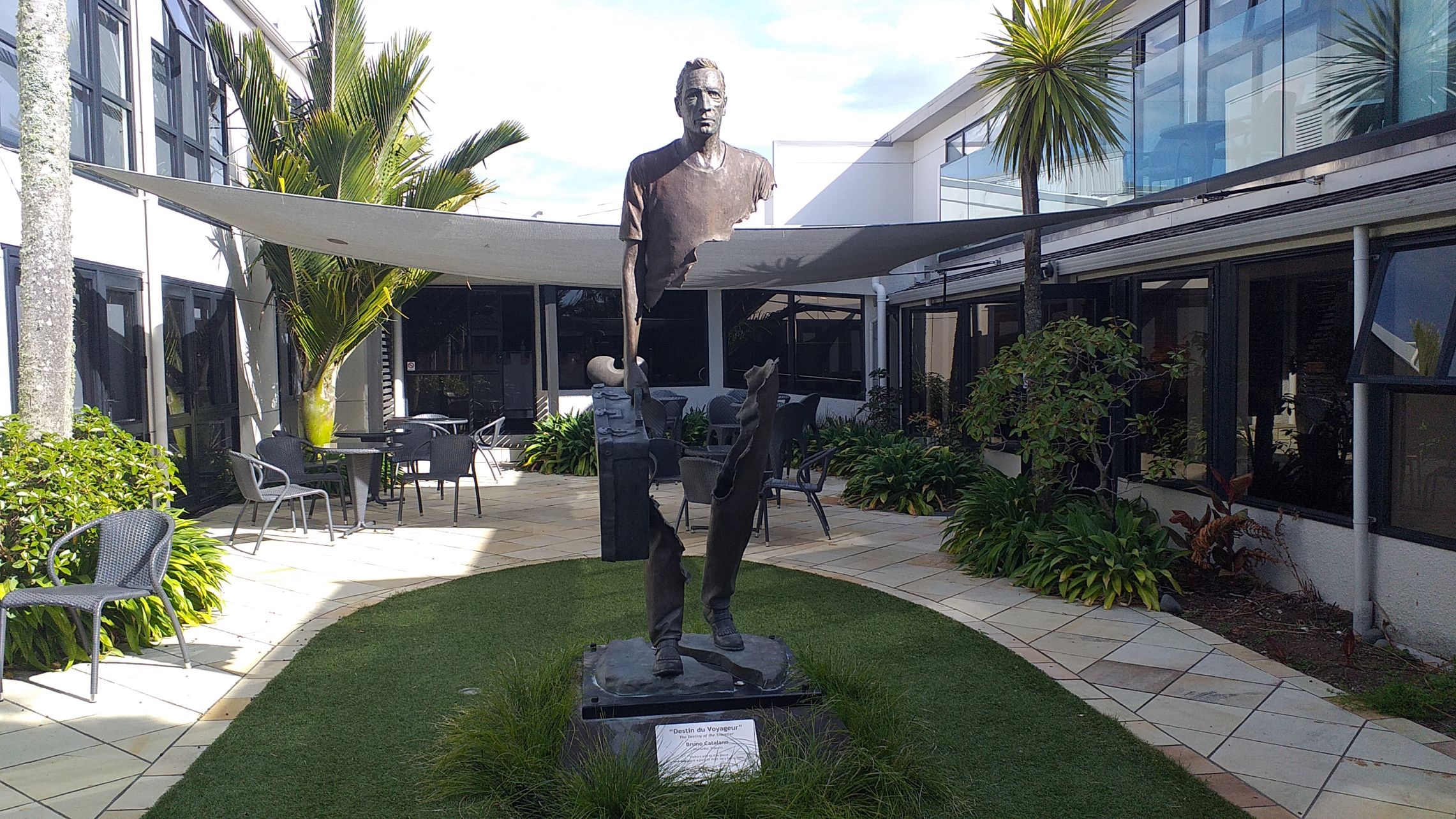 I launched my Taranaki day-tripping from The Devon Hotel, New Plymouth – A Heritage Hotel. This celebrated property is a much-loved beacon of Taranaki hospitality, an energetic, up-beat hotel, where you'll feel welcome, pampered and 'at home", the moment you walk through the door. Located centrally in Devon Street East, the hotel offers 102 well-equipped, contemporary hotel rooms; many with sea views, while the heated outdoor swimming pool and spa pools enhance the sense of indulgence on the three-acre landscaped site. The Coastal Walkway is just minutes away – avail yourself of the hotel bikes for a great ride. One of the city's popular past mayors, Peter Tennent owns the hotel with his wife Rosemary, and their charismatic brand of hospitality is manifest throughout.
The atmos is comfortable, controlled flamboyance, it's funky and stylish with exceptional customer staff. You'll love perusing the extensive collection of art pieces generously sprinkled throughout the establishment. My favourite work is the full-sized human sculpture, "The Destiny of the Traveller", a striking artwork by Marseille's Bruno Catalano.  In my guestroom, a bright red Rolling Stones-style tongue chair added a colourful pop of character. It's a perennially popular destination for business travellers too, while conferences and events are expertly catered for in state-of-the-art facilities. But the hotel's prize draw is unquestionably Marbles Buffet Restaurant, swooned over by locals and visitors alike.
It began life in 1965 as the Devon Motor Lodge Restaurant, under Peter's parents, and remains one of the nation's busiest eateries. Catering to all dietary requirements, the freshly prepared buffet is accentuated with cooked-to order dishes at the live cooking stations. The monumental nightly spread spans all departments, from seafood chowder. fresh daily marinated seafoods, oysters, crabs and shrimps to the salad selection and roast of the day carvery. Every night, you can expect 18 different hot dishes and up to 18 different desserts. How can you not go wild at such a lavish affair? Artfully presented, unstoppably delicious and very reasonably priced, be sure to book ahead to savour this unrivalled buffet experience. This hotel ticks more boxes than a lifetime public servant. https://www.heritagehotels.co.nz/devon-hotel-new-plymouth
I hired an Avis rental car to free-roam Taranaki. The Avis Safety Pledge allows customers to pick up and drop off vehicles with minimal contact. This has been complemented with the Digital Check In option, dramatically speeding-up time at the counter. To travel with complete flexibility, select the Pay at Counter option, which includes free modifications or cancellations at any time. Or, you can select the Pay Now option, and receive a saving for paying in advance. Until 1 July 2021, you can also cancel for free on Pay Now Rentals if you cancel at least 24 hours in advance of rental collection. www.avis.co.nz
I flew to Wellington with Jetstar for my lower North Island roadie. Score even sweeter deals with a Club Jetstar membership. The programme offers travellers access to special 'member only' fares, 20% discount on baggage and seat selection products, and early access to the biggest sales. Bag a bargain fare deal and seat to suit at www.jetstar.co.nz
Mike Yardley is our resident traveller on Jack Tame Saturday Mornings.