Mike Yardley: Changi Airport is a world-beater
Author

Section

Publish Date

Saturday, 13 April 2019, 10:31AM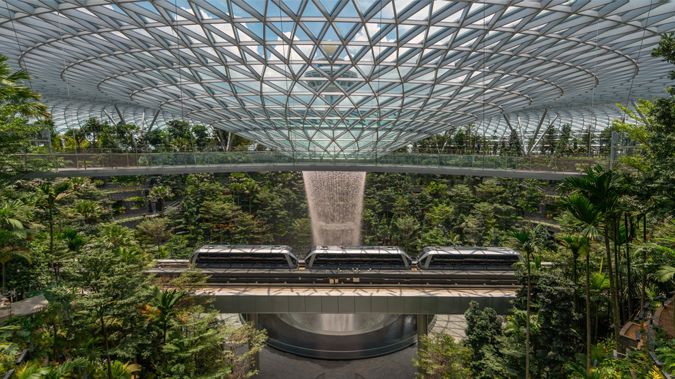 As much as most airports can be cumbersome means to an end, stuffed with queues and checkpoints and tedious formalities, some airports stand out from the pack. Interestingly, the most consistent crowd-pleasers tend to be Asian. Skytrax has just announced its annual winners in the World Airport Awards and Doha's Hamad International Airport is the only non-Asian airport in the global top 5. Tokyo Haneda, Seoul Incheon and Hong Kong International have all bubbled to the top of the ratings, but it's Singapore's Changi Airport that remains in a league of its own. For the seventh consecutive year, Changi has scooped the supreme honours of being judged the World's Best Airport.
The awards are determined by how travellers rate the airport's operations and amenities across a wide spectrum of touch-points, including the check-in and arrival experience, transfers, shopping, and the efficiency of security and immigration control. What I've always admired about Changi is the all-encompassing sense of seamless efficiency, seemingly embedded in its DNA. The bags always seem to be on the carousel by the time I have disembarked the plane and I've hardly ever had to wait beyond two minutes to cruise through passport control. And as is the case for all world-leading airports, the city is connected to the airport with a world-class rail system.
But beyond Changi being such a super smooth and well-oiled machine, travellers constantly rave about the airport's leisure amenities, whether its dining or shopping, or the plethora of time-killing distractions sprinkled throughout the airport. I can't say shopping and dining rate significantly on my own radar when it comes to airports that impress me. Smooth, stress-free functionality trumps everything. But one time-killing titillation that always enthrals me at Changi is its art installations. In addition to its soulful botanical displays and lavish greenery, art has become an intrinsic part of the Changi experience, with a multitude of stunning exhibits.
My favourites include The Birds. Situated in Terminal 4's check-in hall, let your dreams take flight with Les Oiseaux (The Birds), created by French artist, Cedric Le Borgne. Comprising three brilliant bird sculptures made from stainless steel wires. Two birds are soaring in mid-air, while the third sits forlornly on the ground. They are meant to metaphorically represent our emotions in the airport – from the sad, intimate moments of parting to precious reunifications.
Kinetic art is all the rage at Changi, with Terminal 4 also home to Petal Clouds. This soaring installation spans the length of two rugby fields. I'm always mesmerised by its golden petals dancing gracefully with music and light, evoking the movement of clouds drifting through the sky.
In Terminal, 2 take some time to marvel at A Million Times at Changi, a timeless kinetic art installation using the hands of more than 500 clock faces. This head-swirling exhibit represents the concept of time and the millions of memories, farewells and homecomings created in Changi Airport. And maybe it's a statement about feeling jet-lagged.
In Terminal 3, there's no missing the luscious Green Wall, from ceiling to floor, a meticulously designed art installation of specially curated plants, inspired by the bird's eye view of the tropical rainforest canopy. It boats over 100,000 plants and helps regulate the temperature in the terminal.
But my all-time favourite eye-catcher can be found in Terminal 1: Kinetic Rain. One of the world's largest kinetic art sculptures, more than 1,000 bronze droplets move in harmony to create a vast array of patterns and shapes. Ever since it was introduced in 2012, Kinetic Rain has been fawned over. It was inspired by Singapore's tropical weather and the locals' love-hate relationship with rain. Following orders from a computer programme, the globules of "rain" flow like an ocean swell or undulate like a jellyfish's tentacles. Stick around long enough staring aimlessly at this work and the rain drops will take the form of an aircraft, hot-air balloon and dragon. It is truly a therapeutic amusement.
For all of Changi's star attributes, she's not resting on her laurels. This proven airport performer is about to go next-level in its bid to make the airport a destination in itself. Next week, (April 17), Jewel Changi Airport will finally open its doors to the world. Years in the making, this 10 storey wonderland has cost NZ$2 billion to construct. Directly connected to the main terminals, this eye-popping development will house even more bling, retail, leisure and dining offerings. Two mega-head-turners will set the scene inside Jewel: a lush, four-storey Forest Valley thickly carpeted in thousands of real trees and plants, while the centrepiece is the world's biggest indoor waterfall, tumbling down 10 storeys from its roof.
Named the Rain Vortex, the 40 metre high waterfall will be pimped up to sound and light, while the top floor of Jewel will be home to Canopy Park, brimming with giant slides, sky nets and mazes. Jewel's iconic structure, wrapped in a glass and steel façade, was designed Moshe Safdie – the architectural brains behind Singapore's gob-stopping landmark, Marina Bay Sands. You're going to need a whole lot of downtime at Changi to take in all the new titillations. You might just be hoping your plane is running late.
Mike Yardley is our Travel Correspondent on Jack Tame Saturday Mornings.