Mike Yardley: Capital encounters in Suva
Author

Publish Date

Sat, 2 Jul 2022, 11:31am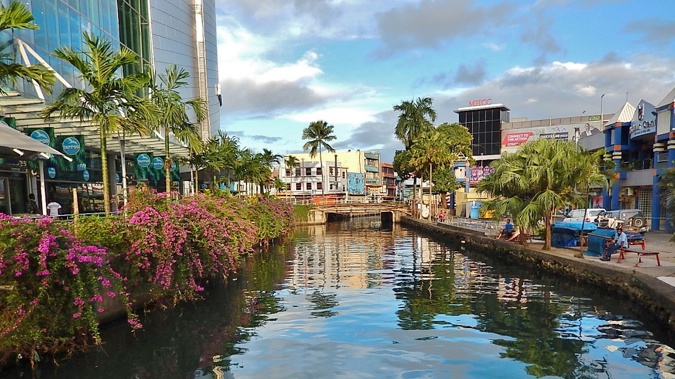 Mike Yardley: Capital encounters in Suva
Author

Publish Date

Sat, 2 Jul 2022, 11:31am
Fresh from a holiday frolic with the Coral Coast, I was eager to get a flavour for Fiji's steamy capital. Beyond the brochure-perfect, palm-fringed beaches that woo the world to her shores, why not enrich a Fijian escape with a flavourful dollop of urban heart and soul by staying a few nights in Suva? 
Huddled around a hilly peninsula towering above Suva Harbour, this verdantly green city is as architecturally diverse as its melting-pot populace. Suva's jumble of grand colonial confections, modern shopping plazas, abundance of eateries and a breezy esplanade form the nucleus of the city centre. Inviting laneways brim with ebullient curry houses, sari shops and bric-a-brac traders. Like just about everywhere across Fiji, the famed friendliness of the people was just as pervasive in Suva, with the Bula count averaging about 4 per minute as I strolled the compact, colourful and bustling streets of the capital.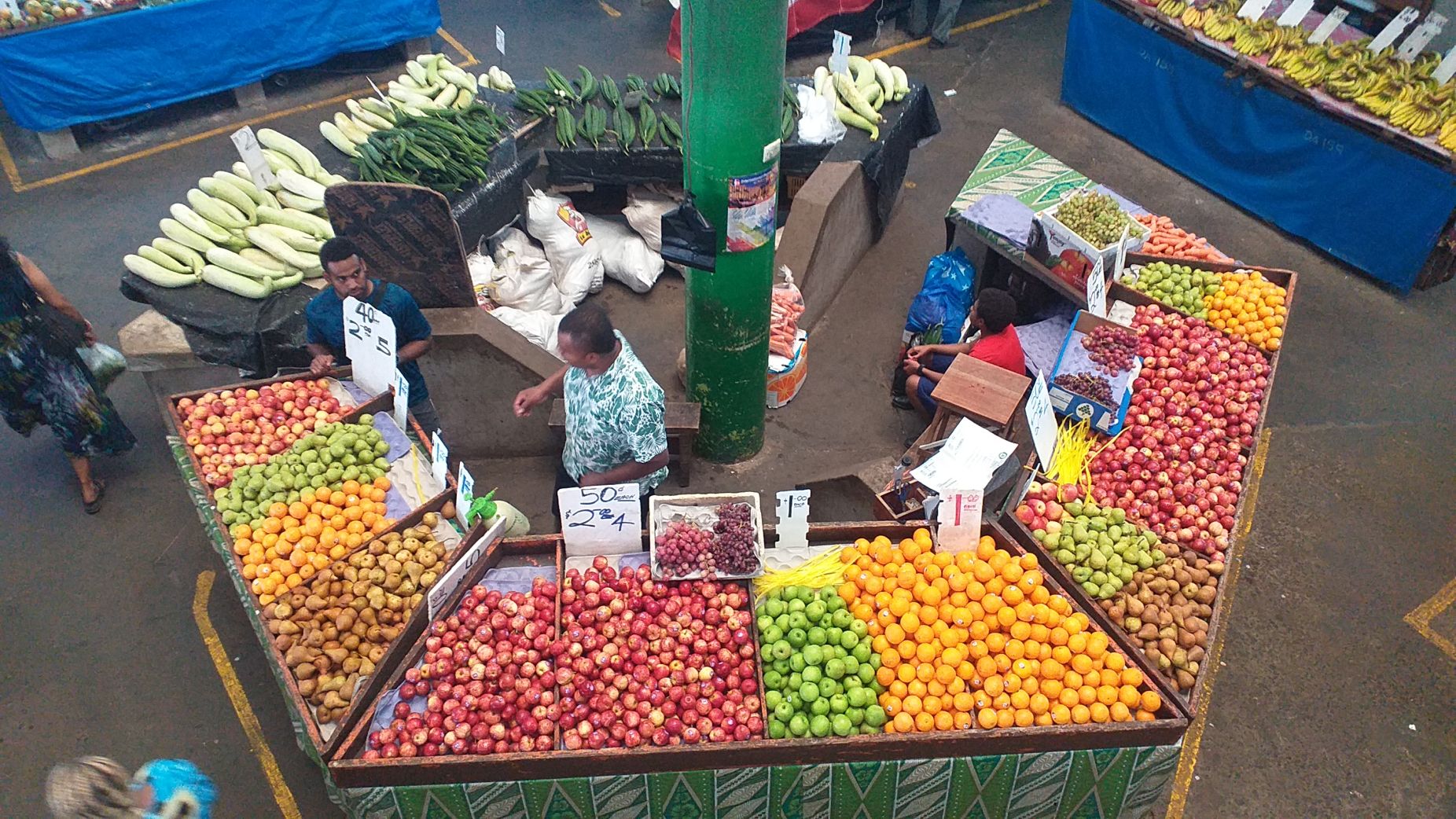 Municipal Market (Photo / Mike Yardley)
The resplendent rainbow of colours and frenetic trading bustle at the magnificent Municipal Market was positively electric as I trawled the vast cobweb of lanes and produce-laden stalls. The most famous visitor to these markets in recent years was of course Meghan Markel, who found it all a bit overwhelming and was promptly spirited away. Bless. The boys with barrows rule these lanes – under the pump to deliver their freshly picked cassava or jack fruit on time. It's a minor miracle distracted tourists aren't mown down in the process. 
Need a thirst-quencher? You can't beat the fresh pineapple juice stands. Marvel over the mud-crabs – as large as dinner plates; the profusion of bargain-basement tropical fruit; the charming ladies touting their freshly cut flowers from the villages; and the entire level dedicated to the kava stall holders. Top quality Yaqona (kava) root fetch around $40 a kilo – only cheapskates opt for the powdered, less intoxicating, stems. 
After blazing a trail through the market's merriment and extraordinary bounty, take a stroll down atmospheric Cumming Street, richly flanked with colonial-era wooden buildings with sweeping verandahs and spirited saloon bars. The verandahs shade the street and it's still one of the city's most popular shopping strips. Nearby, the ornately towering grace of Sacred Heart Cathedral, crafted from sandstone shipped over in Sydney, 120 years ago.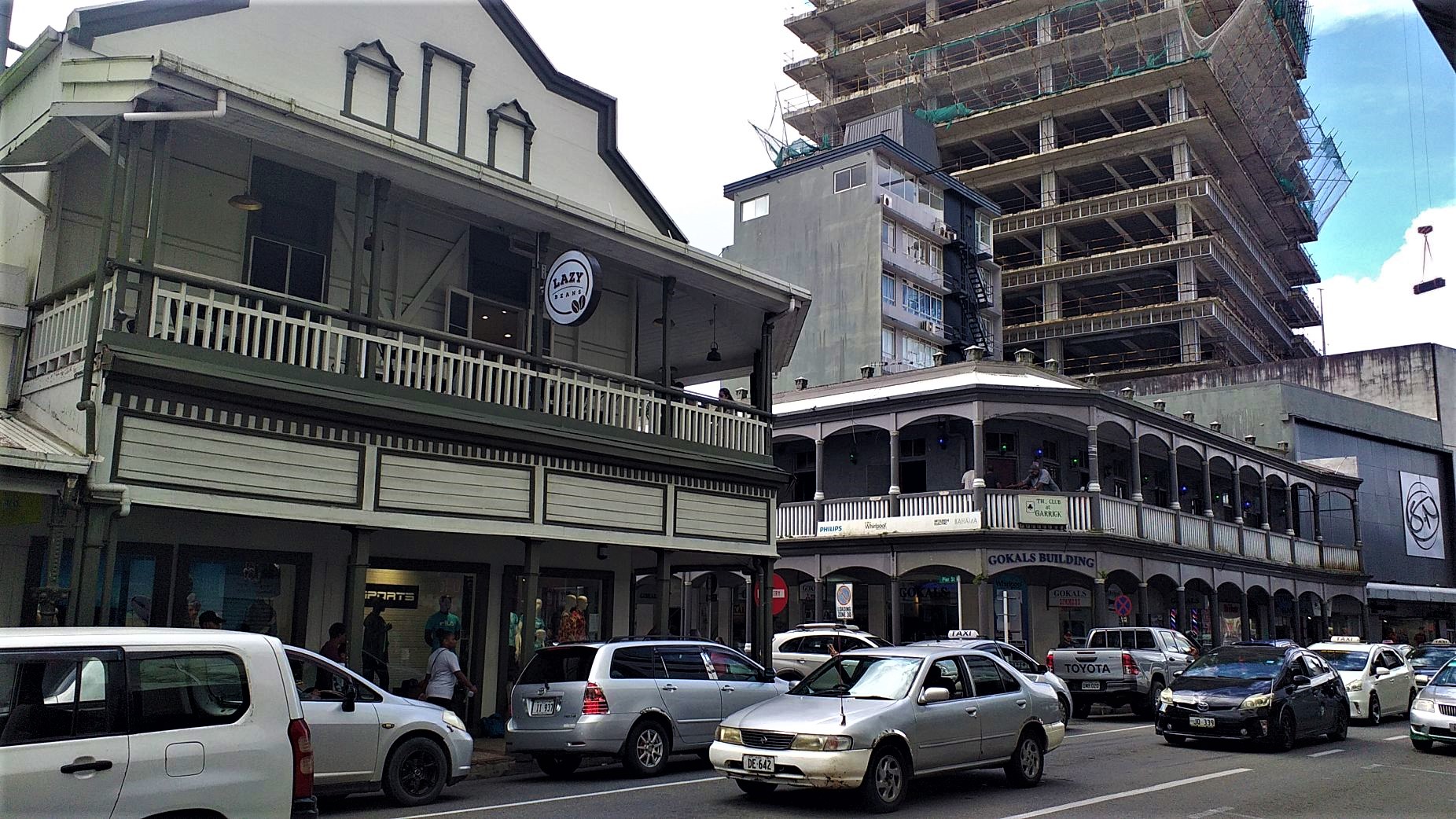 Cumming Street (Photo / Mike Yardley)
For a winning lunch, make tracks to KANU, one of the newest, coolest fine dining spots in town. The restaurant, formerly known as Governors, is now run by Lance Seeto. A chef and an entrepreneur, Seeto hails from Papua New Guinea and on a visit to Fiji, fell in love with the country. His fusion menu is a contemporary interpretation of Fijian flavours that showcase unique native ingredients, with nods to various international cuisines.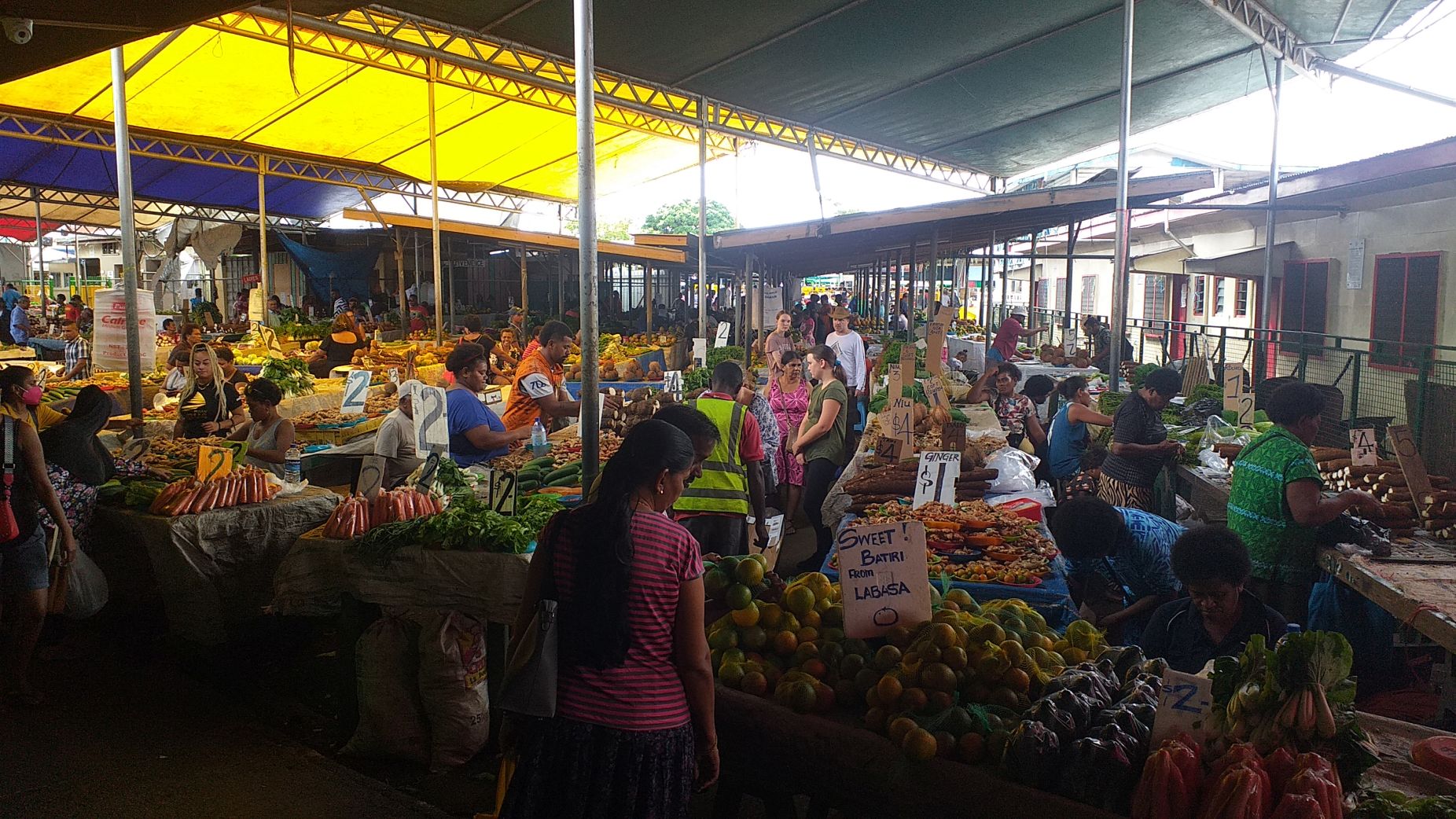 (Photo/ Mike Yardley)
The farm to table philosophy runs strong with ingredients sourced from organic local producers and farmers. For lunch, I noshed on Thai Drunken Spaghetti, a spicy marinara of prawns, fish, octopus, clams, basil, oyster sauce, chilli and lemon. Prising open some room for dessert, I sweetly surrendered to Kanu's Ice cream Pie, consisting of coconut ice cream, biscuit base, chocolate fudge and fruit compote. 
The setting is a colonial style bungalow that was once home to Ratu Sir Lala Sukuna, the statesman credited with paving the way to Fiji's self-government. As a revered Fijian chief, decorated war hero and statesman, the restaurant walls are lavishly festooned with historic photographs of Fiji's rulers and royal visitors, vintage tourism posters and South Pacific memorabilia. I absolutely loved it. 
Strolling down Victoria Parade, the vast green oasis of Albert Park arguably embodies the spirit of Suva. On a sultry Saturday afternoon, the grandstand was packed to the rafters as locals flocked to watch the free big-screen TV coverage of Fijian Drua taking on the Chiefs in Lautoka, while youngsters played touch on the field, dreaming of being a future national star. Rugby is unquestionably Fiji's unofficial religion, and the national team regularly trains at this gorgeous park, flanked on one side by Parliament House.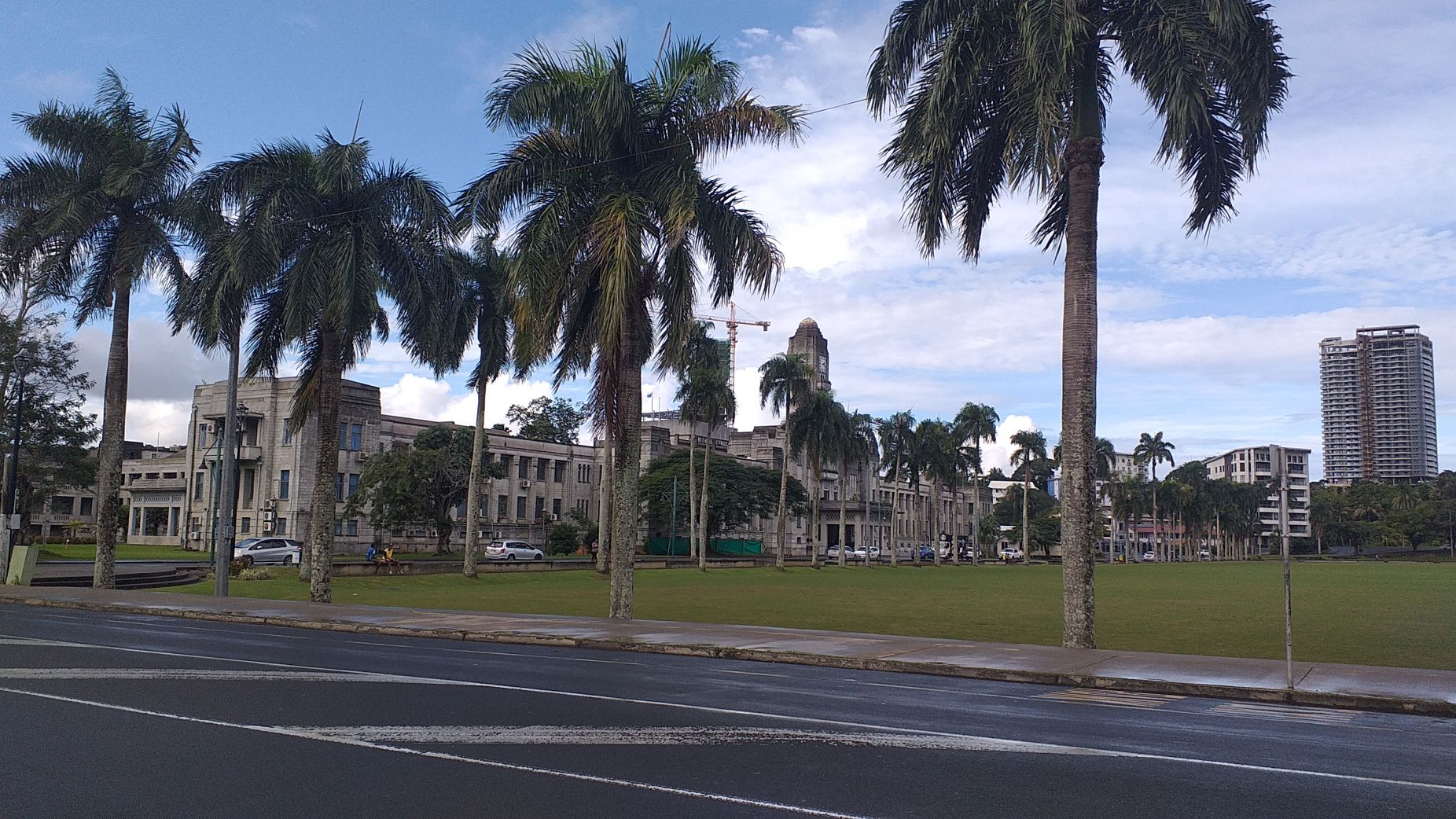 View across to Parliament and Albert Park (Photo / Mike Yardley)
As the sun slumps on the horizon, bathing the grounds in a golden light, hordes of locals meet up at day's end to kick the ball around, with unbridled passion. It's about as Fiji as it gets. Steeped in history, this is actually hallowed turf because it's where Charles Kingsford Smith touched down, as part of his epic Trans-Pacific crossing from California to Australia, in 1928. He was the first aviator to cross the Pacific, flying in his little Fokker monoplane, the Southern Cross. 
The longest leg of the flight was the 34-hour trip from Honolulu to Fiji – the longest ocean flight ever attempted. Albert Park, with its hill at one end and the Grand Pacific Hotel at the other, was made into a makeshift landing strip for his arrival. Trees were still being cleared just hours before he landed. Kingsford Smith addressed a throng of 10,000 people from the hotel balcony, a public holiday was proclaimed, and the aviators attended a celebratory ball held in their honour at the hotel. After departing Fiji, they arrived at Eagle Farm Aerodrome, Brisbane as international heroes.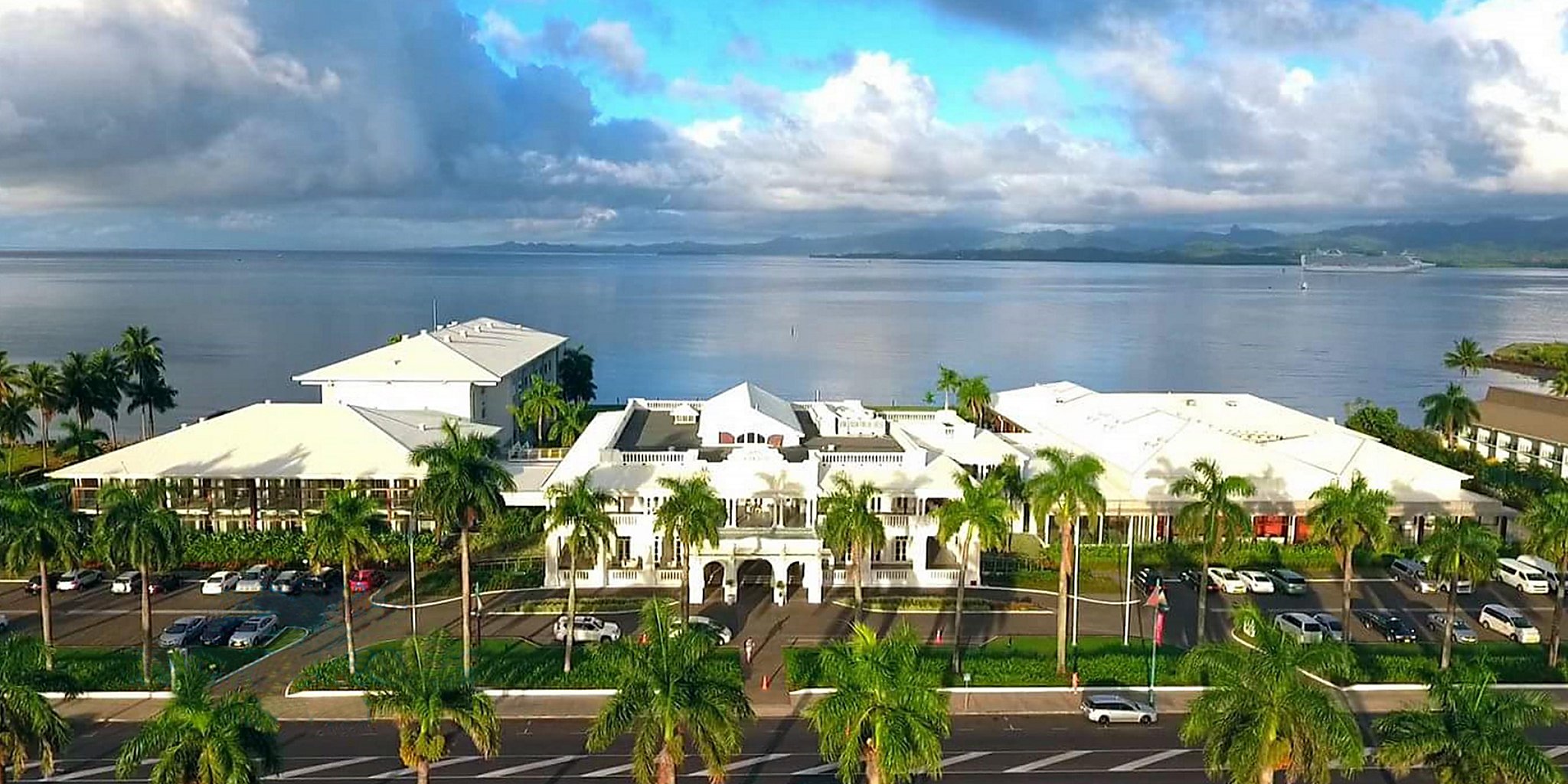 (Photo/ Mike Yardley) 
There's a magnificent trail of monuments and information panels at the park, honouring his epic achievement. Across the road, don't miss Thurston Gardens, beautifully developed over a century ag, as a palm-fringed space for a lazy picnic or respite from the heat. The plants and trees here showcase a variety of tropical specimens from all around the South Pacific. 
Where to stay? If you like your holiday roost served with a side of storied history, push the boat out and drop anchor at the Raffles of the South Pacific, the Grand Pacific Hotel. This grand old lady has been enjoying a new lease on life, after falling into disrepair and ultimately abandoned in the 1980s. Impeccably restored and reopened eight years ago, it has regained its stature as one of the South Pacific's finest heritage hotels.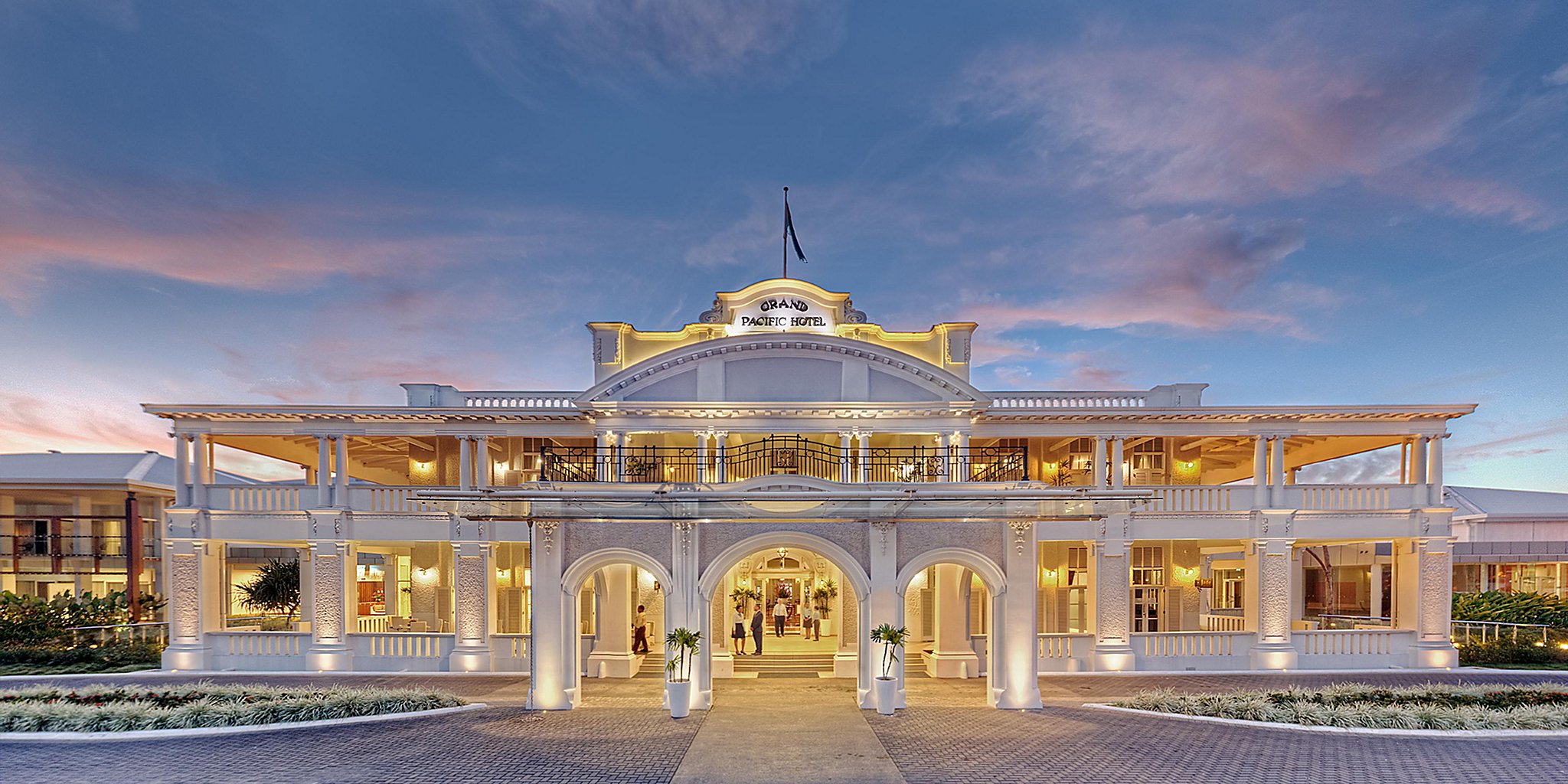 The Grand Pacific Hotel (Photo / ihg)
The landmark property wows with its creamy-white neoclassical facade, wrought-iron fencing, Romanesque columns, arched doorways and open-air galleries. Featured on the Fijian $10 note, it's clearly a national treasure. Opened in 1914 by the Union Steamship Company of New Zealand, the impressive arched entry portico ushers you into the huge vaulted lobby with its interior gantry balcony and balustrades, modelled on the first class lounges of passenger liners of the era plying the vast Pacific. 
A witness to history, the past is everywhere, from vintage photos and retro trinkets to the faithfully restored interiors. Cabinets brim with mementos including a 1939 menu served to the guests of the R.M.S. Franconia, featuring delicacies such as iced coconut milk, fresh turtle consomme, assorted shellfish and turkey curry. There are also yellowing photos of past guests, such as Queen Elizabeth II, who visited several times including for a grand ball in 1953 to celebrate her coronation. She's photographed waving to adoring fans from the property's heritage balcony, which is now part of the romantic Queen Elizabeth Suite that overlooks Albert Park.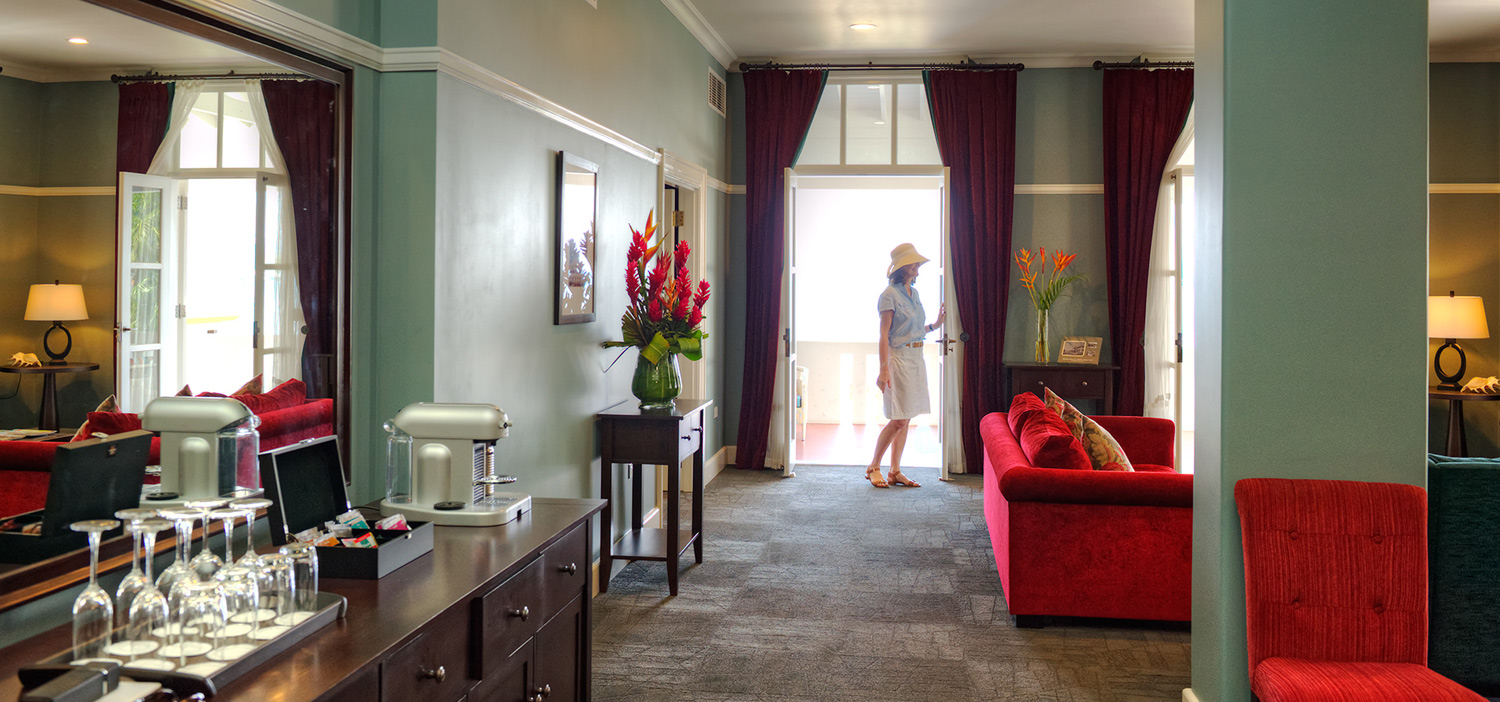 Heritage Rooms at GPH (Photo/ ihg)
Even grander is the Royal Suite, which features a French door-framed veranda with views of Suva Harbour and the surrounding mountains. While I was staying here, I felt like I had a ring-side seat on the geopolitical fault lines of the Pacific. Australian Foreign Minister Penny Wong was just checking-out as I arrived, while 24 hours later, China's Foreign Minister Wang Yi and his colossal entourage swept into the hotel to full ceremonial fanfare. 
Some hotel staff have worked here for decades, and a 'wall of fame' is lined with their photos, not those of the famous guests (who occupy a smaller wall space near reception). Luminaries such as Noel Coward, Somerset Maugham, James Michener, Dame Nellie Melba and Kingsford Smith have stayed in the six Heritage Rooms in the original building. They feature dark soothing colours, plush curtains, oriental rugs and photos of old Suva, and push-open double doors leading to the wrapround pillared balcony. It's where Meghan and Harry waved to the crowds several years ago, from the same perch as the Queen did, on her royal visits.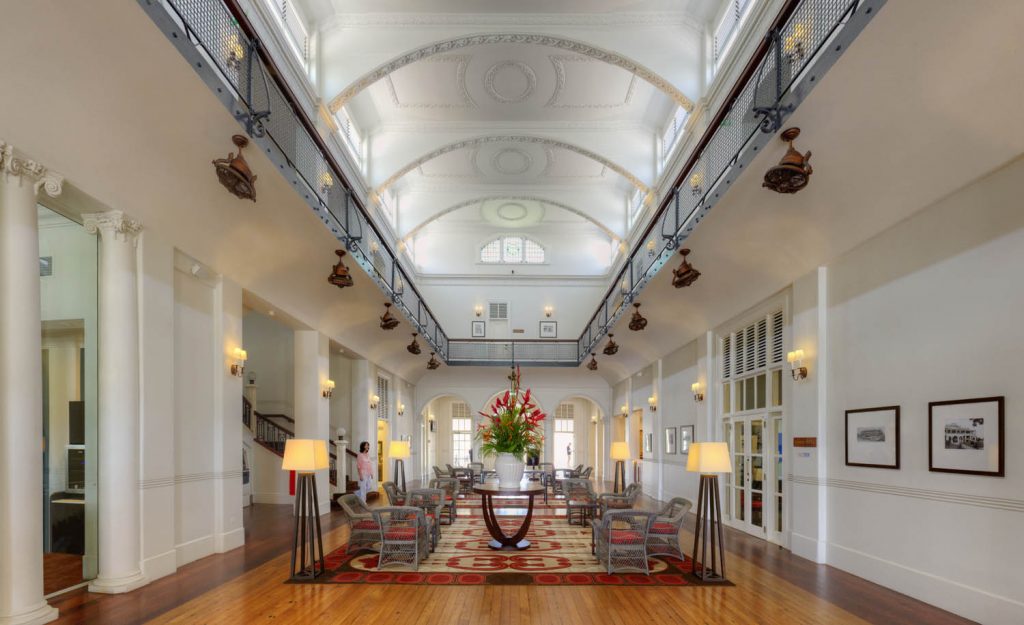 GPH Lobby (Photo / ihg)
There are only 10 guestrooms offered in the original building, but the property also boasts two newbuild wings complete with a gym, a spa and 103 guestrooms. Spaciously designed and decorated in a contemporary style to maximise both views and guest comfort, they feature the famed "Pure Fiji" amenities, complimentary wi-fi, cable TV and either a veranda or private balcony. 
From the doormen to the waiting staff, service is impeccable, courteous and warm – an exercise in grace without the stuffy pretentiousness. The long seaview pool is lovely, with views of Suva's harbour and jagged mountains, while the Bliss Spa has a dry sauna, steam shower and six treatment rooms for Fijian massages and signature rituals using Pure Fiji products. Enjoy a formal dinner at Prince Albert restaurant where fresh ingredients, attentive service and masterful technique result in modern takes of local classics. Expect dishes such as lemon and mango-poached octopus carpaccio, an Indo curry trio, and fish in passionfruit and coconut rum puree. 
Don't miss the signature dessert - Vudi Vakasoso. This dessert pays homage to a traditional Fijian dish, with plantain bananas poached in coconut milk infused with cinnamon and cardamom, then drizzled with sugar cane caramel and garnished with mint. At the all-day Levuka restaurant, try Fijian raw fish classic kokoda, halloumi and vegetable filo tart, and creative pastas, sandwiches and burgers. They do a great buffet breakfast, too. Seating extends to the terrace over the pool deck, a sweet spot for afternoon tea and live music on the weekend. 
I also loved the Steamship Bar, an elegant spot for cocktails either inside or on the breezy terrace. (I had an early check-out, most amused to see a dozen burly police officers ensconced in the Steamship Bar at 4am, fixated on the live TV coverage of the Rugby Sevens in London.) For snacks on the run, the GPH Bakery is a cute Parisienne-style café adjoining the front entrance, for fresh pastries, juices and great coffee. Shaped by the past but calibrated for the present, the Grand Pacific Hotel is an evocative, stylish and irresistible experience. https://grandpacifichotel.com.fj/ 
While in Suva, take a short drive inland on Kings Road for a revitalising detox at Colo-i-Suva Forest Park. It's a different feel to life up here; the air is cooler than the urban hubbub, the vegetation is dense and the vistas are not of ocean, but of deep valleys slashed by rivers and creeks, which terraced farms rise up the slopes. Colo-i-Suva is a lush oasis of rainforest teeming with tropical plants and vivid and melodic bird life.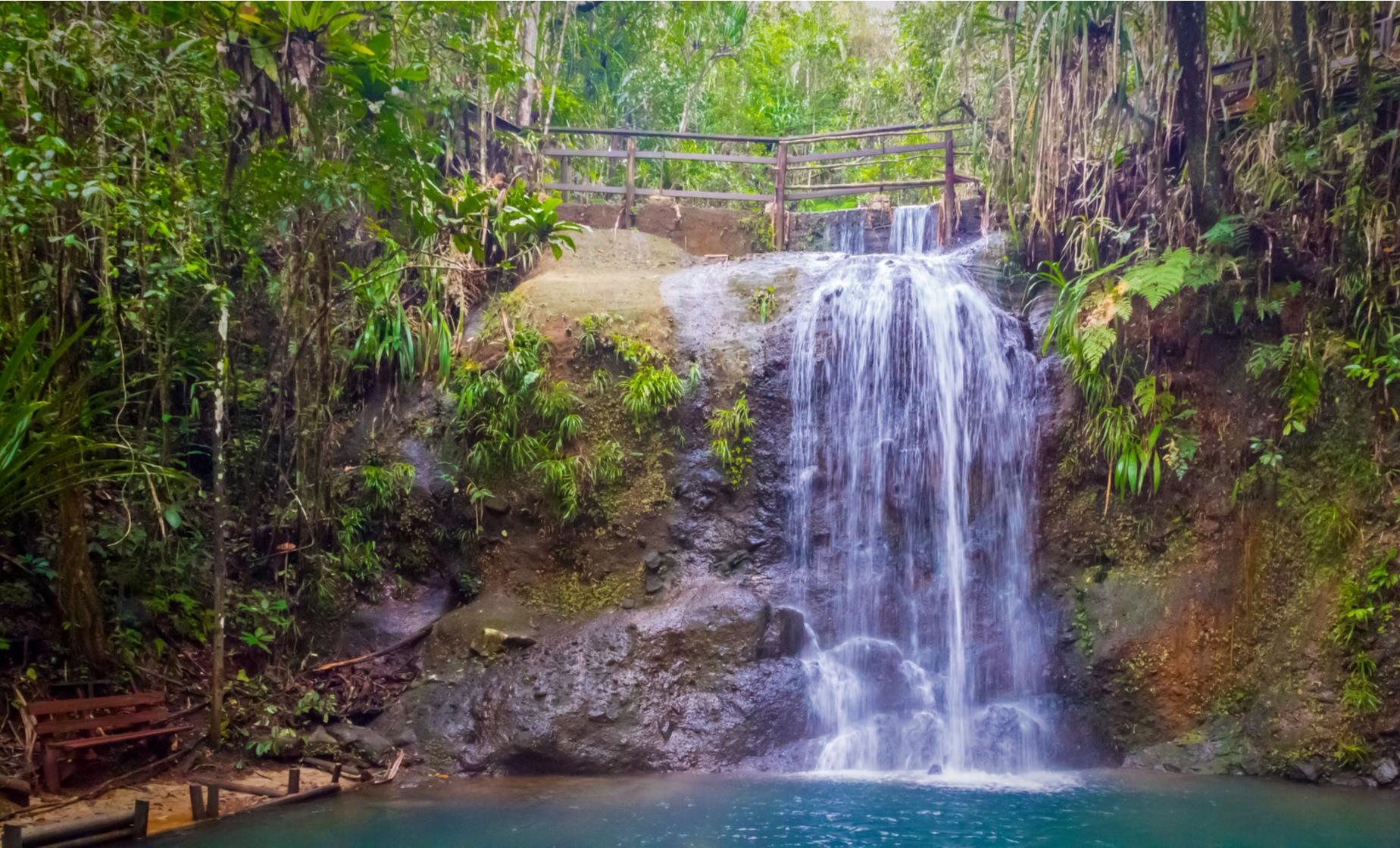 Colo-i-Suva forest (Photo / Tourism Fiji)
The 6.5km of walking trails navigate clear natural pools and gorgeous vistas. Slipping and slicing through the forest over weathered rocks is the Waisila Creek, which makes its way down to Waimanu River, punctuated by Disneyesque swimming holes along the way. Among the wildlife are 14 different bird species, including scarlet robins, spotted fantails, Fiji goshawks, masked shining parrots (slim green birds with a black mask on its face), Fiji wood swallows, golden doves and best of all barking imperial pigeons. These massive forest dwellers have a deep dog-like bark. Woof! 
I also popped by the Rainforest Ecolodge, which adjoins the forest, meeting up with the manager, Hiram Whippy. This serene natural enclave, crowned with a limpid lake and dotted with bures is twitching heaven, fawned over by birders who come to lap up the respite and feathered friends. 
Early morning observations are particularly rewarding. The lodge is Fiji's first purpose-built ecotourism resort and great care was taken in its construction t preserve the natural beauty and ecosystems. Only one tree was relocated during its development! Whether you're staying in-house or not, the onsite Batiniwai Lakeside Diner and Bar opens from 8am for all-day dining and a caffeine fix to fortify you for your forest adventuring. www.rainforestecolodge.com.fj 
I tripped to Fiji with Fiji Airways, who fly to Nadi from Auckland, Wellington and Christchurch. Return economy flights start from just $599, or upgrade to business class from just $1190. Enjoy 15 minutes free text plans, while affordable wi-fi plans are also available. Plus enjoy a generous economy class baggage allowance of 30kg. Fiji Airways is also offering great-value exclusive package holidays. https://www.fijiairways.com/ 
With 333 islands, white sand beaches and year-round tropical warmth, this beloved Pacific Island nation is absolutely open for happiness. Whether you're after a fly and flop getaway, a romantic sojourn or an adventure-packed escape, make your first port of call the official website. https://www.fiji.travel 
Mike Yardley is our resident traveller on Jack Tame Saturday Mornings.