Mike Yardley: A wander into North Wales
Author

Publish Date

Mon, 7 Mar 2016, 10:37am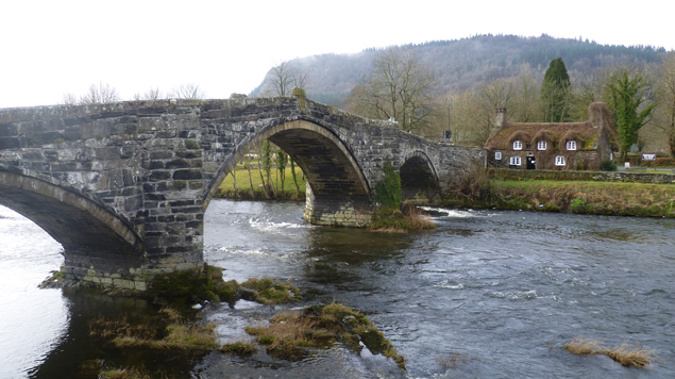 Mike Yardley: A wander into North Wales
Author

Publish Date

Mon, 7 Mar 2016, 10:37am
Whether it's for history, story-book scenery or some soft-adventure, North Wales is power-packed as a pleasurable, effortless side trip from England. Crossing over from Birmingham into North Wales, I based myself in Betws-y- Coed, gateway to Snowdonia National Park and Britain's loftiest peaks, south of the Scottish border. Flanked by galloping rivers and verdant hillsides, this Conwy Valley village is a great launch-pad, because it's so well geared for the tourist trade, with excellent transport links, superb hotels and a generous variety of pubs and restaurants, at prices to suit all pockets.
Predominantly constructed in granite and Welsh slate, this irrepressibly photogenic village exudes a sense of the fairy-tale, about it. Regarded as the UK's first artist colony, the natural beauty lured Britain's finest landscape painters to the area in the 18th century, including William Turner. You can admire many of those early works at the Tate Gallery, in London. Top village sights include the glorious Victorian railway station building, built in 1868 –  the type of station  that you'd half expect to find Thomas, Percy and Gordon tootling through. The adjacent railway museum is a family hit, with novelty train rides. Don't miss the gorgeous 14th century church of St. Michael's, the Swallow Falls walk and some delightful woodland walking trails through the Gwydyr Forest. 
Ten minutes up the railway line is the pretty little village of Llanrwst, home to the most extraordinary tea house setting. On the banks of the Conwy River, adjacent to the sublime elegance of the 1636 stone bridge designed by Inigo Jones, sits Tu Hwnt i'r Bont – a sumptuous two-storey tea house, carpeted in ivy as thick as a tea cosy. Originally built in 1480 as a residential dwelling, this National Trust-owned property has been a magnet for cream teas and tasty lunches for 50 years.  Another neighbouring village well worth exploring is the woollen mill mecca of Trefriw. Lakes Crafant and Geirionydd have supplied water to power Trefriw Woolen Mills since the 18th century. A vast range of garments including bedspreads and brightly coloured tweeds are still manufactured and sold on-site.
To accentuate the whole experience in this special pocket of North Wales, I stayed at Glyntrog House, an absolutely charming B&B in Betws-y-Coed. Beautifully run by Ian and Janet, this ravishing Victorian stone property, perched on a wooded hillside serves up heavenly views of the Waterloo Bridge and Conwy Valley. All of the village delights are just a simple stroll away, yet the sense of seclusion in the Welsh wilderness is what adds the magic. www.glyntwrogsnowdonia.co.uk
A sure-fire hit with history buffs, Conwy  is one of Britain's very best medieval walled towns. The rain was bucketing down on the day I took the train excursion from Betws-y-Coed to Conwy, but even on a depressingly dull day, this town made me glow in awe. The seven hundred year old walls, built by the English invaders to keep the Welsh out, are very much intact, and you can circumnavigate the town via the walls.
Prior to that, legend says that the Romans were attracted to Conwy by its pearls. Conwy Castle is a ravishing medieval fortress, awash in turrets and towers. The castle is a World-Heritage site, built for Edward the 1st in 1283. Remarkably, this colossal structure was built in just four years, which historians still consider as an engineering triumph.
When you've had your fill of castle action, check out some of the town's quirky treats in the jumble of narrow alleys. Plas Mawr, meaning Great Hall, is considered as Britain's best preserved Elizabethan town house, built in 1576. The interior is packed to the rafters with ornamental plasterwork and period furnishings. In stark contrast, Conwy also boasts the "Smallest House in Britain",  a diminutive red box, 3 metres high and just 1.8 metres wide. Apparently, the original inhabitant was a 6 foot tall fisherman.
Mike Yardley is Newstalk ZB's Travel Correspondent on Saturday Mornings with Jack Tame. 11.20am
Whether it's for history, story-book scenery or some soft-adventure, North Wales is power-packed as a pleasurable, effortless side trip from England. Crossing over from Birmingham into North Wales, I based myself in Betws-y- Coed, gateway to Snowdonia National Park and Britain's loftiest peaks, south of the Scottish border. Flanked by galloping rivers and verdant hillsides, this Conwy Valley village is a great launch-pad, because it's so well geared for the tourist trade, with excellent transport links, superb hotels and a generous variety of pubs and restaurants, at prices to suit all pockets. Predominantly constructed in granite and Welsh slate, this irrepressibly photogenic village exudes a sense of the fairy-tale, about it. Regarded as the UK's first artist colony, the natural beauty lured Britain's finest landscape painters to the area in the 18th century, including William Turner. You can admire many of those early works at the Tate Gallery, in London. Top village sights include the glorious Victorian railway station building, built in 1868 –  the type of station  that you'd half expect to find Thomas, Percy and Gordon tootling through. The adjacent railway museum is a family hit, with novelty train rides. Don't miss the gorgeous 14th century church of St. Michael's, the Swallow Falls walk and some delightful woodland walking trails through the Gwydyr Forest.  Ten minutes up the railway line is the pretty little village of Llanrwst, home to the most extraordinary tea house setting. On the banks of the Conwy River, adjacent to the sublime elegance of the 1636 stone bridge designed by Inigo Jones, sits Tu Hwnt i'r Bont – a sumptuous two-storey tea house, carpeted in ivy as thick as a tea cosy. Originally built in 1480 as a residential dwelling, this National Trust-owned property has been a magnet for cream teas and tasty lunches for 50 years.  Another neighbouring village well worth exploring is the woollen mill mecca of Trefriw. Lakes Crafant and Geirionydd have supplied water to power Trefriw Woolen Mills since the 18th century. A vast range of garments including bedspreads and brightly coloured tweeds are still manufactured and sold on-site. To accentuate the whole experience in this special pocket of North Wales, I stayed at Glyntrog House, an absolutely charming B&B in Betws-y-Coed. Beautifully run by Ian and Janet, this ravishing Victorian stone property, perched on a wooded hillside serves up heavenly views of the Waterloo Bridge and Conwy Valley. All of the village delights are just a simple stroll away, yet the sense of seclusion in the Welsh wilderness is what adds the magic. www.glyntwrogsnowdonia.co.ukA sure-fire hit with history buffs, Conwy  is one of Britain's very best medieval walled towns. The rain was bucketing down on the day I took the train excursion from Betws-y-Coed to Conwy, but even on a depressingly dull day, this town made me glow in awe. The seven hundred year old walls, built by the English invaders to keep the Welsh out, are very much intact, and you can circumnavigate the town via the walls. Prior to that, legend says that the Romans were attracted to Conwy by its pearls. Conwy Castle is a ravishing medieval fortress, awash in turrets and towers. The castle is a World-Heritage site, built for Edward the 1st in 1283. Remarkably, this colossal structure was built in just four years, which historians still consider as an engineering triumph. When you've had your fill of castle action, check out some of the town's quirky treats in the jumble of narrow alleys. Plas Mawr, meaning Great Hall, is considered as Britain's best preserved Elizabethan town house, built in 1576. The interior is packed to the rafters with ornamental plasterwork and period furnishings. In stark contrast, Conwy also boasts the "Smallest House in Britain",  a diminutive red box, 3 metres high and just 1.8 metres wide. Apparently, the original inhabitant was a 6 foot tall fisherman.Mike Yardley is Newstalk ZB's Travel Correspondent on Saturday Mornings with Jack Tame. 11.20am