Mike Yardley: A Taste of Tassie in Hobart
Author

Publish Date

Wed, 26 Aug 2015, 12:46pm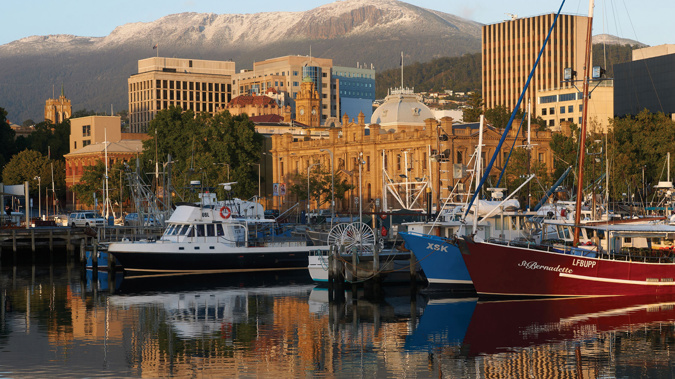 Mike Yardley: A Taste of Tassie in Hobart
Author

Publish Date

Wed, 26 Aug 2015, 12:46pm
Wellington or Dunedin? Cradled by steep, verdant hills and a deep water  harbour, Tasmania's bustling capital is reminiscent of New Zealand's biggest hilly cities, with a similarly-sized population and climate. Hobart beats to a relaxed tempo, it's key sights and attractions sprinkled across the waterfront and undulating flanks of the central city.
Settled in 1804, it is steeped in history and I strongly recommend you strap on your  walking shoes for a Hobart Historic Tour, an enriching walkabout introduction to the city's story.  It was on this walk that I learnt that Abel Tasman was the first European to discover Tasmania on his epic voyage from Indonesia, yet remarkably, he completely missed discovering mainland Australia.
For some quintessential flavours of Hobart's artisanal prowess, explore Salamanca Market, framed by an elegant row of Georgian sandstone buildings that initially began life to service the whaling, grain and timber industries. Today, Salamanca is synonymous with fresh market produce, gourmet food and craft stalls, appetising cafes and atmospheric pubs. In fact, every Saturday, Salamanca plays host to Australia's largest outdoor market, with over 3000 traders. This really is the great sanity-restoring antidote to the unblinking monotony of malls. 
Hobart's waterfront has a dizzying array of dining options. I dropped anchor at the Drunken Admiral Restaurant, which has a wonderful nautical-themed interior. If you're travelling with little ones, they'll be enthralled by the sailing ship-imitation layout and its abundance of maritime trinkets. Don't go past the Yachtie's Seafood Mixed Grill, a mouth-watering medley of sizzling prawns, scallops and freshly caught fish, served with dips.  A short walk further around the shoreline brings you to Battery Point, a drop-dead-gorgeous historic neighbourhood of colonial houses, galleries and craft boutiques.
From there, the next stop is Sandy Bay and a Hobart landmark, you'll probably recognise. Wrest Point Casino recently  celebrated its 40th anniversary, a stark reminder to just how futuristic this building must have been back in 1973. A cherished Hobart tradition is to indulge in some tasty morsels and bubbles by taking High Tea, served every Friday afternoon from the lofty perch of their revolving restaurant. Be sure to book in advance! If you have a head for heights, the pinnacle of Hobart's backdrop, Mt. Wellington, provides sprawling panoramic views across Southern Tasmania. Art buffs should check out MONA, the uber-eclectic Museum of Old and New Art, which boasts the Southern Hemisphere's largest private gallery.
Further afield, I thoroughly enjoyed taking a tour of the Cascade Brewery, Australia's oldest operating brewery, which has been producing its prized pale ale since 1832. And before you leave Hobart, take the short drive to Richmond, a frozen-in-time Georgian village which features Australia's oldest jail and the truly divine stone Richmond Bridge, built in 1825.
Hobart treasures its heritage and this is artfully underscored the Grand Mercure Hobart, which has blended plush, contemporary apartment-style comforts within the sandstone richness of the original Hadleys Hotel, which first opened in 1834. A fabulous central-city base to explore Hobart from.
No site in Australia brings to life the convict story, quite like Tasmania's iconic penal colony of Port Arthur. The World Heritage site, located an hour from Hobart, has seen more than its fair share of tragedy, most recently in 1986, with the senseless massacre of 35 tourists and staff. The penal station was established in 1830, using convict labour to produce sawn logs for government projects. It expanded to become a punishment station, where Australia's worst recidivist offenders were dispatched for correction – and later it housed the mentally ill.
By 1840, more than 2000 convicts, soldiers and staff lived at Port Arthur, which had become a hive of prisoner-powered industry, producing bricks, worked stone, furniture and even boats for the free settlers to Tasmania. The penal settlement finally closed in 1877, but the aura of convict heritage has endured, and Port Arthur remains a top visitor drawcard. Set aside half a day to explore the diverse range of buildings, hear the stories, and absorb the sad, haunted atmosphere that suffused  the place, on my outing.  Be sure to admire the iconic sandstone church, which at its peak, hosted up to 1100 convicts, as they attended compulsory Sunday services.
Mike Yardley is Newstalk ZB's Travel Correspondent on Jack Tame Saturdays. 11.20am  
MIKE YARDLEY: A TASTE OF TASSIE IN HOBART.Wellington or Dunedin? Cradled by steep, verdant hills and a deep water  harbour, Tasmania's bustling capital is reminiscent of New Zealand's biggest hilly cities, with a similarly-sized population and climate. Hobart beats to a relaxed tempo, it's key sights and attractions sprinkled across the waterfront and undulating flanks of the central city. Settled in 1804, it is steeped in history and I strongly recommend you strap on your  walking shoes for a Hobart Historic Tour, an enriching walkabout introduction to the city's story.  It was on this walk that I learnt that Abel Tasman was the first European to discover Tasmania on his epic voyage from Indonesia, yet remarkably, he completely missed discovering mainland Australia. For some quintessential flavours of Hobart's artisanal prowess, explore Salamanca Market, framed by an elegant row of Georgian sandstone buildings that initially began life to service the whaling, grain and timber industries. Today, Salamanca is synonymous with fresh market produce, gourmet food and craft stalls, appetising cafes and atmospheric pubs. In fact, every Saturday, Salamanca plays host to Australia's largest outdoor market, with over 3000 traders. This really is the great sanity-restoring antidote to the unblinking monotony of malls.  Hobart's waterfront has a dizzying array of dining options. I dropped anchor at the Drunken Admiral Restaurant, which has a wonderful nautical-themed interior. If you're travelling with little ones, they'll be enthralled by the sailing ship-imitation layout and its abundance of maritime trinkets. Don't go past the Yachtie's Seafood Mixed Grill, a mouth-watering medley of sizzling prawns, scallops and freshly caught fish, served with dips.  A short walk further around the shoreline brings you to Battery Point, a drop-dead-gorgeous historic neighbourhood of colonial houses, galleries and craft boutiques. From there, the next stop is Sandy Bay and a Hobart landmark, you'll probably recognise. Wrest Point Casino recently  celebrated its 40th anniversary, a stark reminder to just how futuristic this building must have been back in 1973. A cherished Hobart tradition is to indulge in some tasty morsels and bubbles by taking High Tea, served every Friday afternoon from the lofty perch of their revolving restaurant. Be sure to book in advance! If you have a head for heights, the pinnacle of Hobart's backdrop, Mt. Wellington, provides sprawling panoramic views across Southern Tasmania. Art buffs should check out MONA, the uber-eclectic Museum of Old and New Art, which boasts the Southern Hemisphere's largest private gallery. Further afield, I thoroughly enjoyed taking a tour of the Cascade Brewery, Australia's oldest operating brewery, which has been producing its prized pale ale since 1832. And before you leave Hobart, take the short drive to Richmond, a frozen-in-time Georgian village which features Australia's oldest jail and the truly divine stone Richmond Bridge, built in 1825. Hobart treasures its heritage and this is artfully underscored the Grand Mercure Hobart, which has blended plush, contemporary apartment-style comforts within the sandstone richness of the original Hadleys Hotel, which first opened in 1834. A fabulous central-city base to explore Hobart from. No site in Australia brings to life the convict story, quite like Tasmania's iconic penal colony of Port Arthur. The World Heritage site, located an hour from Hobart, has seen more than its fair share of tragedy, most recently in 1986, with the senseless massacre of 35 tourists and staff. The penal station was established in 1830, using convict labour to produce sawn logs for government projects. It expanded to become a punishment station, where Australia's worst recidivist offenders were dispatched for correction – and later it housed the mentally ill. By 1840, more than 2000 convicts, soldiers and staff lived at Port Arthur, which had become a hive of prisoner-powered industry, producing bricks, worked stone, furniture and even boats for the free settlers to Tasmania. The penal settlement finally closed in 1877, but the aura of convict heritage has endured, and Port Arthur remains a top visitor drawcard. Set aside half a day to explore the diverse range of buildings, hear the stories, and absorb the sad, haunted atmosphere that suffused  the place, on my outing.  Be sure to admire the iconic sandstone church, which at its peak, hosted up to 1100 convicts, as they attended compulsory Sunday services.Mike Yardley is Newstalk ZB's Travel Correspondent on Jack Tame Saturdays. 11.20am