Mike Yardley: A taste of Red Square, Moscow
Author

Section

Publish Date

Thursday, 13 October 2016, 6:04a.m.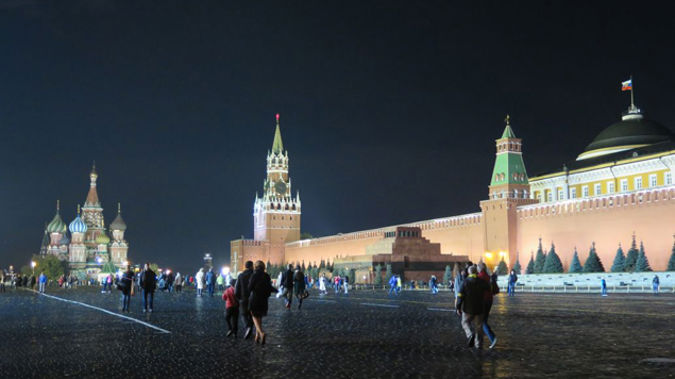 Walking across the nuggety cobblestones of Red Square, tromped on by troops, tanks and muscular military parades, you can feel the weight of history. Given the current geo-political state of affairs, I was somewhat apprehensive about tripping through Russia as a first-timer, but it was made decidedly effortless and disarming, by joining a Trafalgar guided journey to Moscow and St. Petersburg.
And in a city of so many surprises, Moscow not only felt safe, exciting and hospitable, but it belied the bleak and brutalist preconception I had about the Russian capital. It's the monumental might and splendour of Moscow that awe-struck me, a visually enthralling power city of oh-so-serious statement architecture. When soaking up the atmosphere of Red Square, my Trafalgar experience delivered two juicy bites of the cheery – savouring it by day and by night. Moscow loves its illuminations and Red Square takes on an extra- theatrical sense of place, after dark.
Flanking the entire length of the eastern side of the square is GUM Department Store, a stunningly gorgeous Louvre-like building, lustily twinkling in fairy lights. It's like the Louvre of shopping, with a staggering array of eateries and high-end retail. The square's western side is crowned by the Kremlin Clock Tower and majestically curtained by the turreted red stone walls of the Kremlin, with Lenin's Mausoleum nestled at its base.
This is where the waxy, embalmed body of the Communist Party founder has been mawkishly displayed since 1924, although as my insightful Trafalgar local specialist, Vera, remarked – most Muscovites find it embarrassing and want it gone. " Many people don't even think it's Lenin's body, but a lookalike wax work," added Vera. Maybe that's why the po-faced guards give you a stiff prod if you stop and linger too long, when viewing Lenin. And you certainly can't take photos. 
At the northern end of Red Square, the State Historical Museum offers a heady foray into Russian history, from the last ice age and demise of the mammoth, right up to the 19th century.  It's chocca with historical curios, like the giant-size boots, bigger enough to hide a small child, that were worn by locals to wade through the swamp in Peter the Great's day.
But the biggest frisson in Red Square is first clapping your eyes on Moscow's most emblematic of landmarks, St. Basil's Cathedral. Constructed in 1561 to celebrate Ivan the Terrible's defeat of the Khan of Kazan, a critical victory which sealed Moscow's regional supremacy, the multi-coloured elaborate designs of the onion domes make the heart sing. The interior is a honeycomb of small, intimate chapels, liberally decorated in icons and engravings. But it's the wondrous multi-domed exterior that will take command of your camera.
When you peruse a street map of Moscow, what immediately strikes you is the impressively ordered pattern of concentric circles, fanning out from the fortified hill in the heart of the city, housing the political HQ of the world's largest nation. Welcome to the Kremlin. Security, as you'd expect, is razor-sharp, but after navigating your way through that requisite rigmarole, you enter a medieval mini-city suffused in power, pomp  and prestige.
Vera guided me past the world's largest cannon and the world's largest bell.  The former was cast in 1586, weighing in at 39 tons. Surrounded by decorative cast-iron cannon balls, the monster bronze cannon, nicknamed the Tsar Cannon has never been used in military action, although it was originally intended as a powerful weapon in the Kremlin's defences.  Adjacent to the cannon is the extraordinary Tsar Bell, an absolute white elephant, commissioned by Empress Anna Ioanovna, to adorn Ivan the Great's Bell Tower. It wasn't to be. During a fire in 1737, overheating caused a large chunk to crack away from the bell, and it took another hundred years before the 200-ton bell was raised from its pit onto the pedestal, where it is today. Despite never fulfilling its intended purpose, the bell's exterior is richly decorated in reliefs, depicting Christianity and Russian rulers. 
Across from the bell, I ogled the domed Presidential Offices from where Vladimir Putin rules the roost. Crawling with dark-suited, wired-up security guards and gruff police officers, they'll blow their whistles and bark at you if you dare to stray from the designated path.  This is a strictly no-nonsense place.
The Kremlin houses a variety of distinctive cathedrals that all have long, rich back stories, commissioned by successive rulers as personal trophy projects. The grand-daddy of them all is the Cathedral of the Assumption, built in 1475 and from where Ivan the Terrible was crowned Emperor in 1547.
When Napoleon seized Moscow in 1812, the church became a stable for his horses, while his soldiers snatched the glittering chandeliers. Russian Cossacks finally caught up with the light-fingered Frenchies and they're still proudly dangling from the ceiling. Church services only resumed here in 1990, after Lenin's rise to power in 1918. 
But the best attraction is the Kremlin Palace Armoury, the 19th-century museum purpose-built to house the nation's jaw-dropping stash of gold, silver, arms and imperial attire. Alas, I didn't spot any of Kim Kardashian's stolen jewellery here. The stand-outs are the nine Faberge eggs on display (each valued at over NZ$30 million) and the sumptuous fleet of gold state coaches spanning the centuries. It's a staggering trove of treasure, underscoring Moscow's sure-bet ability to seduce you with her majestic charms.
Trafalgar's 8-day Wonders of St. Petersburg and Moscow guided  holiday combines art with  attractions like the Hermitage Museum, Tsar's Winter  Palace, Red Square and the Kremlin. Priced from $2,625 per person twin share with savings of up to 10 percent available for payments prior to December 15, 2016. Departures from April 2017. Includes sightseeing, guides, accommodation, many meals, transport and the services of a travel director. trafalgar.com, 0800 872 325 or ask your travel agent.
Mike Yardley is Newstalk ZB's Travel Correspondent on Saturday Mornings with Jack Tame.