Mike Yardley: A Singapore Splash in Style
Author

Publish Date

Thu, 22 Sep 2016, 11:32am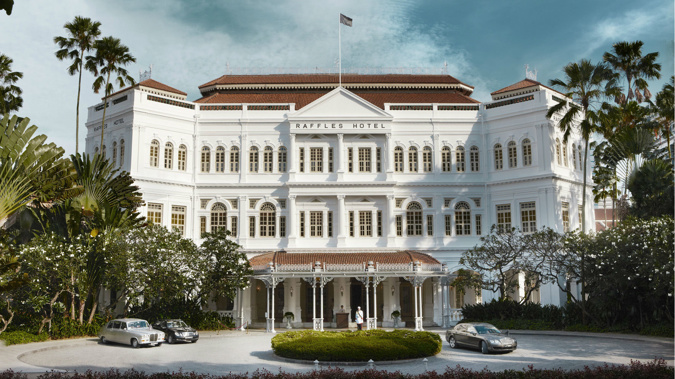 Mike Yardley: A Singapore Splash in Style
Author

Publish Date

Thu, 22 Sep 2016, 11:32am
It is the refined matriarch of South East Asian hospitality and Singapore's leading lady, Raffles Hotel, that will celebrate her 130th birthday next year. If you're planning a stopover in Singapore, perhaps as part of wider trip to Europe, why not take your Lion City layover to the next level and enjoy a night at the storied hotel?
Raffles Hotel Singapore is one of the few remaining great 19th century hotels in the world, faithfully continuing to exude an intoxicating blend of luxury, history and classic colonial design. It's the polished teak verandas, white marble colonnades, heritage furniture and verdant tropical gardens that embody the grandeur of Raffles. From the glinting Bentley limos out front, to the hotel's immaculately appointed 103 suites, Raffles not only evokes the romance of a bygone era, but maintains its magnetic seduction with today's generation of savvy travellers, eager to savour the Raffles magic.
Far from being a colonial vestige or time-warped throwback, the hotel admirably manages to remain relevant and resonant, blending its proud heritage and delightful character with contemporary demands, innovative offerings and cutting-edge conveniences.  Landmark restaurants and bars dot the property, including the fine dining establishment Raffles Grill and the evocative Writers Bar, a tribute to the novelists and travel writers, the likes of Somerset Maugham and Rudyard Kipling just to name a few, who have become part of the hotel's legend.
If seafood is your speciality, a great epicurean adventure awaits you in the Bar & Billiard Room. Whether you're staying in-house or not, lap up some of the signature Raffles experiences. How could you not have a Singapore Sling? Created by Raffles barman, Ngiam Tong Boon, a century ago, savour every drop of this salivating cocktail at the legendary Long Bar. For something different, why not sign up for a Masterclass where the mixologists at the Long Bar will reveal their tricks and tips behind crafting the perfect cocktail. In between blending the gin, Dom Benedictine and Cointreau, you'll snack on juicy skewers of satay served with peanut sauce and crunchy cucumber slices..
Adjoining the lobby, the fairy-tale prettiness of the Tiffin Room is well worth a visit, whether it's to partake in the fiendishly popular afternoon tea, or to turbo-charge your taste buds from the fabulous curry buffet. Book as far in advance as you can for the afternoon tea service. It was absolutely full house when I enjoyed a tiered-stand of delectable morsels, the finest loose leaf tea and heartily grazed from the sweeping buffet, in the Tiffin Room. 
I particularly love how the hotel has a resident historian, who will happily take you on a walking tour. Clocking up 44 years with Raffles, Leslie Danker is not just the hotel's longest-serving employee but he is a walking encyclopaedia on the property, continually researching its role in Singapore history. You'll love engaging with him. Leslie personifies the living legacy of this irresistible property and he's marked his 44th year on the payroll with the co-production of 12 short videos on different aspects of Raffles Singapore's past, collectively titled The Raffles Stories.
Get to know the iconic Raffles doormen, hear about how Cad's Alley was a vantage point for the gentlemen to watch the ladies go by, and find out more about Michael Jackson's unique stay and his special visitor when he stayed in 1993. In addition to Danker's narration, each of the 90-second long Raffles Stories will feature archival photographs and videos. All these are complemented by a fun and light-hearted soundtrack that sets the tone and recalls the Jazz Age of the Roaring 1920s. Raffles holds the prized distinction of proving how a hotel can indeed be a destination. Whether it's to stay or just to play, special rates and packages are available at www.raffles.com/singapore
Constantly raising the bar on in-flight comfort and service, Singapore Airlines is celebrating two New Zealand milestones. The award-winning carrier has clocked up 40 years flying to Auckland and 30 years, servicing Christchurch. Singapore Airlines enjoys the unique distinction of transporting Kiwis from both Auckland and Christchurch, with the fastest daily routes to Europe via Singapore. And this week, Wellington joined the Singapore Airlines network, with the launch of the 'Capital Express' service to Singapore four times weekly, via Canberra. 
From Auckland, the A380s and next-generation 777s are loaded with all the cutting-edge creature comforts including more personal space and larger entertainment screens, jam-packed with Kris World offerings, while feasting on the airline's legendary in-flight cuisine, artfully tailored by the International Culinary Panel. If you want to push the boat out, upgrade to Business Class, and lap up the world-beating experience in sparkling indulgence.  The luxurious touches include the industry's widest full-flat bed, at 198cm; direct aisle access; and a 15 inch LCD monitor to devour the galactic range of entertainment options on Kris World.
You can shop yourself silly with a lavish 30kg baggage allowance on Singapore Airlines, across all classes. If you're transiting through Changi, Singapore Airlines will sweeten proceedings with a $40 voucher.  For extended layovers, hop-on the complimentary city sightseeing tour which whistles through the city on a 2 hour highlights tour, five times daily. 
There are two tours to choose from: The Heritage tour takes you past Gardens by the Bay, Chinatown and time-honoured landmarks like City Hall. The City Lights Tour features the Marina Bay Waterfront Promenade and graceful Raffles Hotel. If you're overnighting in the Lion City, book a Singapore Stopover Holiday, and you'll gain unlimited access to the SIA Hop-on bus as part of the package, in addition to airport transfers and tickets to the top-billing attractions. For best fares and bargain holiday packages, jump to www.singaporeair.com
Mike Yardley is Newstalk ZB's Travel Correspondent on Saturday Mornings with Jack Tame.