Mike Yardley: A bite out of Seattle
Author

Publish Date

Sun, 29 Apr 2018, 3:20PM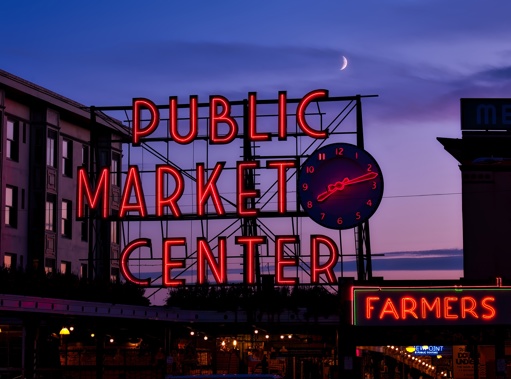 Mike Yardley: A bite out of Seattle
Author

Publish Date

Sun, 29 Apr 2018, 3:20PM
It is the one tour to rule them all. Savor Seattle's Pike Place Market Food Tour. Before joining this early morning group exploratory, I had popped into Pike Place the day before, awe-struck by the head-swirl of sensory overload.  For a newcomer, this bountiful behemoth of fresh produce and artisanal endeavour can be a bewildering, overwhelming and unwieldy place. Where do you start? What should you see? What's not to be missed? With such a surfeit of choice in this multi-level and cavernous emporium, I felt like an unguided cork bobbing in a deep mercantile ocean.
That is where the Savor Seattle Food Tour beckons as a god-send. At 8.45am, I met up with my fellow guests and culinary tour guide extraordinaire, the ebullient Justin Oba, at Indi Chocolate, the market's only chocolate maker. Chocolate is always a reason to rise early, don't you think? Not only does Justin bare an uncanny resemblance to Jack Black, but he's just as entertaining – if not funnier. "This is the full service tour", he declared. "We provide napkins at every stop."  He even has his own blog – packed with the latest market insights. www.obalicious.com
Over the course of two hours, Justin led our small and perfectly-formed group through the market, with seven tasting stops, as the infectious hum of the morning trade sparked into life. We soon felt like market insiders, getting the jump on the surging 30,000-strong crowds that frequent this signature staple of Seattle, every day. Our first stop was at Honest Biscuits, homemade treats crafted with love, established by a former judge who decided to follow his passion.
They will knock your socks off. We called into Frank's Quality Produce, a revered fruit & vegetable purveyor, where four generations of Franks have run the stall at Pike Place. After running our retinas over a rainbow of produce, we sampled a range of fresh and succulent fruit – the sumo oranges (suitably proportioned) were magnificent. The engaging vendors were like walking Wikipedias on fresh produce, eager to offer advice on the best and tastiest buys and their provenance. 
For a spot of decadence, Daily Dozen Doughnut Company delivered in spades, with their delicious sugary morsels receiving a unanimous seal of group approval. This charming little enterprise churns out 30 doughnuts a minute, or 30dpm, as Justin puts it. Our next stop was at Pike Place Fish, the legendary poster-boys of the market, where they have been throwing the fish since the 1960s', for fun and efficiency.  I'm sure I'm not the only one who has had to endure a workplace bonding retreat, based on the "Fish" philosophy. Well, this is where it originates.
We ogled the glistening bounty of the ocean, impeccably laid out on vast banks of ice, and delighted in the fish-throwing antics, that fill thousands of Instagram feeds, daily. Alongside admiring their fresh and sustainable seafood (the size of the wild Alaskan salmon is breath-taking), it was such a thrill to meet and chat with the convivial mongers.  A great revelation was our stop at Market Spice, a fabulously fragrant emporium of loose leaf teas, spices, salts and all of the accoutrements.
Operating since 1911, their flagship tea blend is Cinnamon-Orange, a rock-star seller, tasting absolutely sublime. Justin also introduced us to Rub with Love Shack, where we sampled a plethora of rubs and spices, while savouring rotisserie meats and moreish sandwiches. The powerhouse behind this shop is the king of the Seattle kitchen, Tom Douglas, who has produced a dazzling range of spice rubs, mustards and teriyaki sauces, tailor-made to apply to virtually every meat, fish and vegetable imaginable. You must devour one of his sensational Wild Salmon Burgers.
For a complete palette change, we ventured to Piroshky, a gorgeous little Russian bakery opened by two Estonian migrants nearly 30 years ago. Top taste? The smoked salmon pate piroshky. The cheddar cheese rolls are drippingly delicious, too. Alongside grazing from the market's parade of splendours, Justin unfurled a stimulating volley of vivid anecdotes, secrets and insights, central to Pike Place's abiding legacy.
Over the decades, the market has proven to be a great incubator for small, fledgling businesses – many have morphed across the city and beyond, with a chain of outlets. Yes, the original Starbucks is here. You might have heard of them. But what really stamps its mark, is the recurring theme that flows through the veins of Pike Place Market. It is fundamentally about family, farmers, friends and community. And it's always been like that, since the market's advent 110 years ago.
As the oldest continuing running farmers' market in the USA, the Savor Seattle market tour will endow you with a deep sense of its soul. Strike out with sure-footed confidence, post-tour.  With over 500 stalls jostling for your attention, strung across 13 buildings and five floors, as you venture down the Main Arcade into this labyrinth of temptation and discovery, you'll feel suitably empowered to tackle Pike Place market like a pro. www.savorseattetours.com
If you're a Sleepless in Seattle fan, which is celebrating its 25th anniversary this year, enjoy lunch at the market's Athenian Seafood Restaurant. The exact barstool where Tom Hanks filmed a scene is marked with a sign. In a city brimming with lip-smacking dining offerings, settling on where to savour Seattle's culinary verve is quite the conundrum. But Dahlia Lounge & Bakery should definitely be on your radar, garnering accolades aplenty for its perfectly executed Pacific Northwest cuisine.  It was Tom Douglas's first restaurant, opened in 1989, taking pride of place in his 13-strong restaurant empire.
The cocktail list alone is wondrously inventive. I settled for a Sour Cherry Mule, consisting of vodka, spiced cherry shrub, lime and ginger beer. For my main, in deference to the region's famed basketball-sized Dungeness crabs, I noshed on the cravable crab cakes, complemented with local celery root, herb relish, rhubarb and miner's greens.  But the star of the show, with legendary pulling-power, is the Triple Coconut Cream Pie, bursting with white chocolate and toasted coconut. It's the essential finale to a superlative experience in this classy but casual establishment. www.visitseattle.org
It will thrill the vinophiles and faithfully falls within the current trend for small-scale luxury. Kimpton Hotel Vintage is an attention-grabbing lodging, comprising 125 rooms, which pay homage to the region's most notable wineries. Drifting into my beautifully-appointed guestroom, the character of wine country has directed the design palette. It is comfort personified. Plush beds, stylish furnishings, tech toys galore, it's funky and fancy.
All manner of special thrills await you, including a complimentary happy hour in the lobby lounge, showcasing great regional wines. The daily wine tasting visibly demonstrates the hotel's sociable ethos, backed up with delightful staff and superb dining offerings in the ground-floor Tulio Ristorante. Wine, dine and be wowed in this award-winning venue. Perfectly located in downtown Seattle, across the road from the Central Library, Hotel Vintage is the complete package. www.hotelvintage-seattle.com
Zip yourself to Seattle with Hawaiian Airlines who offer one-stop flights from New Zealand via Honolulu. For just NZ$145 per person, per sector, Extra Comfort Seating is a great-value way to accentuate the experience, particularly on the haul between Auckland and Honolulu. Hawaiian Airlines has expanded its New Zealand schedule, now flying five times a week from Auckland. Bag a great fare and seat to suit. www.hawaiianairlines.co.nz
Planning a thrilling American adventure? Check-in on the official website for a world of trip inspiration. www.visitusa.com.au
Mike Yardley is our Travel Correspondent on Jack Tame Saturday Mornings.
Take your Radio, Podcasts and Music with you