G-spot of Europe: Vilnius' over-sexualised advert condemned by church
Author

Section

Publish Date

Wednesday, 8 August 2018, 1:57PM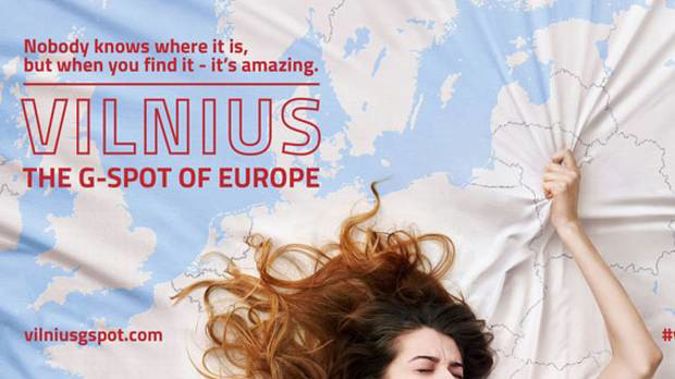 The tourism body behind the Lithuanian capital's new look has been criticised for an overtly sexual advertising campaign.
The advert features a woman lying back on crumpled sheets, printed with a map of Europe, in the throes pleasure. From this compromising position, her left hand grips on to Lithuania on the map.
Above her head, the tagline reads: "Vilnius, the G-spot of Europe. Nobody knows where it is, but when you find it, it's amazing."
This explicit advert has been launched weeks before Pope Francis is due to visit the Lithuanian capital.
The advertising campaign has been accused of courting controversy from the largely catholic population.
The Lithuanian Catholic Church has expressed concerns about the advert's use of "women's sexuality for advertising" and that it may be giving the "wrong ideas' about Vilnius, a city with a population of 540,000".
The national government had asked the capital's marketing division to postpone the launch of the campaign, until after the Pope's visit.
Prime Minister Saulius Skvernelis told the country's public broadcaster LRT he thought the timing was "rather weird."
"I think it's a strange advertising choice, but I believe it does not cross the line in a democratic country."
"As to the timing, we are speaking about a very important visit to Lithuania," the prime minister added, referring to the pope's visit.
"So perhaps these steps should have been co-ordinated, but that's the decision of Vilnius."
Go Vilnius tourism defended the advert, saying that the papal visit was very important to the city and a perfect time to attract new visitors:
"When it comes to attracting the modern tourist we're dealing with a very high level of competition with other European cities and countries investing heavily in destination marketing," said Inga Romanovskiene, manager of Go Vilnius.
"The young creatives who came up with 'Vilnius; the G-spot of Europe' presented an extremely engaging idea to drive interest in the city."
The former Eastern Bloc city has had something of a renaissance as an alternative European city break. In spite of its increased profile amongst tourists, few people really know where it is.
The new ad plays on some of the city's quirky charm and image as a beautiful (and somewhat hedonistic) European destination, which tourists should be pleased to find.
Jurgis Ramanauskas, one of the students behind the creative concept said: "Few people know where Vilnius really is, but when they arrive they fall in love with the city.
"This insight came from our conversations with international visitors, and we formulated the idea that Vilnius is synonymous with the G-spot theory – nobody knows where it is, but, when it is discovered, everyone is very pleased!"