Dramatic high-seas rescue witnessed by 2000 Kiwi cruise passengers
Author

Publish Date

Mon, 25 Sep 2023, 12:31PM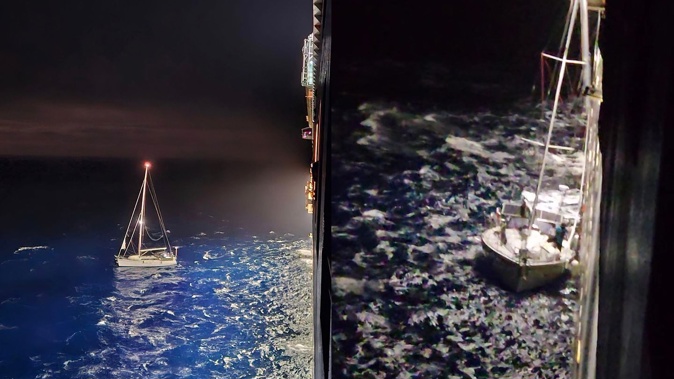 Dramatic high-seas rescue witnessed by 2000 Kiwi cruise passengers
Author

Publish Date

Mon, 25 Sep 2023, 12:31PM
Passengers aboard a cruise out of New Zealand were witnesses to a rescue on the high seas, last night.
On Sunday evening passengers aboard the Pacific Explorer which departed Auckland on Friday were told that they would not be calling into Suva, Fiji as planned.
Around midnight, passengers were told that the 2000 berth ship would be making a diversion due west, to respond to a distress call from a small boat. As the closest ship, the Explorer was required to respond to the mayday.
The boat was intercepted at around 1.45am local time, having retraced the last known position.
Passenger Ali Gilchrist from Tauranga was aboard the Pacific Explorer.
"Our captain has managed to locate the distressed vessel, which turned out to be a yacht with a broken mast."
The yacht, which is without propulsion, remains tied to the Explorer.
The Pacific Explorer diverted to a distress call at around 1am this morning. Photo / Shiptracker.com
"We are unsure if we are just going to continue to float around here until morning, or if they are going to attempt to do something with the broken yacht," said Gilchrist.
A spokeswoman for P&O Australia confirmed the Pacific Explorer was "requested to assist a yacht in distress south of Fiji".
"P&O received a call for assistance from the New Zealand Rescue Coordination Centre and arrived at 1am local time.
"Guests will be kept up to date with any necessary itinerary adjustments as Pacific Explorer renders assistance to those in distress."
The cruise ship is currently on an 8-day voyage from Auckland, carrying nearly 2000 guests.
The ship will no longer be calling into Fiji this morning as planned.
The ship which called into Auckland on Friday, was also the scene of high drama after a medical emergency in New Zealand waters.
A passenger had to be winched from the ship 120km off the coast of Northland on Thursday after becoming unwell.
Take your Radio, Podcasts and Music with you