Disabled traveller 'felt dehumanised' by Air NZ's bathroom policy due to weight
Author

Publish Date

Wed, 15 Nov 2023, 9:47PM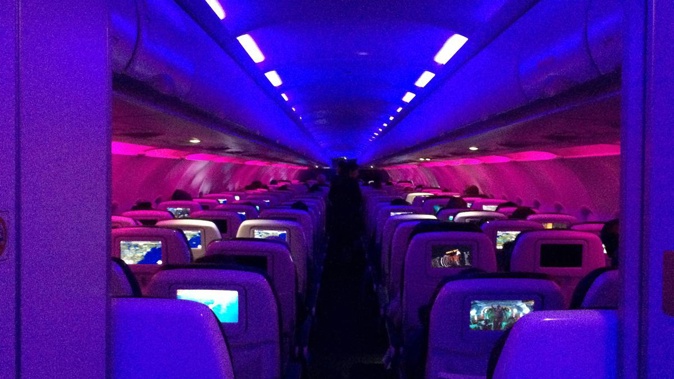 Disabled traveller 'felt dehumanised' by Air NZ's bathroom policy due to weight
Author

Publish Date

Wed, 15 Nov 2023, 9:47PM
A disabled woman claims she was discriminated against because of her weight after allegedly struggling to get access to a larger bathroom on an Air New Zealand flight to Los Angeles.
Courtney Mcalister said she was on flight NZ6 from Auckland to Los Angeles on October 26 when the incident took place.
As a diabetic who experiences severe anxiety, the 28-year-old said she was nervous about the flight, partly because it was the longest she had ever flown and because she sometimes struggled to navigate small toilets on planes due to her size.
So, when she boarded the flight, she asked crew members whether all bathrooms were the same size.
"I wanted to make sure I could comfortably fit in the economy toilet without any issues," Mcalister said, who is a size 24-26, "not that size should matter" she adds.
In this instance, it did. Mcalister fit in the bathroom but couldn't wipe herself properly and felt claustrophobic. Plus, if she needed to inject herself with insulin, as a diabetic, she didn't feel she had space to do so.
However, Mcalister claims the crew made it difficult for her to access the larger bathrooms in the premium economy cabin.
"I asked the crew if they had a disabled toilet or larger toilets I could use and; they said no as I wasn't a premium or business customer and the disability toilet was only for premium customers".
An Air New Zealand representative claimed Mcalister had been told she could use the larger toilets in premium economy but needed to alert the crew.
"The inflight Service manager did speak with you and advised that any time the bathroom was required to please inform one of the crew members who would escort you through to the Premium Economy cabin," read a message to Mcalister, in response to a complaint she lodged online.
"This is a security requirement, as you are seated in another cabin," they added.
Air New Zealand planes on a runway. Photo / Marty Melville
Air New Zealand Chief Operational Integrity and Safety Officer David Morgan reiterated that the safety of customers and crew was the top priority and disabled passengers were included in this.
"Our cabin crew are trained to assist and support any customers with disabilities or reduced mobility when on board with us," Morgan said. "They always do their best to ensure customer comfort is prioritised, while maintaining operational and safety requirements."
However, Mcalister said needing to press a bell and request to be escorted or having the crew check in with her felt humiliating.
"Every time they asked there was no discretion," she claimed, adding that she felt her weight 'absolutely' influenced the way she was treated as a disabled person.
Mcalister decided to abstain from food and liquid for the rest of the 12-hour flight, so she didn't have to endure the escorting or use the smaller bathroom without wiping herself.
According to Accessibility and Inclusion advocate, Kimberly Graham, this extreme approach isn't that unusual within the disabled community, as aircraft toilets rarely accommodate disabled travellers, even the larger ones.
"Generally speaking, a lot of people take enemas the day before they travel," said Graham, who regularly shares her experience travelling with her son Findlay, who has Athetoid Cerebral Palsy.
"They don't eat the night before, they drink very little," she said of some disabled travellers, adding that others get a urostomy or colostomy bag surgically attached to avoid having to navigate inaccessible bathrooms or difficult processes like those Mcalister allegedly faced.
Reflecting on the flight, Mcalister said she spent hours feeling "dehumanised" and "dirty".
In their reply to Mcalister, Air New Zealand said they were sorry if the crew made her feel humiliated and the complaint had been sent for internal review.
However, it was "standard procedure" to inform a crewmember when a passenger needed to use the larger bathroom in another cabin, which is in economy on a 787 aircraft and in premium economy on a 777.
Keeping bathrooms free for those in a particular cabin makes sense, as do the potential security concerns created when passengers are allowed to freely wander through different cabins.
Mcalister's incident in particular was complicated by the fact that her disabilities (which she stated as diabetes and severe anxiety) did not prevent her from using the standard-sized bathroom in economy; her size did.
Currently, size, weight or obesity are not classified as a disability in New Zealand; a topic of heated debate in many countries.
However, the system itself of having to alert a crew member and be escorted every time you need to use the bathroom was still potentially distressing for other disabled travellers, Graham said.
"I think it's undignifying," she said, adding that the first step towards a solution should be providing larger toilets, especially as many disabled people need a carer in the cubicle to help them.
"We don't travel long haul because, for our son, I would need about two or three people to get him on an airline toilet seat," she said.
Take your Radio, Podcasts and Music with you