Buenos Aires like a local
Author

Publish Date

Fri, 4 Sep 2015, 4:42pm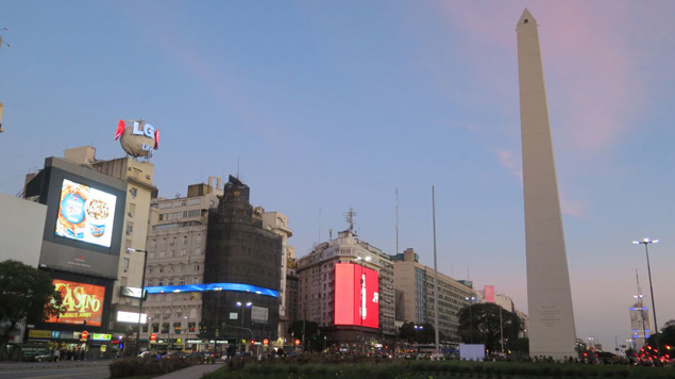 Buenos Aires like a local
Author

Publish Date

Fri, 4 Sep 2015, 4:42pm
The seductive metropolis of Buenos Aires has a siren-like pull with a dazzling dance card of enticements. On my latest foray to the Argentine capital, I wandered down Avenue Ninth of July as twilight was unfolding, and that great symbol of independence, the Obelisk, looked all the more striking, with its vaulting white Cordoba stone wrapped in the pink backdrop of dusk. 
It's the centre of the Argentine universe, standing on the specific site where the city was founded in 1536, and where the Argentine flag was first hoisted. The Obelisk, erected to mark the 400th anniversary of independence, is only half the size of Washington's National Monument, but as the adage goes, "It's not the size of the wand, but the magic it weaves."
Buenos Aires is a city awash in head-turning landmarks, but on this visit with Adventure World, I was keen to live a bit like a local, and focus my sights on the much-loved haunts where Portenos like to shop, eat and play.
If you spend a Sunday in Buenos Aires, you'll be richly rewarded by the al-fresco extravagance of San Telmo Market. At it's heart is Plaza Dorrego, where an open-air market that stretches for more than a kilometre along Calle Defensa, which is off-limits to vehicles each Sunday. Thrust your way through the teeming crowds to rustle through antiques, curios, vintage clothing, jewellery, old books, crafts items and acres of tango memorabilia. I loved watching the dolled-up professional tango dancers performing on the surrounding cobbled streets.
As it gets dark, the square transforms into an al fresco milonga, where quick-stepping locals show the visitors how it's done. Staying with the vintage theme, step inside the San Telmo Indoor Market, a massive iron structure built back in 1897. Originally, it was a produce market, but when the outdoor market started in 1970, it shifted its focus to all things vinatge, and it's a fantastic spot to snap up vinyl records and retro posters.
Plaza Dorrego is one of the city's oldest public spaces, dating back to the 18th century, when it was an area reserved for the wagons that hauled in produce to Buenos Aires from across the country. The cafes and bars surrounding the Plaza only surfaced in the 1930s, when it became a popular barrio for wine, song and dance. Bar Plaza Dorrego is the most cherished of these establishments, with its venerable old wooden fixtures and counter.
On the graceful processional street of Avenida de Mayo, there are two fabulous cafes, steeped in history, and where bow-tied waiters, formally attired with crisp white aprons attend to your whims with impeccable service. They were the popular haunts of artists and writers who would sit around with an espresso, wrestling with the profound philosophical questions of the day. London City Café takes its name from two large English stores that occupied the site a century ago. The profusion of freshly-baked pastries and cakes will have you drooling in no time.
But the grand dame is Café Tortoni, brimming with Tiffany lamps, towering stone columns, and marble-topped tables. An integral part of the porteño landscape since opening in 1858, Argentina's oldest café is an art nouveau treasure and widely considered as one of the world's greatest coffee houses. It has constantly lured local and global luminaries, over the decades. Admire the wall of honour, adjacent to the main doors, to see the personal notes and mementos from heavyweights ranging from Carlos Gardel ( who performed here regularly) to Albert Einstein and Hilary Clinton. Long waiting lines are likely around lunchtime, so for easy access through the grand brass-handled doors, opt for a drink and a bite mid-afternoon. I highly recommend the Copa Pinocho, an extravagant desert comprising ice cream, chocolate cookies, chocolate sauce and that Argentine love affair with dulce de leche.
Speaking of food, many tourists flock to Buenos Aires for the steak and malbec, but the food scene goes far beyond those two staples. An enduring legacy of the mass-migration from Italy is a city with an insatiable appetite for pizza and pasta. Argentine pizzas are piled high with cheese and are sinfully good. A great spot for evening dining is El Federal bar in San Telmo, which pays homage to the rugged terrain of the Argentine countryside, where every surface seems to be rough wood or tanned leather. It's one of Buenos Aires' classic eateries (in operation since 1864), with soft lights, vintage fittings and a old-time ambiance. The slow braised lamb, goat and beef dishes are superb.
If you want to shop like the locals, make a beeline for Calle Florida, a heaving spot on weekdays, when throngs of office workers intermingle with buskers and street vendors hawking souvenirs. and haggle over leather goods. Stretching from Av. de Mayo to Plaza San Martín, the pedestrianised retail mile is also home to the "blue market", where unlicensed money traders will eagerly exchange currency. With some of these touts apparently aligned with the criminal underworld, it's not advisable to do business with tem, despite their constant hustling on the street. With Argentina's inflation rate running at a rampant 20-30%, the American greenback is a highly prized currency, and it will deliver you substantial more purchasing power, when buying items, compared to paying in Argentine pesos. Based on my purchases, you can essentially knock about a third off the price, if you pay in US dollars.
The show-stopper on Calle Florida is Galerias Pacifico, a glorious Belle Epoque retail shrine, deliberately modelled on Milan's sumptuous Galleria Vittorio Emanuele. This seriously posh shopping mall features a fantastic food hall, showcasing a wealth of local dishes, which are surprisingly as cheap as chips.
For a five-star encounter with tango music and dance, I savoured a stirring night of entertainment at the Carlos Gardel Tango Dinner Show. At the corner of the alley named after Carlos Gardel , next to a statue that immortalizes the legendary tango singer, Chanta Cuatro restaurant was the gathering place for the colourful characters of the nearby market, Mercado de Abasto. Carlos Gardel would hold court, singing long into the night. A century later, and the site is now home to this superlative tango dinner show, considered the best in town, with an exceptional line-up of singing and dancing talent, supported by a traditional orchestra. Dinner starts at 8:30 pm, the show at 10:30 pm and finishes at midnight, every night of the year. It's a starry-eyed Buenos Aires experience that you will love as much as the locals.
Adventure World specialise in tailor made, soft adventures, with excellent touring options in Argentina. For further details head to ww.adventureworld.co.nz/argentina/latin-rendezvous/, 0800465432 or see your travel agent.
Mike Yardley is Newstalk ZB's Travel Correspondent on Jack Tame Saturdays. 11.20am.