YOUR SIX-SIDED SMART LIGHTING SOLUTION
Publish Date

Sat, 1 Aug 2020, 2:32PM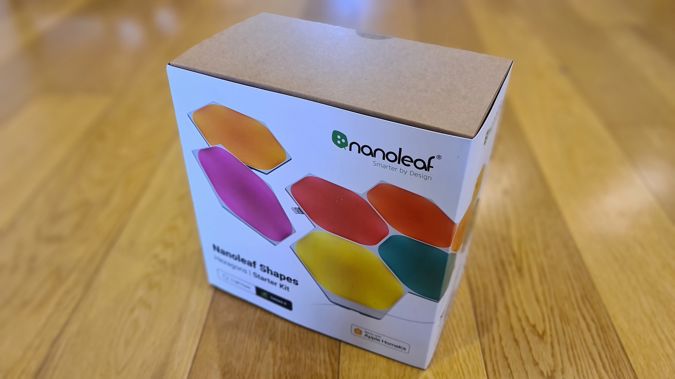 YOUR SIX-SIDED SMART LIGHTING SOLUTION
Publish Date

Sat, 1 Aug 2020, 2:32PM
I first encountered Nanoleaf technology almost three years ago when I reviewed the Aurora, an array of triangular smart panels you can configure whichever way you like, lighting them whichever colour you like or even setting them to respond to sound and music.
While not the most practically useful device I've ever come across, Nanoleaf certainly managed to bring its idea of a modular smart lighting system to fruition effectively and it seemed to work very well.
But I have to admit, when they offered to send me the latest generation to review, my first question was, "How different can it really be?"...
Well for starters, they're Hexagons, not triangles.
This is the first installment of Nanoleaf's new Shapes range; the promise is there'll be other shapes to come that will be compatible with these ones. 
Installation is pretty straightforward; like the original triangles, there are small slots on each side of each Hexagon and you simply connect them together with the supplied linkers, which snap easily into place (or out of place if you change your mind about your configuration). The included power supply and controller units attach the same way and once you've decided on your overall pattern, there's a new mounting system to get it all on the wall.
This is the first big advance from those original triangles I tried back in 2017. There are separate mounting plates fixed to each panel that can be stuck to the wall via 3M mounting strips (pre-attached) or screwed on for a more permanent solution. This is, of course, kind of terrifying if you are nervous about the idea of at least nine points of contact on your nicely painted or wallpapered walls, so I'd suggest having a decent play around with your Shapes setup on the floor before committing to the final hangup. The panels can then be pushed on or pulled off the mounting plates with little fuss.
While there are just nine hexagonal panels included in this starter kit, you can run up to twenty-one from a single power source and up to five-hundred from one controller.
The controller is the second major upgrade. Not only is it now included with the starter pack as opposed to the optional extra Rhythm module of old, it offers quite a range of hands-on functionality before you even open the Nanoleaf app. You can turn the Hexagons on and off, adjust the brightness, cycle through colours and patterns or even shuffle specific Rhythm scenes (patterns that respond to music). This is a lot to play around with in itself - but we're only just getting started.
Pairing the Hexagons with the Nanoleaf app is where the fun really begins. The app is available for both iOS and Android devices and the pairing process was lightning fast... at my second attempt. I use an Android phone and for some reason I initially got myself into a bit of a mess once I scanned the QR code as instructed. There are actually two other pairing methods; NFC and manually inserting a code - I think I messed things up even more by trying all three. Eventually I cleared all the data from the app and started again - to my surprise this time the Hexagons paired instantly. At that point the app opens up an infinite number of options for you to experiment with.
I'm not just talking about toggling the brightness up and down either. There are sixteen pre-loaded scenes of varying colours and interactivity. You can select any of these, shuffle all of them, or create your own playlist of favourite ones. Or, take things a step further and design your own scene; solid colours, flashing, waves, you name it. Apparently there are more than sixteen-million colours to choose from - that seems like more than you really need. There's red, so that's the main thing.
There are two other methods to control the Hexagons; via your virtual assistant or by touching the panels themselves. I use Alexa to access most of my smart devices and it communicates with the Shapes very well. I've even created a routine that turns the Hexagons on when a motion detector sees someone enter the room. Google Assistant, IFTTT and Siri are all options too and using HomeKit on your Apple devices will let you activate personalised scenes that involve any of your Homekit-enabled gadgets by touching certain panels.
There are also five programmable Touch Gestures that let you access some of the more basic settings with swipes or taps on the panels themselves. When it comes to customisations, this is certainly one of the most malleable tech toys I've ever encountered. Not only can you physically adapt it to fit your environment (even bending around corners using optional flex-linkers) but there are so many programmable options controlled in so many different ways.
My main criticism is to do with the lights themselves. Yes, you can have them bright or dim or even automatically adjusting to the light conditions in the room but they don't light up right to the corners of each panel. This makes the illuminated area more of a circle than a hexagon. Additionally, as you can see in this picture, the light is slightly shaded in certain areas too. Neither of these things are particularly obvious, especially from a distance, but it might be something Nanoleaf can perfect for future Shapes.
In the meantime, this is certainly one of the more creative ways to light up a wall, either at home or perhaps even more effectively, at your place of business. All too often we're told we're only limited by our imaginations but in the case of the Nanoleaf Shapes Hexagons, that really does seem to be the case. Whatever physical form you choose, in whatever colour and pattern, controlled by button, touch, app or voice. I can't wait to see what the next Shape will be...
Click here for more information on Nanoleaf Shapes Hexagons.